My First Stop: Kovalam, Kerala, India – Wonder and CULTURE SHOCK
After 12 hours in the Mumbai airport (which is PACKED both day and night), it was time to fly to Trivandrum – short for Thiruvananthapuram – a name so long it did not even fit on my boarding pass.
An hour and 45 minutes later, we landed at the small domestic airport.  The local language is Malalayam and is a beautiful bunch of curls and squiggles.  I'm already enamored with it.  And take pictures of most signs…
Piles (I had to google that) and fistula.  Neither good.  But the sign is so gorgeous!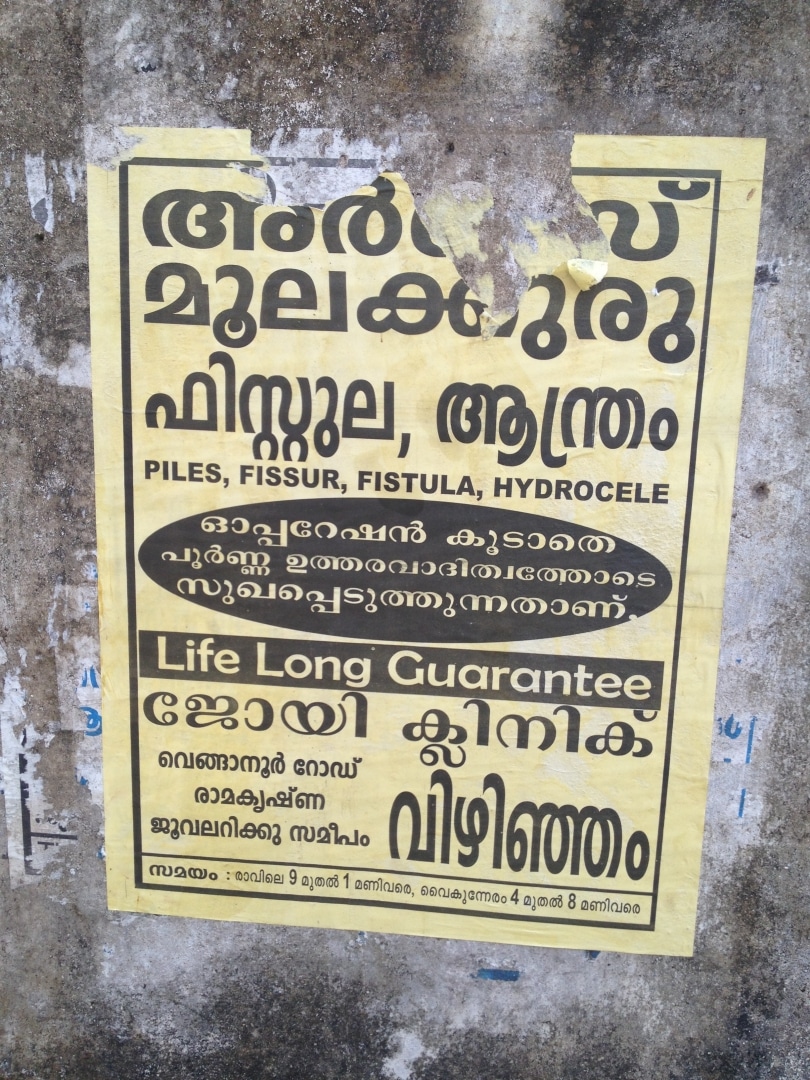 I was picked up at the airport by two lovely representatives of the Kerala Tourism Board and handed a bouquet of roses and an excellent sign.  I CAN NOT BELIEVE THAT I AM HERE!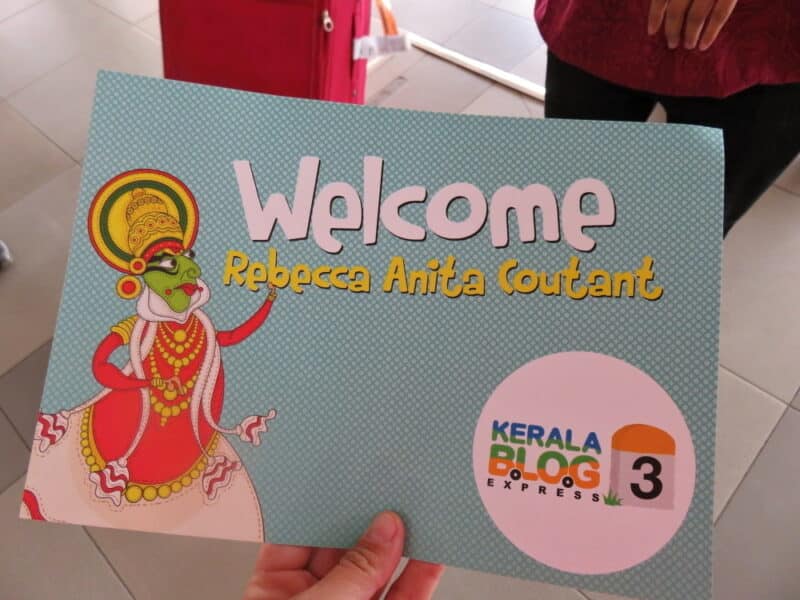 I was feeling woozy and a bit like I was under water.  DAMN YOU JET LAG!  And was whisked off to the hotel about 10 miles outside of the city.  To the small beach town of Kovalam – one known for its ayurvedic treatments, yoga and beach.
I was checked into the Turtle On the Beach Resort and met my roommate, Aleks from Poland.  She has been traveling around Asia for years and is an amazing blogger, book writer and adventure girl.
And the view from our window.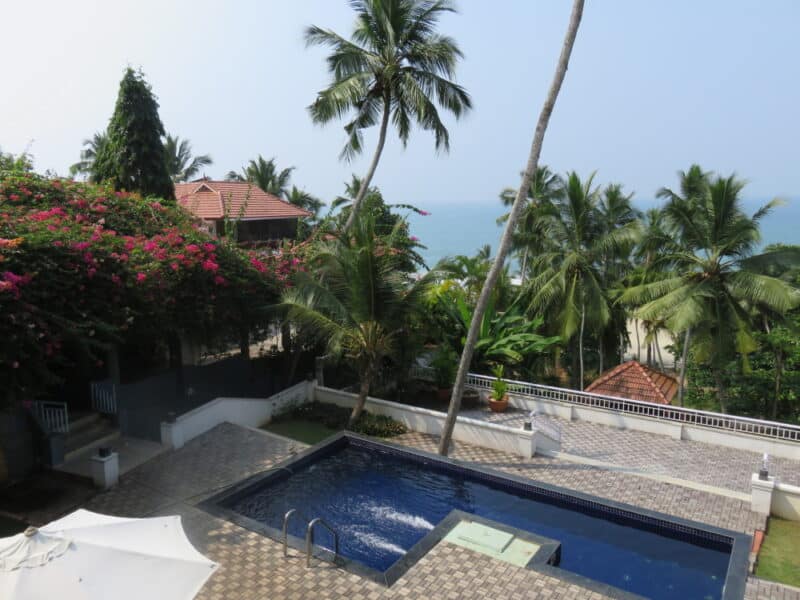 Time to explore the town.  An amazing, odd mix of tourists and locals.  Europeans in skimpy bikinis standing beside women in full saris on the beach, yoga participants in spandex trekking up the hills along side men in local dress.  Rather than talk, I'll just show you some of the photos.
My first day in Kerala.
The traffic is absolute insanity – and 4 people on a motorbike an adventurous ride at best.
The local tuk tuk which beep loudly at the motor bikes to MOVE aside.
And then the taxis lay on the horn for the tuk-tuks.  It's a pecking order on the narrow STEEP cobble stoned streets.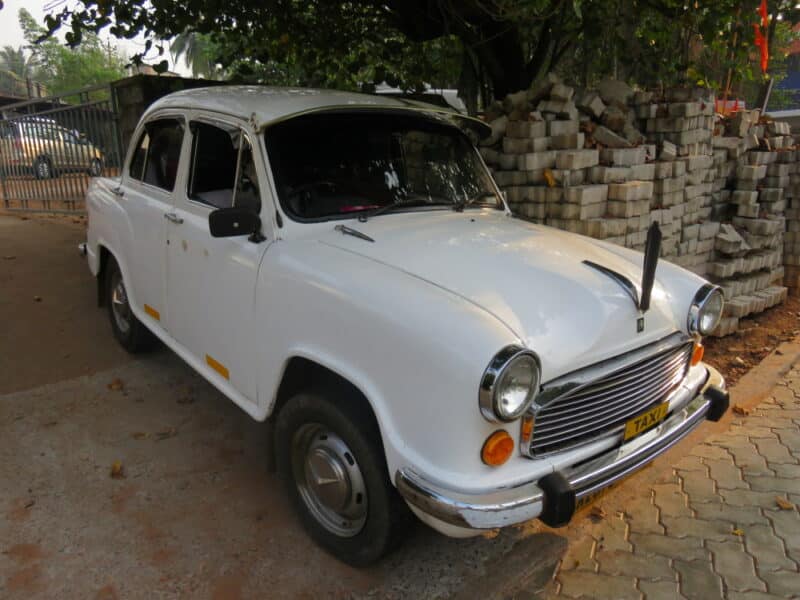 I made my way down to the beach to confront the SCREAMING crows – these giant birds are going NUTS in the morning.
The beach was relatively quiet (as compared to later) – some football matches and men pulling in an endless rope from the sea.
All in traditional dress.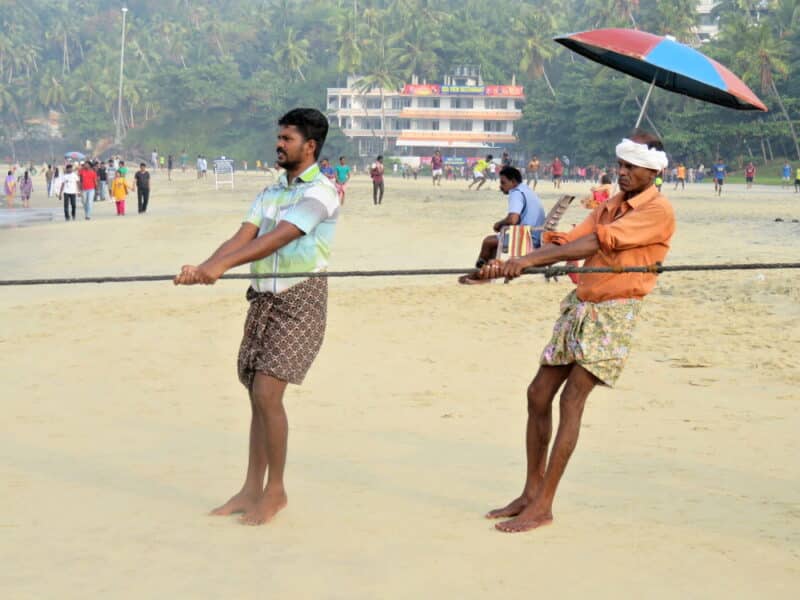 I passed my enemies picking through the fishing nets.

I stopped for a delicious sweet coffee on my way back – 10 rupees!  One US dollar = about 68 rupees right now.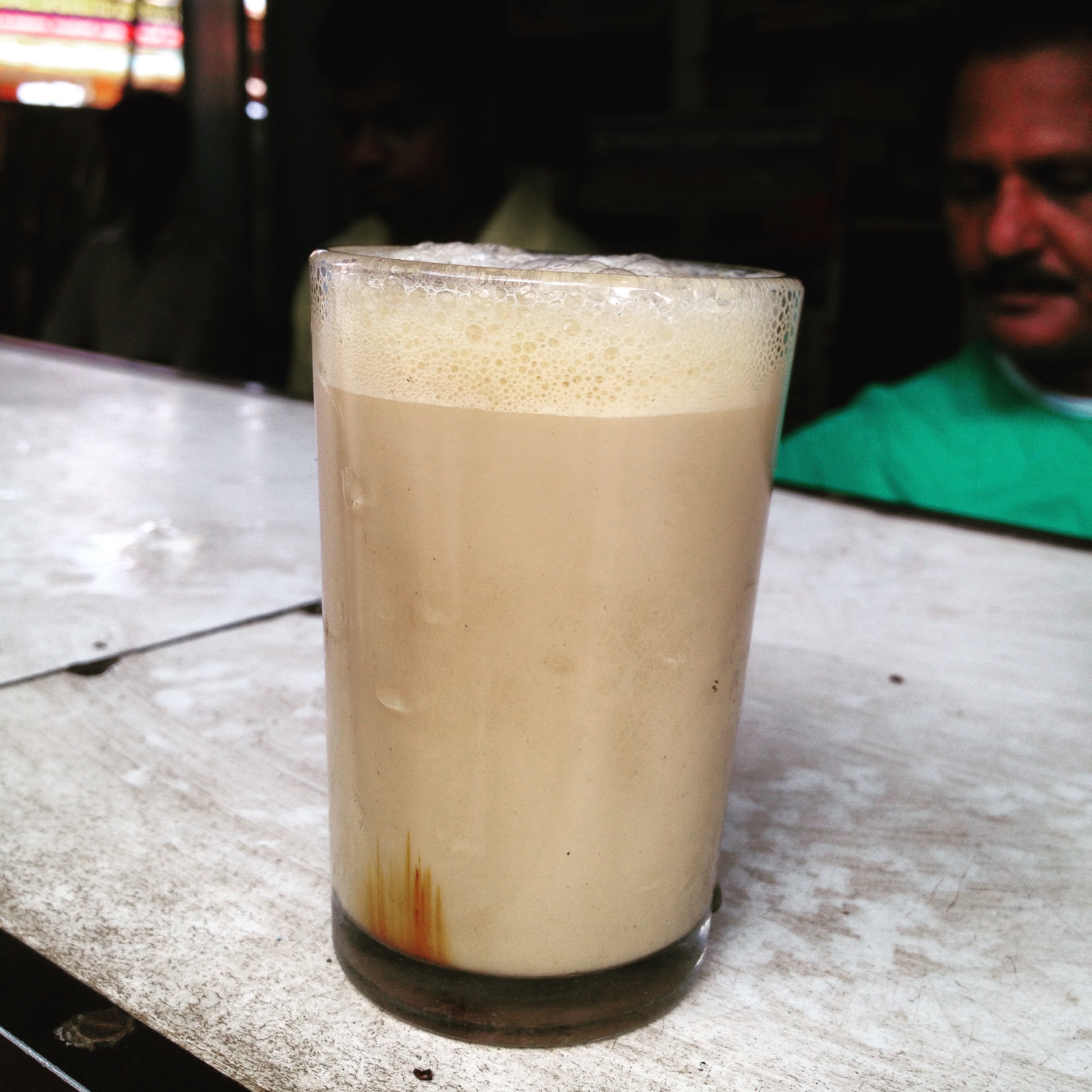 And a coconut water.
The middle of the day is HOT.  Temperature certainly in the mid-90s and very hazy.  I went out around 4pm and took a LOAD of photos.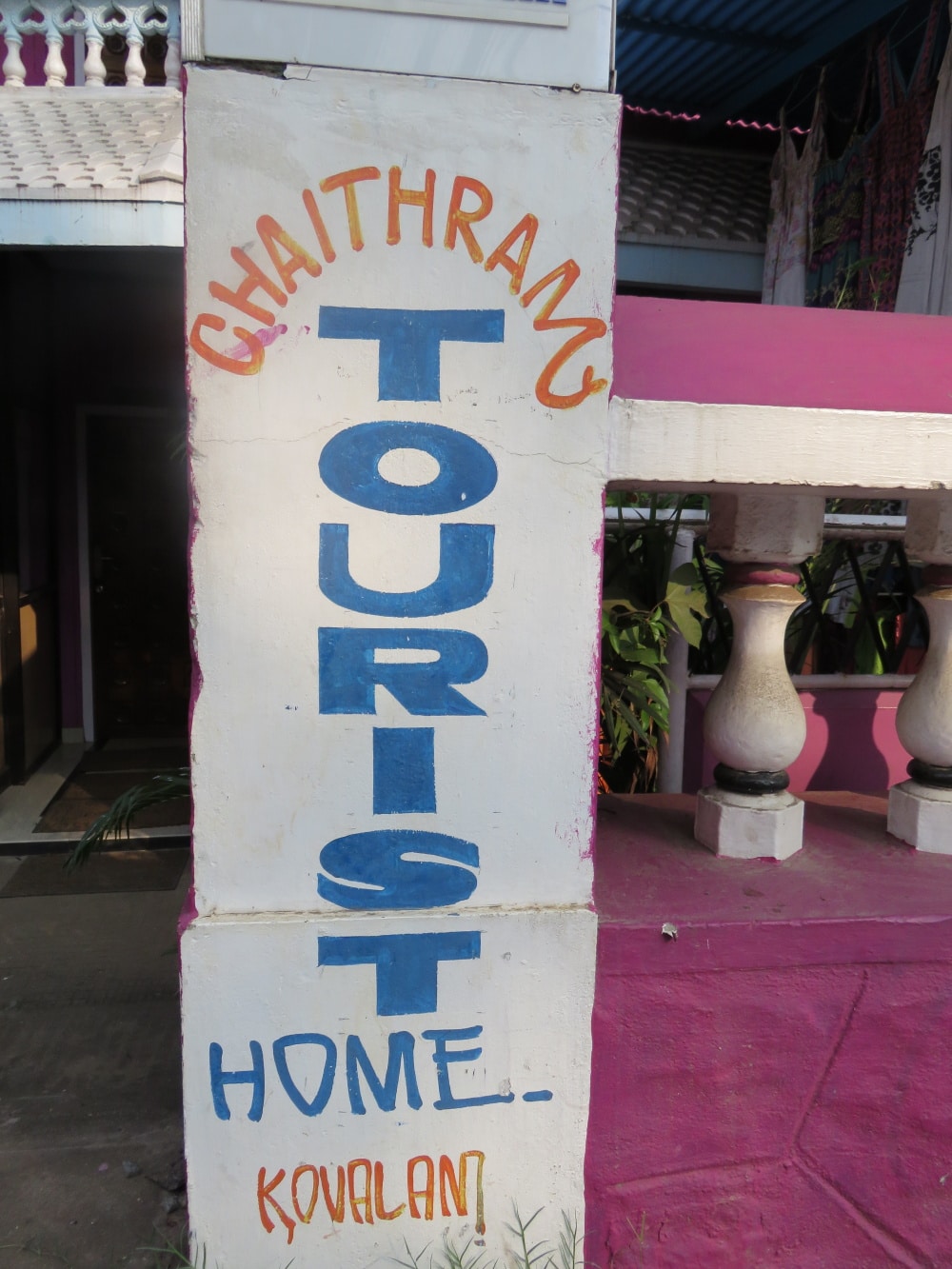 Interesting name…
Tea, spices, clothing, jewelry, beautiful fabrics…for sale everywhere.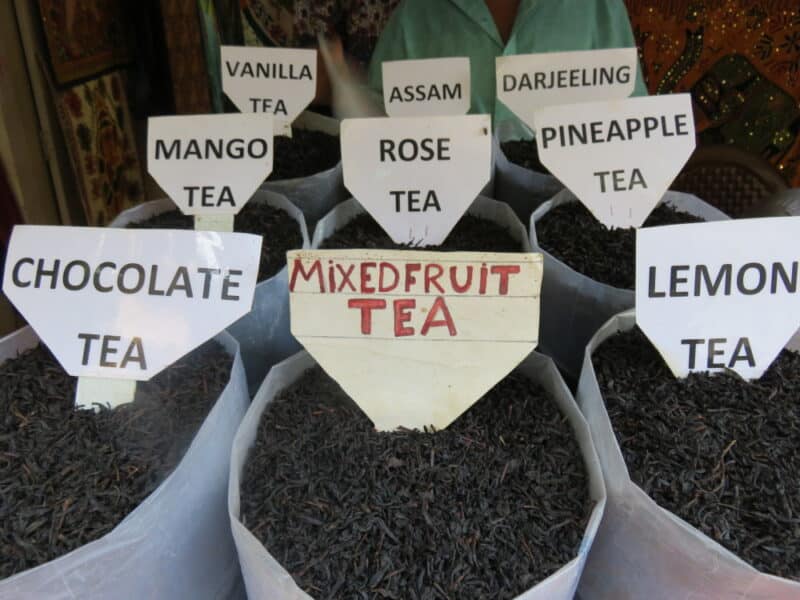 I shall be returning with a bag full of elephants…

But not jewels…
Though this necklace, maybe.  Such pretty silver and the price is about $50US.
This side of the beach has a lighthouse that I was not at all tempted to climb when I saw the tiny walkway jam packed.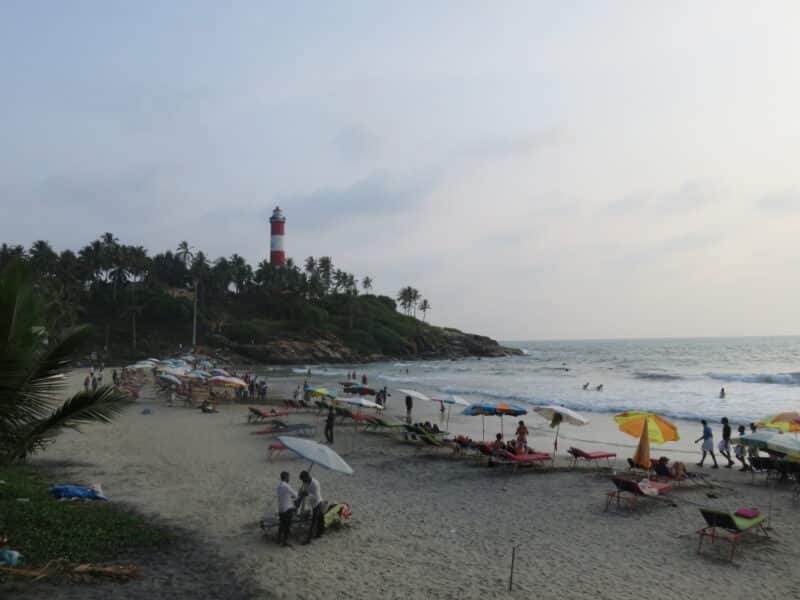 The "Ali Baba" pants are very popular for tourists I was told.  The ones with the very low "Stop. Hammer Time" inseam.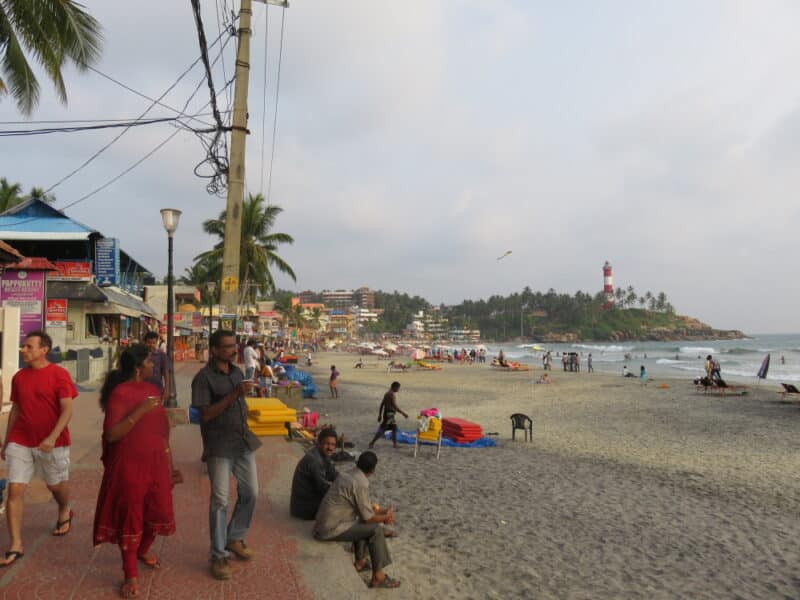 The beach that I had visited in the morning – around the bend – was packed.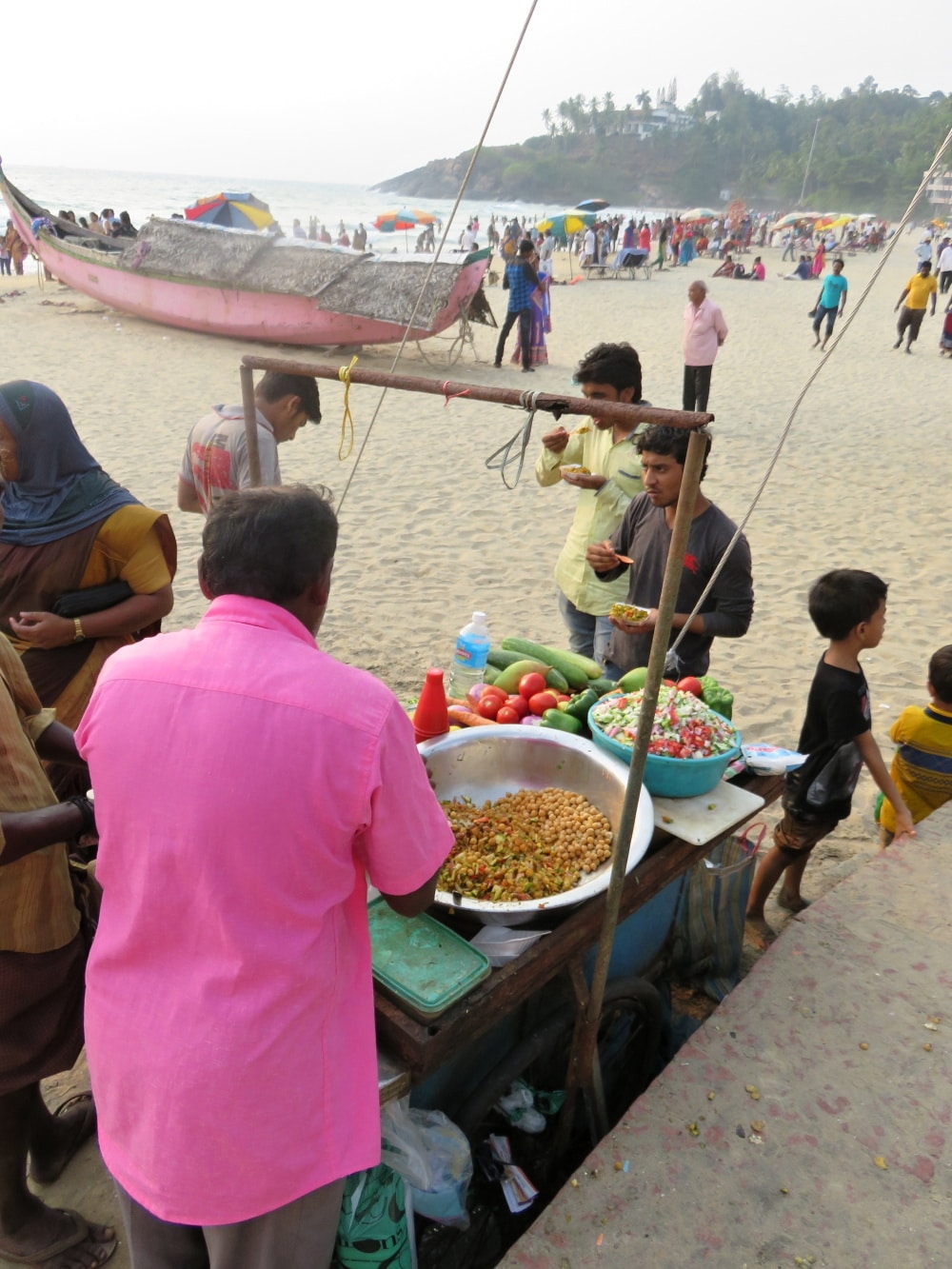 I got back to the hotel to find an AMAZING welcome packet and tomorrow's instructions:
And a full set of maps, gorgeous photo books, a schedule and three different shirts.
Can you believe that this is my next two weeks?  I am giddy, super tired and most of all amazed.
Directive:  Everyone is requested to wear any of the KBE t-shirts present in the kit given to you by us. People staying at Turtle on the Beach will get it today.
Our bus will pick up people from Leela first, followed by Turtle on the Beach, KTDC Samudra, Vivanta By Taj Greencove in that order.
All of us will move to the venue of Flag Off & Press Meet at Mascot Hotel, KTDC.
People staying at Mascot Hotel, please come to hotel reception between 10:45 and 11:00, you people are checking out from there only on 16th Morning.
Kerala Tourism Minister will Flag off the event and Director, Kerala Tourism and other dignitaries, and media personalities will be present at the event. After flagoff, there will be a press meet where prominent media houses from Kerala will be interacting with you. A Kerala themed lunch is also arranged at the same venue. You will be getting the sim cards too at that time.  (India got 4G just about the same time Belize did!)
After lunch and other matters, we will head to KTDC Samudra for having tea and spend some time enjoying the Sunset view.
After that, everyone will be dropped off at various hotels at Trivandrum City where they will be staying for the night. Dinner will be from respective hotels.