The Gorgeous Sea, Sharks, Subwings, Snorkeling and Sun with Belize Parasail: What A Day.
I'm ashamed.  I take it for granted.  The gorgeous Caribbean Sea and barrier reef right outside my door.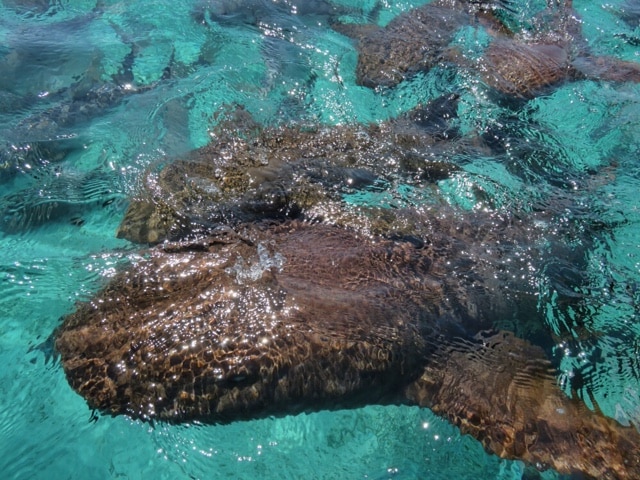 I haven't been in the water off of Ambergris Caye in…months.   MONTHS!  But yesterday, I made up for it…3 water sports.  5 different locations.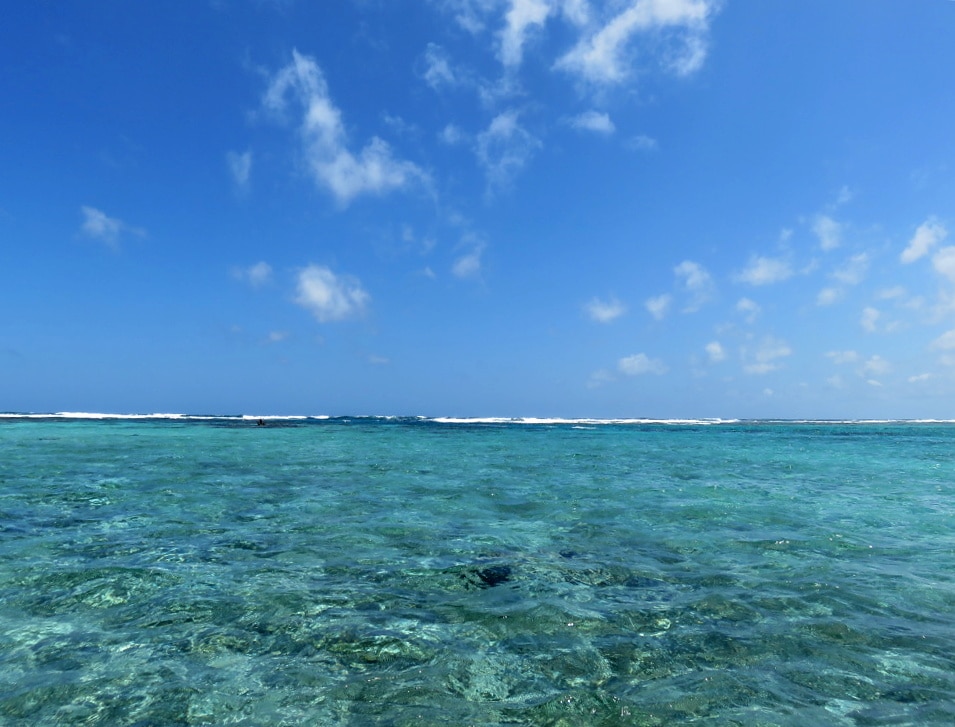 My day started at Belize Parasail at the Fido's Dock in downtown San Pedro at 9:30am.  Woefully under-covered with sunscreen, I met Eric, his guides, his awesome Golden-doodle Monte and Ashley from Tampa there for parasailing, trying the new-fangled SUBWING and three snorkel stops.
Our subwing and snorkel guide, Esban.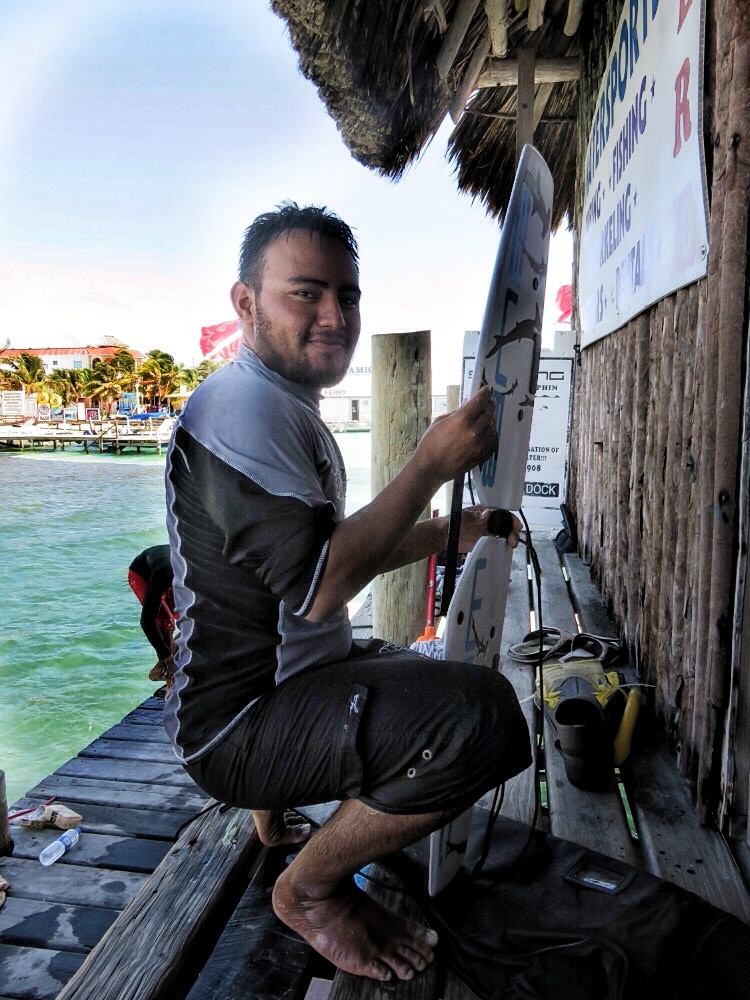 Let the water madness begin!
We first headed out for the parasailing.  I had just done it about a month ago – LOVED IT – but this was Ashely's trip and we had many many hours of time in the water ahead.
it's still absolutely gorgeous to watch.  Even if the guide is wearing a Red Sox shirt 🙁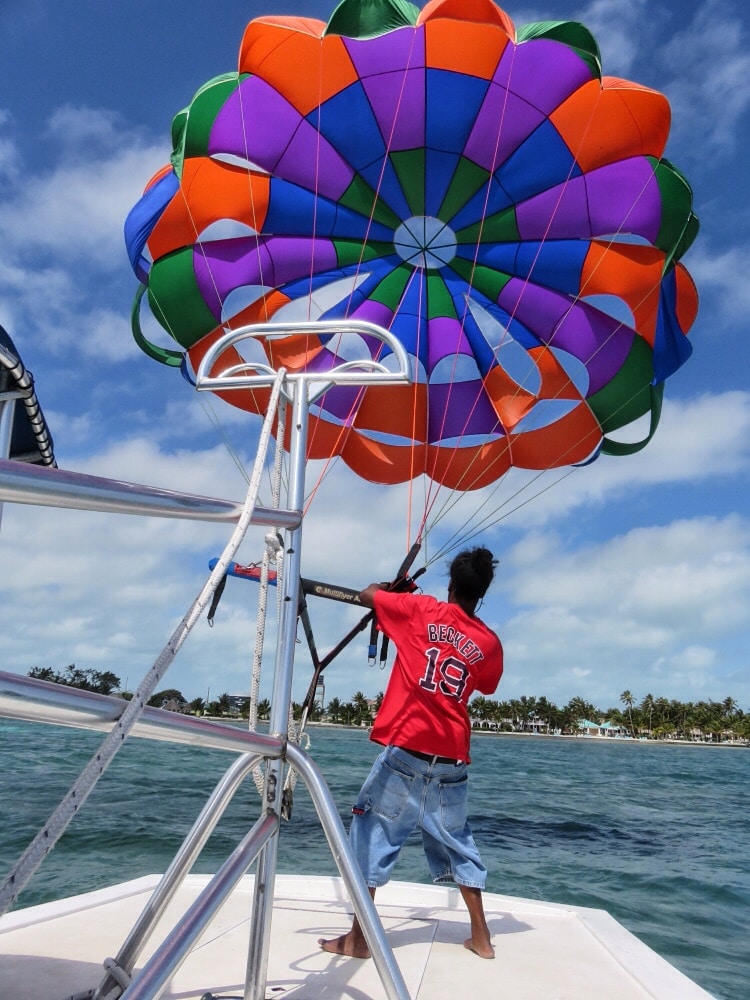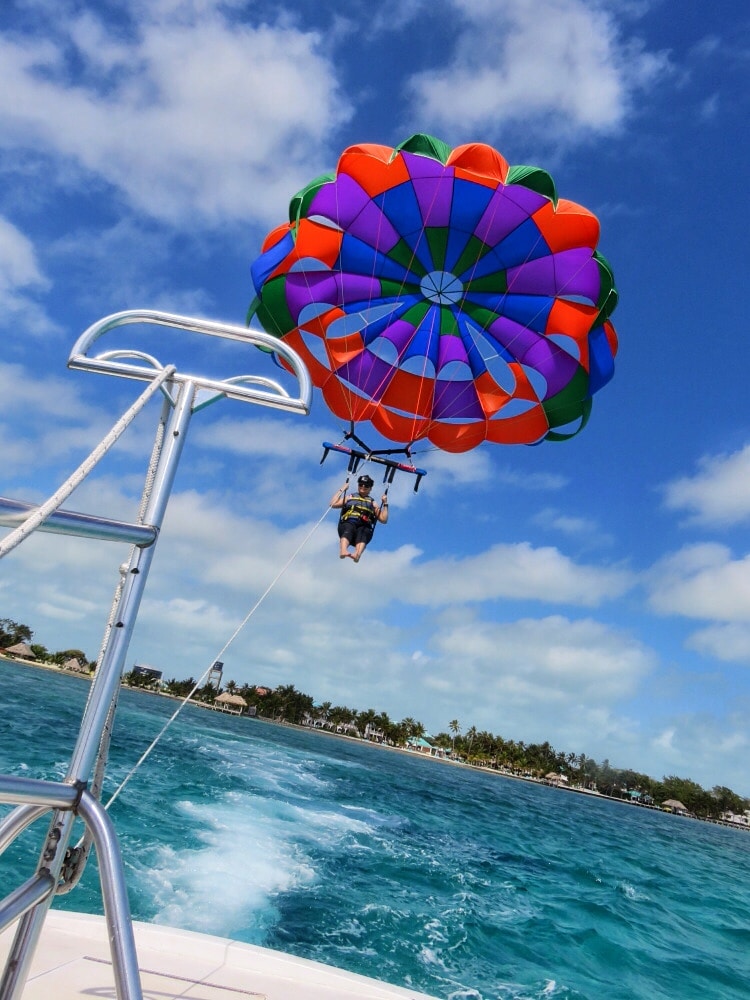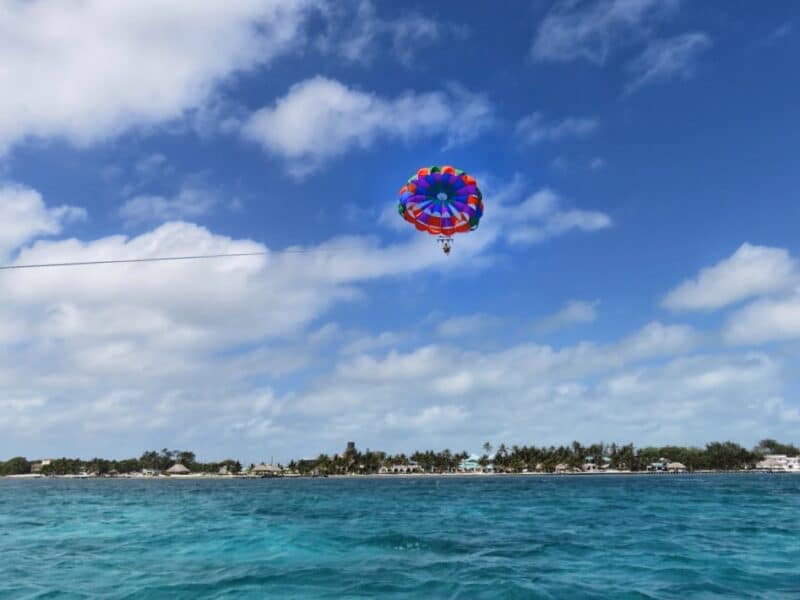 And even more beautiful from above.  Check out my last parasail.  It's an unparalleled view.
Next we were snorkeling a spot called "Tuffy".  It's a patch of coral grown over a ship wreck.  It was a brief stop but one I'd never visted before.  And it totally highlighted the beauty of a custom tour.  Not only could we stop at any place we wanted…but we arrived at the often crowded Hol Chan Marine Reserve and Shark Ray Alley when there were only two or three boats rather than 25.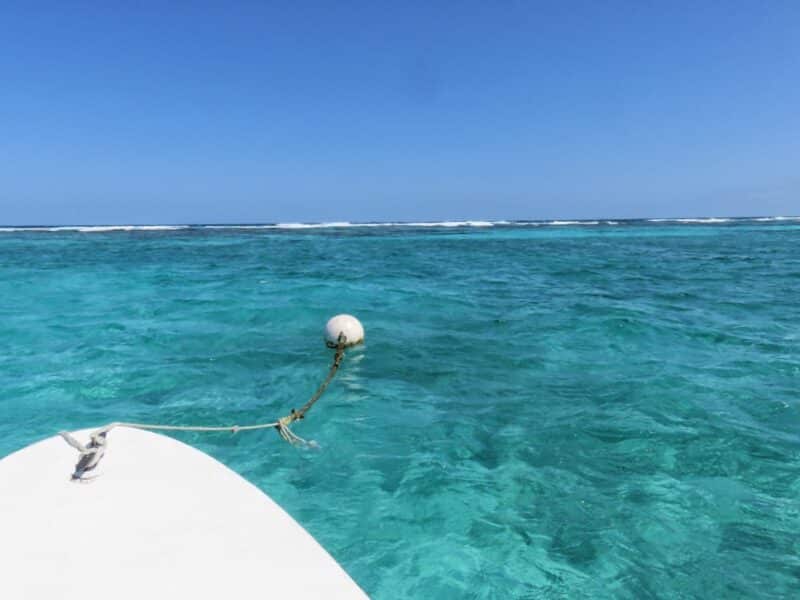 Next up was subwinging.  And I won't lie, I was a little nervous.  I hadn't been waterskiing since I was about 13.  I'd been tubing once and remember it being a bit like my idea of waterboarding…I think I had an overly aggressive driver.  One who wanted to harshly introduce me to the concept of centrifugal force.
Esban showed us how the wings would work…we'd be pulled slowly behind the boat wearing masks and we could dive and flip once we got comfortable.  Basically we would be dolphins. 🙂
They captain and guide would be watching us the whole time so we could signal to slow down, stop or speed up.
Simple piece of equipment…let's do this.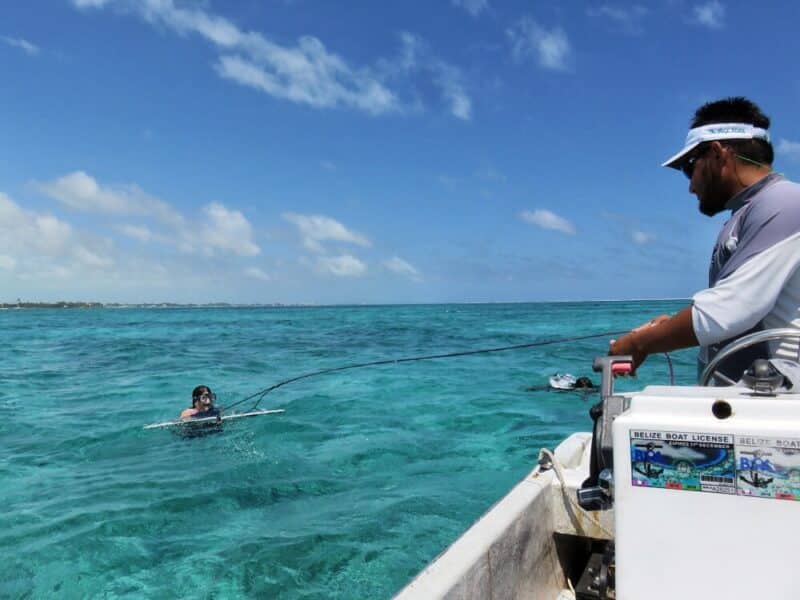 The plan was to go all the way out to Hol Chan…so rather than just a boat ride, you'd be gliding along.  Ashley and I geared up.  And the guys start very slowly.  It is ridiculous and fun…and ridiculous…being pulled behind a boat.  At first I could not stop laughing.  But once you get the hang of it a bit, you can dip down and come up quite easily.
A photo from @subwingspot on Instagram taken off Ambergris Caye.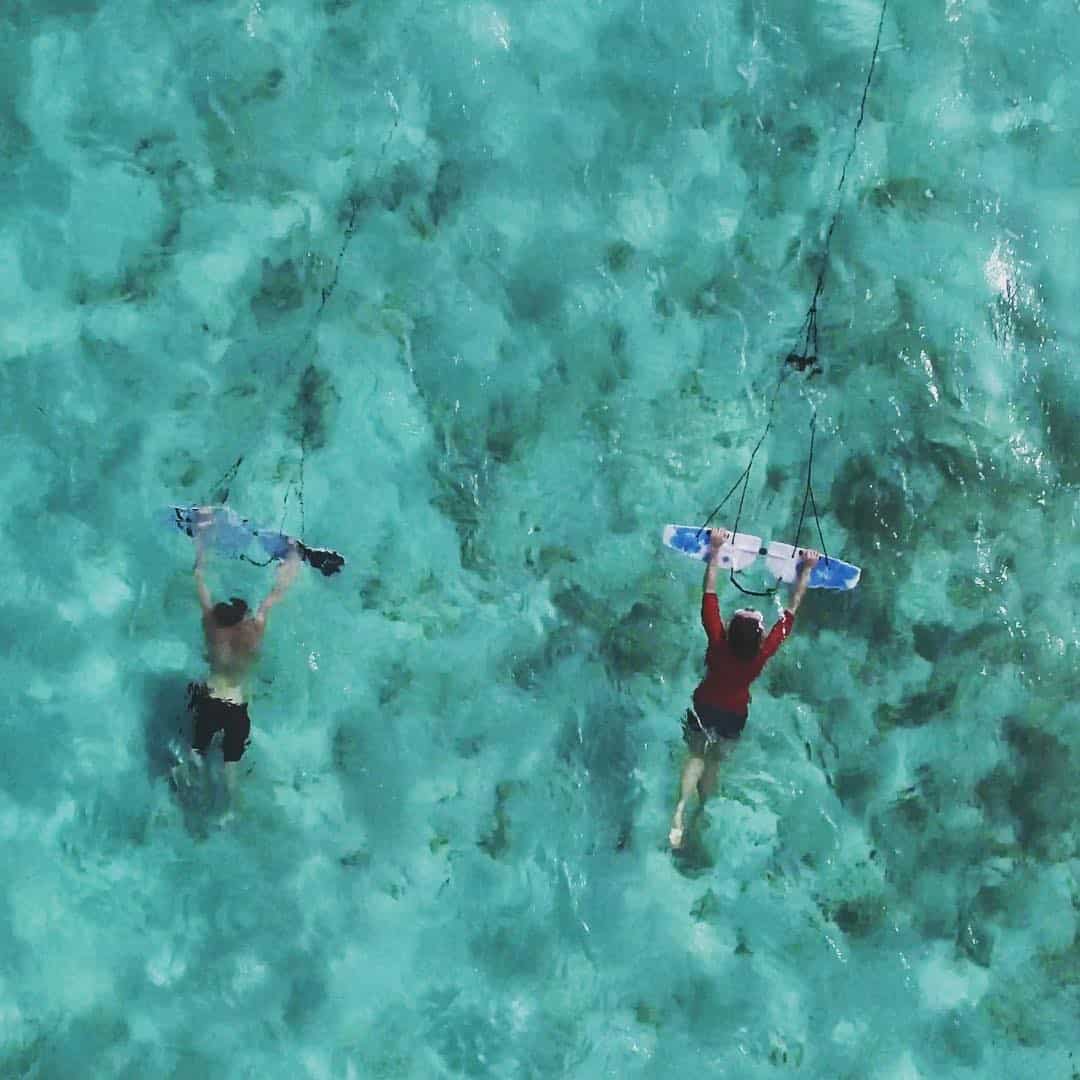 The pros from Subwing that were here in Belize filming a few weeks ago show crazy footage getting close to coral…but we stayed over sandy bottoms.  Probably 8 to 10 feet deep.  And I never felt like I was in danger at all.  This video actually gives you a good feel for what's going on…

What I felt like was that I needed lots more practice at this…
I tapped out early – and found that I had been doing it for an hour!  No wonder my arms were getting tired.  Ashley continued for another 45 minutes…she was loving it.
IMPORTANT TIP:  Do not wear a two piece bathing suit.  I spent much of the time trying to make sure my suit didn't whisk away and that took away from the experience.  I'd go with a rash guard and some kind of spandex pants/shorts…
If you have an adventurous friend coming down to visit…do this together.  It's total ridiculous, "are you sure we are supposed to be doing this?", one of a kind fun.
A bit like human trolling for sharks 🙂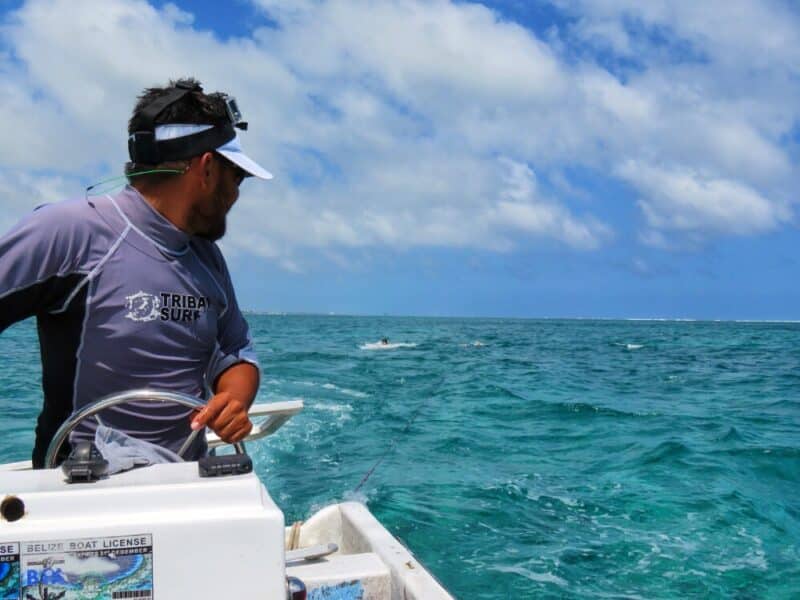 We hopped in the boat for the short drive to Hol Chan.  On the way, we stopped to watch a surfacing dolphin.
And the snorkeling at Belize's most famous marine reserve is as beautiful as I remember, especially with so few boats.  And we saw a BIG green turtle lazily munching on seagrass and a little guy.
Next stop…Shark Ray Alley.  It was already 2pm!  But this is a quick stop.  As soon as the nurse sharks hear the motor, they all pile up by the boat.
I love how they pile up to make sure THEY get the bait fish rather than the jacks below.  We even had birds swooping in to take part…
@GoPro posted this gorgeous picture yesterday on Instagram to its 8 million plus followers – taken at Shark Ray Alley on Ambergris Caye.  It's really an amazing spot.
WHAT A DAY!  We returned to the dock at about 2pm…fully salted, tired and…I dunno.  Kinda giddy.  That subwinging is ridiculous.  Any teenager comfortable in the water would automatically love it…and anyone with even the tiniest sense of water adventure would too.  (Trust me…I am, despite what I show here, ALWAYS nervous before anything even the least bit unknown.)
Here's Esban on our way back.
I had an amazing day.  And have the sunburn to show for it.  Another tip:  Wear a rash guard – that would definitely be the best.  Or reapply coral safe sunblock early and often.
Crazy fun.  For more information on parasailing, SUBWINGING and snorkeling, check out the Belize Parasail site,  stop by the Fido's dock or ask at your hotel.
Definitely something you won't forget.  And there are few things better than a basically self guided tour on these waters.
AND, I am totally working on Pinterest now.  So if you are a Pinner…feel free to share this post by pressing the PIN IT button below.  Happy Pinning.