Fresh Organic Greens Grown on Ambergris Caye Plus a Super Fun Fact
I had seen the large 2000 square foot greenhouse at Mahogany Bay Village on Ambergris Caye before…
…but just recently I heard that people were getting deliveries of fresh organic lettuce and greens.  The company called Ambergreens Organic Aquaponics Greenhouse was up and running.  The very first of its kind on the island.
I'd visited a hydroponics greenhouse on the Belize mainland over a year ago – that supplies some of the bagged lettuce and greens here in San Pedro…
But I wondered:  what's the difference between hydroponics and aquaponics?  Here is my very basic understanding.  Fish.  The fish provide the fertilizer and keeps the whole system organic.
I walked over to Mahogany Bay to meet up with Markus and Melanie, the owners of the new business.  When I'd heard that they were a pair from Austria, for some reason I was picturing a much older couple…
I was wrong.
But much more surprising to me is that Markus has moved back to Belize, is a born and bred Kriol-speaking Belizean AND that I met his little brother, Karly, on St. George's Caye, where Markus was raised, about 4 years ago.
One of the most impressive people that I've ever met in Belize.
Here's the post – 11-Year Old Belizean Aquarium Manager Knocks My Socks Off.
Their father is a marine biologist from Austria who taught them both a TON about the ocean  nature and about fish.  Pretty cool, right?
Now let me show you the inside of the greenhouse.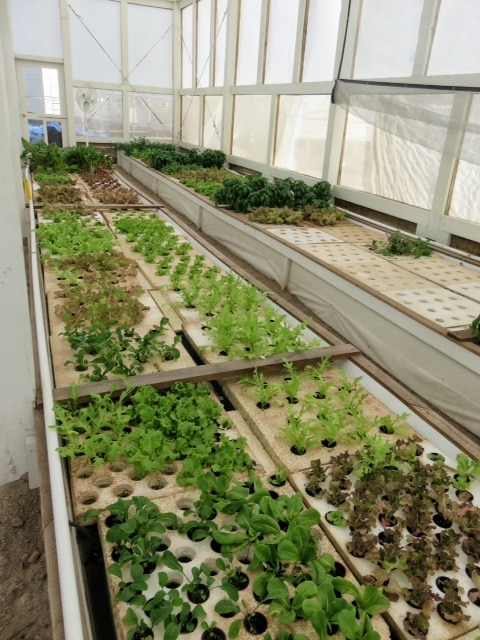 Beautiful herbs, lettuces, mustard greens, rainbow chards, oh my…
Mmmmm….a little garlic and olive oil…
Basil leaves as big as my hands…
Micro-greens.  These are baby argulas…argulae…whatever.
The lettuces are absolutely gorgeous and chilled and packed so that they last in your fridge for a week or longer.
The fish do their business…and the water is pumped slowly through the system…returning to the fish clean.
They are now experimenting with peppers and cherry tomatoes (for those sick of the flavorless roma tomatoes)…there is more to come.
Check out their facebook page (the website is still under construction) and send them an email.  [email protected] and [email protected] to get on the mailing/inventory/price list.
And find out what yummy greens can be delivered right to your door.