Caye Caulker and Her New Beach are Looking Beautiful
Thursday I cruised over to Caye Caulker with Island Dreams Tours.  And…for some reason, it was my first stop in Caye Caulker for months.  What the HECK have I been up to?  Just 20 mins away, I had been gone for months and lots had changed.  But the charm is there FOR SURE.
Easiest just to show you in pictures.
We started by cruising down the leeward side of the island to the Split.  On the north side, leeward, is a new business.  I tried to get some pictures…
A local told me it was a place called Koko King and all I can find is a Facebook page.  It's JUST north of the Split.
We cruised through passing the Lazy Lizard.
So let's start there.
The Lizard itself is undergoing some construction.  There is a new mural.
And what they are calling a "bistro" upstairs.  Perhaps too fancy for the Split?  A historically VERY laid back place – the old motto used to be "a sunny place for shady people".
And the view below.
One old sign kept.
There is some new signage on your way in…
And then, on the water, a gelato place and a pizza place.  With one brilliant view.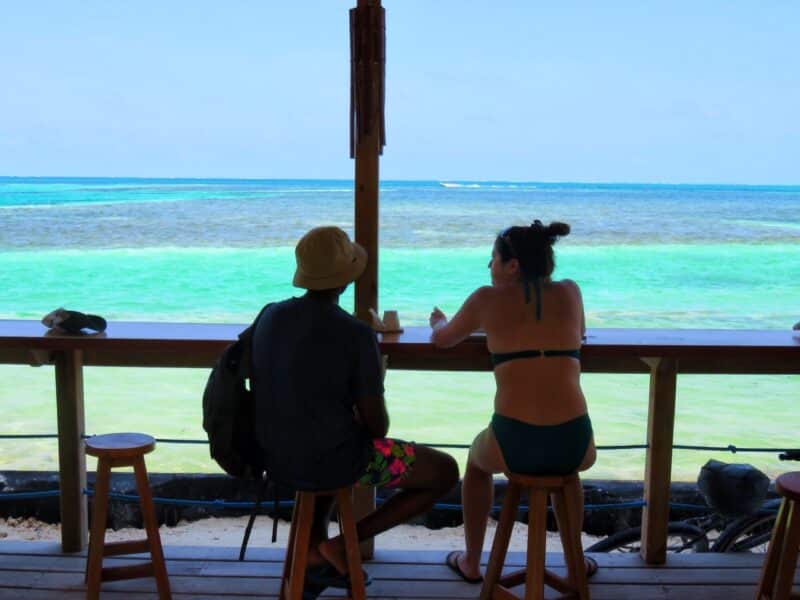 I headed south…along the main road.  And the first bar is Mara's Sip and Dip.  It expands each time I go to Caye Caulker.  Now a full dock bar.
And this intriguing new sign.  Specialty items on Caye Caulker!
Super cute little spot down the side street.  But it wouldn't be open while I was there.  Next time…
And then the new beach!  You can check out the official inauguration in the San Pedro Sun.
And some new kiosks along it…
Margarita Mike's…
And The Best of the Fair.  I had to ask what a Tornado Potato was…and Thailand Ice Cream Rolls.
I was melting already.  The thought of a deep fried candy bar (which normally sounds delicious) kinda made my stomach churn.
And where the old Belizean Flava restaurant used to be…
Now this…
They have relocated across the street.
Here are some more photos from walking around the village.  SO super cute to me.
For pinners – if you like it, then stick a PIN in it.  Gracias.  I'm working on my Pin-ability.