San Pedro, Belize's LobsterFest 2016 Is Stacking UP to be HUGE!
On Ambergris Caye, Belize, this is going to be the biggest Lobster Festival on record!  In more ways than one…
11 days of events.  For the 10th Annual San Pedro LobsterFest.
The calendar is already full…as in previous years, a passport will be issued and the more events that you attend?  The better chance that you have to win THE GRAND PRIZE.
"One lucky participant will win a vacation package for 2 to attend the San Pedro Lobster Festival 2017!!"
Not only will it be the longest event of all…but there are some very cool features
The Block Party is on the Saturday the 25th and is the biggest event BY FAR.  This year there will be VIP seating, so that you can reserve a table for an hour or more.
The festival is making all attempts to GO GREEN!  Biodegradeable bags and plates are requested from all booths.
The clean-up crew is recruiting (as always) – and special LobsterFest T-shirts will be made for the crew.  Who wouldn't want a t-shirt that says San Pedro Lobstah Clean-Up on the back?  Or maybe Lobster Clean-Up and Security.  I might have to sign up!
As always, it will be a full week of fun, music, sun and lots and lots of lobster.  The season officially opens June 15th.  Here are some pictures from previous years…just to give you a taste.
2011
The food winner for that night – the DELICIOUS Coconut Curry Lobster from Elvi's Kitchen.  Put their seafood curries on your list even if you aren't going to LobsterFest!
2013 – I was in Rhode Island!  They have pretty good lobster too 😉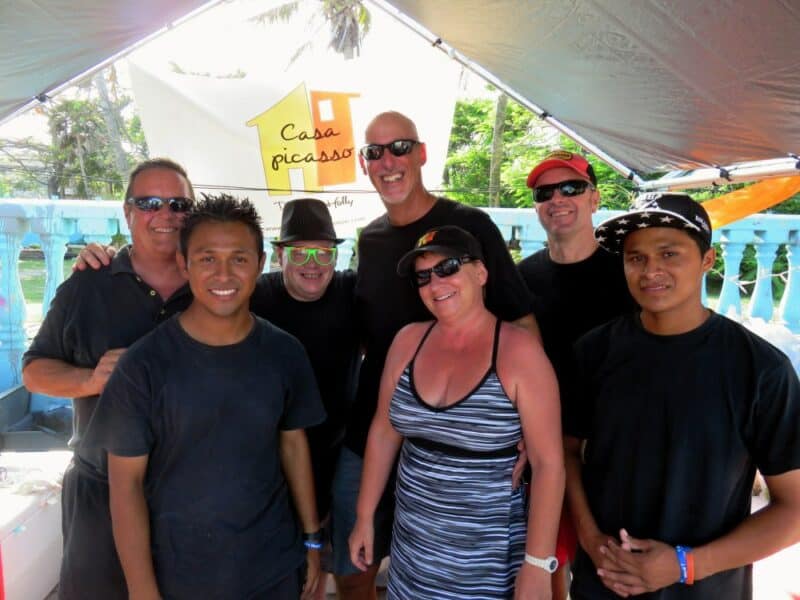 And 2015.
Lobster pierogis!
Food, music and good times.  Book your hotel room now!  I'll see you in June.
And PLEASE do not forget about the other Lobster Festivals in Belize…both older and SO MUCH FUN.
You might as well just save your second half of June and the first week of July.
You can read here about my trip to Placencia's Festival in 2014 and Caye Caulker's in 2014 and 2015.