Lamanai Maya Site: Another Way To Go, a Huge New Venture and LOTS to See
Lamanai is one of the largest and most beautiful Maya sites in Belize.  And the location is just spectacular.  Lamanai is located on the largest body of fresh water in Belize – the New River Lagoon.  The river is the longest that is entirely in Belize and wells up from fresh water springs.  The gorgeous lagoon, lined with grasses, lily pads and crocodiles, is 30 miles long and DEEP – as deep as 90+ feet in spots.   It is also the heart of colonial settlement in Belize due to fertile land and the fresh water running to the sea – an excellent conduit for the early logging business.
The view from the High Temple.
But the Maya knew that for centuries.  As early as 1500 BC, Lamanai, the oldest continuously populated Mayan site, was perfecting agricultural techniques and doing some pretty amazing things.
But a usual…let me back up and tell you about my day.  I have been to Lamanai (in Orange Walk, Northern Belize) a few times from San Pedro.  Twice I took the trip with island tour groups, pick up and drop off at your hotel dock.  Super fun and long day.  The next time I took the tour from the town of Orange Walk.  Another great way to do it.
Last weekend, I received an invitation from a tour company called AyinHa Adventures – I had never heard of them but had chatted before with Blanca when she was at a different location.
Would I like to go to Lamanai with them?  Ummmm….YES!   This time, I would take the San Pedro Belize Express water taxi to Belize City – and be picked up on arrival.   We would take a new way to Lamanai, visit the Baboon Sanctuary and, as I found out, a ton more…
The lobster boats unloading in Belize City.
A car was waiting…to take us out of the city with a quick stop at the now famous BELIZE sign…
I was with two honeymooners from Utah.  Who were excellent for posing in pictures…
We headed out to the Belize River Valley…a string of small Creole towns along the river…many people ancestors of the first British settlers and their African slaves.
After the village of Burrell Boom, we turned down the road to a very small village called Lemonal – one of the oldest villages in the valley and one that I had never heard of.  I was surprised to find the road was newly paved…brand new…and was continuing for 10 miles.  Hmmmm…perhaps AyinHa is a bigger operation than I thought.
AND IT IS.
We arrived at a brand new building, man-made lake (that will contain 3000 tilapia), a restaurant that can seat 150 and a bar area.
Everything brand new and beautiful.  Gorgeous carvings, orchids, pretty wooden furniture and a GIANT thatched roof.
There will soon be a pool, zip-lines and even an airstrip!  Wowzer.  We had a welcome coconut water and headed to the dock area – set on a canal that led right to the New River Lagoon.
We headed out…
And 20 mins later, we were pulling up to Lamanai.  The first boat there.  Let me go through my pictures quickly.  I really have so many…
The National Flower of Belize – the Black Orchid
The Museum
And then outside to the temples.  Our excellent guide Eduardo took us around the opposite route from usual and we had each structure to ourselves.  Just the honeymooners and me 🙂
You are no longer able to climb up the center stairs at the High Temple…
…they are INCREDIBLY steep.
The new route is around back…and SO worth it for the view.
The area where the aristocracy lived with a view of the Jaguar Temple behind it.
The jaguar masks on each side.
We took a route that I've never taken – to the Sugar Mill.  Built in the mid-1800s by the British and manned by Chinese workers, it closed a few decades later and the elements have certainly moved in.
We also saw a cool bird – a juvenile bi-colored hawk eating another bird.  One that seemed to be pretty good size.  There is a discussion right now on the Facebook group Creatures of Belize about what it is eating.
Super interesting.  We headed back to the boat and were back at AyinHa in time for lunch.  Pulling up to the palapa.
We had a huge meal of rice and beans, potato salad, plantains and chicken and headed out to the Baboon Sanctuary.  The black howler monkey was known locally as a baboon – and the name stuck.   Some of the villages of this river valley are a sanctuary for the baboons and an amazing spot to see them.  PLUS – this area WAS on my Belize bucket list.
We headed to the village called Bermudian Landing to meet Shane – the founder of Black Howler Ecolution Tours.  It's his own word…
Ecology and Revolution.  Being in tune with the animals but letting them live wild.  Not forcing anything upon them.  The property is Shane's great-grandfather's and is right on the Belize River.
We arrived as he was showing some people the leaf cutter ants.
And then the monkeys! A small troop…so so beautiful.
Cutest 3 month old ever.
It's definitely a family business.
And an amazing spot to visit.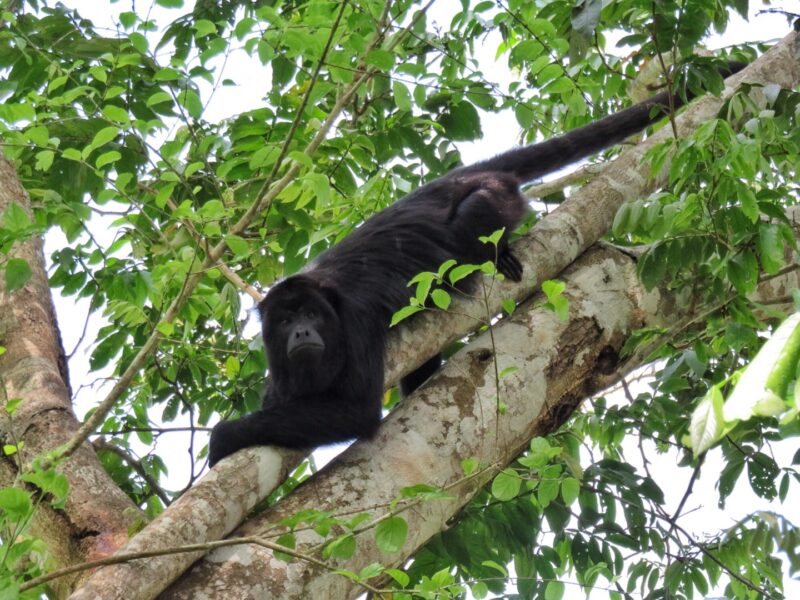 I had an awesome day and about 30 minutes later we were back at the water taxi ready for the ride home.  A ride that lulls me to sleep in a matter of minutes.
For more information about this trip and their entire operation, check out AyinHa's website.