The Belize Zoo: THE Best Little Zoo in the World. Really.
Yesterday we did a day trip for San Pedro to the Belize Zoo.  It's a long day – for sure…and can be facilitated by a wide array of tour groups but we were a group of 7 and only two of us would be returning.  Five were headed back to California after a great week on the island…BYE GUYS!
Let me interrupt for one moment – I LOVE THE BELIZE ZOO!
After a night a rain, we were up early…so early I actually saw the sun rise.  A minor miracle since the current sunrise time is 5:25am.
We hopped on the water taxi to Belize City and had pre-arranged a van to pick us up, wait at the zoo, drop off family at the International airport and return us to the water taxi.  Pick up at 9am and we were dropped off at about 2pm for the taxi to San Pedro.
The Belize Zoo is located 29 miles outside of Belize City right on the Western Highway.  A little bug spray, some comfortable shoes and you are ready to go.  The zoo is solely populated with the animals of Belize – and all are either rescues or zoo births.   The natural, jungle-like surroundings and how close you can get to the animals makes it absolutely amazing.
Especially if you have zoo friends 🙂
We stopped first to visit Belize's national animal, the tapir.
Close.
Closer.
Closest.  Awwwwwwwwwwwww.
And then the spider monkeys.  This one curious.
This guy cracked me up.  Totally unimpressed by us.
We then met my friend Jamal, the Environmental Educator at the Belize Zoo, to spend a little quality time with the cats.
First HUGE Lucky Boy, a rescue who was in horrible condition when found at a closed resort down in Southern Belize.  He was very close to death from starvation.
He is MAGNIFICENT.
And enjoy a bit of chicken…
Lyndell was creeping in the next enclosure waiting for his turn.
And my favorite cat…Carlos the mountain lion.  His eyes are…mesmerizing.
And chicken makes him purr and lick his lips…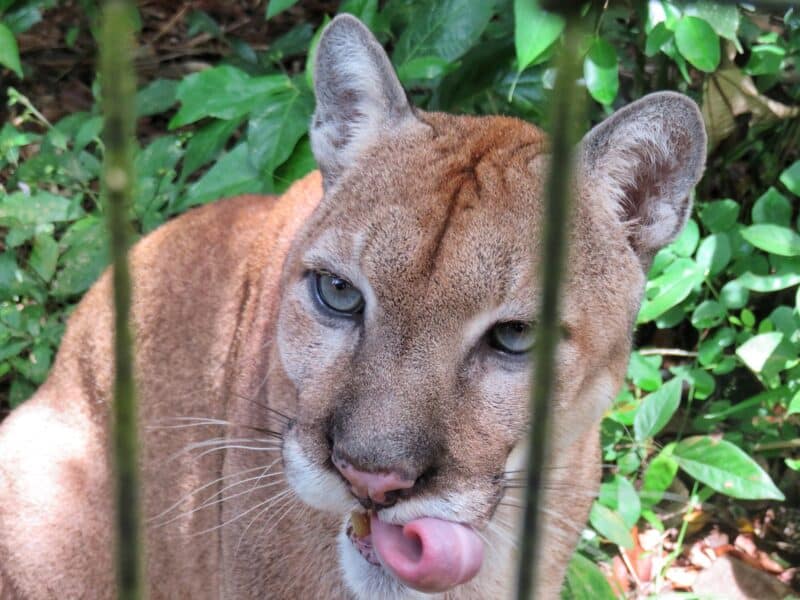 We then had a special encounter with Rocky.  Check the Belize Zoo's website for the animal encounters you can experience!
Rocky high fives and rolls over for a treat.  And seeing him up close is absolutely amazing and a tad bit terrifying.  Such a gorgeous creature.
We walked over later to see one of the smaller cats – the beautiful ocelot.
These actually exist on Ambergris Caye – and there have been various sightings of larger cats up north.  Here's a picture taken recently of a ocelot being the Costa Blu Resort (about 7 miles north.)
On to some of the birds of Belize.  Our national bird – the keel billed toucan.
The HUGE jabiru stork with his strange little white toupee.
How do you measure up?
And the king of the jungle, the rare harpy eagle.
She's absolutely gorgeous and HUGE.
We had lunch and headed out.  As always, I left mooning over Jamal and the zoo.  What an excellent experience.
Wiser words have rarely been said…