Belize's Only Floating KiteSurfing Operation: Ambergris Caye's PassionKite
I have heard it from kitesurfers and kiteboarders** (including Jill who wrote this kite guide to Ambergris Caye for me) – that the conditions on Ambergris Caye can be AWESOME for the sport. Good wind during much of the year, shallow WARM waters – no wet suits needed here – and the scenery – gorgeous barrier reef.
So why, even at the windiest times, do we only see a handful (if that) of kites along our shores?
Well a few reasons.  It's a relatively new sport, just developed in the 1990s and still growing.  In Spain, California, Brazil, it is HUGELY popular.  Belize has a few shops and is slowly getting on the radar.  Also, the docks that line our island can make learning very tricky for beginners.
Docks can be the perfect launching point for those with more expertise but it's best for those just learning to have wide open, waist deep water to practice in.
AND THAT IS WHY THIS NEW BUSINESS IS PERFECT.  MJ Leslie and his two friends/employees/fellow kiters, built a transportable kite shop.  PassionKite.  And I've seen the pictures on Facebook for the last few weeks.  But when I saw it being towed to the leeward side of the island, to Belize's largest sandbar, to the knee to waist deep, sandy bottomed waters, I knew that I needed to visit.
And in her spot for this week.
MJ has been kitesurfing for 10 years now.  He learned on the caye and got additional training as an instructor in Miami.  It's his passion and so, his shop's name is perfect.
Here he is…born and raised in San Pedro.
Yesterday, MJ picked me up on the lagoon side of town for the 15 minute ride over to the shop.  These guys built it themselves…with bamboo harvested from the mainland, lumber and coconut fronds.  It's a pretty sweet set up.  Especially with the view and the bean bags.
Sam, a diver and a new student of kitesurfing was out for his second lesson.  And was already getting up on the board.
 It wasn't a perfect sunny day but it was still pretty gorgeous out there.
Mitch who works with MJ.
It was getting darker but still…so ridiculously beautiful.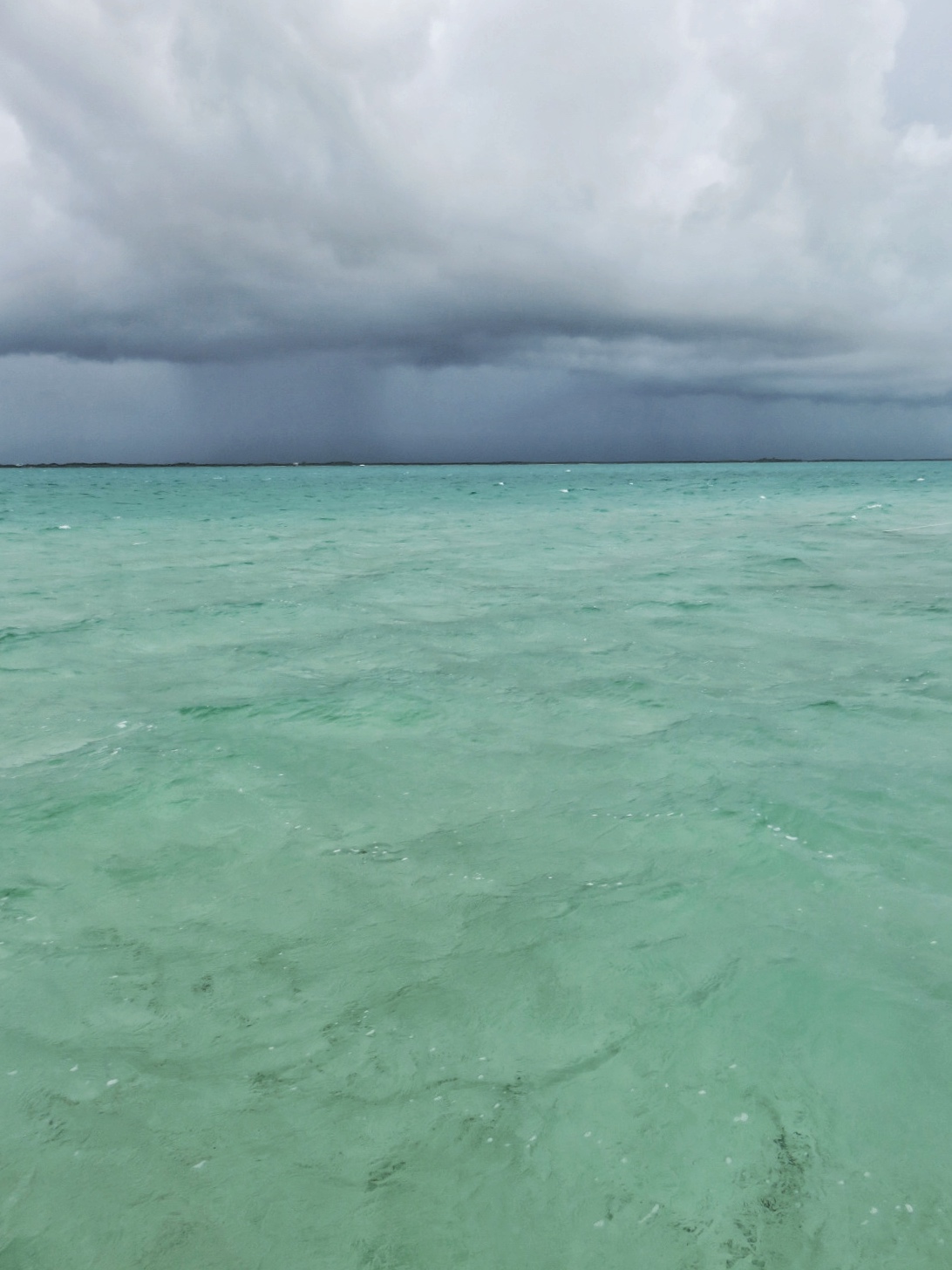 And then the rain.  It was time for me to head back home…but how super cool is this?  You can contact MJ, head out with him for a morning or afternoon lesson, your friend can watch from the comfort of a beanbag with a giant swimming pool all around him and a cooler of cold drinks…
After this week, he's tugging the shop back to the front of the island…to Boca Del Rio, just north of town, so that people can see it, wade up, ask questions and get to know the team and the sport.
I asked MJ my main question:  what skills do you need to be able to kitesurf – it looks challenging.   Answer:  You need to be relatively fit, able to swim/be comfortable in water and you need to stick with it to learn the technique.  It's more about technique than anything else.  Sam, our newbie, was able to get up on the board, on his second lesson.  First lesson is all about safety and controlling the kite.
When the tourist season really begins (Thanksgiving), it will be back out on the sandbar…halfway between Ambergris and Blackadore Cayes and when back there, you can watch these beautiful kites streaking across the neon blue water.
Or maybe we can be trying it out.  You never know.
** Kitesurfing and kiteboarding are pretty interchangeable apparently.  🙂
Oh…and to remember to look them up on your next vacation, Pin It.