Your One Day Itinerary For Ambergris Caye, Belize – For First Time Visitors
I would never recommend just one day on Ambergris Caye.  I really think that you need at least 4 or 5 days and ideally a week to get the feel of the place, to do many of the great activities, to visit some of our restaurants and then visit your favorite ones again, to get to know the people and to feel like you never want to go home.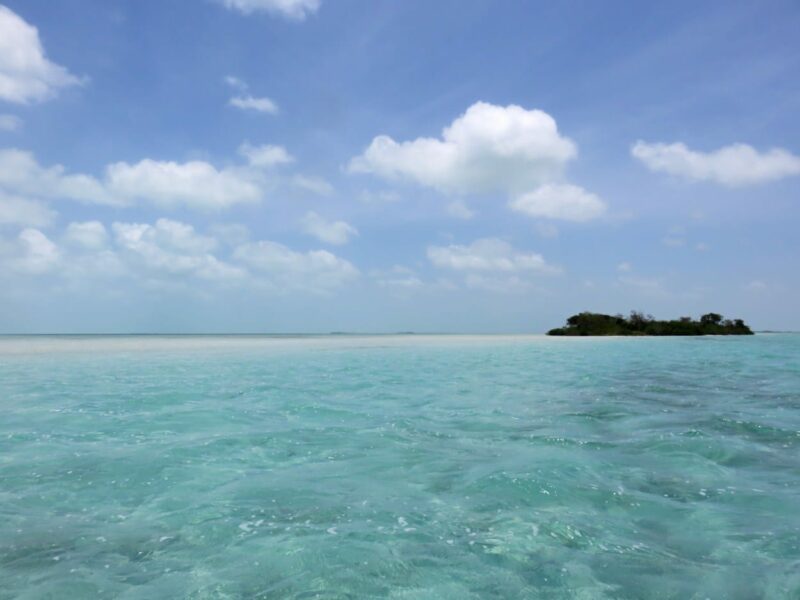 Isn't that what vacation is all about?
But there are circumstance where you have just one day.  If you are staying on Caye Caulker, our smaller neighboring island, you can take the 20 minute boat ride over and enjoy the day or perhaps from Belize City or Corozal – two towns with regular boats to Ambergris Caye.
Here's my proposed itinerary for you on a quick visit to San Pedro.
Belizean Breakfast:  Local breakfast is often grabbed on the run.   A few meat pies purchased from your meat-pie-guy on the way to work…or a johnny cake eaten on the way to school.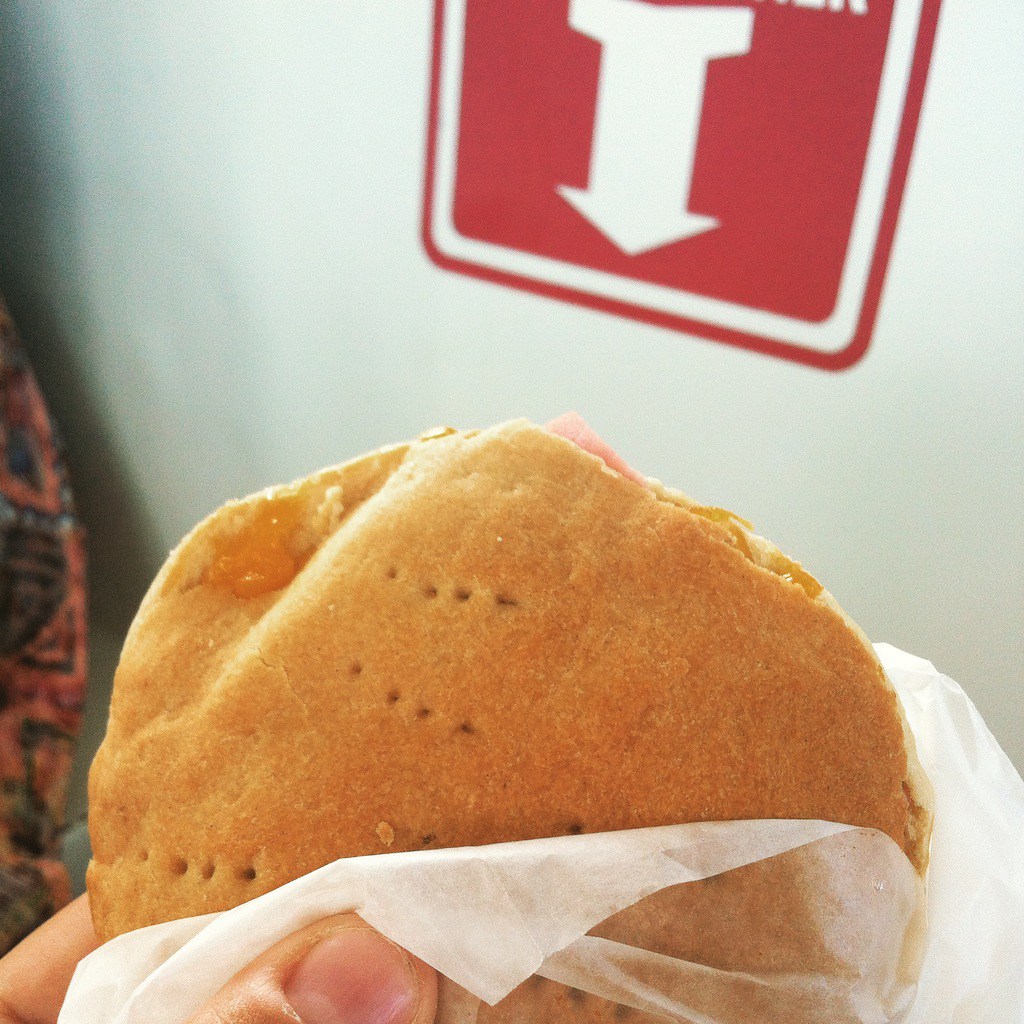 Since you are on vacation, you have time to be a bit more leisurely.  To get a cup of coffee and eat the FULL breakfast.
There are so many great restaurants in San Pedro but since you are in town – just for the day, let me suggest to breakfast favorites.  Estel's Dine By the Sea for eggs, beans and fry jacks or their delicious pancakes and fry jacks.  The second is carb loading but fry jacks are just TOO good to skip.  And…you have a full day!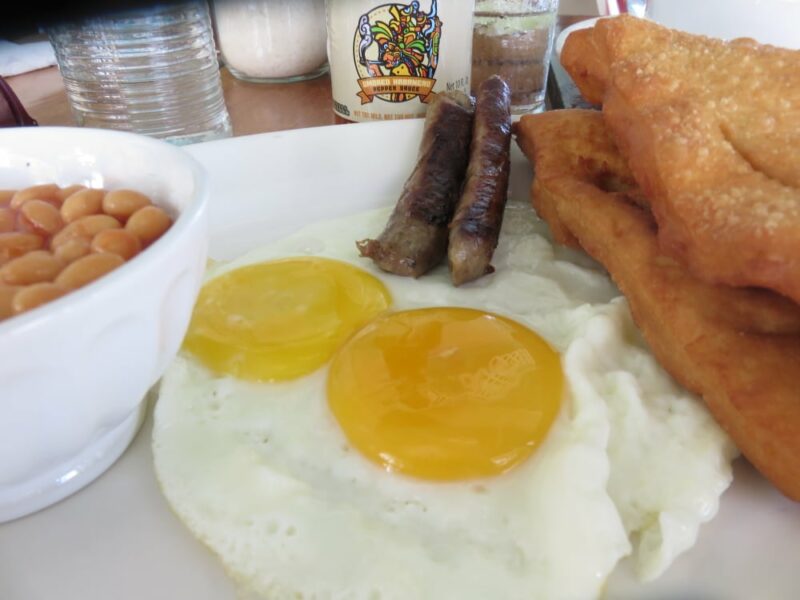 Deep fried flour tortilla dough that ends up a little pillow of deliciousness.  A savory donut.  And the views not bad either.
Or try Boogie's Belly in the midst of town.  These guys KNOW breakfast.  Not only can you get a cappuccino or a real coffee…but they make the very best meatpies in town.  And, if you happen to be here on Wednesday or Saturday, you can try the best of the best – the lobster meat pie.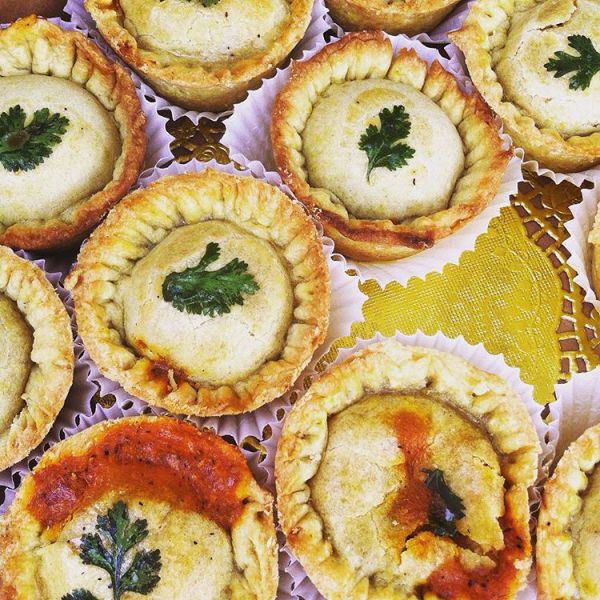 Try the waffles, the Saturday special, the chicken and waffles, pretty much anything they have to offer.  And don't wait until 10 or 11…this spot sells out.
Filled with fuel and caffeine you are ready for…
A Walk Around Town
If you are staying on tiny Caye Caulker, San Pedro will seem BUSY!  But that's not a bad thing.  There is no better way to get a feel for the place than a walk around.  Plus, it's a good way to gather a few souvenirs.
I won't go into great detail but here are the spots unique to our town.
Front Street, Belize Chocolate Company, RubiMoon for beautiful jewelry and accessories and Belizean Art (in Fido's Courtyard) for just about anything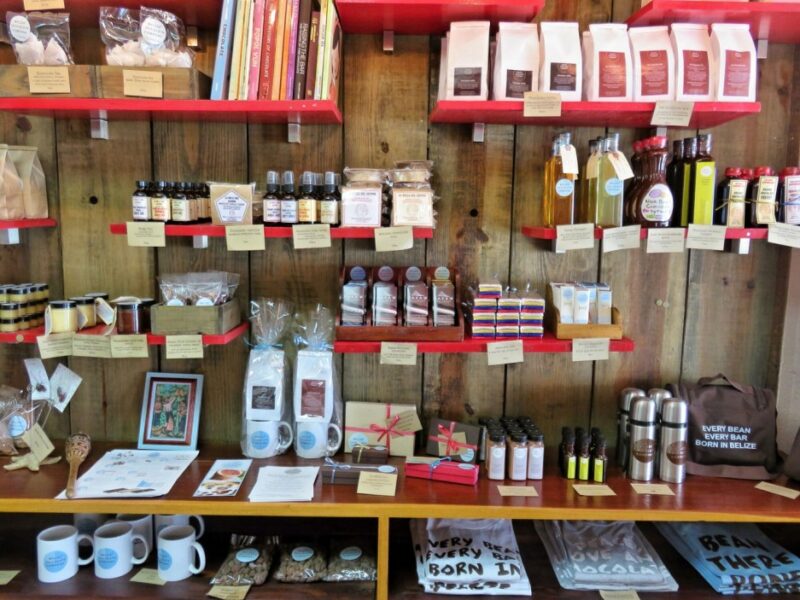 See if you can time it right so that you can try the chocolate making class at Belize Chocolate.
Middle Street, Graniel's Dreamland and The Rum, Cigar and Coffee Shop
Graniel's is a favorite FAVORITE and I always take visitors here.  They showcase the beautiful hardwoods of Belize.  We were just there last week and purchased and were gifted a selection of beautiful hand carved bowls in dark, glossy zericote, pink rosewood and burly sapodilla.
We provided the rock collections.
If you have chosen to relax, lounge in the water and get some sun in the morning, may I suggest a slightly different morning itinerary.  After breakfast, float in the inner tubes at the newly opened Palapa Bar and take the Belize Food Tour!  Which leads me to…
Lunch & a Belikin or Belize Food Tours
Belize Food Tours is an amazing way to eat (I MEAN EAT) while getting a tour of town.  Take a look at my post.  Such a great way to see and taste San Pedro – from ceviche to rum to a refreshing lime paleta.
But if you already did your own tour, maybe I suggest a few restaurants – Elvi's Kitchen, one of San Pedro's original restaurants, does such great food and the best caye lime pie in the world.
Briana's Deli on Back Street is a local lunch favorite – they have a daily special.  Sometimes pig tail with split peas (my favorite) or chilmole (Belizean "black soup") or beef soup, but if you are looking for a TRUE taste of Belize – the $10bzd rice & beans with stew chicken is the best in town.
Snorkeling Hol Chan Marine Reserve & Shark Ray
If you visit San Pedro and do not visit Hol Chan Marine Reserve well…shame on you!  This area has been protected for years and is home to beautiful corals, practically every kind of fish, TURTLES and sharks.  Lots of sharks.
The first time you dangle your feet in with these beauties is…good times.  So that should keep you busy from about 2pm to 4:30.  Let's imagine that you have a place to shower off…you have only one day!  Snorkeling is surprisingly tiring, TIME TO EAT.
Dinner
Hard to pick just one – but here is a selection of beloved San Pedro eateries.  Grab some pupusas at the El Salvadorean spot on Middle Street and split an enormous lobster burrito.  Blue Water Grill is a huge favorite with visitors and those who live here – great food, service and view over the ocean.  Or try Finn & Martini's for the ridiculously good Chaya Cheese Dip and the Seafood Wontons…yum.
Like I said, I would never suggest one day on Ambergris Caye…you've missed so much!  Some of the things JUST outside of town…like the Tasting Menu at Casa Picasso or lunch and Ice Cream at the Truck Stop.
And some, a bit farther away…like day of snorkeling or diving OR FLYING OVER the Blue Hole.  Or a trip to Secret Beach or one of the Sandbars on the leeward side of the island.
Or live music at Fido's or the Sunday BBQ at Carlo and Ernie's or Estel's or…
I could go on.  But that's my one day Itinerary.
Please let me know what you would suggest or what you did with your day on Ambergris Caye.
And if you are visiting soon, please PIN it.  See you soon 🙂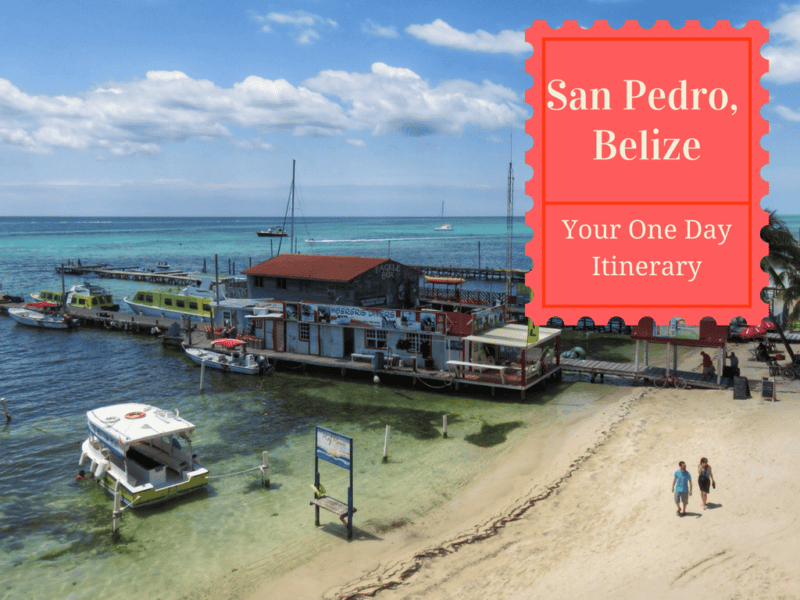 For more ideas for Ambergris Caye and around all of Belize, please check out my Belize Bucket list.