Travel on the Horizon – An Adventure Right Next Door
My desire to travel – wanderlust – has really kicked in recently.  Call it island fever…call it itchy feet but it's time to plan a trip.  And I think I found the perfect time…
My very favorite thing in the world is travel…well…and dessert…but in second place is planning a trip.  And last year, my big trip was basically as far away from Belize as I could go.  An amazing, once in a lifetime, perspective changing, awe inducing, 10,000 mile trip to Kerala, India.  (Check out 12 Things I did not expect about Kerala, India)
SO…some time has opened up in beginning of January – the planets have aligned – and while I am hardly FLUSH with cash…there is a bit extra AND a country that I've been planning to see for a while.  And it's less than 200 miles away.
GUATEMALA…on our very border and yet…yet…I've only been to the very edge of it.  And there is SO MUCH.  Colonial cities, active volcanoes where I can toast marshmallows, deep volcanic lakes, rain forest, a Pacific coast called "The Billfish Capital of the World", hot springs…
Time to get planning.  And I definitely need your help!
Some see Guatemala as scary and dangerous but I have only heard great things about the places, travelling and the people.  There is one exception and that's Guatemala City.  I'm undecided whether I'll visit or not.
There is research to do!
Here's the plan:  12 days to travel to Guatemala solo, track my expenses (and keep it REASONABLE), see as much as possible and have fun.
And here's what I'm hoping for – beautiful landscape, high mountains, indigenous markets, great weather (of course), cobblestoned streets, endless coffee fields. soaring Maya pyramids, slow travel and a bit of adventure.
Here are the stats on Guatemala:  It is 5x the size of Belize but the big difference?  Her population is 15.5 million compared to Belize's 330,000.  Amazing.
Another big difference for me?  The language, like all the rest of Central America is Spanish.  Espanol?  Uhhhh…not really.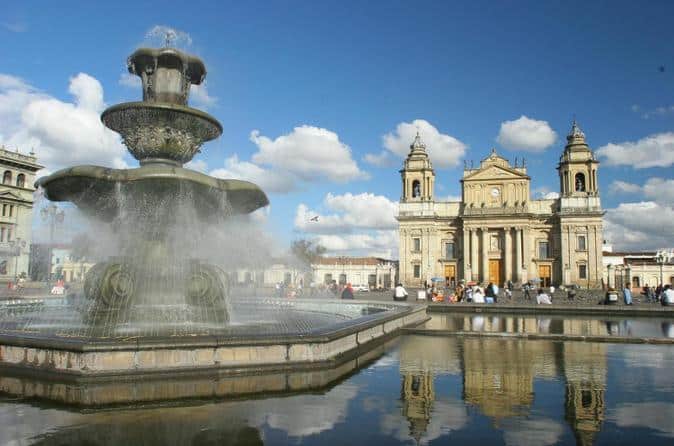 There is also the elevation issue.  The highest mountain at over 13,800 feet, Volcan Tajumulco, is a live volcano and the highest mountain in Central America.  SERIOUS ALTITUDE SICKNESS CAN OCCUR UP THERE!
Guatemala also has Central America's deepest lake, Lake Atitlan, a spot on my list.
So here are my preliminary thoughts – I don't want to move too quickly so I am sure some of these will have to be scraped (most likely the fishing and perhaps Rio Dulce should be saved for sailing)…
The Maya City of Tikal – I visited about 6 years ago and now it's time to visit again.
Semuc Champey – Natural Limestone pools and candlelit caving  (top travel blogger, Adventurous Kate, call it her Her Favorite Day in Central America)
My friends Kevin and Heather there this year.
And the list goes on…but DEFINITELY includes beautiful Lake Atitlan and the UNESCO colonial city of Antigua.
Time to get excited.  SO PLEASE, if you have any suggestions LET ME KNOW!  I'd love to find some funky (reasonably priced) hotels…or exciting tours or great shops.  Any ideas would help.
And then, I shall drag you all along.  HURRAY!  I'M GOING TO GUATEMALA!
It should be very interesting.