A Beautiful Day in San Pedro: Park Kiosks, Turkey Dinner Lunch and…I Shiver Just to Type this…Sargasso
It has been a windy, gorgeous week on Ambergris Caye.  With no rain at all, the roads have dried out nicely and after a cart ride, you generally return home with a good coating of dust.  Spring in San Pedro.
Yesterday I left home with a long list of errands and my camera.  Here are some things that I saw…
I drove past the football field at the back side of town.  The area is usually called "The Old Football field" or "Saca Chispas" and just a few years ago, it had a huge overhaul.  The upgrade was meant to turn the lagoon side of town into a bustling, well used hub – a proper sports facility, the station for all of the water taxis and a sunset promenade.  I'm not sure any of those came to fruition.
The original plan (and you can read more about the project in my 2014 post)
A few days ago, a handful of pastel colored kiosks were delivered.  And yesterday I chatted with some of the guys that were helping set them up along the north-west wall (the arrow above) of the football field.
Apparently, some of the craft vendors will be moving in soon.
They do look super cute.  Let's hope this works.
I headed just a few minutes away – to the north of town to the Boca Del Rio area – along the beach.  I can walk along this stretch ever single day and take pictures like a first timer in Belize.
The most beautiful views I know but an area that is not at all a "tourist strip".  Along with small hotels, there are fishermen, boat repair docks, quite a few homes and our town's high school.
I just love that the public high school occupies one of the best beaches in town.  Here are some pictures.
And while I was going to just pretend…gloss over it…I will just come out with it.  Over the past few days, SARGASSO has been arriving on our beaches.
This is a normal, cyclical occurrence throughout the Caribbean.  But sargasso strikes fear in the hearts of many.  Over my past 10 years here, it can come and go.  A few times a year…for a few days…or bunches for a few weeks but 2015 was a HORRIBLE spring for the stuff.  We had, what seemed, a relentless wave of sargasso arriving and piling up on the beaches.
Right now, it is just starting to come in…and the beach cleaners are on top of it.   Not a problem yet.  But you'll see it in my pictures.
Totally fine in some areas.
And piling up in others.

On my way back north I stopped at one of my favorite spots for a late afternoon snack.  Annie's Pastries.
Located on the main road just north of town, Annie's is the only bakery I know that opens at 3pm.
I think that has a great deal to do with some of Annie's most faithful and numerous customers – the high school kids across the street.
Wouldn't your high school life had been better if the bell rang and you came across the street for a hot johnny cake, coconut tart or a stuffed jalapeno?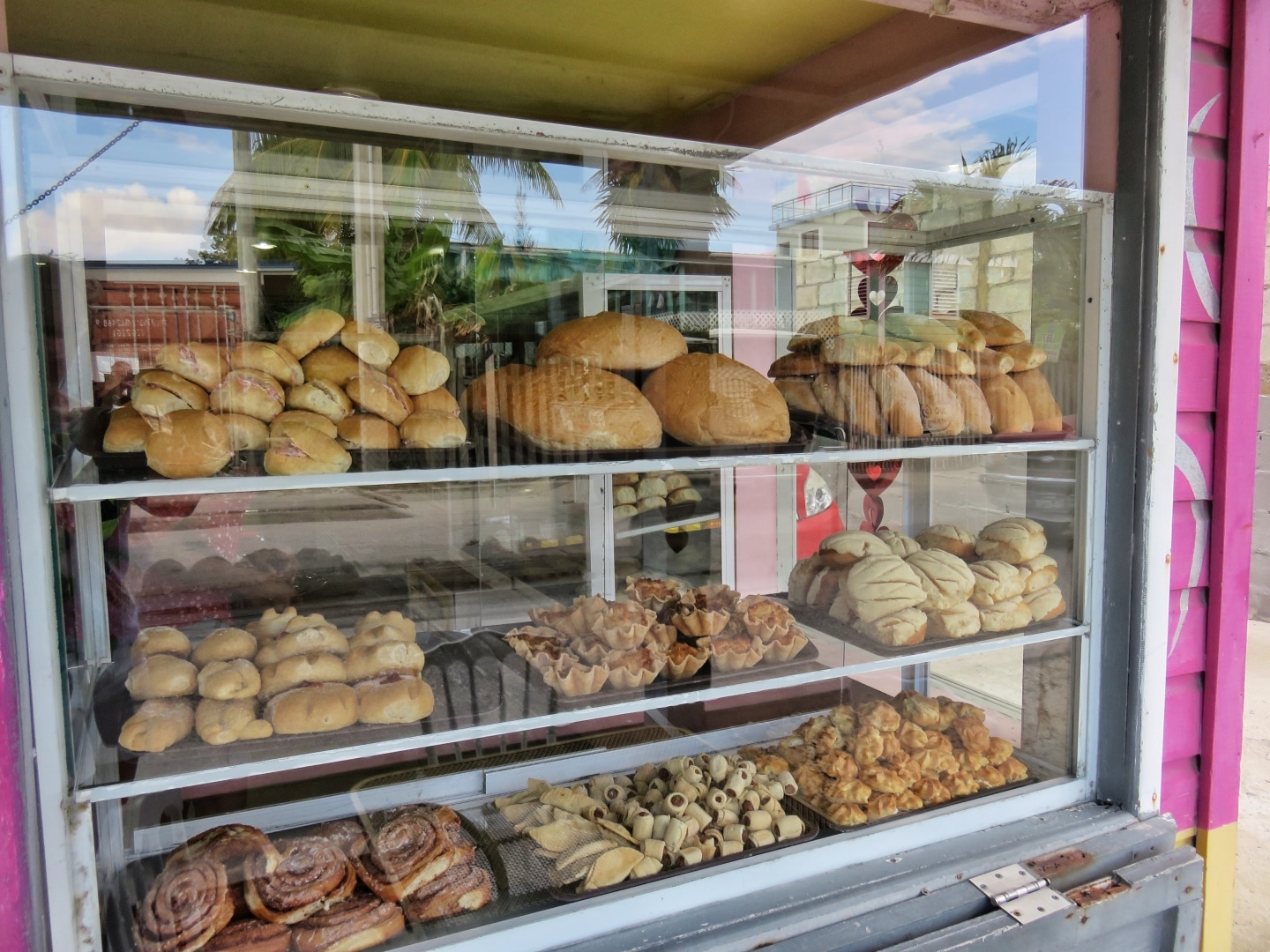 I also LOVE the new tip pig.  Does he look familiar?
Never feed him after midnight and DON'T GET HIM WET!
We left with a bag of johnny cakes (the freeze GREAT and are 2 for $1bzd) and a big slice of "Better than Sex Cake".   A piece of heaven on a plate.
ONE MORE THING BEFORE YOU GO!  Valentine's Day Turkey Dinner Lunch.  For $15bzd, Annie's is doing a lunch plate for the holiday.  Order ahead.  Pick it up at noon.  And for the ridiculously low price of $15bzd…
Here is a look at my Annie's TDL from Thanksgiving.  Just the right amount of deliciousness.