My Day In San Pedro, Belize: Banana Juice, Glowing Horizons and No Plastic Bags?
Yesterday I covered San Pedro town from north to south and then back again.  It was a provisioning day – tons of errands to stock "the camp" for the next set of guests.  It was also a GORGEOUS cloudless low humidity gem of a day…a few times a year sort of day.  A day when the sea is so smooth and clear that it was almost absurd to be on land.  A trip to the Blue Hole would have been a DREAM!  Each and every one of us should have been in the water.
Or on it.
Camp needs everything from pineapples (one store) and bacon (another shop) for breakfast to diesel to fuel the back-up generator.  I had some Scoop errands as well.
Things were always easy.  After months of gorgeous cauliflower and broccoli, there is none.  Fish fillet is almost impossible to find.  Sigh.  Island life.
One cannot dwell on the negative but instead focus on the mission – and keeping one's self fueled during the process.  So here are a few of my stops around Ambergris Caye.  (For the full list of stops…for those either curious or bored, scroll to the bottom 🙂 )
First stop was breakfast at Neri's Tacos.  Even at 11am, it's hopping.  No waiting on line, you must just move up to the counter and give your order to anyone inside that makes eye contact with you.
$3bzd pork tacos.  Delicious.  I get mine "con chili".
I also ordered a banana juice because…I didn't know that a banana could be juiced.  It arrived ICE cold and really really tasty.  I'm guessing that it is banana, water and a pinch of nutmeg blended together and kept on ice.
For those who like it, this would be really REALLY good with dark rum.
San Pedro needs an official drink!  But I need a name.  Ban-ambergris…
I am trying to cut down on plastic bags.  Once you tune into it, it's pretty shocking that after a morning of shopping, you can arrive home with about 15.  I'd brought a few reuseable sacks with me.  And they were going quickly.
4 or 5 errands and we stopped by the Belize Chocolate company for a little snack.
RubiMoon on Front Street received a new order in and I jumped out to take a look.
They have a bunch of new things with tassels…
Necklaces that I don't imagine will be around long.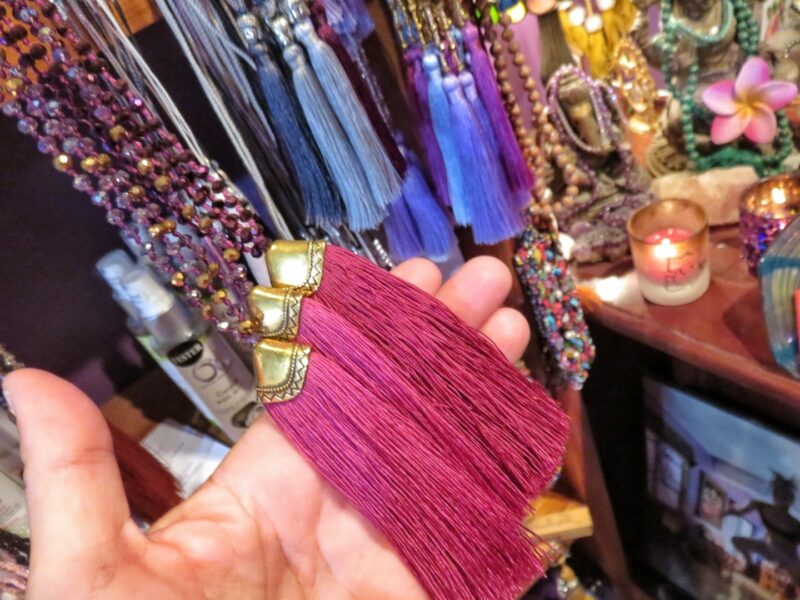 And these SUPER CUTE tunics with silky tassels at the bottom.  GREAT bathing suit cover ups…or worn with leggings or jeans?  I'm guessing that they are really flattering on all sorts of people.
Down to the beach to stop into the Sky Dive office…
This new dock is the home of the beautiful YOLO, the Skydive Shop and Sandbar Hostel & Restaurant's new lounge area.
How great is this?  Especially if you are staying at a HOSTEL!
Someone was fly boarding on this beautiful day.
And the view from Sandbar as we ordered a large Italian sub.  Tons of meat, fresh bread for $23bzd.  We split half and took the rest home for dinner.  It's that big.
We had more to do.  More more MORE!
And made it home about 6 hours after we left for town.  What a ridiculously beautiful day.  Even the locals were commenting that they should have taken the day off.
We didn't have your typical sunset…reds and oranges diffused through clouds…but a rosy, plum colored glow over the horizon as the sun went down.
I went next door to Xtan Ha Resort to check it out.
And snagged a friend's photo of the moon rise to show you how beautiful it was for the next hour or so.
And here is the full list of stops:
Mrs Gotay's Fruit and Vegetables, Boca Del Rio – Greenhouse Store, Middle Street – Superbuy Supermarket, Back Street – Neri's Tacos – Giovanni's Boat Shop – The Gas Station, Back-a-town – SMART Cellphone service, Middle Street – Lino's Meat Shop, Middle Street – Belikin Distributors, South of Town – Ambergris Sausage Factory, South of Town – Caye Coffee, South of Town – CayeMart – RubiMoon Boutique, Front Street – San Pedro SkyDive, Boca Del Rio – Sandbar Restaurant & Hostel, Boca Del RIo