Farming on Ambergris Caye
The coastline of Belize is hugged by the 2nd largest barrier reef in the world – and scattered with cayes.  Tiny piles of sand rising just above low tide to the largest, Ambergris Caye.  What makes islands different from cayes?  Well…
The definition of a caye:  A cay, also spelled caye or key, is a small, low-elevation, sandy island on the surface of a coral reef.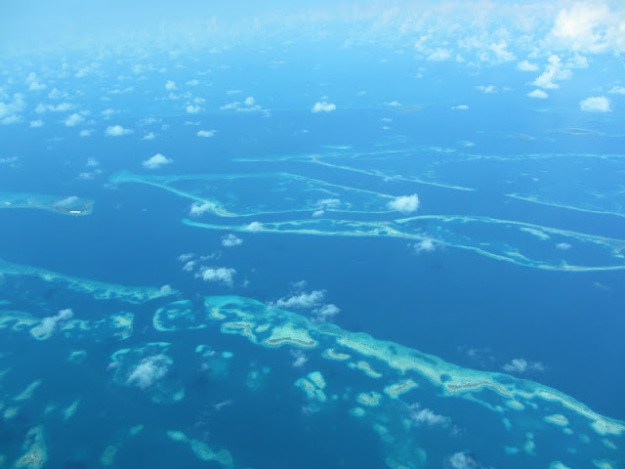 …quite a bit.
Ambergris Caye is much more than a sand bar.  Over 25 miles long with lagoon, swamps, highlands (12 feet – get your crampons!), jungle and Mayan sites – travel 5 miles north from town…different…15 miles north…WOW!
Not much of the land is great for agriculture – almost every single piece of produce comes from the mainland or abroad.  (Or Markus' gorgeous aquaponics operation.)  But there are very rare pockets of land with black dirt – left behind by dense jungles cleared recently or hundreds of years ago by the Maya.
Cayo Frances Farm & Fly is one of those unique spots.  I've been here for the last few days and, as always, took a ton of pictures.
Cayo Frances, orange arrow and San Pedro town, red arrow.
I have been do a bit of gardening.  This land is already planted with some gorgeous trees – many of them typical Belizean fruits.   Andress, who works and lives at the farm, does such an amazing job tending to these 3 acres.  I like to prance around acting as if I played some tiny part.
The place looks beautiful and after living on what I thought was a sand bar for years, I love all the greenery.
And so does our three legged dog Elsie.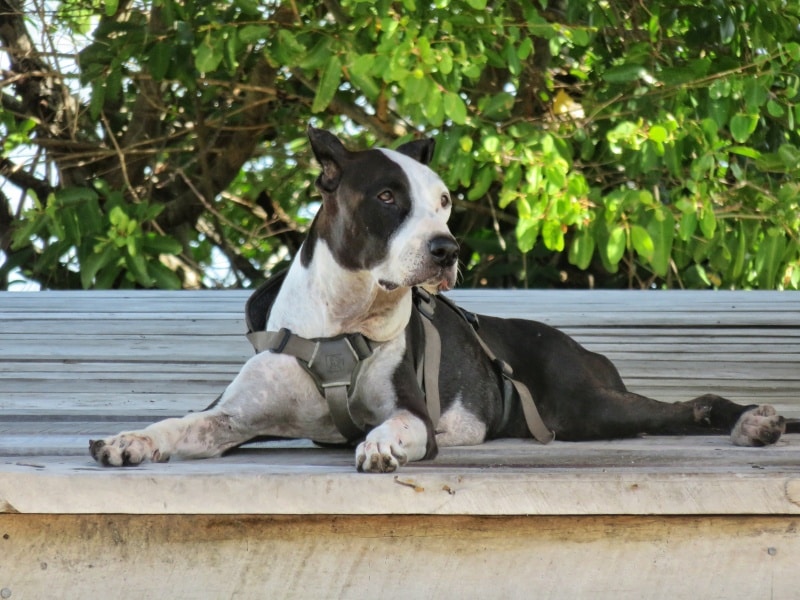 So…anyway…this is what I've been up to for the last few days.  And the reason that this farm fishing camp is called "FARM and fly".
My trip over to the west side of the caye through Cayo Frances.  We got caught in POURING rain but it cleared up and these gorgeous eagle rays flew in front of the skiff.
Checking on my hibiscus flowers – plants that I bought a few months ago south of San Pedro town.  I have been battling aphids ever since BUT I think I am getting the upper hand.
Papaya and plaintains.
Gorgeous looking tangerines…that taste terrible.  SUPER sour.
Three HUGE kinep trees are blooming.  The bees are in heaven.
So sad!
A bit of aloe.
This farm dog likes to lay in the shade.
Looking through the mangroves to the inner lagoon.  I totally see a heart shape.  You?
Chaya.  Delicious dark greens that are so tasty in eggs…or with pasta.  Really anything you'd use spinach or chard for.  These plants are just coming in.
Ginger watching for boats on the dock.
Andress' main tools – the weed whacker and the machete.
My arugula patch.
Lemongrass on the side of the cabanas.  Mosquitos beware.
Queen Elsie.
Two days and I headed back across Cayo Frances.  The body of water is quite large – as you can see above in the map – but incredibly shallow in places.  At one point, with this low tide, we had to pole across shallows – the water just a few inches above bed rock.
A beautiful spot for sure.  And my hibiscus flowered properly this morning.  Luckily Jeff sent me a photo.
It was worth spritzing this plant with soap and water for the last month.
Now all I need is some overalls.