Road to Cayo: Restaurants, Murals and My Hotel in San Ignacio, Belize
Just a few days ago, I made my way out to Western Belize.  91 miles as the crow flies but from the far north east of the country almost to the western border with Guatemala.
Simply put:  less than 100 miles from reef to jungle.  It's AMAZING how landscapes can change so quickly in Belize.  My trip: the pink circle to pink double circle.  I was spending a night in San Ignacio town and getting up early to head into the Mountain Pine Ridge Forest Reserve (blue star) – an area like no other in Belize BUT I'll tell you about that in a future blog post.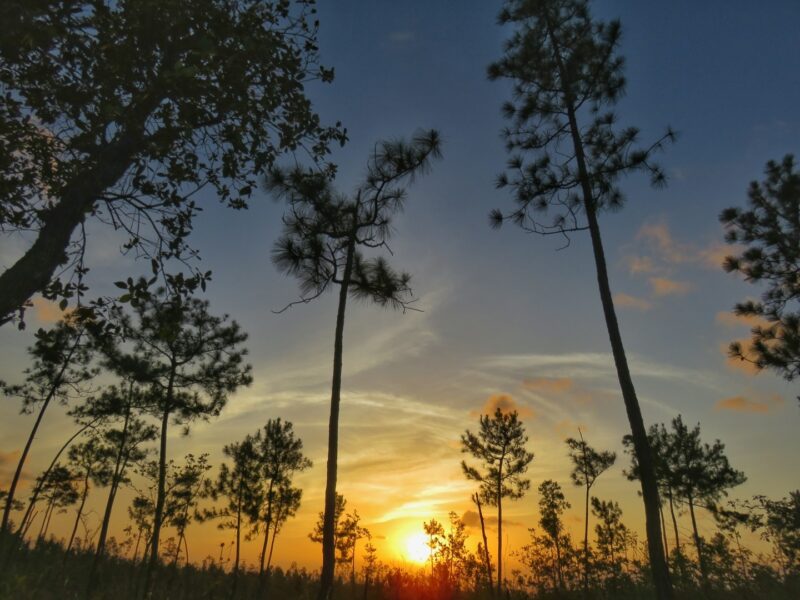 There is a flight via Tropic Air that will quickly take you the distance.  I went the scenic aka the budget route.
Golf cart ride from 7 miles North Ambergris Caye to San Pedro Town (40 mins)
San Pedro Belize Water Taxi ride from San Pedro Town to Belize City (1 hour 15 mins) – I took the 8:30am boat
Express bus from Belize City to San Ignacio (2 hours 15 minutes)
The air conditioned bus (a special and unexpected treat!) drove over the wooden bridge and the Macal River.  It was scorching hot…well into the 90s by noon and the water looked fantastic.
Time to find a budget hotel for the night. Right up the hill from the Tourist Center is Burns Avenue.
Open only to pedestrian traffic, there are shops, restaurants, LOTS of tour companies and a few guest houses (sometimes all in one building). I chose Venus Hotel.  Great location and a good view.
Here it is…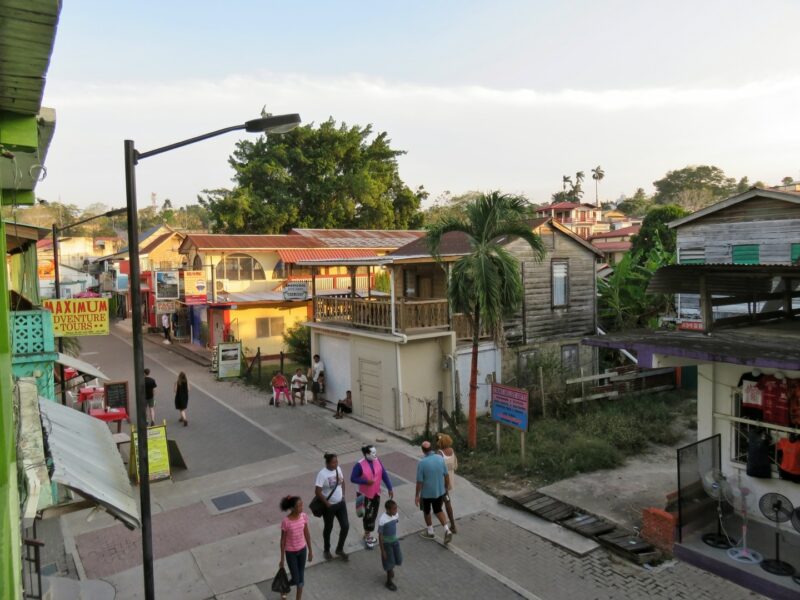 There were only 2 rooms left – one with AC for about $110bzd or fan only for $70bzd.  I chose #2…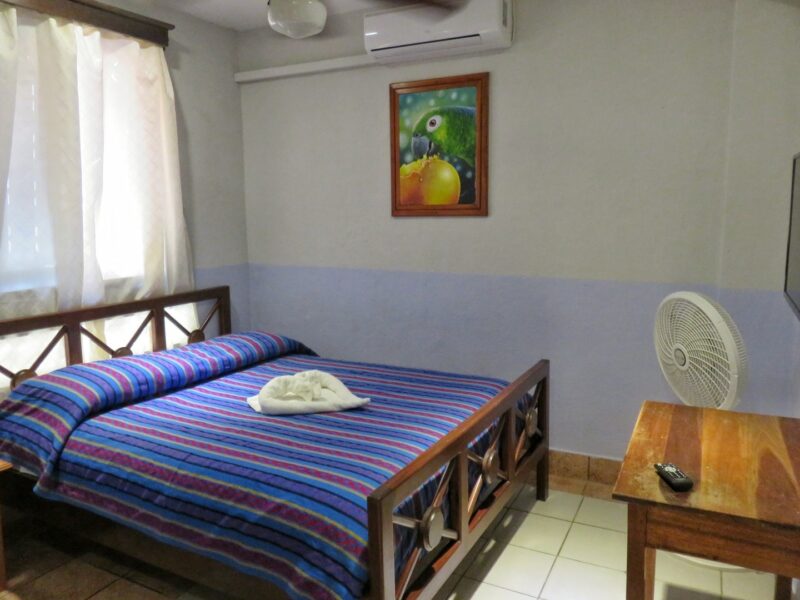 Clean, a tv and my own bathroom…coffee, juice and toast for breakfast.  Perfect.
I headed out for lunch and just one street over is a set of BEAUTIFUL murals.  That are such an amazing addition to San Ignacio.  AND one of the top 11 most instagrammable spots in Belize.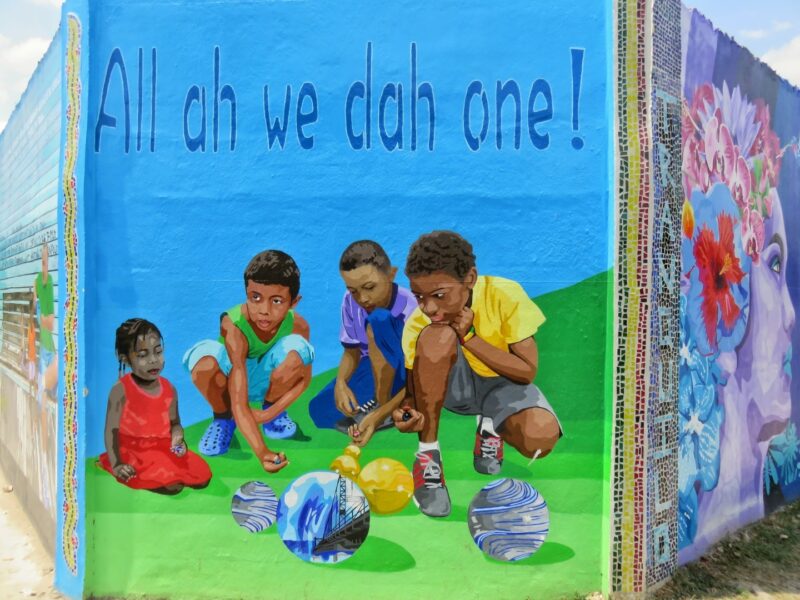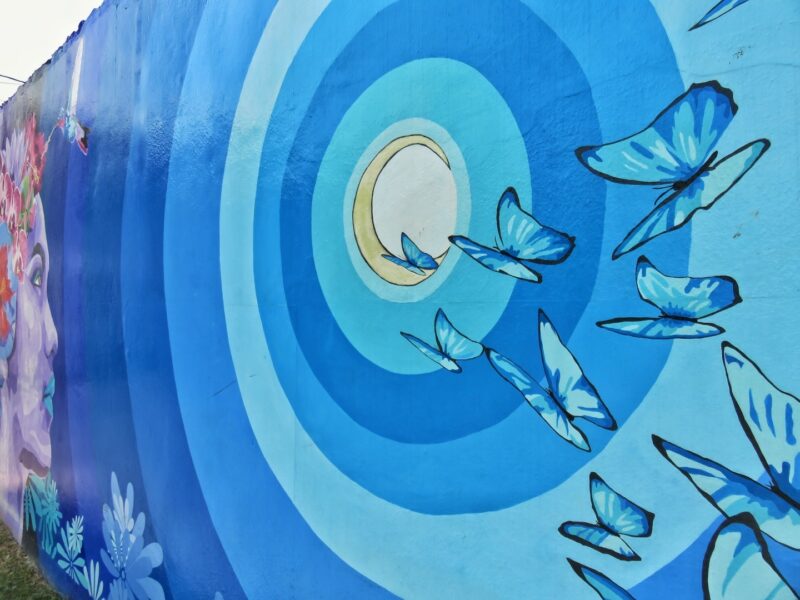 Turn right around and two spots that you don't want to miss are right before you.  The Ice Cream Shoppe, San Ignacio – an outpost of the shop in Belize City (and the maker of the ice cream served at Truck Stop on Ambergris Caye).  I'd been dreaming of the S'More Sundae since my last visit (Hot fudge, graham cracker crumbs and torch toasted marshmallows – to your liking!) but I wasn't quite THAT hungry.
Instead I went for a light treat (ok…lighter treat) – a single scoop waffle cone with hot fudge.  Ice cream:  Rocky Road.
And then much later – after a short HOT afternoon siesta and a walk around town – I stopped into Crave.  The small restaurant just next to the Ice Cream Shoppe.  They have expanded a bit with some more seating inside and quite a bit outside.  During the busier season, a reservation is often required but I was there early and took a seat.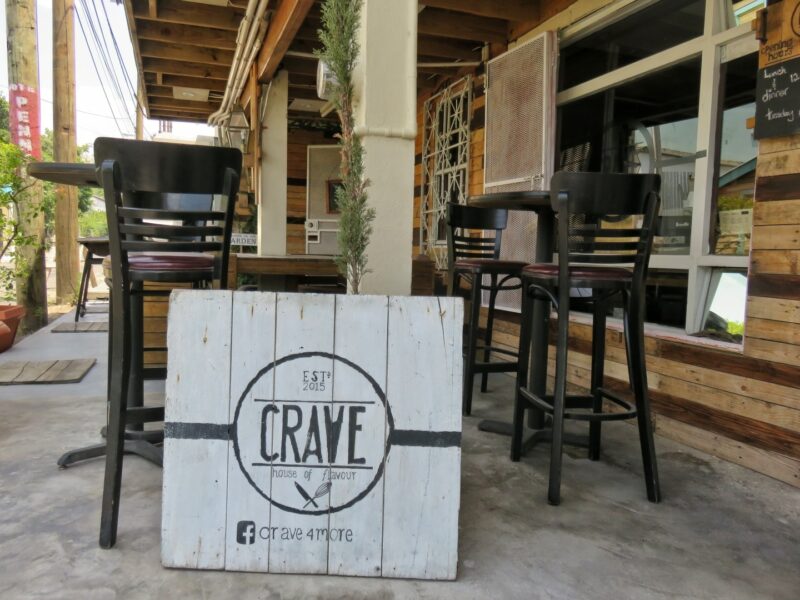 And inside, beautifully air conditioned on a very warm night.
The short but sweet menu.
My appetizer was HUGE.  A grilled herbed sausage, delicious mushrooms, hummus, bread.  This is easily a lunch.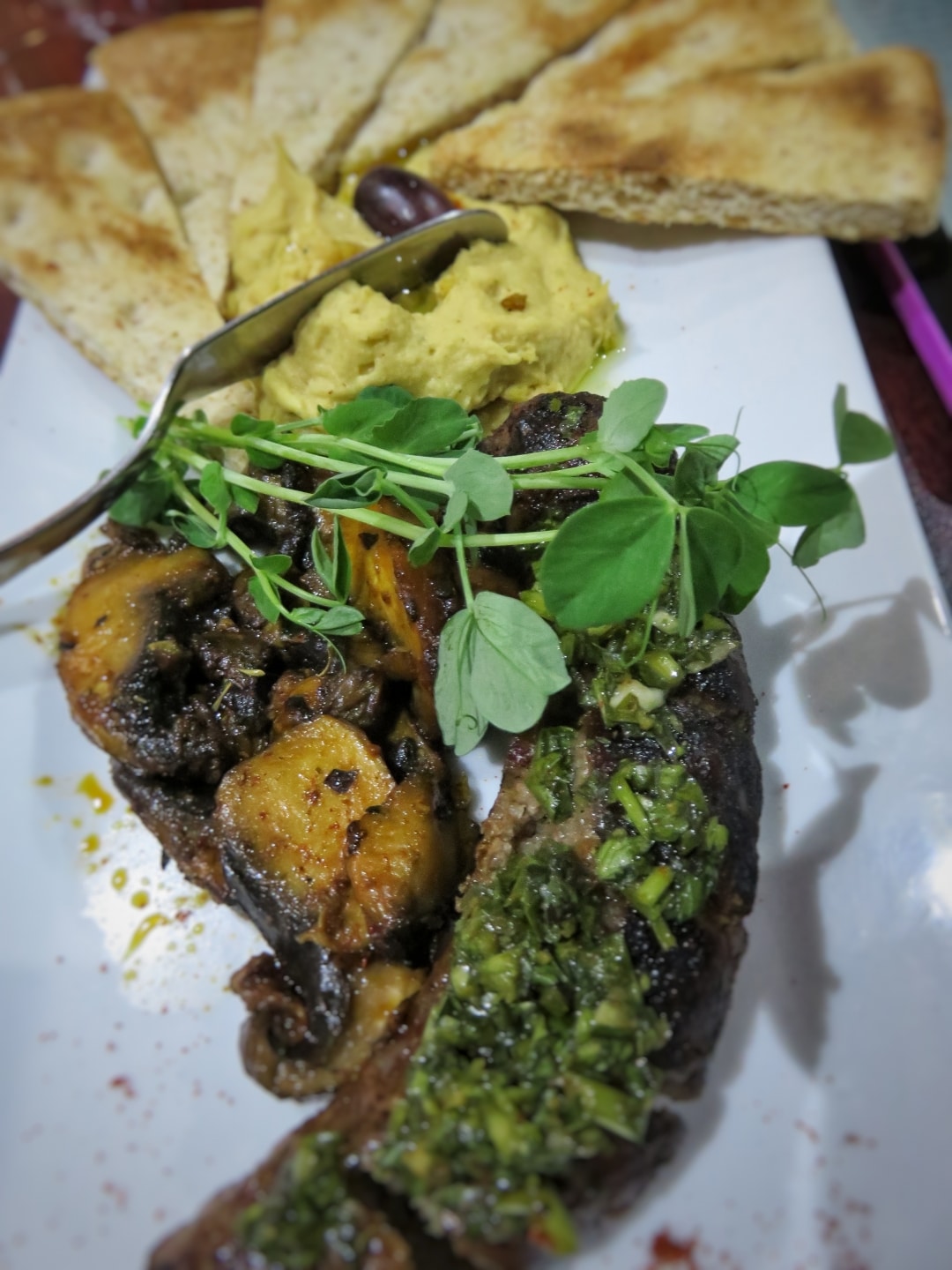 And then THE MOST TENDER lamb chops in a chocolate balsamic glaze.  Lamb is not very common in Belize – this was really tasty…just a hint of chocolate.  And again, HUGE.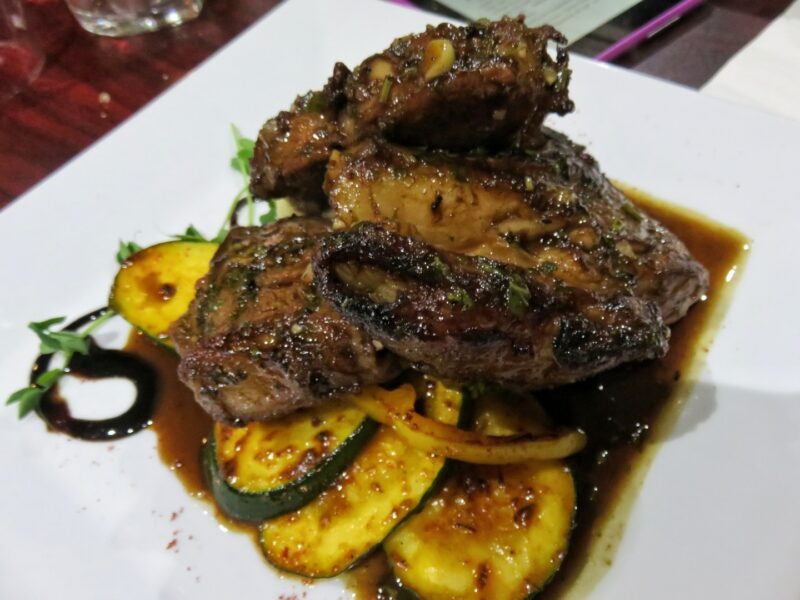 The prices are MORE than reasonable for this kind of restaurant.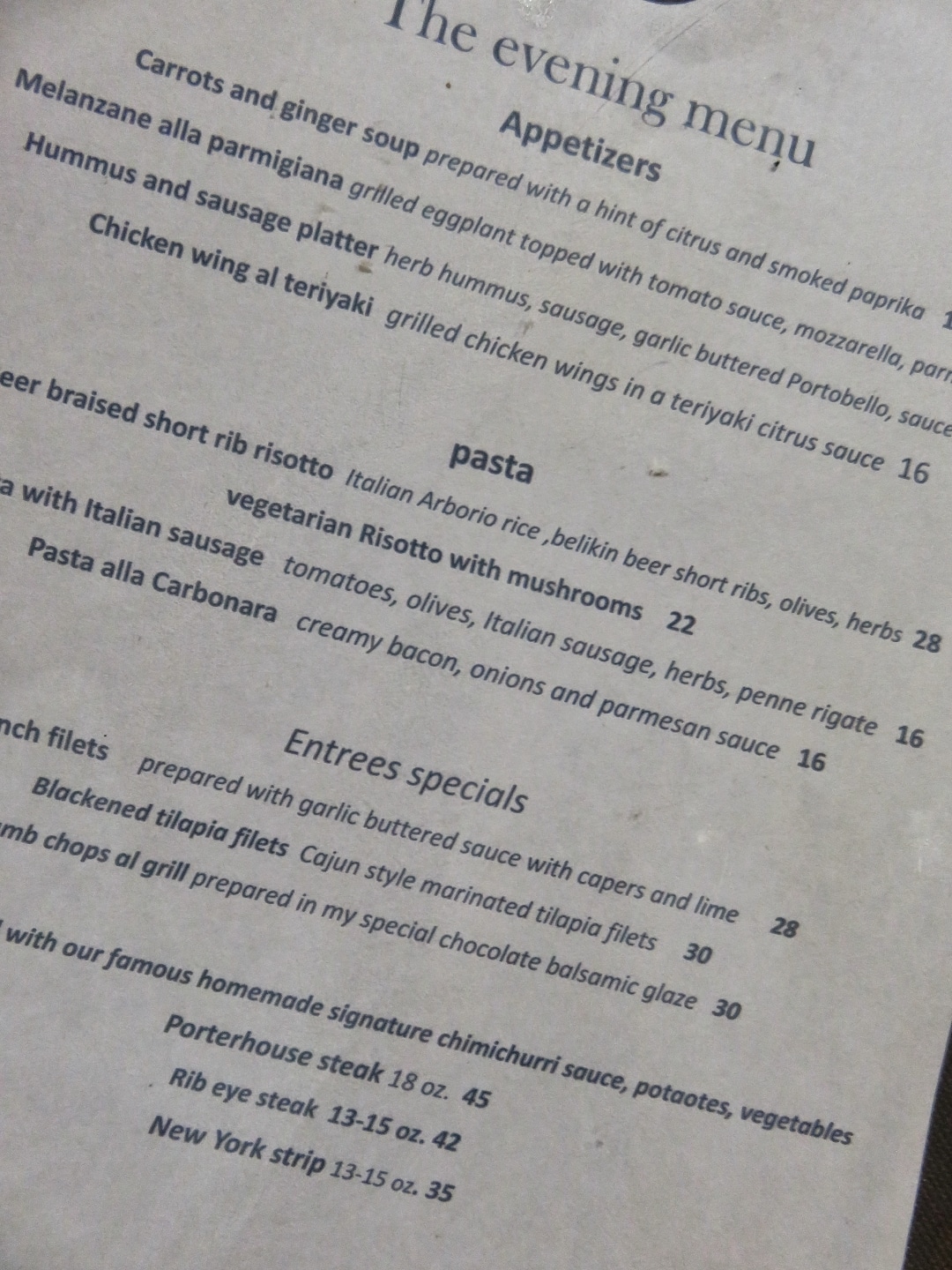 And that is my too brief trip to San Ignacio.  The next day I was off to the Pine Ridge area…stunning.  I took about 500 photos at Hidden Valley Inn.
And now,  I'm about to catch a van and start my journey back to Ambergris Caye.
San Ignacio is such a great town – and so different from the cayes.  You could spend weeks exploring the area.