New Chinese Restaurant Opens in San Pedro with Good, Familiar Food; Not Just Fry Chicken
Panda Express is the most popular fast food Chinese chain in the United States.  The 1900+ restaurant empire was founded over 30 years ago by an Asian born couple (him – China, her – Burma then Hong Kong)  who went to university in Kansas City, Kansas and then moved to California.
It's a mainstay in mall food courts across the country where you can view the glistening buffet and the massive portions.  I believe they were the first to give samples to hungry shoppers who were milling around the food pavilion trying to choose – it's a genius tactic.  Whatever they put on those free samples of kung pao chicken make you want, no NEED more.
In the last decade, Panda Express has gone international – opening in Canada, Guam, Puerto Rico, the UAE and in Mexico.
We do not have a Panda Express in Belize.  But we DO have a new restaurant in San Pedro – serving food very similar to what you have eaten at your local galleria.  It is NOT a Panda Express.  But man…for Belize?  It is pleasingly close.
In more ways than one.
Reminds me very much of that favorite exchange in the 80s classic movie, Coming to America with Eddie Murphy and Arsenio Hall:
"Look… me and the McDonald's people got this little misunderstanding. See, they're McDonald's… I'm McDowell's. They got the Golden Arches, mine is the Golden Arcs. They got the Big Mac, I got the Big Mick. We both got two all-beef patties, special sauce, lettuce, cheese, pickles and onions, but their buns have sesame seeds. My buns have no seeds."
The new restaurant is located on Middle Street in San Pedro – on the same block as the Greenhouse – and is called PANDA'S EXPRESS.  Clearly very different.  So let's talk about our new restaurant in town and how it HIT HOME for my craving for take-out Chinese-American style food.
You will notice that the logo says Panda APOSTROPHE "s" AND there are two pandas in the picture, not one.
They have a menu with food you can order to be made – and then there is a buffet with about 6 dishes AND fried rice or noodles.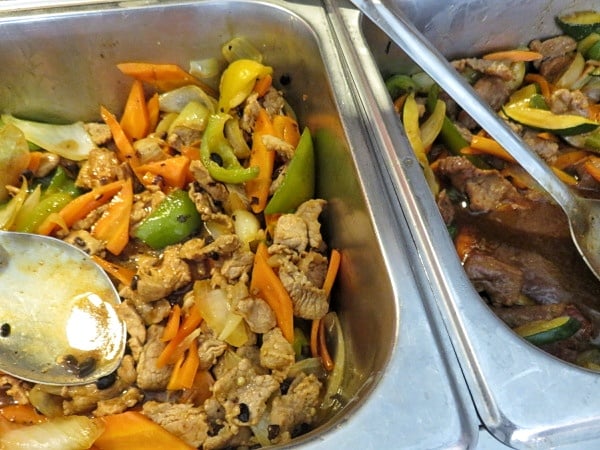 We went for a $10bzd combo plate – which many people were getting to go – and an order of pork mapo tofu.
They even do egg rolls and dumplings.  HURRAY!  But we are saving that until next time.
The lovely manager Lee has toothpicks aplenty and offers you samples of everything – jalapeno chicken, black bean chicken, beef and vegetables, orange chicken…
He is from Belize City by way of Taishan, China just southwest of Hong Kong and Macau.  The small city has about 1 million people and is known as the "First Home of Overseas China".  There are estimated to be almost 1.5 million Chinese abroad  from Taishan – and over 75% of Chinese in North America claim Taishanese origin. (Source)  Wow.
We chose the black bean and the jalapeno with fried rice.  A SERIOUS amount of food for 10 bucks.  And GOOD!  Very similar to the take out I remember in NYC.
The Mapo was good too!  No skimping on meat or tofu.  Crispy carrots.  Not crazy salty.  GOOD!
I ALSO tried the fried chicken because well….that is what Chinese Food means in Belize!
When you walk around this town – or many many others in Belize – you will see a Chinese restaurant or two or ten.  The #1 food ordered and sold at most of those take-out spots in fried chicken with french fries DOUSED in sweet "ketchup".  It's cheap yummy filling food – and some call it The National Dish of Belize.
So Lee gave me a sample of their fried chicken.  It took about 3 minutes to get to our table.
And good grief it's tasty – a little spice, a little heat in the batter.  I like that.
I will definitely be coming back to Panda's Express.  Oddly, this food in San Pedro, Belize by way of Taisan, China is a taste of New York.
See what I'm saying?
One thing.  I would LOVE to see these kind of containers rather than foam clam shells.  Has anyone seen them in Belize?