Getting to Ambergris Caye and Caye Caulker: Taking the Water Taxi after You Arrive at International Airport
You've booked a trip to Belize.  HURRAY!   So much to see and do.  But first you need to get to your final destination – your hotel or rental home.  And if you are staying on Ambergris Caye or Caye Caulker, well…they are islands.  And, once you arrive at the International Airport, you have a bit more traveling to do.   You have to make that final jump.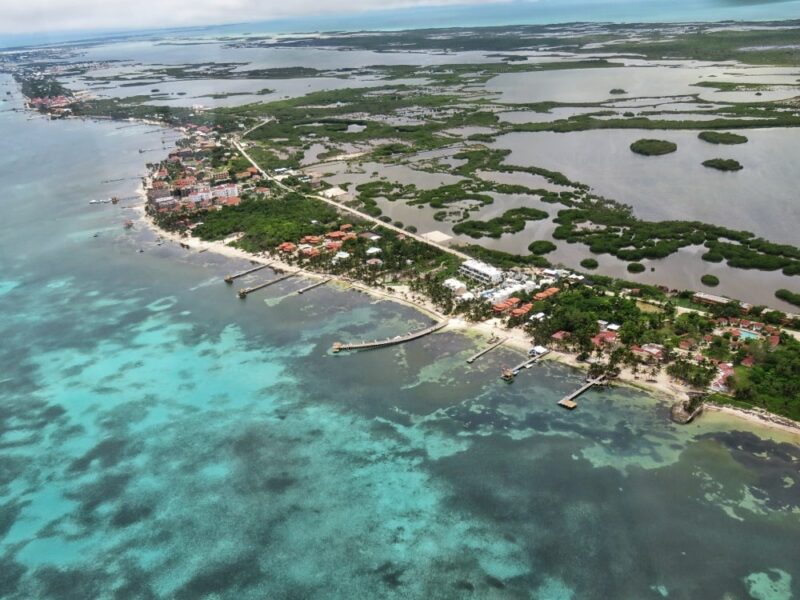 You have a few options options.  The ones that the majority of people take are the plane or the boat.  You can take a plane – fast and convenient and gorgeous but pricey or you can take the budget route – a taxi cab to the water taxi.
Spending less comes with some pluses and minuses so let me outline how it works, how much it costs and what the issues can be.
I did it for the first time yesterday (take the water taxi specifically to go to the airport) – on my way from my home, North Ambergris Caye to my family in Providence, Rhode Island.
Here we go.
Taxi from Airport to Belize City Water Taxi:   
The Belize International Airport is less than 10 miles from downtown Belize City in a town called Ladyville.  The best, fastest way – other than a pick up by a friend – is taxi.  Airport taxis are a fixed price – $25US or $50bzd.   That amount is posted by the taxi stand and should never differ.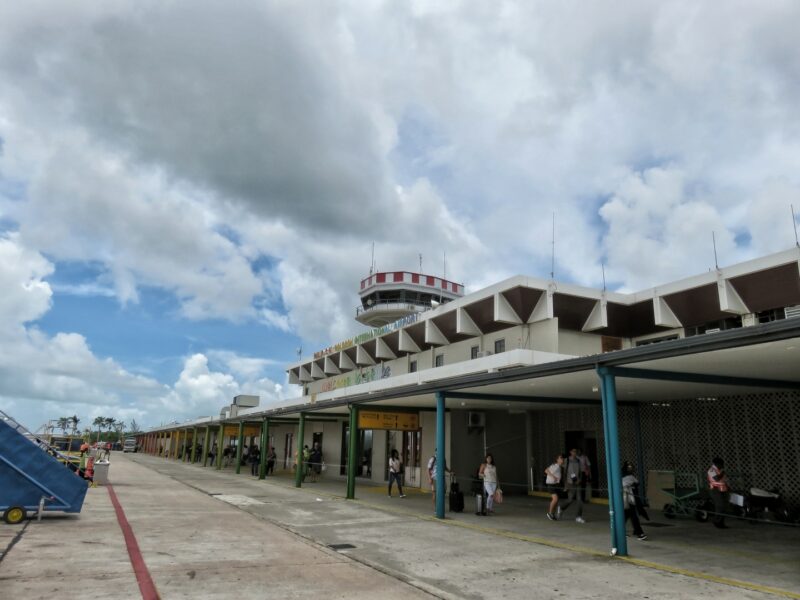 As soon as you exit the airport, you will see (and most likely hear) the taxi drivers.  Take one to your water taxi terminal.
The trip is 20 minutes with no traffic and, in the late afternoon, can take as many as 45 minutes.  Please plan accordingly.
San Pedro Belize Express Water Taxi
There are two water taxi companies that are located within minutes of each other but one has more departures than the other.  That makes it much more convenient.
Check the website for San Pedro Belize Express for times and prices.  You do not have to buy tickets before hand – you can buy them right at the water taxi terminal.
---
LONG NOTE:  You may notice that people around you are getting different prices.  The water taxis in Belize often have "local" and "visitor"/"tourist" pricing.  Many bristle at the thought of it!  But before you balk and think you got ripped off by "gringo pricing", let me tell you why I think this is TOTALLY fair almost all of the time.
The water taxis are how locals get from the cayes to the mainland for business, for school, for shopping and to visit family.  Though privately owned, it is basically public transportation.  (There is no public transportation in Belize in the true sense of the word – all boats, buses and flights are privately owned.)
If we look at averages, the median family income in the United States is about $51,000USD…for Belize, I've seen estimates from $5,000US to $10,000US.
I think it is more than fair for those visiting to help subsidize a bit. To help keep the public transportation reasonably priced.   You might be paying about $70bzd round trip vs a local's price of $50bzd.  You are not being victimized.
Many will fight me on this one.  People will argue that it works against a free market.  Trust me – the market is not very free.  And then argue that it stops tourists from spending that money in the community.  Pffft.  I definitely agree that inflating prices egregiously is wrong but trust me when I saw that this trip is in no way cheap!  If a family of four in Belize wants to travel RT from the mainland to the cayes, it can cost about $200bzd.  For many, that can be a week's pay.
I also asked today about the gasoline price for a trip from San Pedro to Belize City – the captain of my water taxi told me that round trip, the boat used about 115 gallons of diesel.  Or about $1,150BZD worth of fuel.  That's about 23 local round-trip tickets…and that's not including staff pay, taxes, BOAT MAINTENANCE, port fees…
They don't cancel if there aren't enough passengers.
Let me know what you think.
---
Make sure you get to the water taxi at least 20 minutes before departure to secure your spot – always buy the round trip tickets, you get a discount.  Get on the boat and go.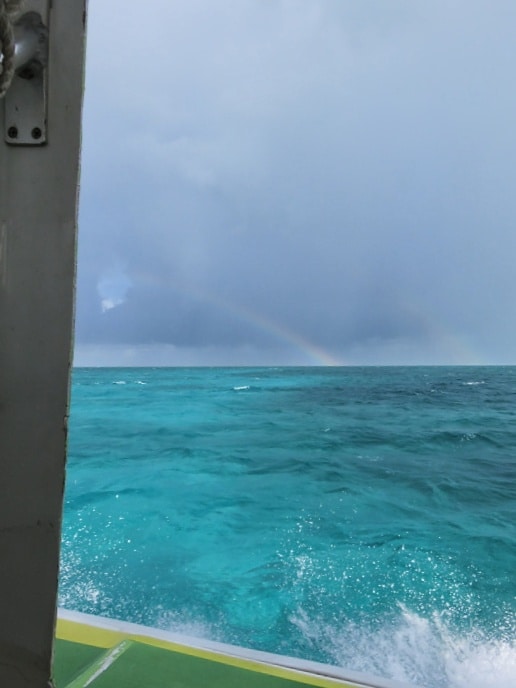 The ride is 45 minutes to Caye Caulker, where the boat stops and unloads, and then another 30 minutes to San Pedro.
Total Cost:
Taxi cab from Belize International Airport to Belize City & Water taxi terminal $50bzd  (20 – 45 minutes)
Water Taxi from Belize City Water Taxi Terminal to San Pedro  $35bzd  (1.5 hours)
Total One Way Price from Belize City to San Pedro for one person:  $85bzd or $42.50USD, for two people $120bzd or $60bzd, $30US per person and so on…
Total Time:  Around 2 hours PLUS the time you wait for your boat
So now that you see it is relatively simple and cheaper than other forms of transportation (and becomes even cheaper if you are traveling with one or more people), why would you go any other way?
Well…a bunch of reasons.
It adds QUITE a bit of time to your trip – Flying from International airport to the cayes takes about 20 minutes. I would estimate at least 3 hours for this alternative method. After a long day of traveling, I can see where the idea of 3 more salty hours just seems impossible.
You don't like boats/you get sick on boats – the water taxi isn't a particularly bumpy ride and ideally, if you are motion sickness prone, you can prepare ahead of time and pick a seat by the window.  But if the boat is extremely crowded or the weather isn't good (and the windows need to be closed), keep in mind that it can be a stuffy ride.
You arrive at International Airport late in the afternoon.  The very last water taxi to the cayes is 5:30pm.  SO…if you are arriving later and need to get to the cayes, the flights can go up as the sun sets…and may be your only option.
You miss the crazy awesome views.
The flight over to Ambergris Caye is such a great way to get a sense of where you are, how many islands there are off the coast and to spot manatees, sharks and stingrays.  Each and every time I do it, I love it.
So that's it.  Let me know what you usually do.
And now I need to go!  I'm in Rhode Island right now and my 3 nephews just woke me at the ungodly hour of 6am to play Monopoly.  Over and out 🙂