Beautiful Japanese Food Served In A Beautiful Space: Jyoto Restaurant
The food in Belize is awesome.  It's DEFINITELY one of the things that makes visiting this tiny country so special.  Many come for the reef or for the jungle, but return for the food and for the people.
If you've visited before, you know what I mean.
But one of biggest changes to Ambergris Caye over the last few years is the international selection of cuisine.
And I've been waiting for one particular restaurant to open for a while.  Announced at the end of 2016, Jyoto Japanese Restaurant & Sushi Bar is finally OPEN!
Located at Mahogany Bay Village – about 2 miles south of town, the restaurant opened quietly last month.  But it was this advertisement on their facebook page that was my call to action.
I love that they are doing a fixed price lunch – the perfect way to test the new spot without worrying that you are going to get a horrible surprise when the bill comes.
SO last week, we headed south for lunch.
Jyoto is a giant restaurant by San Pedro standards but then that makes sense.  Almost everything at this development is larger than life.  From the 22,000 square foot Great House to alliances with Hilton Curio and Coastal Living Magazine to the huge beach club on the west side of the island, there are many firsts at Mahogany Bay Village.
Here is a recent article with more information.
But I was there for only one thing.  Jyoto.

The restaurant.
And the entrance.
It's a gorgeous modern, industrial looking space.  Masterfully designed with huge beams of Belizean hardwoods.  Seriously impressive.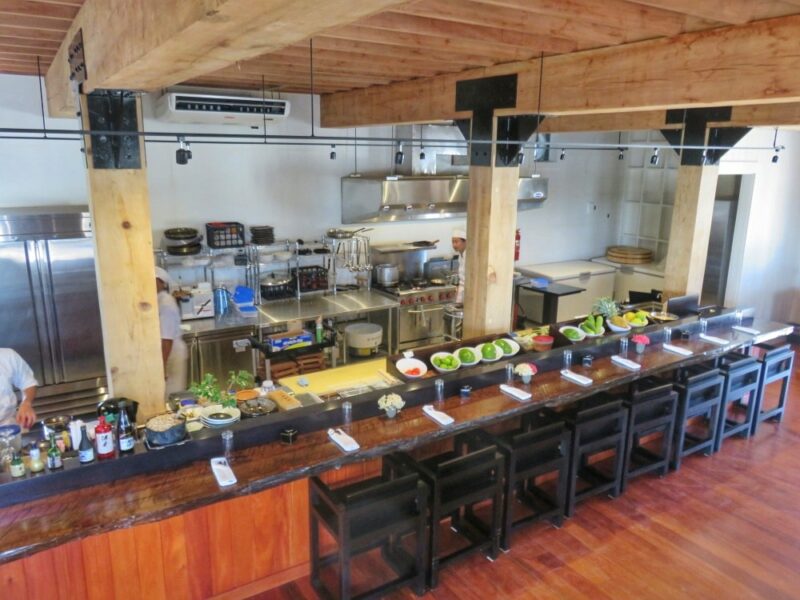 We settled in downstairs at one of the tables.  There is a huge upstairs area – outside seating.  HUGE.
With the tiniest details all perfect.
The entire menu is available and it's quite impressive.  I loved the selection of teas – I tried the smoky green tea ($3bzd) and loved it.
The appetizers all sound absolutely delicious.  Garlic-soy edamame, gyoza (or Japanese pork dumplings), poke salad, seaweed salad…yum.
But the fixed menu gave us a hearty sample.
Here's what we ate.
Crispy, crunchy, sweet, salty, savory, citrusy, sour, a tiny bit smoky seaweed salad.  I love the texture and the huge blend of flavors.  I can't get enough of this stuff.
Delicious miso soup with lots of soft tofu in it.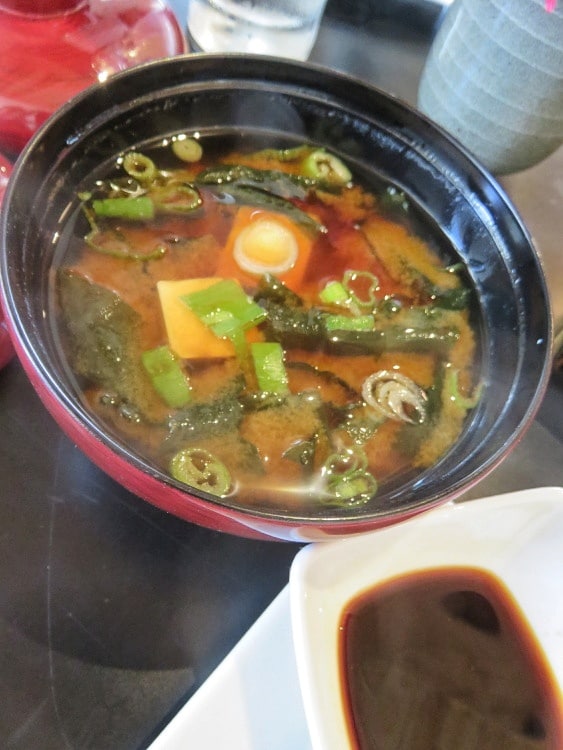 Let me stop for one second to say how great our server was.  She was knowledgeable about the entire menu – answering all of my questions about the fish and the difference between the green teas.  Really really on top of it all.
And then pork dumplings.  Fried perfectly crisp on the bottom.  Delicious juicy flavorful.  Yum.
And then the nigiri.  Heaven…seriously.  Decorated with local flowers – our waitress let us know what they are and what was edible.  (Very important to know – and beautiful.)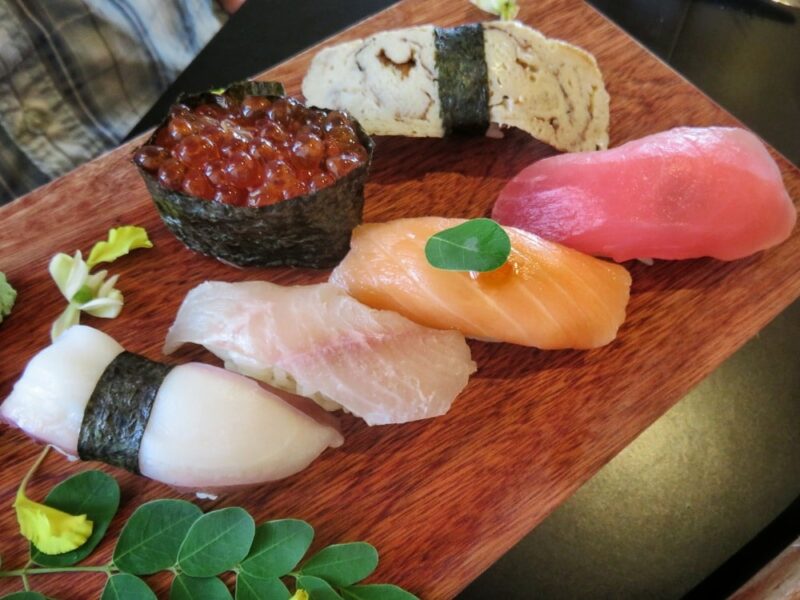 I am generally not a big fan of tamago – an egg sushi.  I usually find a rubbery flavorless egg sponge on top of rice.  But MAN, I've been eating the wrong stuff.  This fluffy layered omlette – striped and swirled with delicious flavor — is divine.  One of my favorites here.  Though I loved the salmon and the tuna, the snapper and the tender tender octopus.
We were kinda giddy.  We were eating gorgeous fresh nigiri for lunch…in Belize!   No cream cheese in sight…
We ordered an extra roll – the salmon and local avocado.
The rice is just perfection.
And then, perhaps my biggest surprise.  A dessert menu.  Something that I never really expect at a sushi spot.  But even more strangely, ALL DESSERTS I WANTED TO TRY.
Green Tea Tiramisu!  Creme Brulee!  Sake and Green Tea Ice Cream and Soy Cheese Cake.  Our waitress gushed over the last…saying it was her favorite and not what I'd expect.  Light and fluffy.
She was totally right.  Delicious.  SO delicious.  I would return for that cheese cake with a cup of green tea.
Chef Toshiya and his crew do such a great job.
So incredibly satisfied by that delicious lunch, I had two nosey questions for him as I headed out the door.  Good grief you're kitchen is so shiny and immaculate, do you spend most of your time cleaning?
Yes, he nodded.
And, how old are you!  He seems so young…so fresh faced to be running this impressive spot and making such gorgeous food.
33!
But you look so…so….young!
"It's an Asian thing" said Chef Toshiya.
It most certainly is.  A totally Japanese experience right here on Ambergris Caye.  I love it.