Wednesday at "Secret Beach", West Ambergris Caye
Almost everything that is – hotels, homes, roads, electricity, shops – is located on the east side (or reef side) of Ambergris Caye.  It's the windward side of the island – the coast almost constantly brushed by the easterly wind that cools us off on particularly hot days and keeps the bugs down.
But just about 7 or 8 years ago, a road was built crossing the island — leading to a new building project called "Grand Belizean Estates".  Mangroves and low land was filled, sold and are stilling being sold.  All vacant land without promises of electricity or town water.  But land!
And on the beach side, beautiful blue calm water with sand as far as you can walk.
Since then a handful of houses have been built – all off the grid.  Here is one I visited a few years ago.
Here's an overhead picture from about 6 years ago.  Hopefully to help you gain some perspective.  The turn off towards Secret Beach is about 5 miles north of town.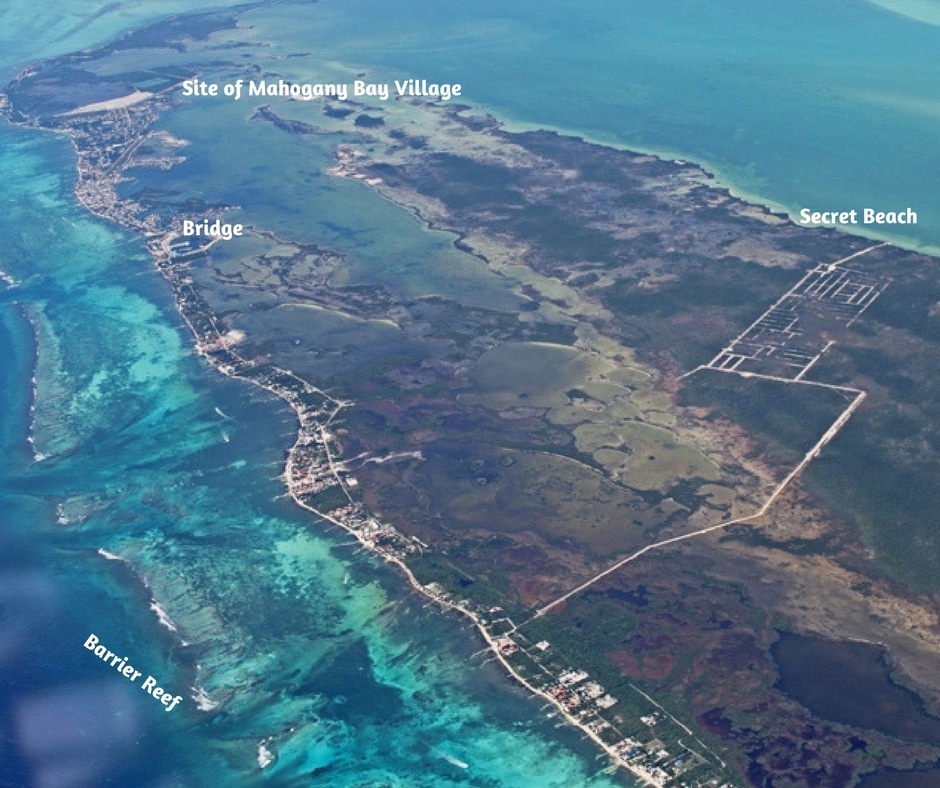 Secret Beach was a secret back then…and has developed – very quickly over the last year or two.
The secret was officially out when this went up.
I visited it first in 2013 when there was nothing there but a shady area for golf carts and a sales office.
And my last trip was…good grief!  was MONTHS ago…November 2016.  I asked the important question:  "Has Secret Beach Jumped the Shark?"
This week we drove back along the BUMPY road to check it out.  Here are a few pictures of what I found.
My favorite thing was these bursts of red flowers in many of the trees.  It looks like an ephiphyte.  A plant that grows on another plant.  The leaves and flowers totally different from the tree that it was growing on.  Does anyone know what this is?
At the beach.  These structures were delivered by barge a few weeks ago.  Still locked.
Out to the water.
The area adjacent to the first bar – Pirate's Not So Secret Bar – is all cleared now.  And…I'm not sure exactly what is going on…
Construction of some sort.
A beach club with a stage?  A sand jousting area for Belize Medieval Times?  Or maybe this is something that was used for a big party.
A look out to Cayo Rosario and beyond it, Blackadore Caye.  Earlier this year, Developers of Cayo Rosario have submitted a plan to build over 85 over the water structures.
They have more recently adjusted the number to about 45.  The ball is now in the Government of Belize's hands.  Let's HOPE they remember that this is HOL CHAN MARINE RESERVE and probably the most active flyfishing area in Belize — for the catch and release permit, bonefish and tarpon.
Some views farther north – as you move up the coast more and more lots are being cleared.
A look back…
As we were headed back home – make sure to bring your bug spray during the rainy months – we ran into this red guy taking a dip.
Super cute.
I have no clever way to wrap this one up — we shall see how long it takes for this side of the island to develop.  I imagine that nothing BIG will happen until we get electricity and power…OR…if the Cayo Rosario project is (tragically) ok-ed.