My Favorite Quick Snacks to Buy in San Pedro Town
I spend a good chunk of my time running errands.  Maybe "a good chunk" is a bit melodramatic but it really doesn't feel like it.
Shopping for one meal – I can't even wrap my head around shopping for a whole week (!!!!) – requires at least 3 stops and often more.  I buy the vegetables at my fruit & veg stand, I buy the dry goods at another spot and the meat at a third.
I also live 7 miles north of San Pedro town proper – and it takes about 35-40 minutes to golf cart to the center.  So generally, once I leave the house, I am out and about for a few hours.  Minimum.  I eat lunch in town most days but when I don't, I need to fuel all those hours of shopping.  And that means snackin'.
I want something quick and I want something satisfying.
So, if you are in town and you are not hungry enough for a whole meal…or it's one of those "off-hour" times like 10am or 3:30pm, when your fave spot isn't serving lunch or you just want something QUICK…RIGHT NOW…IMMEDIATELY, here is a short list for you.
**It is noted below which spots are open Sundays.
Some are healthy, some are treats but they are all my go-to stops for a quick something depending on my mood.
If you see anyone in a cart or a bicycle or just carrying a bucket of something homemade and it sounds good – buy it!  Trust me when I say that you can not go wrong with Creole Buns or Tamales.
What fun is life unless you try something new?  Especially when it doesn't break the bank.
Fruit (Open Sundays)
Each street in San Pedro has someone selling fruit.  Bananas are everywhere – and 4 or 5 for $1bzd.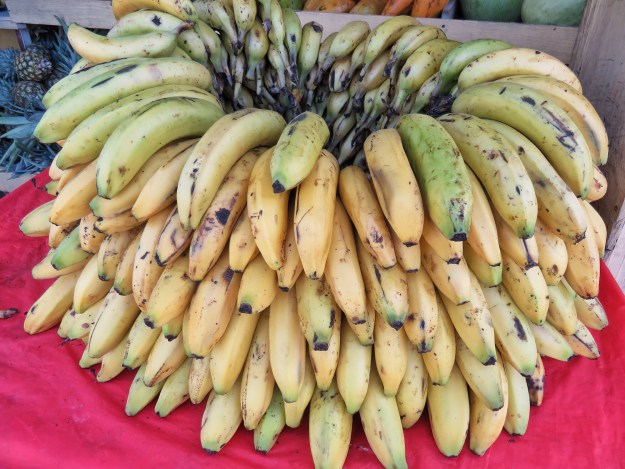 Many places have cut up fruit in plastic bags.  Usually $1 or $2bzd, it's an easy snack.  And be sure to try a new fruit.  Often sour and served with salt and hot pepper – I politely decline both, golden plums or green mango slices are fun to try.
My usual cut fruit vendor on the North side of Back Street
Cookie or Brownie
I love everything about the Belize Chocolate Company — and even taking a step out of the sun into the cool shop smelling of cocoa will make you happy.
But what will make you even happier?  A cookie or a brownie or even a bon-bon.
Pepitos or Plantain Chips (Can be found on Sundays)
A bag of salty Belizean snacks.  This bag below is my favorite when it comes to plantains – in Belize, we eat chips with sweet ketchup – and that is included here.  Try it!
Salty pepitos or pumpkins seeds are crunchy and delicious.  I eat the shell…some don't.  If you don't, set aside a few hours for this snack.  That's a ton of work.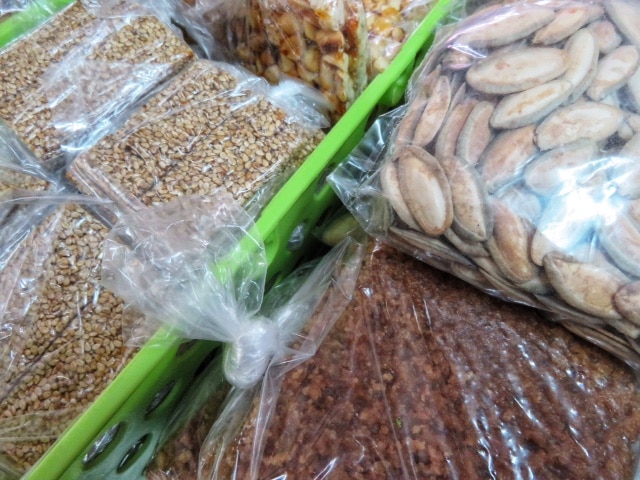 Also try the Wangla (sesame seed candy) or fudge (sugar with coconut).  Photo taken at Greenhouse.
Both are generally available in most small markets and fruit stands.
Paleta (Available Sundays)
I've written about these before – and about the local entrepreneur who makes them.  I love a fresh fruit pop.  Try watermelon or pina colada, coconut with cinnamon or pineapple.  The fresh strawberry and peanut butter half and half is a delight!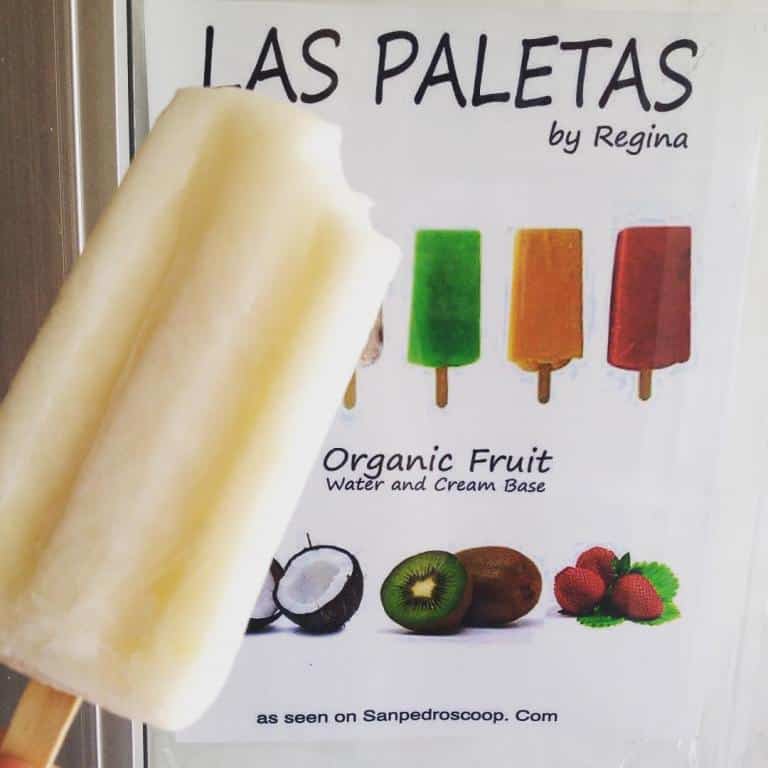 Available at San Pedrano Store on Front Street, the Beach Basket at Grand Caribe, 1.5 miles south of town at the Paleta Factory, Mermaid Supermarket, La Divina Providencia
Belize Granola Bar
I love these granola bars  — they feel like life savers on the two camping trips I've taken into the Chiquibul Forest AND they are just delicious.
Small but DENSE and chewy – they are made in the west of the country and I've only seen them at Big Tree Store in San Pedro.  On Middle Street.
$2bzd each.  I love the Dark Chocolate.
Mexican Cookies – the gas station Ginger cookie  (Available Sundays)
Every store sells Mexican cookies and many people have favorites.  Chokis!  The faux Chips Ahoy.  Emperador!  They come in delicious double chocolate and a strangely scrumptious salty sweet crackers with lemon filling.  Trust me…it's really tasty.  And 500+ calories…all for $1.50 to $2bzd.
But these cookies are some of the best packaged cookies I've ever tasted.  SPICY…not too sweet.  Almost like Red Hots or Fireballs. The BEST gingersnap I can imagine.  Product of Sri Lanka.
And only available at the town gas station stores.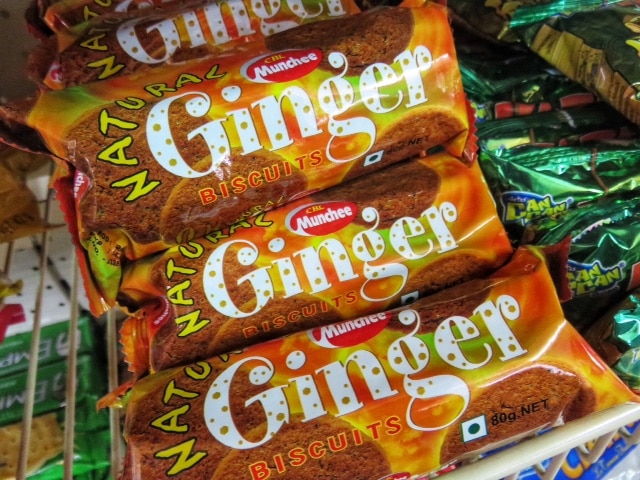 We try to keep them in the freezer…but dipped in hot tea?  They don't last long.
My Favorite Snack-eria, Annie Pastries (Open 3pm to 9pm and closed Sundays)
This doesn't fit my necessary criteria.  For a bakery, the hours are odd.  (They are across from the town High School…the closing bell rings and Annie's Pastries fills up.)  But they DO have Annie's Carts that bicycle around town or you can fill up a platter of delicacies at the bakery proper.
I love so many of the items that I had to include it on my list.  Johnny Cakes (2 for $1bzd – they keep beautifully in the freezer), coconut tarts, jalapeno poppers, cheese dip and chicken dip (don't ask…just try) and the CAKES!  A slice of Better Than Sex Cake will give you that flush cheeked glow and more.
YUM ANNIES.
And keep them in mind for Thanksgiving – they do a pre-order take-away Thanksgiving meal that is $15bzd – and a taste  of EVERYTHING you want for your holiday lunch.
As always, PLEASE let me know if you can add any favorites to my list.  It's the American in me that will never wane…QUICK FOOD!