Mahogany Bay Village Opens As the Largest Resort in Belize & Hilton's First in the Country
Yesterday Mahogany Bay Resort & Beach Club, Curio Collection by Hilton officially opened!  Late morning on a gorgeous day, there were a few speeches, the Belizean flag was raised and lunch and champagne were served.
The largest resort in Belize is OPEN.
It marked a project that has been in the works for quite a few years (check out the posts I've written below) – and is just one stage in many more that are planned.  It is the largest resort on Ambergris Caye – with 106 rooms opening at 12.01am on December 6, 2017.   There will be 300 in total.  There are now 325,000 square feet of completed buildings.  310 employees.  A monumental accomplishment on a large piece of reclaimed land that was completely empty – just dirt and sand -about 5 years ago.
I first properly visited the site less than 2 miles south of San Pedro town in June 2014.  Since then there has been an EXPLOSION of activity.  New businesses, new buildings, a massive Great House, furnishings, decor, plants…
A GORGEOUS spa and yoga studio, a fantastic Japanese restaurant and sushi bar, a flyfishing shop, a salon, a furniture store, a huge bi-weekly farmers' market.  Mahogany Bay calls this a "townlet" – and with Coastal Living branded homes coming next – the size of this development will be unrivaled in Belize.
Here is what I saw at the Ribbon Cutting Ceremony and celebratory lunch on the beautiful outside patio at Shaken Bar & Restaurant.  (One of THE places to see the sunset on Ambergris Caye)
Some of the guest cottages.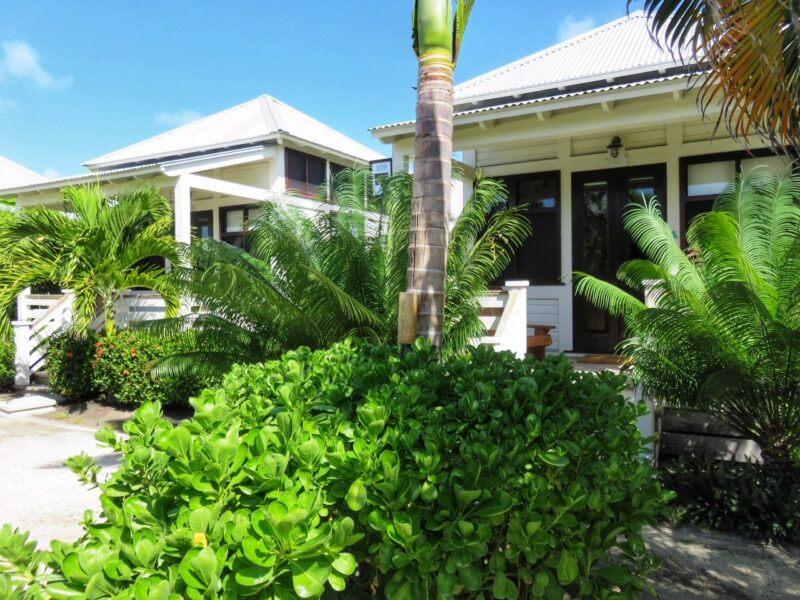 The Belizean flag was raised during the national anthem.
The Great House.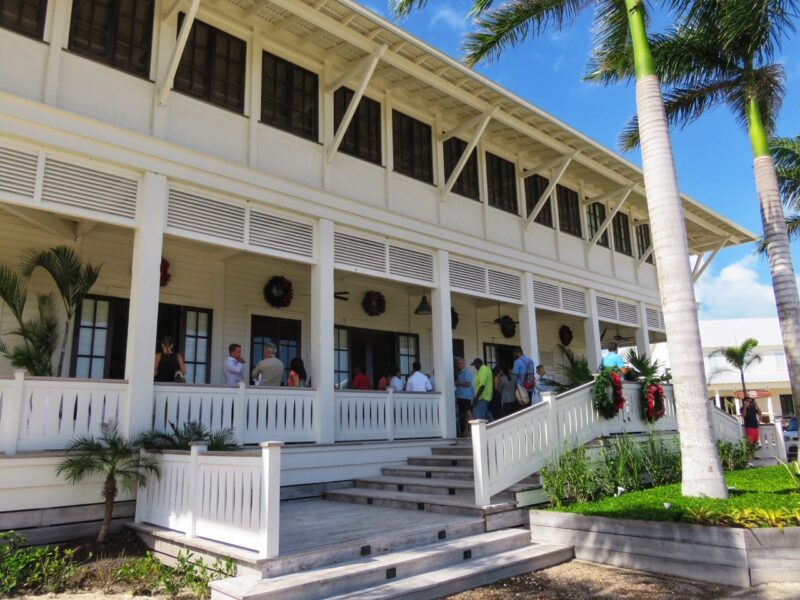 Gorgeous Christmas decorations.  I was there a bit early to take some pictures – particularly of the dining areas before everything is used!
Inside the HUGE restaurant and the VIP table.
Outside at Shaken overlooking the pool…
It really is colonial chic perfection.  I met one of the designers, Amanda Lindroth, a few years ago and everything she does is  SO beautiful.
We were seated on the ceremony began – The Mayor of San Pedro, the Minister of Tourism, the Honorable Manual Heredia and the Honorable Tracy Panton, Minister of State for Economic Development all spoke.
As did Juan M Arboleda, Director of Brand Performance for Hilton Latin America and Caribbean.  Mahogany Bay Village, as a member of the Curio Collection by Hilton, is the first international branded hotel on Ambergris Caye.  Mr Arboleda pointed out that the Hilton Points Club has 79 million members – a huge audience for this country.  (Our country currently sees over 300,000 overnight visitors a year.)
The Mistress of Ceremonies Tanya McNab.
CEO and Developer Beth Clifford gave the closing remarks – much of this was her vision.  She spoke of her goal and the goal of the project – to make lives better.
And the ribbon was officially cut.
Mahogany Bay Resort and Beach Club is open.  You can see them here on the Hilton website.
We headed inside for a beautiful lunch.  I snagged a seat with the PR directors and a table of writers from NYC.  Penning articles for magazines at Conde Nast, Architectural Digest, Travel and Leisure…they arrived on Monday and were headed back to the city today.
All would be writing articles for MAJOR magazines about Mahogany Bay Village, sure.  But about Ambergris Caye.  One had visited before but there others were new to our country.  One had been flyfishing on the west side of the island, all were headed to the beach club and then out exploring.  They had lots of questions about Belize.
The Sports Illustrated Swimsuit team had just been to the resort a week or so before.  Shooting at the resort and around the island for the 2018 Swimsuit issue.
I mean WOW.  (Photo from SI Instagram)
This is INCREDIBLE marketing for our island.  And while Mahogany Bay may not be completely finished…things look beautiful.  Really really beautiful.
I wish them luck.  Tons of good luck.  I was only able to stay for a part of lunch but it was lovely.  Champagne was flowing.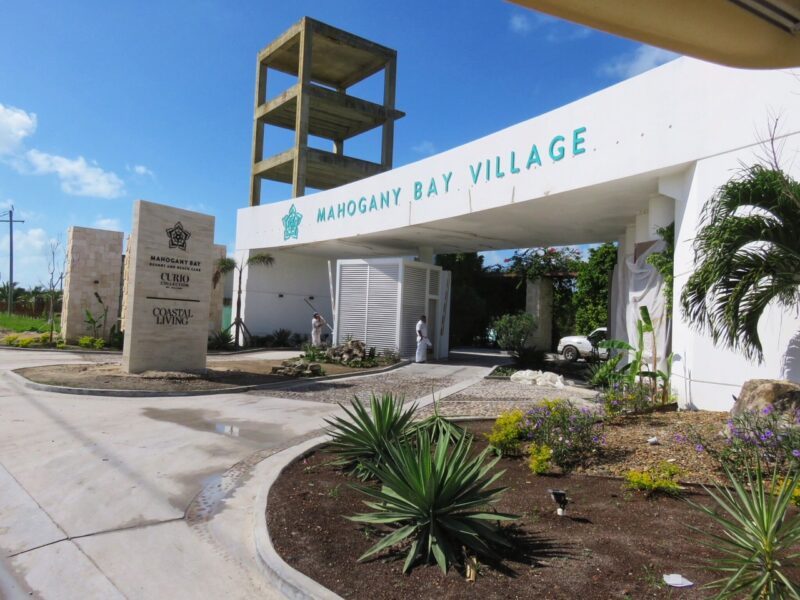 We will be hearing LOTS more about MBV in the months and years to come.