The Sargasso Is Here: How You Can Escape Its Grasp
A few weeks ago, the sargasso started to come in.  There are numerous stories, rumors and informational tidbits about the stuff.  Here's what I've heard over the last few weeks:
It comes from Cuba (I knew the communists had to be involved!)
It's excellent fill for your lot and rich fertilizer
With time, it turns into sand
Kids love to play hide and seek in it
It's from global warming and oil spills
It will be gone after the "Easter Winds"
It arrives every "season"
We should be eating it, powdering it, washing it, leaving it alone, cleaning it all up, harvesting it, burning it…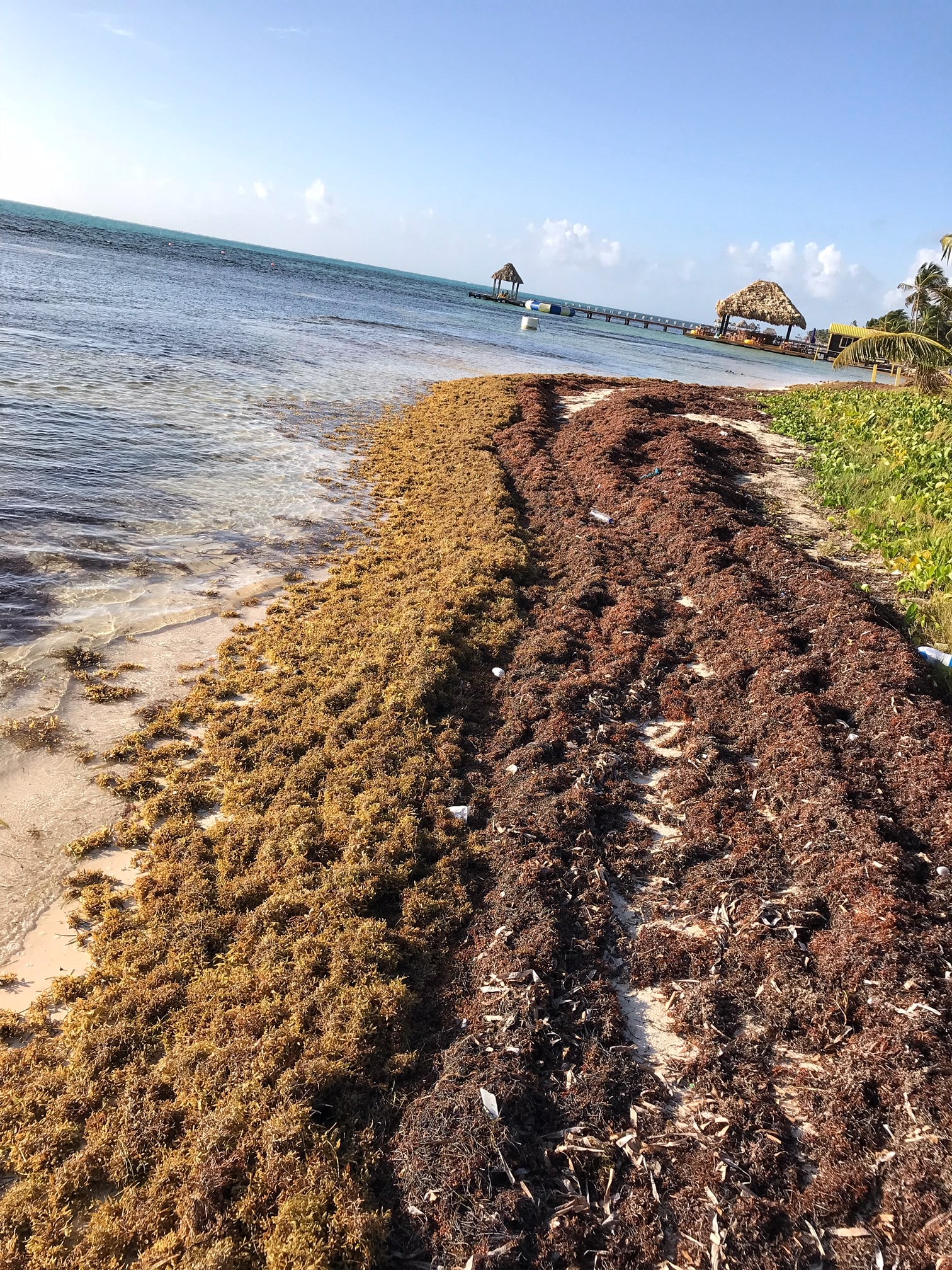 Basically everyone who lives here has something to say about it.  How can you not?  It's the #1 question on visitors' minds.
Here are some things that I know for sure.  The Sargasso Sea – a HUGE natural raft of sargassum seaweed – is real.  1000s of square miles of the stuff that is formed, pushed and pulled by the currents and gulf streams.
It's a spawning site, a nursery, for all sorts of sea life – sharks, eels and fish.  I can confirm that the birds LOVE eating out of it once its here.
And in 2015, we had a MASSIVE influx on our shores.  It wasn't just Belize.  From the west coast of Africa to Texas to the southern Caribbean islands, our beaches were SWAMPED.  Cancun brought in the military to help deal with it.  But then, after about 5 stinky months, winds changed and it was swept back out.
Resorts and private homes on the windward side (the reef side) of our island are working continuously to clean up the issue.  Wheelbarrow and pitch forks, dump trucks and bobcats – the island's man power and machine power is at work.
But at certain times and in some places, it can just build up out into the water – and be almost impossible to clean.
So, if you want to get to a place where there is little to no seaweed in sight, I have a few suggestions.  FIRST, don't totally freak out!   You are on a beach in Belize.
The easiest and a beautiful way to avoid the sea weed is to walk to the end of a dock.  An empty dock works fine.  One with a few chairs works great.
Or one that has a bar and restaurant.  Keep in mind that ALL docks are public from 6am to 6pm – that doesn't mean the chairs or gear…but the dock is public.
How APPEALING did Palapa Bar look yesterday?
See how easy that was?
Your hotel pool (I'm heading to a beautiful resort today for just that) or the end of the dock or your resort's beach might be exactly perfect for you.  But to mix things up, here are some sargasso-free zones that I've found.
I'm not going to go into too much detail on each but show you some pictures and provide some links.
SECRET BEACH and the entire leeward side of the island
One side of our island faces the reef (and the open ocean – the right side below) and one side does not.
Secret Beach is accessible by (long bumpy) golf cart – a SUPER fun adventurous rewarding ride your first few times.  After that…a bit of a neck ache if you ask me.  It is the only road that reaches the leeward side of Ambergris Caye.
But the views!
Day Trip with Seaduced on Seas D Day (here's my adventure)
Swimming, great food, drinks and every fun toy you can imagine.  From a slide to paddle boards and blow up animals.
Over night stay at Cayo Frances Farm & Fly or Paradise on the Caye (the only way to stay overnight at Secret Beach)
Wading the sandbar with Cayo Frances
Mahogany Bay Village's Beach Club – while the newly opened resort is not on the ocean front, they have a KILLER beach club on the leeward side of the island.  Take their water shuttle over to this.
Pina Coladas delivered to your bed.
Or think about trying a beach front or SUP yoga class with MBV's Science and Soul Wellness center.  Anyone can join!
Caye Caulker
I just took an AMAZING chartered boat trip to Caye Caulker – our sister island just 20 minutes from town and…
I don't know if it is the angle or the wind or what…but the sargasso was much LESS there.  And on the leeward side at Koko King Beach Club?  Nadda.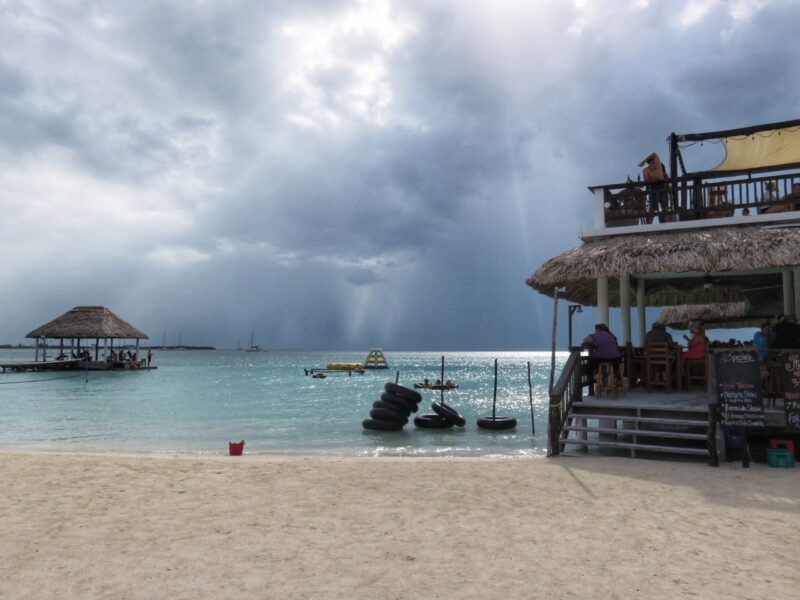 Boat Trips like YOLO or a great catamaran trip – the seaweed is not bad at all when you are off the shoreline..a sprinkle now and then…more like salad than mess.  You've GOT to try the Chill Cruise on YOLO's HUGE cruising boat.  Not only is it super roomy and pretty deluxe but you head to a gorgeous endless swimming pool that could NOT be more scenic.
Pulling up to our parking spot in YOLO – see that tiny lobster shack?
So basically what I am saying is that it's really not a huge deal.  You've got tons of options.  Enjoy the warm gorgeous sunny weather.  Enjoy the food, drinks, people…everything that makes Belize, Belize.
And remember:  This Too Shall Pass.
Ps.  I TOTALLY thought that saying was from the Bible but it is a Persian adage.  Interesting…