Lagoon Clean-Up Mobilizes San Pedro Residents…Everyone Can Help
Yesterday lovers of San Pedro united to start a lagoon clean-up.  Kids and businesses, locals and expats, visitors and our police and town council met up at 7am to pull plastic and trash from the water and mangroves around this incredibly important waterway.
Ambergris Caye is a huge island – the biggest in Belize.  But she is stealth.  It's not until you are here a while, after you've done quite a bit of exploring by golf cart, boat and foot, that you can even get a sense of the size.
Our caye is a complex network of reef, sandy beaches, waterways, limestone rock, mangroves and huge lagoons.  And the lagoons and mangroves are where the sea life – from tarpon to sharks to crocodiles – all spend their juvenile years.  A nursery.
And all of our livelihoods.
Unfortunately, it has also been used as a dumping ground over the years – where larger items like old refrigerators and tires were tucked "out of the way".
Saturday morning rockstars, Crocodile Chris and Christina of ACES and MJ Leslie of The Reef Angels and PassionKite, organized a hugely successful clean-up.  In the stretch of water from Boca Del Rio park, under the bridge to the back side.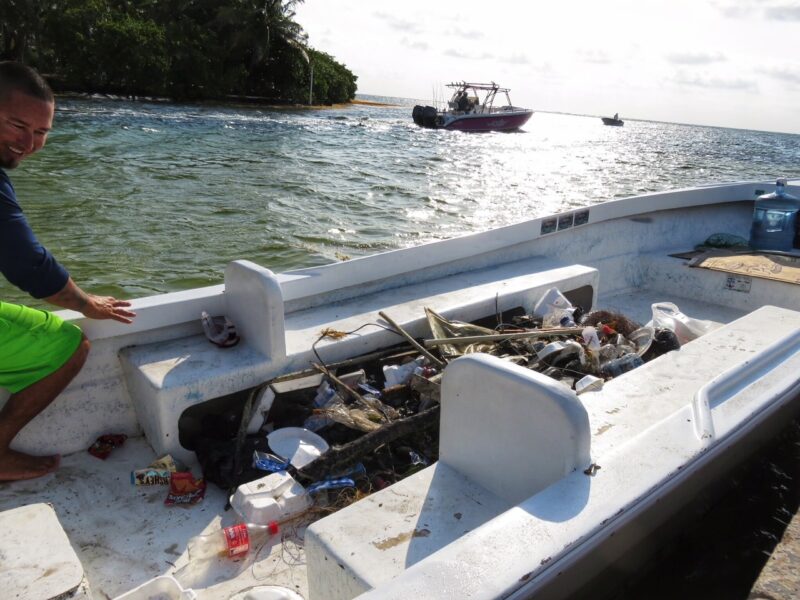 We met.  We picked up trash.  Some in the water, some at the water's edge.
We talked about the new ban of single serve plastic bags and plates recently enacted by the Belize government (starting April 2019) – the awesomeness of it and the immense challenge.
We picked up hundreds of straws and bottle caps and way more.  Here are some of the pictures.  Thousands of pounds of crap that the town council came to pick and bring to the dump.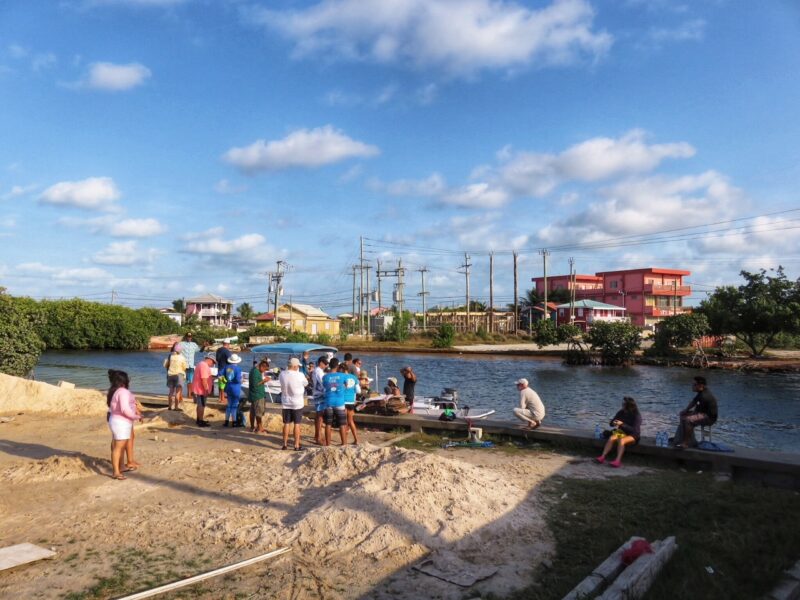 There were 5 or 6 boats ready for the challenge.  The team wanted to minimize plastic bags so boxes and pigtail buckets and boats were used to haul the trash.
MJ talked about how his dad used to fish for lobster in this river back in the 70s.  When it was a lush mangroved waterway.  If you drive over the bridge on an evening with a full moon, you'll still see 10 or 20 people fishing for food.
Let's get the trash OUT of this waterway.
A few pre-game photos.
Mitchell pulling trash from the mangroves and water.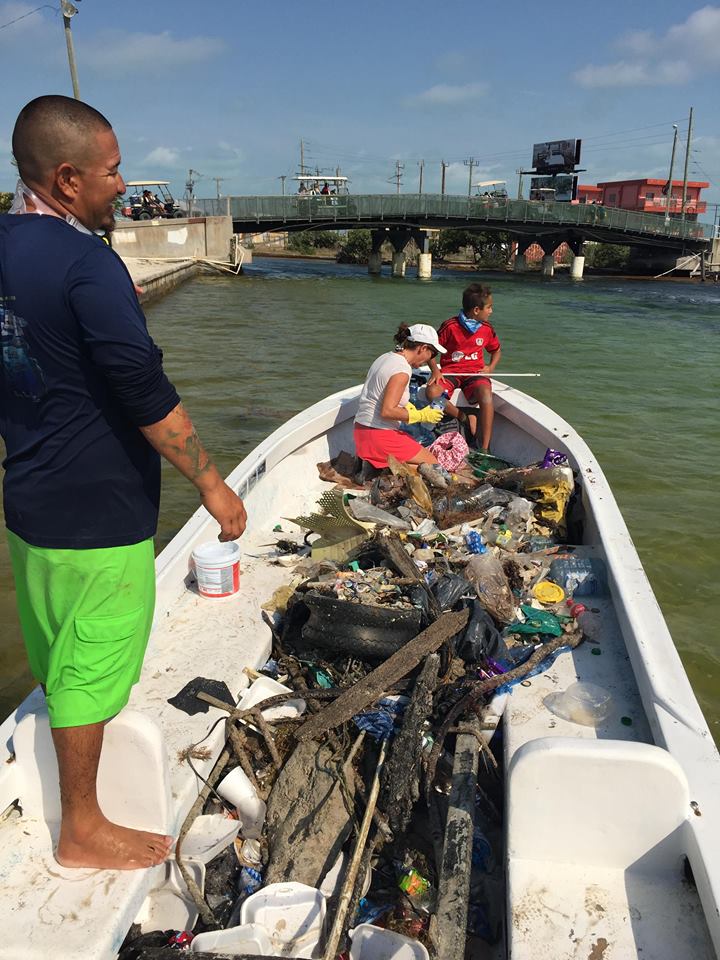 Amazing morning.  And what a great start.  I know the team hopes to continue this on a regular basis.  Get the junk out of the lagoon system around town and go from there.
Huge shout out to the tiny, two man crew who were sent by the town council to clean up the pile and bring it to the dump.  I think they underestimated how monumental the pile would be.
Thanks for the photos Dick Rouss!
Hopefully the businesses both north and south can take particular note.  Some continue to dump their trash in the lagoon system.  Out of sight may be out of mind but it is slowly poisoning this delicate eco-system that ultimately feeds our reef.  (You can read a bit more about it here:  Trash on North Ambergris Caye, When Do We Say Enough is Enough?)
You can hear more about it on the ACES Night Time Croc tour that is a MUST for all those visiting.  They are finding crocodiles of all ages with soft teeth and other issues caused by polluted water.
Of course  we should all take note.  Slowly but surely we are moving in the right direction.  Trash clean-up for the USA was a process in the 70s and 80s – American roadsides used to be a giant garbage dump.  It's a process everywhere that continues today.
It's all going to come down awareness and every one of us doing better.  The clean up yesterday did both.
There are some massive efforts going on around the island.  The amazing Eco-Rangers in the DFC area repurposing and beautifying.  The Phoenix Resort and their Saturday morning town clean-up and others.  Mata Chica Resort for their trash cans and continual emptying of them north of the bridge.  Belize Chocolate Company and their campaign against straws.  All of the businesses that use ecologically friendly bags and take-away containers.
Ambergris Caye, I really do think we've got this.