Saturday Morning Beach Walk In San Pedro Town
My life has changed in so many ways since I permanently moved to Ambergris Caye 10 years and 360 days ago.
But one change that I sometimes regret is getting a golf cart.  I mean, it's not exactly my golf cart, it's my boyfriend's.  And we really do need it.  We live 7 miles north of town and drive in for errands and shopping for us and for our camp (Cayo Frances Farm & Fly) pretty much every day.
But with the constant use of a golf cart, I do far less walking.  And I do very little walking on the beach.
WHAT?!?????  Wait…what?  I hear you asking.  I hear you JUDGING.
You live in Belize and you hardly walk on the beach?
It's very similar to my years in Manhattan.  Sure I knew my neighborhood well but how often did I go to museums or Broadway shows or all the 100s of things New York is famous for?  Pretty much never.  I never even went to the top of the Empire State Building.
So yesterday – I parked the golf cart a bit north of town and I walked to the water taxi.  And while it was hot and muggy, the beach at the center of town was looking beautiful.  And in just about 10 minutes, I snapped TONS of pictures.  Here are a few.
Note to self:  walk on the beach more often.  From north to south.  I was loving all the tall lanky coconut palms on the walk so it explains all the vertical photos.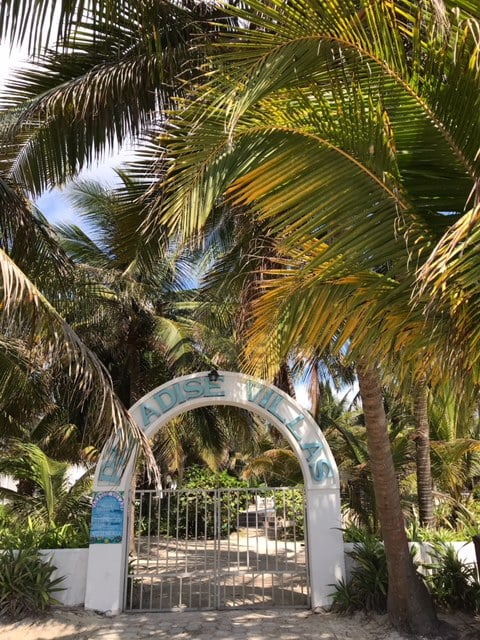 The beautiful Phoenix Resort looked so refreshing…and this hot hot morning.
The wind had shifted direction so sargasso wasn't coming in.  The town was using some heavy machinery to clean it up.
Love the color of the Mayan Princess.
And Fido's Bar & Restaurant – one of the most famous in San Pedro.  A huge palapa that's been open for ages.  It was my favorite spot to hang out when I first visited.
I hear that is has been sold – and will make room for development.
And my stop. The San Pedro Belize Water Taxi dock.  Ready for my 10am boat to Belize City for a Plastic Free Market and to run some errands.
The breeze was blowing on my 1.5 hour trip…
And Belize City was HOT but I had a seriously great afternoon…
More on the market tomorrow.