Morning Snapshots at Ak'Bol Yoga Resort & Weekend Thoughts
It's been a very very busy week – so it's nice to have a three-day weekend here in Belize.  Monday, May 21st is Commonwealth Day.  A day of observance – for the over ONE BILLION people who were part of the British empire.  (Amazing, huh?)
I celebrated and will continue to observe it by mooning over the photos and being glued to the commentary about the newest royal wedding.  I kinda understand those who aren't interested (they are the same, generally, who show disinterest in American Royal family, the Kardashians) and I DEFINITELY understand those who are against the very idea of monarchy – the privilege and the over-the-top snobbery on the tax payers' dime.
But give me palace intrigue, riveting history, jewels, tiaras, fascinators,  vintage Jaguars and the Netflix show "The Crown" any day.  Especially when another country is footing the bill.
I will continue to look at the photos of the "American princess" – and look for one of the 53 flowers that were hand embroidered on her heavenly veil.  The Black Orchid, the official flower of Belize, is on there somewhere.  (See below for ALL the flowers)
And I can make myself feel better…perhaps even superior…knowing that no one in their right mind would want her job.
Also going on:
The next steps in the fight for Cayo Rosario are moving forward and we need your help.  Please check out my latest post.
This morning I went to Yin Yoga at Ak'Bol Eco-Resort and Yoga Retreat.  Yin yoga is more like stretching – not contorting and sweating – and it is only held on Sunday mornings at this gorgeous spot.
Here are some snap shots that I took.
That's that.  Unless any of you are wondering what I had for lunch.  No?  None of you?
Here it is anyway.  Pineapple and watermelon are so perfect and sweet right now.  Add granola, maple cream, lime and full fat yogurt?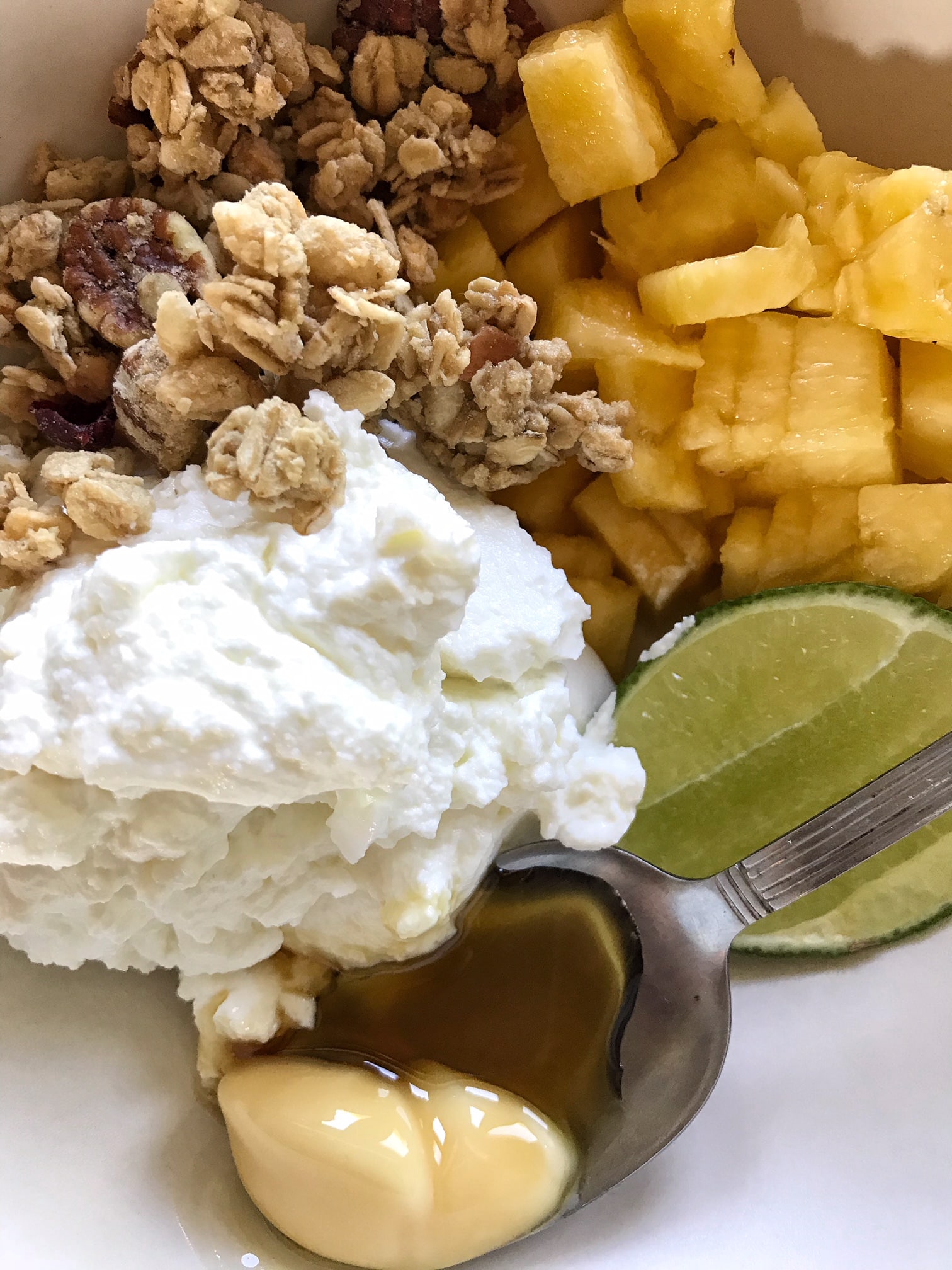 From The official Royals website.
Americas & Caribbean
Antigua and Barbuda – Agave (Agave karatto)
Bahamas – Yellow Elder (Tecoma stans)
Barbados – The pride of Barbados (Caesalpinia pulcherrima)
Belize – The Black Orchid (Encyclia cochleata)
Canada – Bunchberry (Cornus canadensis)
Dominica – Carib Wood (Sabinea carinalis)
Grenada – Bougainvillea (Nyctaginaceae)
Guyana – Victoria Regia Water Lily (Victoria amazonica)
Jamaica – Lignum Vitae (Guiacum officinale)
Saint Lucia – The rose and the marguerite
St Kitts and Nevis – Poinciana (Delonix regia )
St Vincent & the Grenadines – Soufriere Tree (Spachea perforatais)
Trinidad & Tobago – Chaconia (Warszewiczia coccinea)
EUROPE:
Cyprus – Cyclamen Cyprium (Cyclamen cyprium)
Malta – Maltese centaury (Cheirolophus crassifolius
UNITED KINGDOM:
England – Rose
Wales – Daffodil (Narcissus)
Northern Ireland – Flax flower
Scotland – Thistle
PACIFIC:
Australia – Golden wattles (Acacia pycnantha)
Fiji – Tagimaucia (Medinilla waterhousei)
Kiribati – Bidens Kiribatiensis
Nauru – Calophyllum
New Zealand – Kowhai (Sophora microphylla)
Papua – Sepik Blue Orchid (Dendrobium lasianthera)
Samoa – Teuila (Alpinia purpurata)
Solomon Islands – Hibiscus (Hibiscus)
Tonga – Heilala (Garcinia sessilis)
Tuvalu – Plumeria (Plumeria frangipans)
Vanuatu – Anthurium (Anthurium)