Cayo Rosario Development Update – WHY THIS PROJECT?
I haven't posted here about Cayo Rosario in a while – but that does not mean it has not been on my mind…or my computer screen or in the 2 inch binder I now have of press releases, documentation, GOB regulations and guidelines, meeting minutes and more.
So let me give you a summary of what has been happening over the last few months since this development plan was APPROVED by the NEAC board and our Department of the Environment.
And why this tiny 6 acre caye on the west side of Ambergris Caye is something you should care about.  And why I think this development flies in the face of many laws, regulations and guidelines set up by the Government of Belize.  And why this development plan would be OVER THE TOP anywhere in Belize – in fact, it would be the largest over-the-water development (by cabana #) in the Caribbean.
This is the original proposal and then the approved "scaled down re-design".
54 over-the-water structures, over 50 partially over-water and land structures, 2 docks, a huge spa and restaurant and over 50,000 cubic meters of dredging to make land on and around tiny Cayo Rosario.  An island once called a bird island – just a small lagoon surrounded by mangroves IN THE MIDDLE OF THE HOL CHAN MARINE RESERVE.
IN THE MIDDLE OF HOL CHAN MARINE RESERVE.
WHY WAS THIS APPROVED?  Such a big project in such a sensitive area…surely some one from the GOB must be able to justify why?  To stand up and say why they are willing to put this marine reserve at risk.
Letters have been issued to the DOE asking for public information to explain why this development was approved – a meeting was requested – and both were ignored.  Legally, they were denied.
The Ambergris Caye Citizens for Sustainable Development issued a press release titled "Downsizing from Absurd to Ridiculous Does Not Make The Approved Development at Cayo Rosario Reasonable or Appropriate"
Take a look.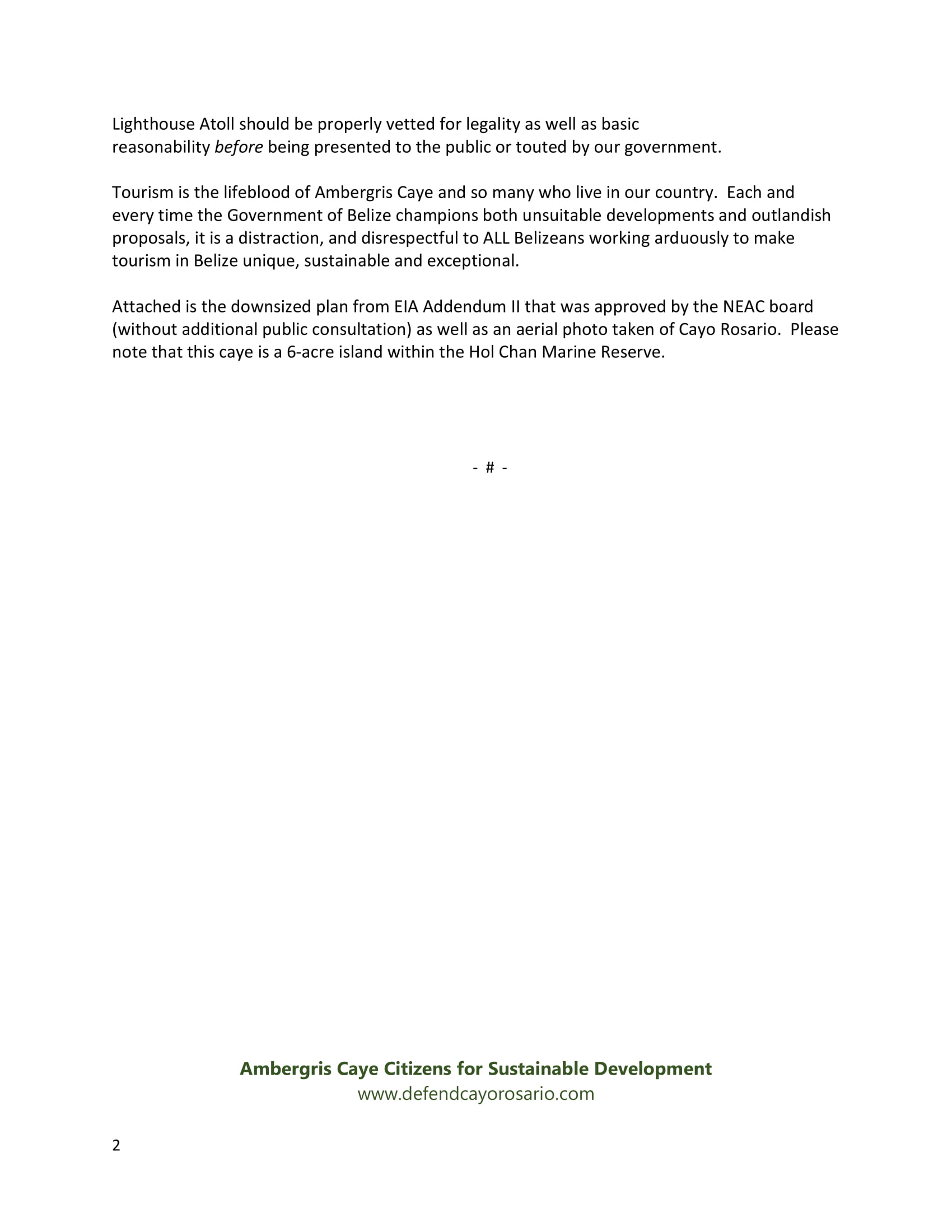 But there is so much more…
You can read here about how the land went from public to private.
You can use google earth to check the original survey done in 2007.  2 lots surveyed for a total of 10.02 acres.  An island was only 6.5 acres at the time.  (And is now…and was in 2001)
Over lay on the island in 2007 (via Google Earth)
This island is INAPPROPRIATE in so many ways for this development.  Over 100 structures on and around a 6.5 acre island.  Massive dredging and over-the-water cabanas over PROTECT flats – seabed that was purposefully and arduously set aside as the habit for Belize's prized game-fish.  The permit, the bonefish and the tarpon.
Fish that are catch and release and insure the sustainability of the fly fishing industry on the island (from guides to lodge employees to taxi drivers….all of us) for generations to come.
The EIA is riddled with inconsistencies and incomplete work.
The approval of this development within a marine reserve sets an extremely dangerous precedent for the entire country.
The Government of Belize is excellent at touting the country as an eco-friendly spot but policies and regulation are basically useless if they are not policed or just totally ignored.
This development at Cayo Rosario goes against:
Many of the DOE's own National Environmental Guidelines for Over-The-Water Structures 2010 (including almost ALL of Section 14)
The new and stronger Mangrove Regulations that came into effect earlier this year
And the very reasons this area was protected in the first place – conservation.
This Cayo Rosario Development Project would be detrimental to the tourism industry as well as to country of Belize in the eyes of the international community as Belize has built an image of an eco-friendly destination with utmost dedication to our environment and sustainable development.
A VERY dangerous precedent.  And with the front side of our island declared a "natural disaster" for the massive influx of sargasso that is coming in…it is our responsibility to NOT WRECK our protected areas.
Everyone is in agreement – this is a private island.  We may not like how it changed hands…
…and we may not like the developers but this is a private island.  And then have the right to develop it.
But this plan is preposterous.  And this is a direct threat to tourism – the bread and butter of ALL of Ambergris Caye.
Developers and those they pay to write their EIAs all use the same battle cry – but this will create jobs!
But at what expense?  What about all of those who work directly and indirectly with the fly fishing industry?  What about our tour guides?  I'll use the example I've used again and again – bulldozing Lamanai to build a casino would also create jobs…is that the direction that this country should go in?
Adverse impacts to the health of our marine reserve will cost many more jobs on Ambergris Caye and elsewhere in Belize than any developer can credibly promise to create
To me, this is an easy NO.
And here's how you can help if you agree.
Buy and wear a t-shirt!  Later this week they are finally going to print.  Thanks to our amazing sponsors for donating, all proceeds with go to the Defend Cayo Rosario legal fund.
I'll be wearing this for the rest of 2018.  Get used to seeing me in the color SAND.
Stay tuned to the Ambergris Caye Citizens for Sustainable Development Facebook page for information on where you can buy your shirt.
Make a donation.  The ACCSD is working with lawyers to stop this development and then take it farther.  We need an overhaul of this process so that development like this does not stand a chance of even being presented to the public.
Belize is so incredibly blessed.  Visitors comes from all over the world for the reef, the wildlife, the people – OUR IRREPLACEABLE NATURAL TREASURES.
Why would we possibly want to mess that up for this project?
**These are my thoughts/opinions, this blog does not represent any group or organization.