The New Mirabs Department Store: WOW in Belize City
My alarm went off at 4:45am and then again at 4:50am.
I do NOT get out of bed this early for just anything.  But yesterday was something I've been looking forward to for a while.  ESPECIALLY since I got a sneak preview less than one month ago and WAS NOT ALLOWED TO TAKE PHOTOS INSIDE!!!
I knew that inside and out there is NOTHING like the new 100,000 square foot Mirabs Department Store anywhere in Belize.  From the staff locker rooms to the restrooms to the date palms and the landscaping to the cushy chairs placed everywhere around the store – usually for the boyfriend whose shopping stamina is very low – this new store is gorgeous and so thoughtful.  The details, big and small, are perfection.
So rather than continue to talk…let me show you.  From my 5:15am golf cart ride on, yesterday was a beauty.
Take a look.  All of Belize City was shining for the opening of Belize's very first department store.
First you can watch the video that they showed to the first shoppers.  SO cute, features lots of my favorite employees…and had me humming all day.  It also gives you the perfect view of the new chandelier in the lobby.

The new store is about 10 minutes (with $10bzd taxi ride) from the water taxi and even less from the municipal airport.  They also have a taxi stand there so getting a taxi to your next destination is super easy.
The chandelier is crazy beautiful – I am going to have to head back in the evening for pictures.  And I have good reason – the third floor – which will be a HUGE Ashley furniture showroom – will open in November.
Did you know that Mirabs started over 30 years ago as a tiny womens' shoe store?
These walkways were not empty for long…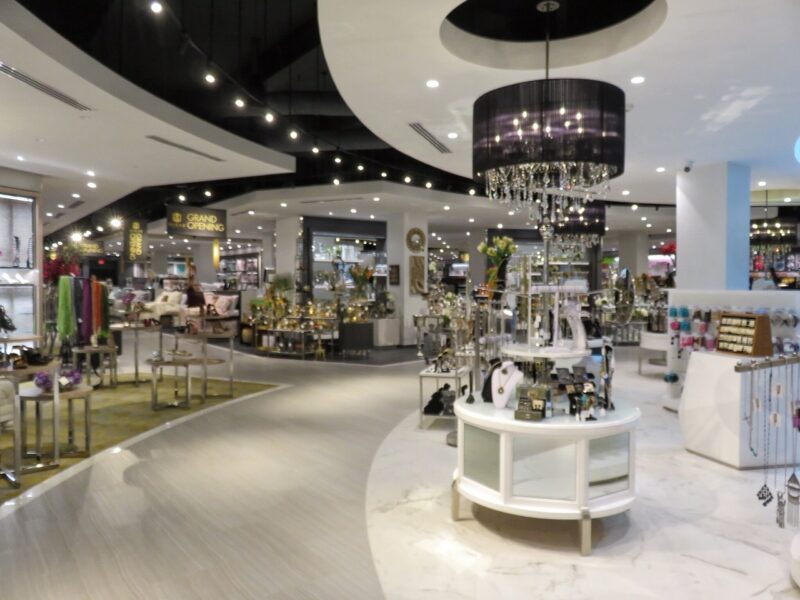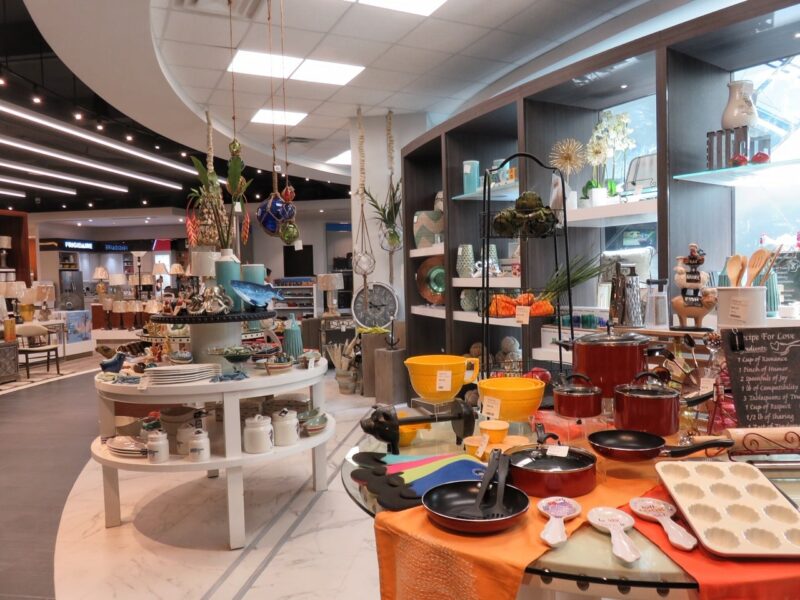 Kids were going CRAZY in the gigantic toe section.  A whole aisle of unicorn accessories…and glitter and sequins.  I was mesmerized.
So much so that I was the first in line for a tattoo.
And just after these girls for the color wall.  I SO want one of these at home!
The media was there asking the tough questions…
As I rode the escalators and admired…the displays.  It is NOT just a place to come and grab something and go.  I LOVE when a store gives me a bit of inspiration…
I wanted ALL these storage boxes and baskets and hampers.  To help me contain my mess!
There is NOTHING like this in Belize.
And THIS is my favorite part and why I was most worried about the new location.
If you have been to the old spot, you know this guy.  He danced in front of the shop….just loving the music playing and smiling.  Doing his thing.
He came with them to the new location.  PHEW!  I got his name but forgot it already – I was nervous!  Like I was meeting a star.  He is SO MUCH part of the Mirabs' experience.
 I can't WAIT to hear what everyone thinks of the new spot.  I was in a bit of a daze.  Many people were.   It's so new and different for the country.
That was highlighted to me even more TWICE on the escalators – when the women in front of me were scared to step on and were kindly ushered to the elevators.
I hopped a taxi back to my noon water taxi but walked for about 20 mins along the water front admiring the conch fleet.
What a beautiful day for Mirabs opening.  And I'll be back.  There is no place like Mirabs for Christmas in Belize.  And in this space?  I can't even imagine.