Little Things In My House in Belize That Spark Joy, Lemons and Green Beans
I've been watching Marie Kondo's new Netflix show and well…I'm hooked.
If you don't know Marie she has become quite the phenomena over the last few years – with her  international best-selling book The Life-Changing Magic of Tidying Up: The Japanese Art of Decluttering and Organizing.
Tidy?  Decluttering and organizing?  SNOOZE.  I know!  The book was on my radar for the last few years but the subject matter sparked ZERO interest in me.  But now Marie has a show.  A mix between "Queer Eye" and "Hoarders" – Miss Kondo swoops in like a tiny doll with her glossy bob and perfect cardigans and gently coaches families into tidier homes and even tidier lives.
Through organization, couples find love again, children behave and friends mend broken bridges.  It's magic.
The secret?  Unload your entire closet (dresser, desk or junk drawer), clutch each item to your heart, close your eyes and whisper:  DOES THIS ITEM SPARK JOY WITHIN ME?
If not, throw it out or donate it.   Your home should be your sanctuary…your safe place…not a place that fills you with "I have too much crap and it's everywhere" angst.
The New York Times featured their more scientific take on "The Unbearable Heaviness of Clutter".
Now as a generally disorganized scatterbrain, I'm not sure I will put this into immediate practice but I love the idea.  And even more, I love the show – Marie is so capable!  she makes everything better!  But mostly…
It got me thinking.  What new products have I found in the last year – both in San Pedro – and shipped from the states – that spark joy in me.  I'll focus on the JOY and leave the TIDY and DECLUTTER part for later.  That part kinda sparks dread in me.
We are talking INSIDE the house items – not the ones outside that I've become mildly obsessed about in 2018.  Like sea beans and birding.
These ones below are now available most of the time and at decent prices.  (It's all relative.  $8bzd for a pound of grapes may seem CRAZY to you….but if they spark intense joy?  It's a pittance!)
As more and more immigrants/expats/retirees move to Ambergris Caye, the number of imported goods increases and the prices seem to dip.
(Prices of imported items – for example – Hostess cupcakes, butter or even Tollhouse chocolate chips have actually DROPPED since I moved here 11+ years ago)
Obviously this is a very personal list…
But hey.  This is a blog about me.
Netflix/Higher Speed Internet – Game changer.  This year Digicel High Speed internet came to the island bringing faster speeds and much lower prices.  The competition dropped prices and increased speeds as well.  So now I have 20MB download speeds at home and it's heaven.  I have BINGED on Netflix and Amazon.
At the camp, which is completely off-the-grid, we just got SMART broadband installed.  Here's a great drone picture of the location.
There is some fine tuning to do but trust me when I saw that our full time manager there is in heaven.
Earl Grey Tea with lavender – I got a manatea as a gift.  SO cute but how often do you drink loose tea?  Answer:  Every day when I get home from running around town.  Sit in front of fan, drink my cup of earl grey, calm washes over me.
This tea is strong and DELICIOUS.  And only $7.20bzd at Greenhouse.
Green Beans – Vegetables.  I like them…really I do.  But it's hard to find affordable vegetables that you feel like eating every single day or at least a few times a week in San Pedro.
ALWAYS available at local stands:  cucumbers, onions, garlic, zucchini, peppers, carrots, potatoes, cabbage, cauliflower.  That is about it.
For the first half of the year, I was on a major cauliflower kick but now I've found delicious green beans at the Greenhouse.  $5bzd for a nice big bag…delicious steamed and sauteed in a little garlic, olive oil and a dash of sesame oil.
Stored in the refridge for snacking?  Joy.
Soda Water, unlimited – Having all the soda-water/seltzer I can drink at home was my ONLY 2019 New Year Resolution.  Something you might not even think about…but it's a bit of work.  It comes in glass single serve bottles and I can polish off a case in a few days.   Glass bottles and bumpy goal cart rides are not ideal. #Goals.
In 2018, Bowen changed the bottles and branding on us though it's still the same product.  Fanta…now Schweppes.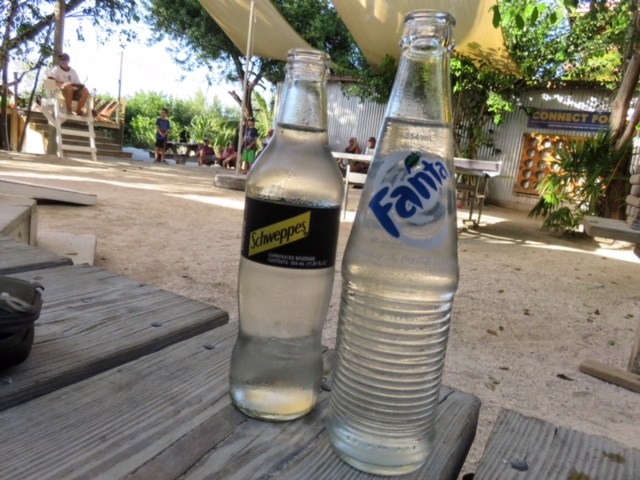 Lemons – Belize is the LAND of unlimited limes.  They are in everything and available everywhere.  But a lemon?  OH no.  "We don't grow them in Belize" – here's a post when I looked for answers about that.
You can find them a few times a year in San Pedro but they are much more sour than the ones I am used to.
So after 10 years without…"you don't know what you've got 'til it's gone"…you can regularly find imported lemons.  $1bzd each.  And they taste so fresh and so delicious.  Particularly with pasta or my new favorite salad dressing:  2 Tbl Olive Oil, 1 Tbl Honey, 1 of Dijon mustard, smashed garlic clove and juice of a lemon.
Put it on everything.
LEMONS SPARK JOY.
And now…the imported items.
Polarized Sunglasses – Sunglasses are important down here.  The sun is almost always shining and the reflection off the sand and water can be pretty  blinding.  Since I wear them every day, I usually bought a new pair every other year or so and usually at an airport while traveling.
I went for style rather than function.  But just this year, I found a pair of polarized Smith sunglasses (for men) that stylistically wouldn't be my first choice but MAN…everything looks better thru these lenses.  Especially when you are on the water.  Good grief what a difference.
Smooth, cool cotton sheets and "adult bedding" – For me, part of the appeal of Marie Kondo's show – and the younger participants mention it often – is becoming more settled, more "adult".
Having a "adult bed" – bedspread/quilt that is NOT covered in dog hair or tears, sheets that you actually enjoy laying on – is key!  And having an extra set?  A back up?  Awesome.
I think that I would have done this lots sooner but…while you can buy so many great things for your house – small appliances, towels, organizers, hampers, dishes – here in Belize (Mirab in the city is a FAVORITE spot for great selection and good prices), I still can't find decent sheets and bedding here.
SO…I ordered it from Target and shipped it to a consolidating/shipping company.  And now?  I'm an adult.  At least when it comes to bedding.