On Your Mark…Get Set…Crawl! Hermit Crab Races at Crazy Canuck's Beach Bar
Ambergris Caye has SO many places to enjoy a cold Belikin beer any time of day.  Bars at the beach in Belize abound.  But Crazy Canuck's, located just south of town right on the beach, has found so many ways to differentiate themselves.  They've got an awesome view, friendly staff and some popular events all week long.  But the most unique (some might say weird) weekly party takes place on Tuesday evenings – when a crowd gathers to bet on the hermit crab races.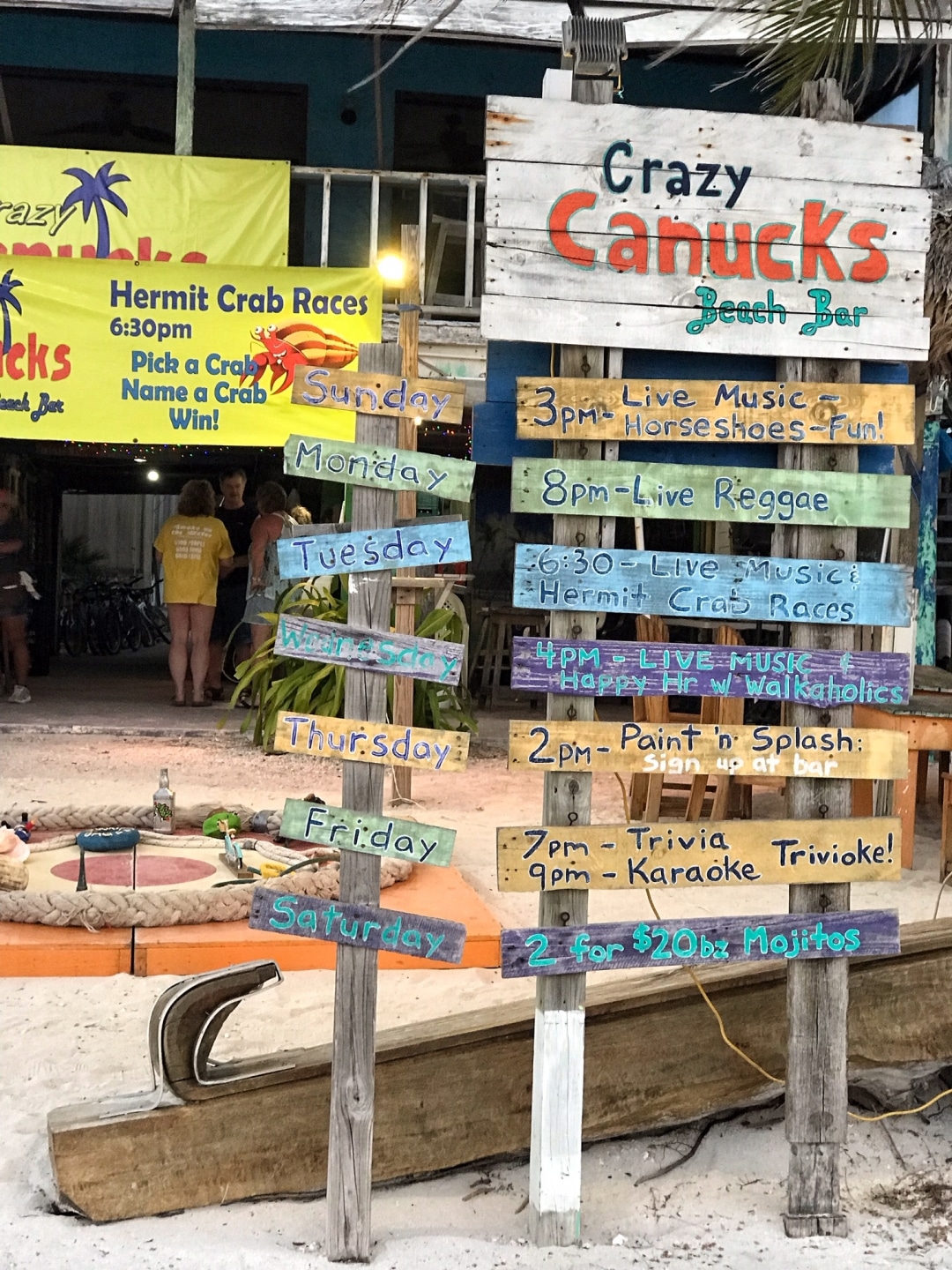 They've been doing it for THREE YEARS!  It was one of the most memorable things my nephews did on their visit last year.  6 kids, under 10 years old, sitting in the sand at night around a race track at a bar in Belize sipping ice cold Fanta from glass bottles = kid vacation nirvana.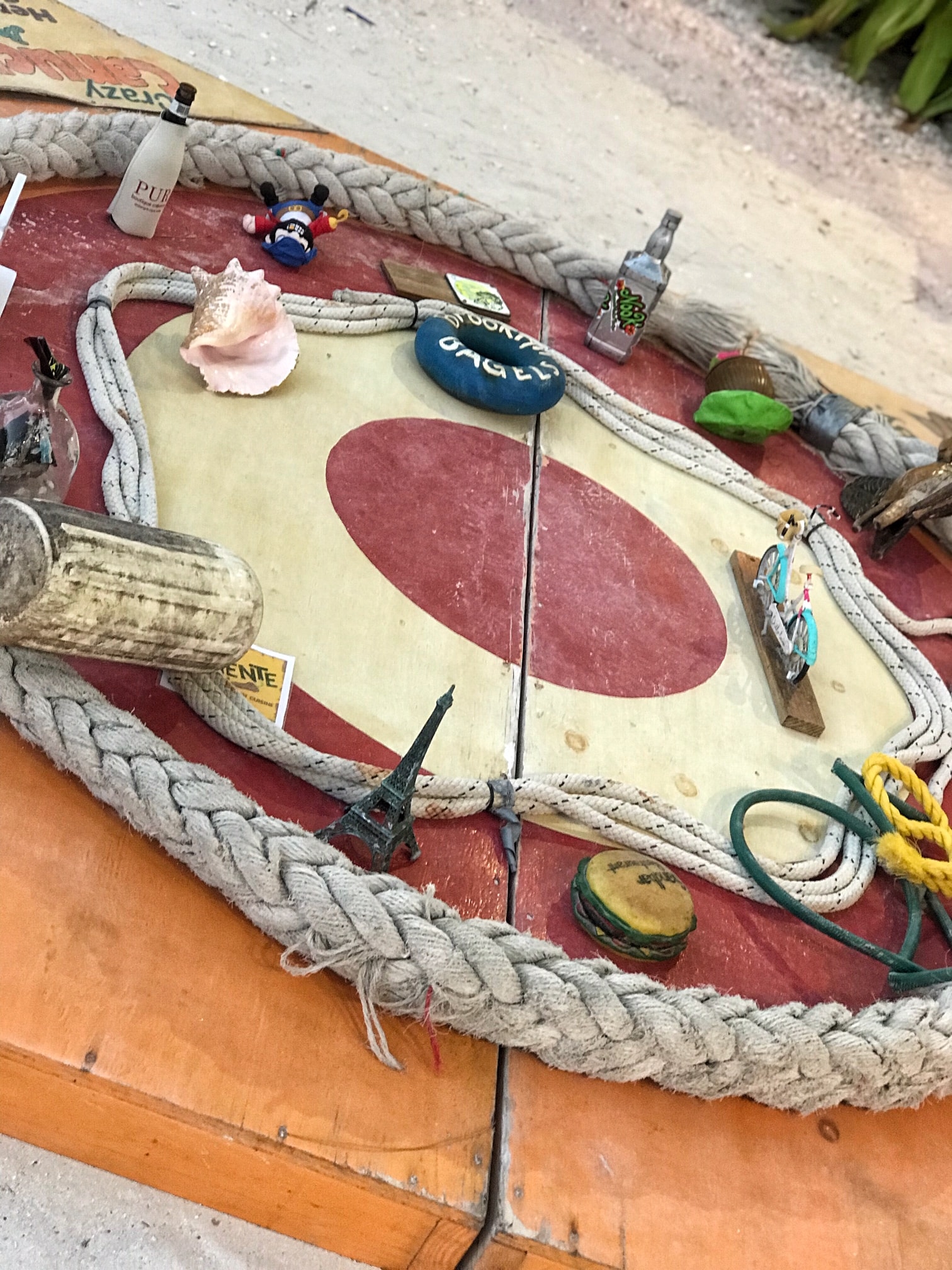 It's SO popular, so newsworthy, that I had to get the scoop.  Here's what I saw last night at Crazy Canuck's Beach Bar.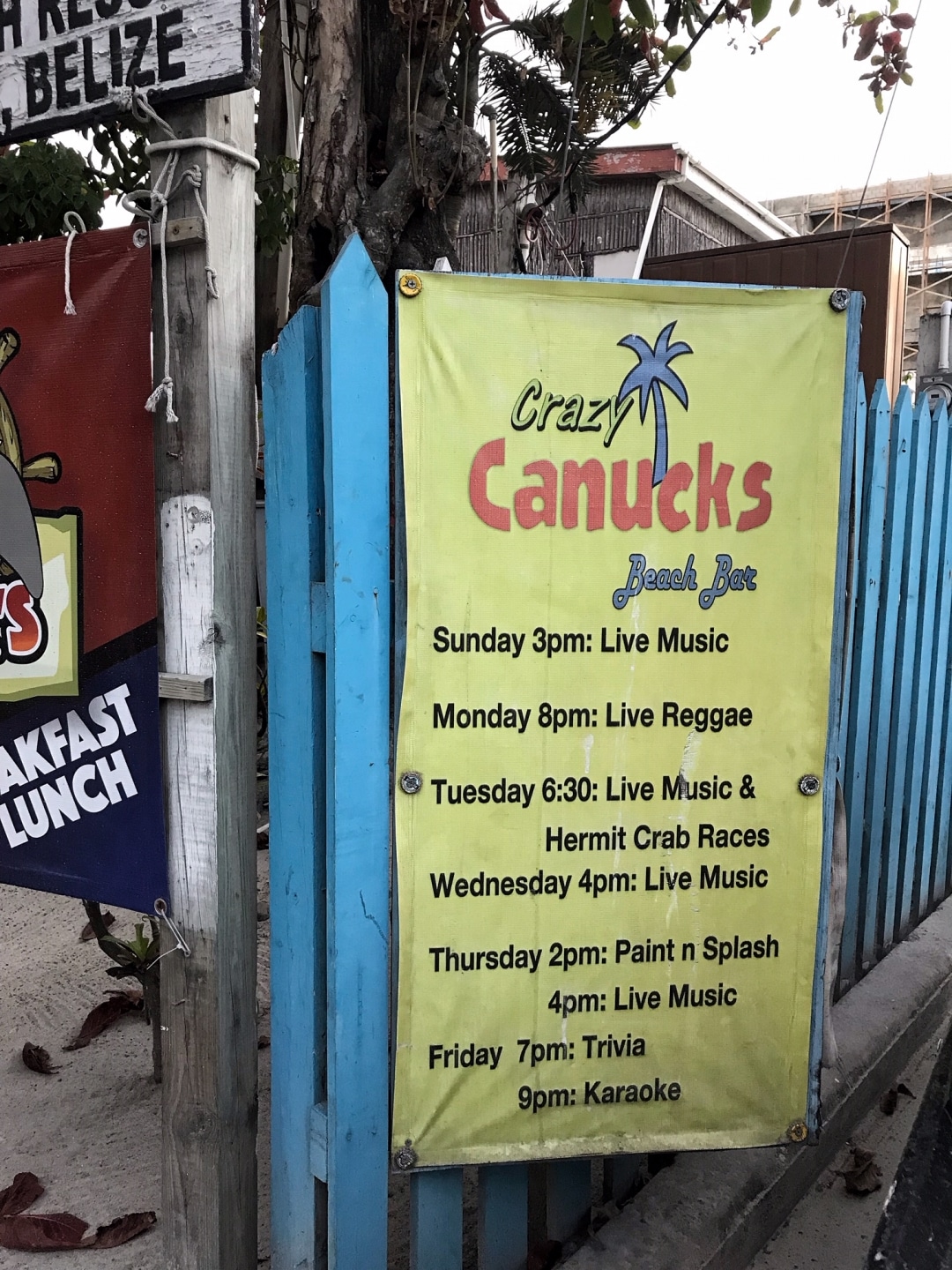 I arrived a bit early – for some remaining daylight and to get a seat.  There are tons of tables set up at the beach and by 6:30pm – crab time – they were almost all full.
The race track is pretty clever and very photogenic.  It's covered with branded obstacles.  A  bagel from Brooklyn Bagel Co, a little Eiffel Tower from the french bakery…all sorts of things.
I went to survey the athletes.  Rob, who is the owner of Crazy Canuck's with his wife Krista, was BORN for the job of MC.  He is funny and engaging and…loud.  Quick with the jokes.  PERFECT.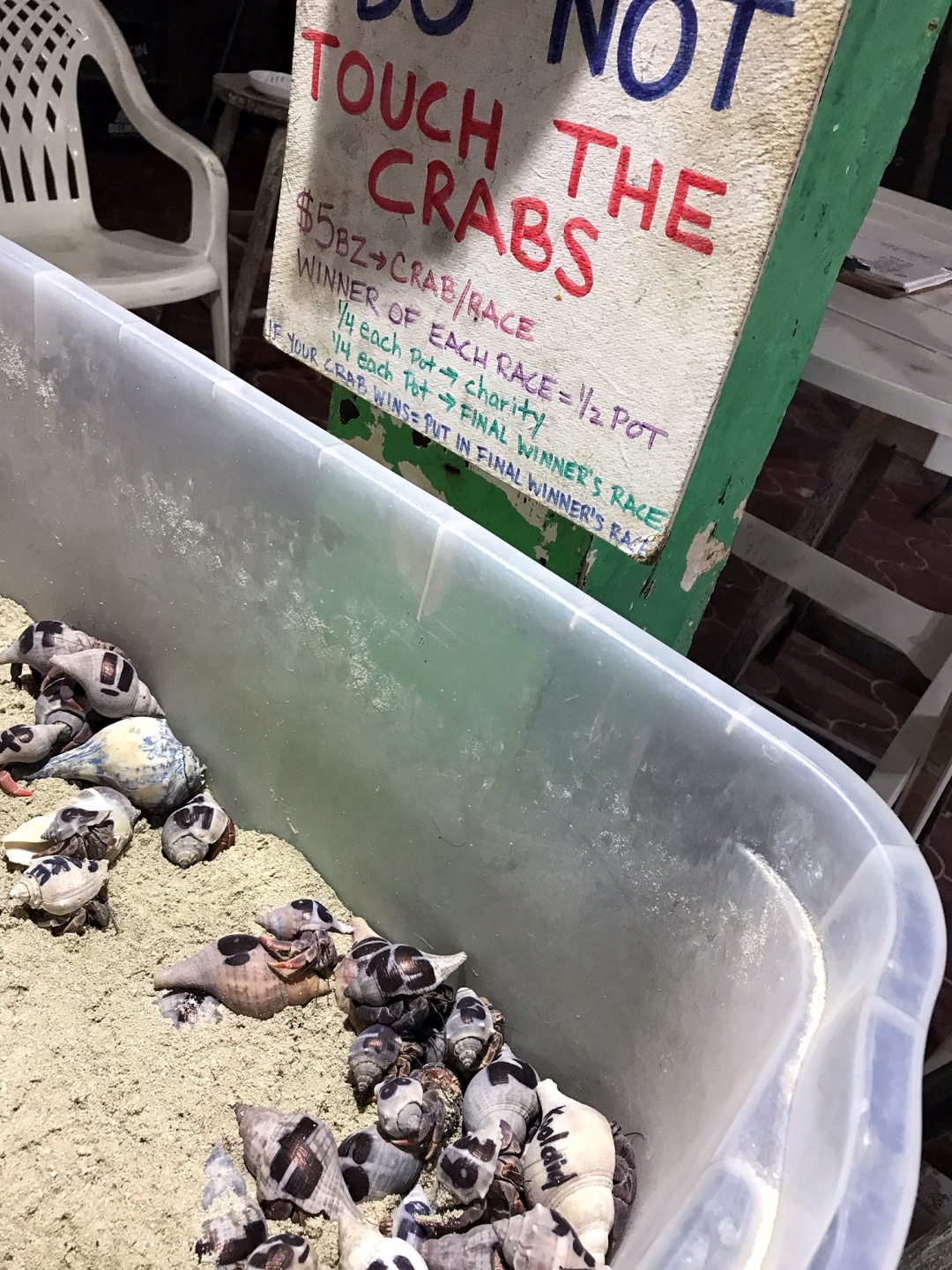 He let the crowd know that these are rescue crabs – from the Crazy Canuck's Hermit Crab sanctuary – saved from being fishing bait.
100 crabs.  $5bzd gets you one.  The line started forming for the 6.30pm sign up for the first race.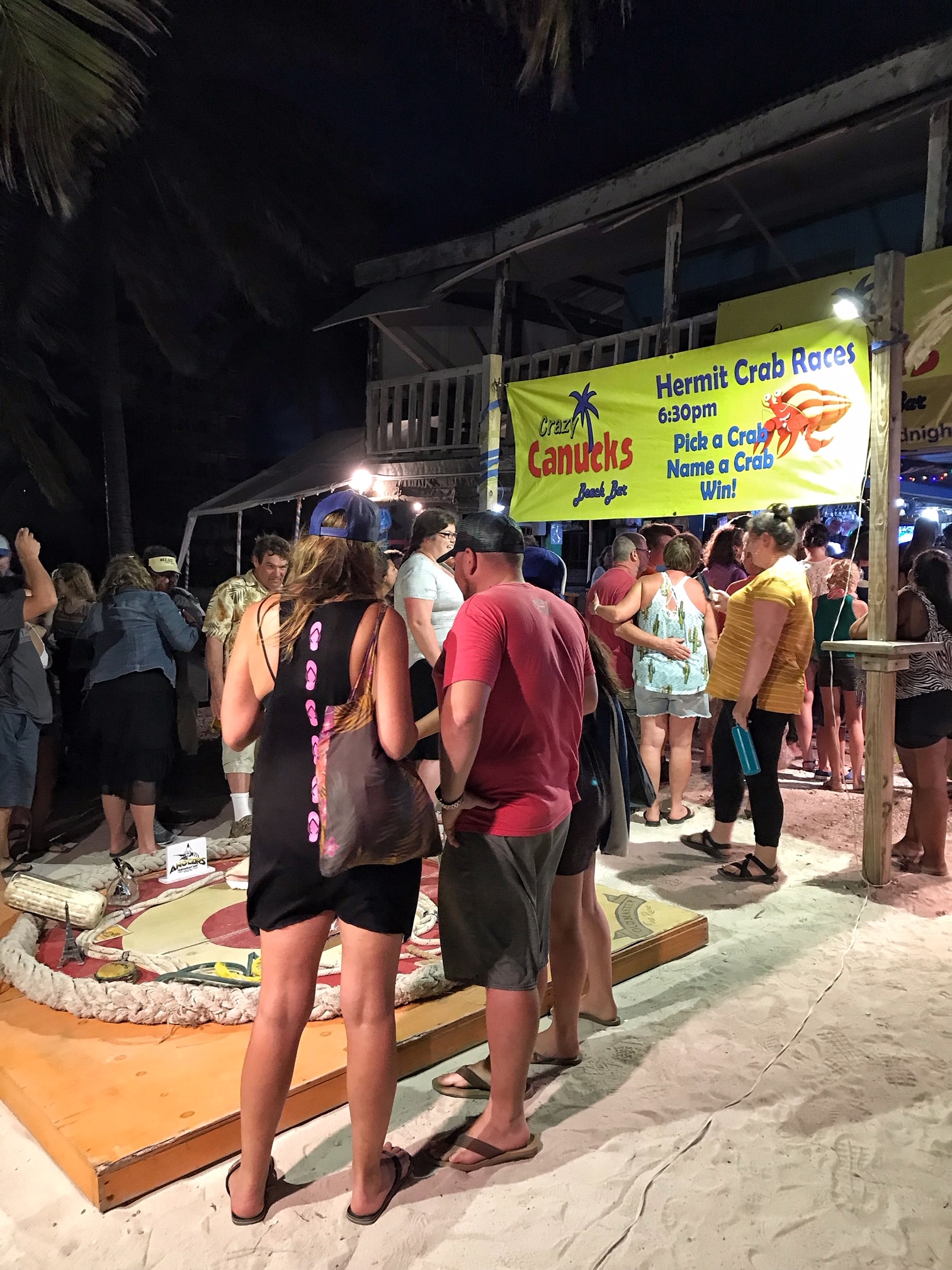 You get a number, you give your crab a name and you circle around the board.
I won't give you all the details but prizes are given for the first crab to touch each obstacle – 50% of the money goes to charity – they have raised over $75,000bzd for kids' education in San Pedro and the last race = the big money.  But you can win at each and every one.
It's a pretty awesome event.  Crazy Canuck's have made it "Must Attend".  For kids and adults…people of all ages.
Here's last night's big winner.  $430bzd, a bottle of rum, a bag of coffee and a vacation picture for the ages.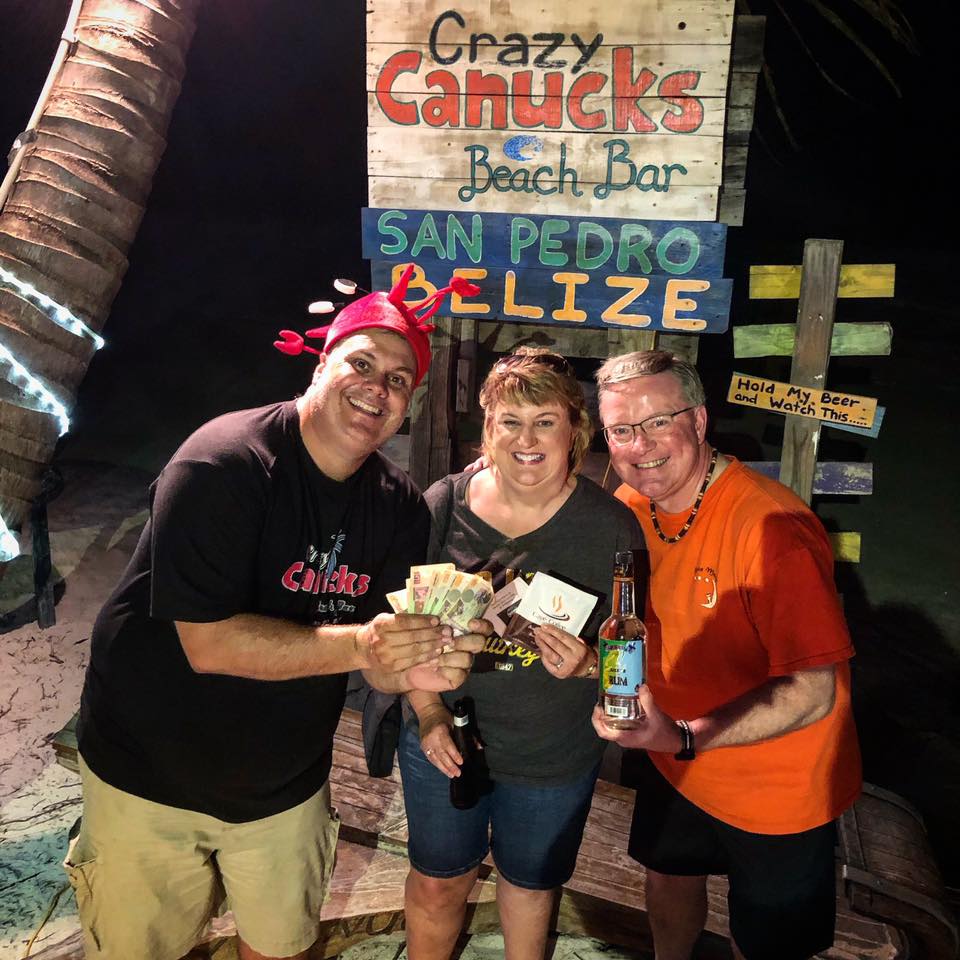 The really big winner was the kids' charities – another donation of $435bzd was made.  Pretty cool.
In a town filled with beach bars and events happening constantly, Krista and Rob kill it with this event.  Good clean goofy fun in Belize.  Drinking, betting and sending kids to school.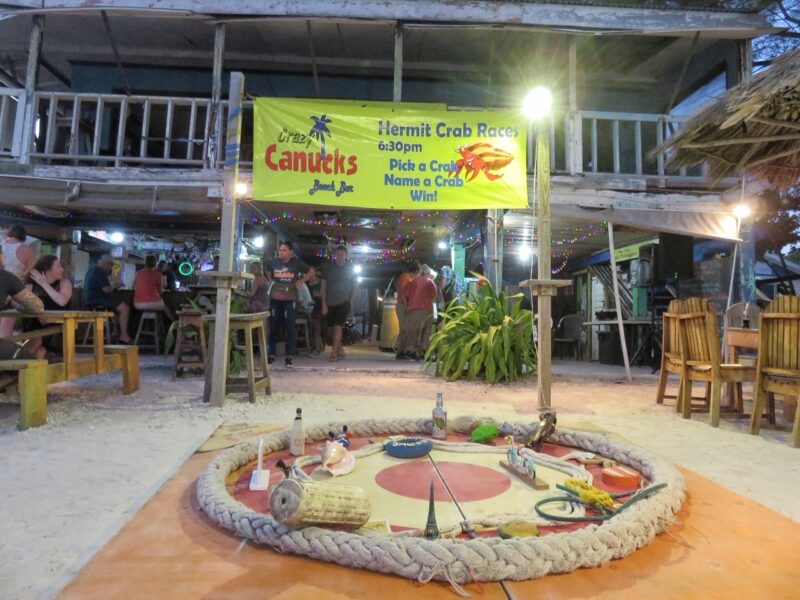 No one said your trip was going to be ordinary.
To follow Crazy Canuck's, check out their facebook page or visit them right on the beach.
And to REMEMBER this event for future use – please PIN IT!