Boat Trip with Panny To Robles Point, North North Ambergris Caye
Tour guide extraordinaire, Panny Arceo, deserves a website of his own.  He is a senior guide- boat captain- storyteller- born and raised San Pedrano- musician and accordion player that knows ever inlet and coral head around Ambergris Caye like the back of his hand.  (A hand that has only three fingers due to crocodile attack or barracuda or a myriad of other reasons depending on Panny's mood)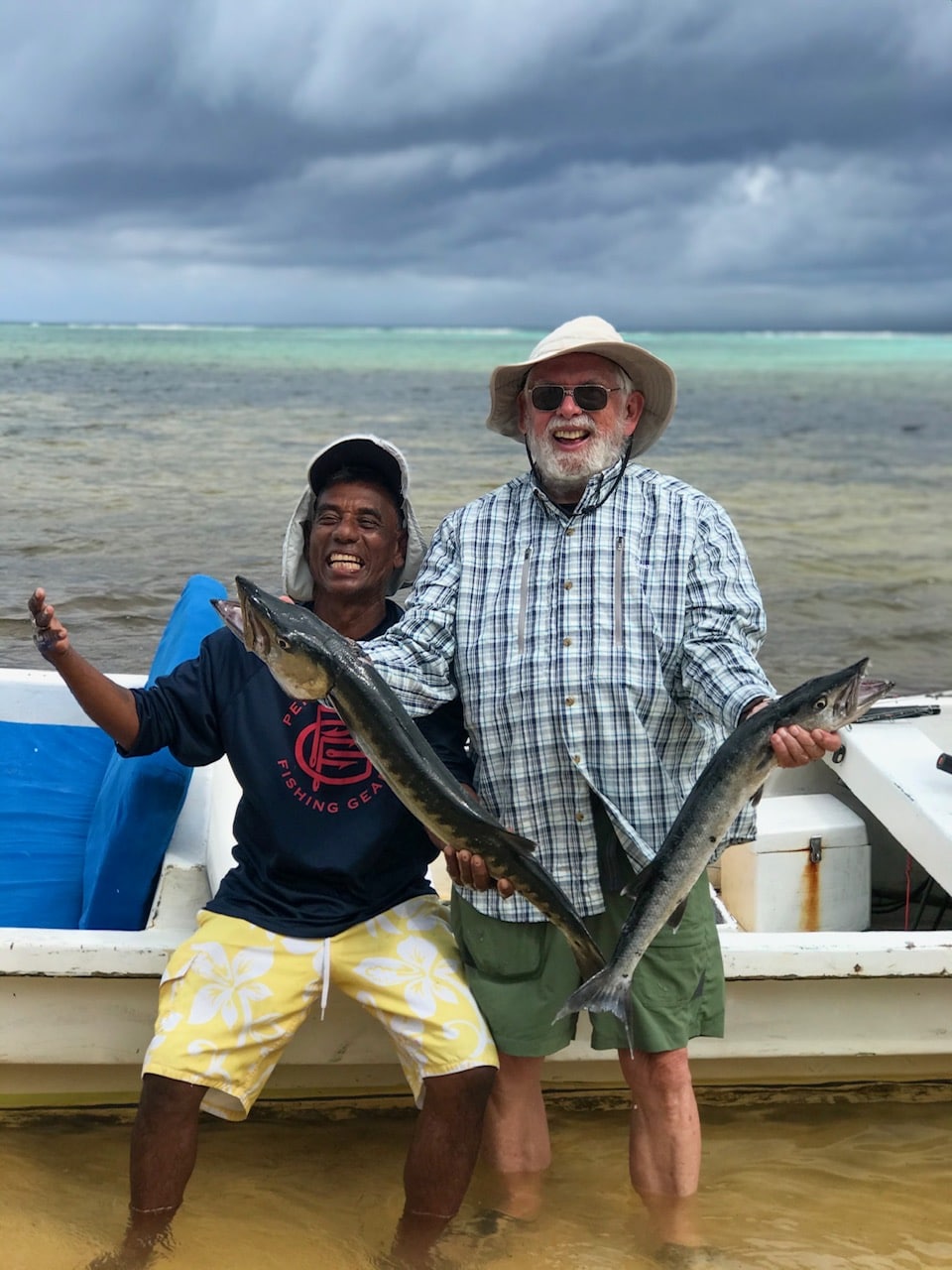 Earlier this week, he took four of us – me and Jeff, Jeff's mom and her friend Ken, on a boat ride up to Robles Point for some sun and beachcombing and fishing.
Jeff to find some permit.
I wrote about my favorite trip around the island with Panny here (all information on how to reach Panny is in the post) – and it's also in my book.  
Here's a shorter day out with Panny on BEAUTIFUL North Ambergris Caye.
We got a 9am pick-up at Xtan Ha Resort's dock and headed north.
As we head north…the development thins out quickly…and it's just tall coconut trees as the reef gets closer to the land…
Passing Tranquility Bay at 14 miles north.  It has changed ownership over the last year or so and is closed and being renovated.  (A post of my stay in 2015 where I named it the most beautiful piece of land and location on Ambergris Caye)
The water gets very shallow and much harder to navigate as you move farther north.  At some points we could touch the sea floor from the boat.
We pulled up to the beach and unloaded.  Set up some chairs and a cooler.  I set out to beach comb…Jeff to fly fish…and Ken went trolling with Panny.
The beach is looking pretty darn great up there.  With a serious slow down of sargassum over the last few months, it's SO nice to see the sand again!
Half of an old dory – I've moved one of these on a golf cart in the past.  They are HEAVY.
The land is HIGH for Ambergris Caye (which I don't think gets more than about 15-20 feet above sea level).

The weather was bright and sunny to start and then dark clouds looming just over the reef.  We spent about 3 hours up there…maybe 4…and it didn't start raining until our ride home.  HARD.
Barracuda hooked and landed.  Ken and Panny also spotted a large manatee and a bunch of eagle rays.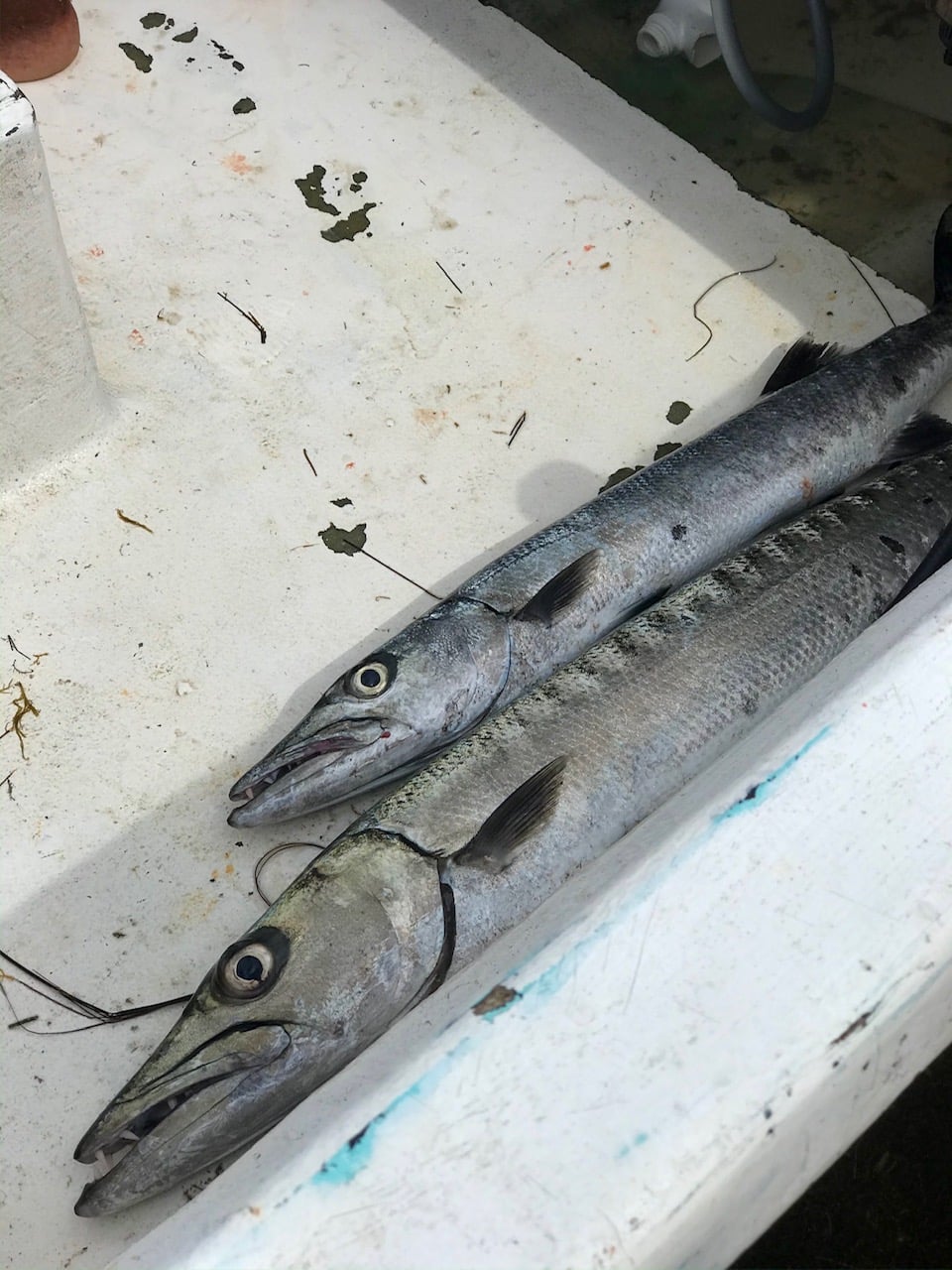 Permit?  No.  Only spotted.  A gorgeous day.
We did meet 4 or 5 golf carts making the trip this way…some to snorkel, some to just sight see…it can be long bumpy mosquito-y trip this time of year.
I was happy for Panny's expertise and the ease of the boat.
Super fun trip and SUCCESS in the sea bean department.
Mostly "sea hamburgers" – which are locally called Deer Eyes.  I gathered about 20.
And a few of these more delicate items called Ram's Horns.  They are the skeletons from a certain type of squid.  
I don't know about you…but I find it AMAZING that they can wash up on shore fully bleached and clean and perfect.
Diagram from Wikipedia