Corozal: A Lovely Colorful Belize Town with A Definite Mexican Feel
Colorful Corozal, Belize Surprises Me on a Quiet Sunday Morning
There are only a handful of towns in Belize (7 to be exact) and only two official cities.  And of all of these "urban centers" in Belize – from south to north – I definitely felt like I knew Corozal town the least. (For a look at my visit to the others – see end of the post.)
I had been through Corozal quite a few times in the past 12 years – mostly to get to Mexico or from Mexico out to the cayes but….I had never really lingered and I haughtily felt like I didn't need to.
Here's a map of the Corozal area so that you can get a sense of the area.   You can see the northern border of Belize and Mexico – Corozal to the south and Chetumal north.  And then on the right – the border between Mexico and Ambergris Caye.
The star marks Orchid Bay – the place where I stayed for 3 nights.  And it was my hub for visiting Corozal and Sarteneja.
What makes Corozal particularly intriguing to many who are looking to relocate to Belize – especially those looking for a more affordable alternative to the cayes is the proximity to Mexico.  JUST across the border – less than 10 miles away – is a relatively HUGE city of Chetumal Mexico.  A place that has a huge array of shopping spots, malls, movie theaters, fast food joints and just people.  Chetumal is estimated to have a couple hundred thousand people.  Compare that to the entire country of Belize that has just around 400,000.  Or Corozal town…which has less than 20,000.
Corozal is also on the water.  The Bay of Chetumal to be exact.  And though not the bright aqua blue of the island since they are miles away from the barrier reef and subject to the outflow of nearby rivers, it's still a beautiful view and the sea breezes are blowing.
Here are all my pictures of Corozal – or the better ones.  I flew into Corozal on Tropic Air.  There is only one route that lands regularly at the tiny airstrip – San Pedro -> Corozal and back.  Corozal is also about 1.5 hours from Belize City by vehicle…a bit longer by bus.  It is also just under 2 hours from San Pedro by boat.  The Thunderbolt water taxi (I dig this old school graphic!) and the newer and quite grandly named Exodus Water Taxi.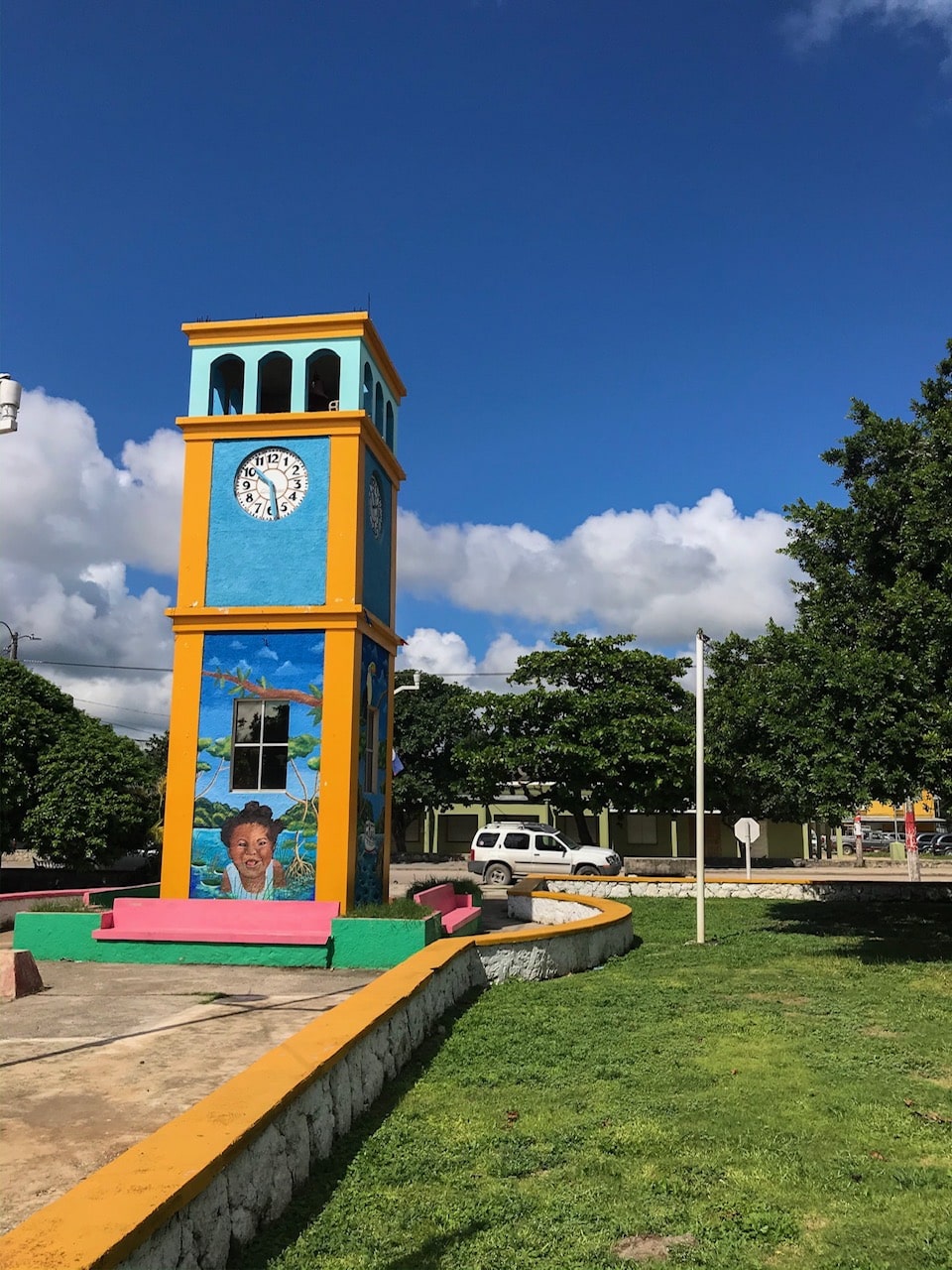 I found a brightly colored CLEAN town, lots of art and public seating and spaces, a pretty Maya site and a very Mexican feel including a true town square…a plaza.  Here are my photos…and over the next few days, I'll share more on my trip to Orchid Bay!
The view from above.
I'll start with all the art work!
The national bird…
And a very cool message.
I then found a taxi to take me to the Santa Rita Maya site which is right in town but a bit of a walk.
The guys at the taxi stand held onto my bag so I didn't need to lug it around.
I stopped to take a picture of this pretty cool monument at the roundabout entering town.  Topped with a replica of the Jade Head of Altun-Ha (the crown jewel of Belize – it is something AMAZING to see in person)
And then surrounded by examples of carvings from around the Maya world.
The site was not far away.  We found it…closed.  But I actually got a surprisingly good view through the fence.
We headed back – and I got a drop at "the best taco place in Corozal".  As told to me by my taxi guy Gabby.
Delicious.
As I ate, a parade of sorts went by.  More like soldiers and youth cadets and scouts marching.  It was honoring Remembrance Day – and they were headed to the Town Council building to meet.
FOLLOW THAT PARADE!  I'd heard there was a beautiful mural of the history of Corozal inside – and I had given up on seeing it since it was Sunday.
I was not disappointed.
A few close ups of my favorite parts.
Hurricane Janet hit just north of Corozal and devastated the southern Yucatan and northern Belize as a Category 5.
From colonization to the Caste Wars and the Maya and Mestizos heading south to Belize.
I took a picture of some of the cadets headed home to one of the surrounding villages.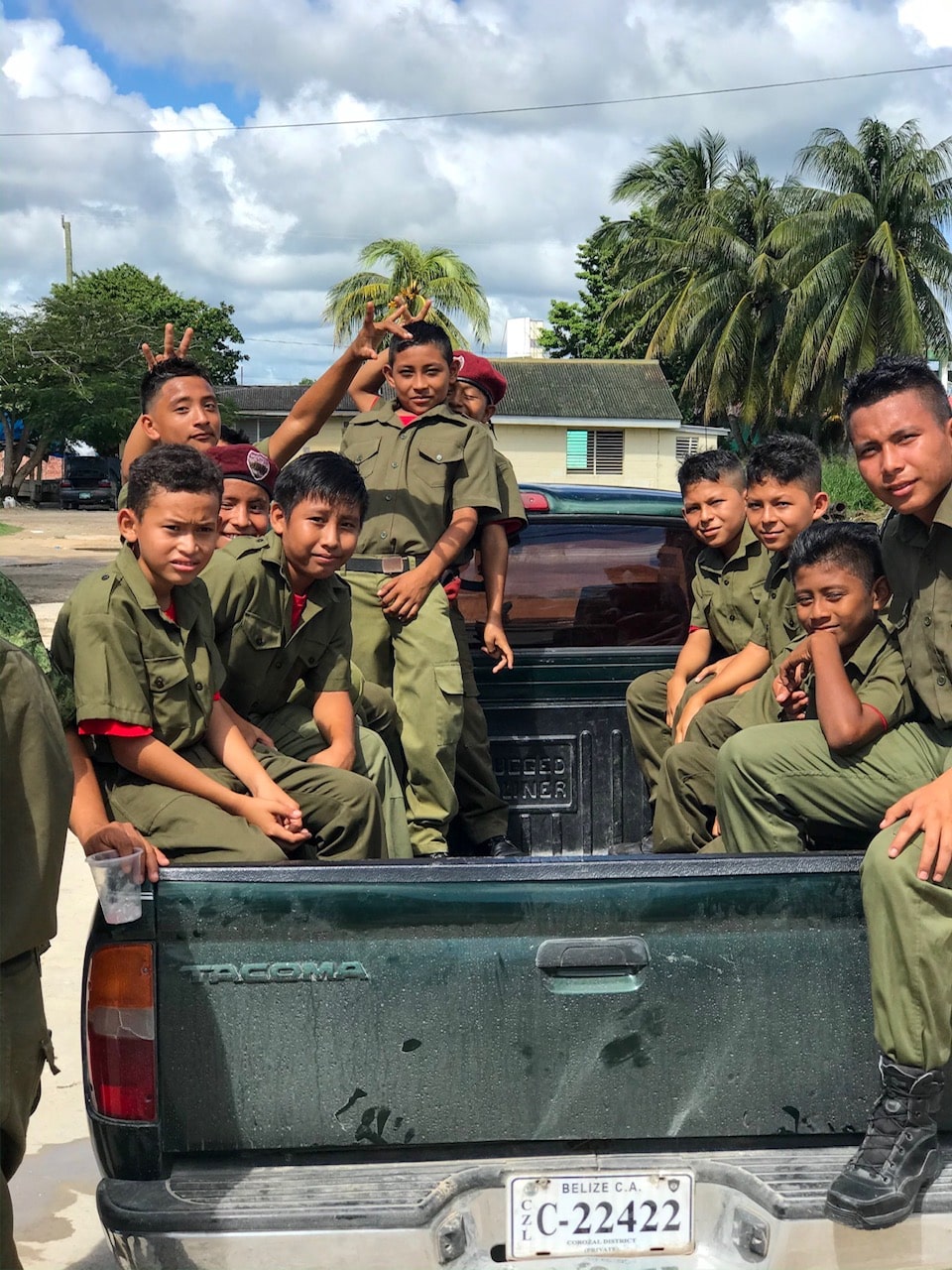 I'm intrigued by Corozal and I need to return on a day when things are really open…to get a better sense of the town.  Until then, I will dream of this beautiful fixer upper on the water.
Does anyone know Chip and JoJo personally?
HERE are the 7 towns in Belize.  Additionally there are 192 villages.
Benque Viejo del Carmen – Good Friday in Benque VIejo
Corozal Town – see above 🙂
Dangriga – Hey White Gial:  A Trip to Dangriga
Orange Walk Town – Welcome to Orange Walk Belize:  Tacos and Sugar City
Punta Gorda –The "Real Belize": Punta Gorda Has SO Much Character & I Love It
San Ignacio – A Quick Look Around San Ignacio
San Pedro
The 2 cities are Belmopan and Belize City.
Meeting Prince Harry in Belmopan! (OK…meeting is a strong word)