A Peek at Tropic Air's New Caye Caulker Terminal on Their 40th Anniversary
My First Flight to Caye Caulker for the 40th Tropic Air Anniversary AND a Preview of The Beautiful NEW Caye Caulker Airport & Terminal
Yesterday, across the nation, Tropic Air celebrated 40 years of service in and around Belize.  I was super excited to be invited to a special Tropic party – a sneak preview for some members of the press (THAT'S ME!) of the brand spanking new terminal at the relatively brand spanking new Caye Caulker air strip.
** 40th Anniversary is the Ruby Anniversary – in case you are looking to buy gifts.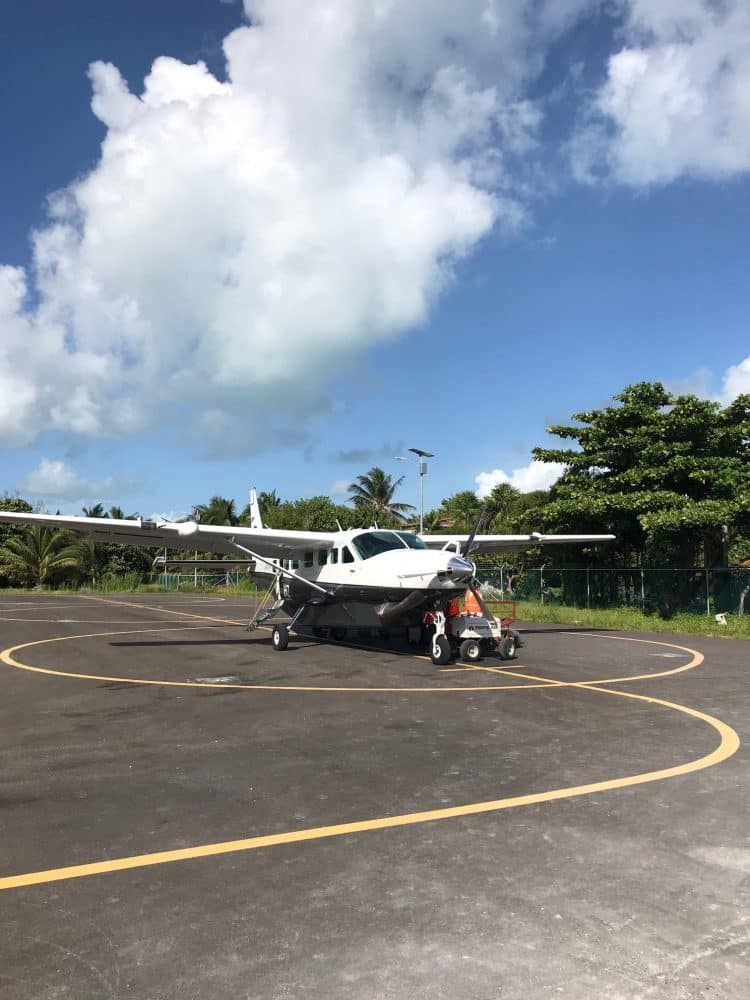 If social media is to be trusted – Caye Caulker is the next HUGE destination in Belize.  There is also a noteable amount of construction going on, especially on the north end, and growth is almost certain.  Tropic Air sees that growth and realized that, while charming, a small wooden shack with a zinc roof airport terminal wasn't going to do.  (I remember hiding out in there to wait for The Bachelor TV shows "secret" filming in Caye Caulker over 8 years ago!)
Rain was predicted in the morning but the weather turned out to be SPECTACULAR for the 6-minute flight to Caye Caulker!   (Note:  I have landed at the Caye Caulker airstrip many times en route to the mainland but I have never gotten off the plane!)
I could look at this view forever.  The flight between the islands is maybe my favorite "tour" in Belize.  Couple the view with the excitement of being back in Belize?  There is no better way to get to your destination.
You can see the old terminal in the forefront of this picture.
And behind it…THE NEW!  Modern and sleek but low-key and natural.  I'm a giant fan and, if you know me, I don't like change!  This change, I like.
Big windows to watch the planes and enjoy the view.
Inside is not 100% ready yet – really just some finishing touches and finishing the bathrooms.  Spoiler alert:  these might be the nicest bathrooms in the country.  Seriously.
Balloons!
Cake!!
Lots of pretty tiling, a very high ceiling and industrial finishes.  I can't wait to go take MORE pictures when it's 1000% finished.
I took a peek back into the Cargo Portion of the terminal.  Tropic Air not only moves people around Belize but they move much of the countries mail/produce/packages/take-out lunches, ice cream and CAKE!
So much cake that there is a specially made sticker!  I snagged one for my computer.  Love it.
How many airlines in the world have THIS STICKER!  Heavy, oversized.  Sure.  Fragile?  Always.  But cake…
Channel 7 News' Jules Vasquez did some interviews for the nightly news.
Jules is KNOWN for asking the hard questions – so I knew he wasn't just here for cake.  He asked Tropic Air founder and President, Johnny Greif if the Caye Caulker air strip was sinking.  Here's the answer.
And here is Jules with CEO Steve Schulte.
Super fun morning.  Just about an hour later, I was ready to fly back…over the reef…6 minutes away from Ambergris Caye.
The rain had held off…and it wasn't until I got home a few hours later…and took the dogs out to sit on their favorite beach that a big rain cloud moved in.
What a gorgeous day.
Behind me…my neighbor's GORGEOUS property called Tuto.