North Park Hotel Highlights Beautiful Historic Belize City
North Park Hotel: Beautiful Colonial Home Turned Bed and Breakfast in THE MOST Convenient Location in Belize City
I'm often asked this question:  We hope to spend one night in Belize City before (or after) heading out to the Cayes – do you have any safe, nice suggestions?  Or: We need to go into the city for the afternoon/evening and need a place to stay before returning to San Pedro.
Do you have a recommendation?
My answer is now a resounding yes!
Not long ago I spent the afternoon and night at the North Park Hotel. Here is a photo of the main room – the dining area.
Not only was it "nice" but the hotel is a beautifully kept historic home in my favorite part of Belize City.  A view of the sea…an area where you feel safe and happy to walk around at dawn and take pictures.
A look at the beautiful homes that have survived a handful of devastating hurricanes (1931 – Category 4 direct hit – and 1961, Hurricane Hattie – also Cat 4 just south of Belize City – were the big ones)
It's a small inn – about 12 rooms – rather than a huge corporate hotel.  North Park has its own restaurant and super cute bar just a few blocks from the water taxi terminal and the old Mirab location.  North Park is situated on Memorial Park – and overlooks the Caribbean Sea.
I love the location.  It's just a block or two from:
The Baron Bliss Memorial
The BELIZE sign.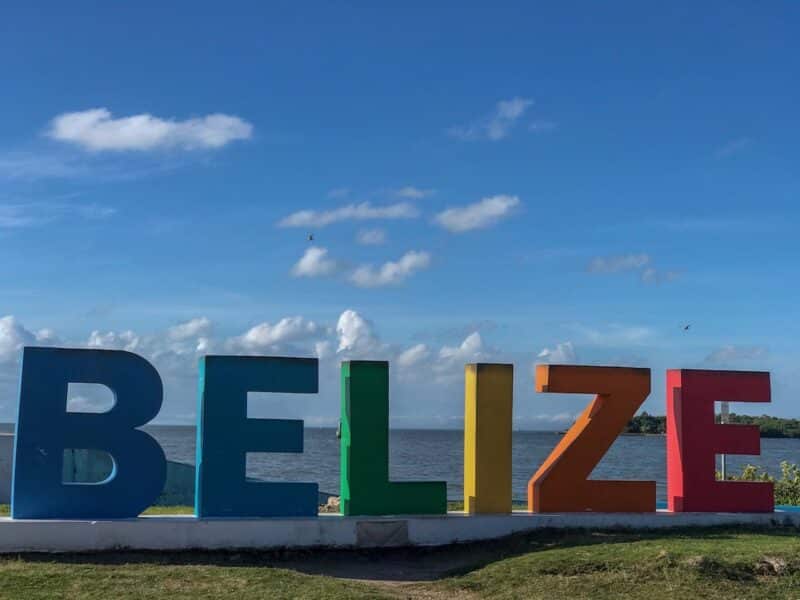 The harbor and the tourism village.
And all the colonial wooden homes and embassies in the Fort George area.
I need to find the owner of this yellow one so I can ask for a cutting of this purple vine called Queen's Wreath.
It's almost like a tropical wisteria.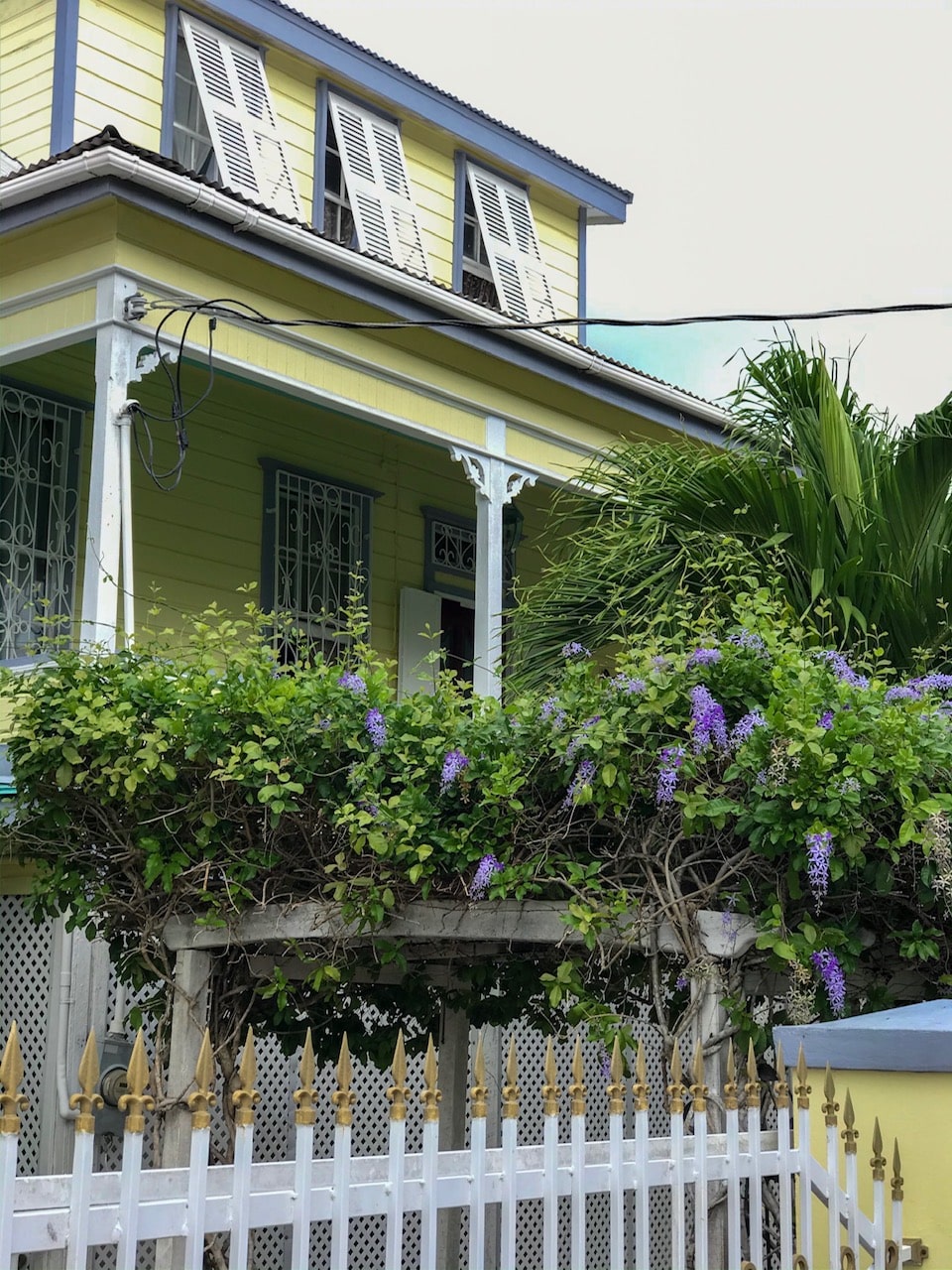 The shopping and Christmas displays of Albert Street and the old court house.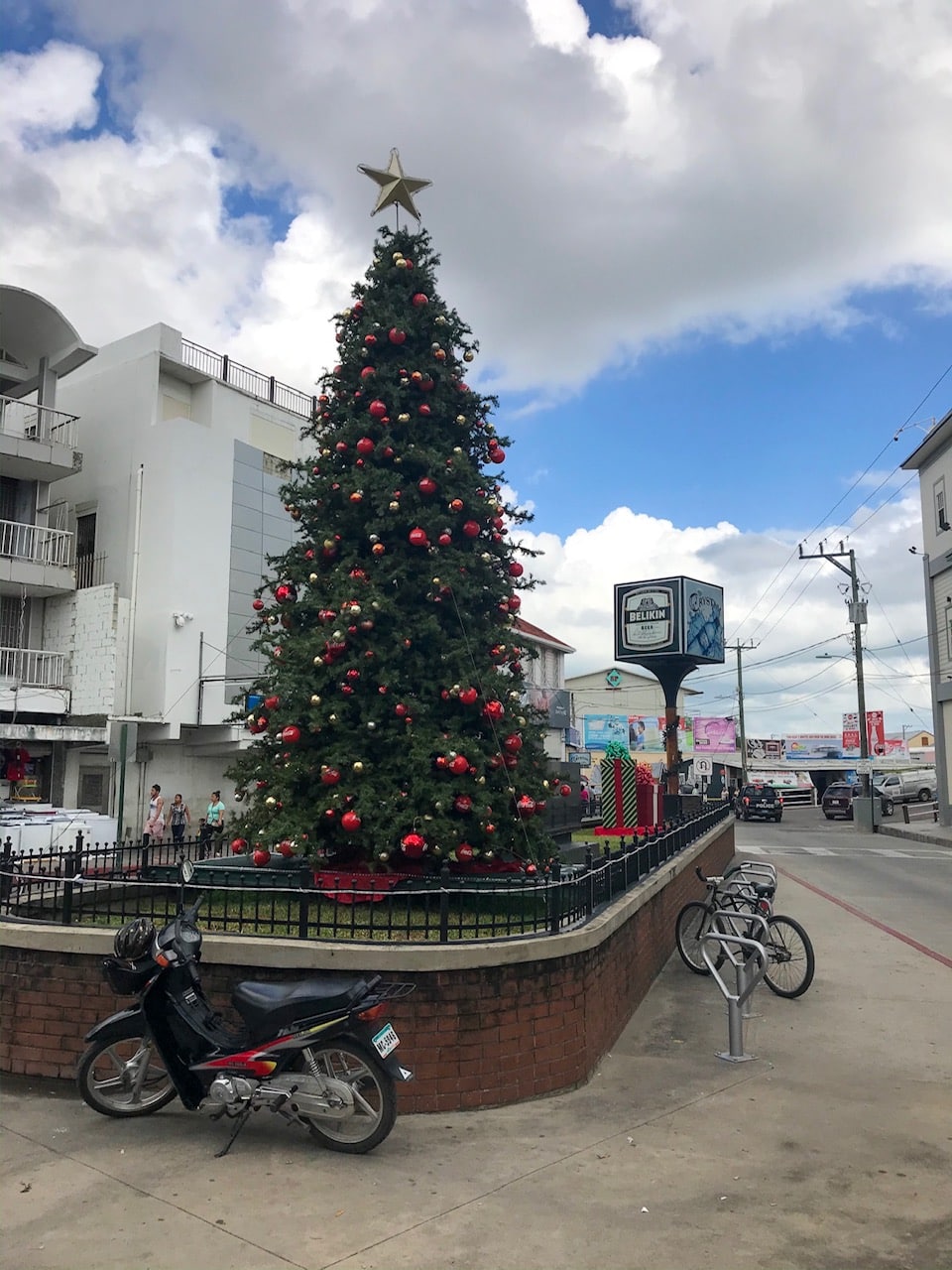 Now let me show you the hotel.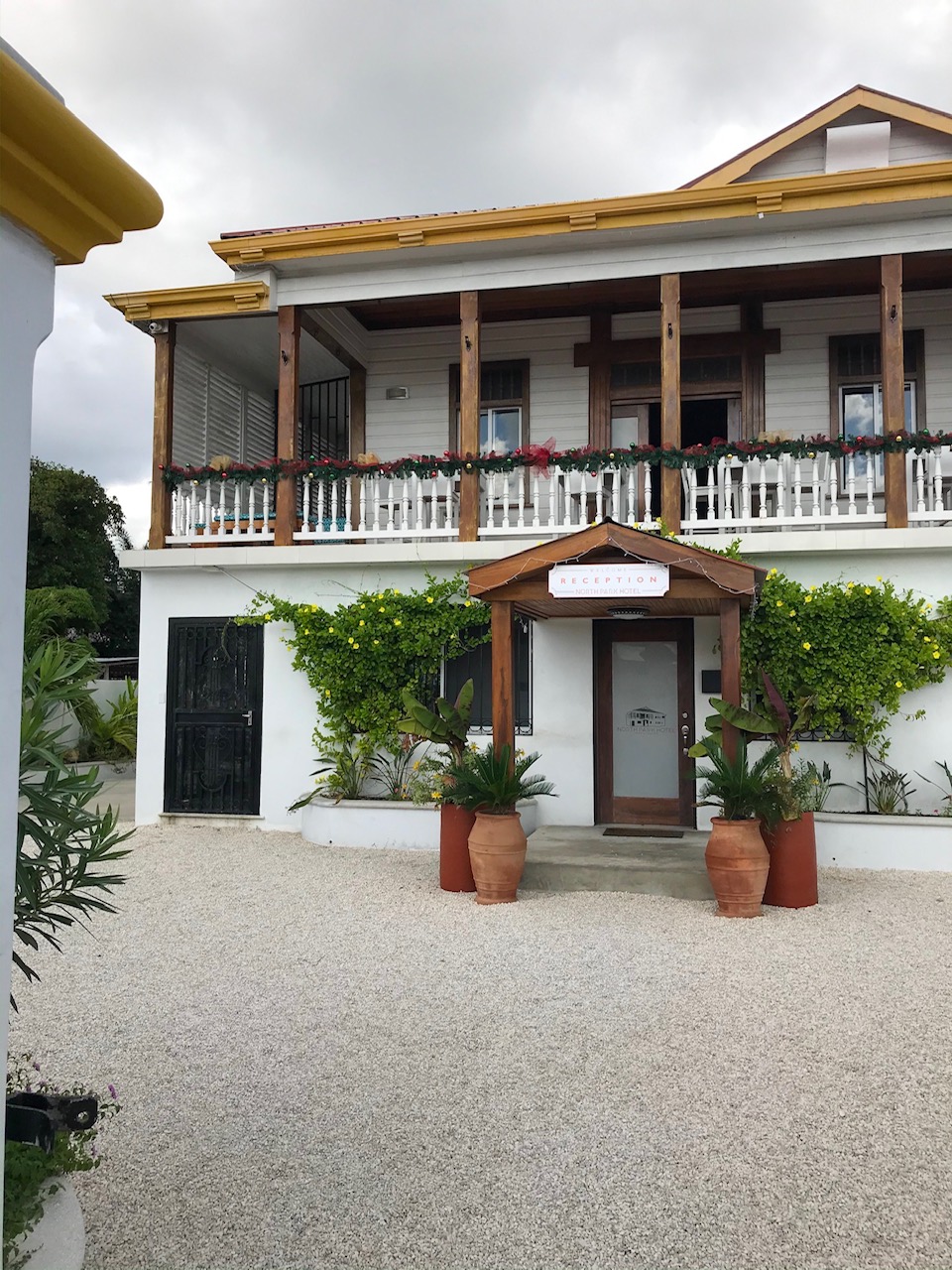 In the back is a huge garden/lawn where North Park was holding a Christmas Sip and Shop.  Drinks, music and local artisans.
I checked in at the front desk and was led upstairs to the dining room…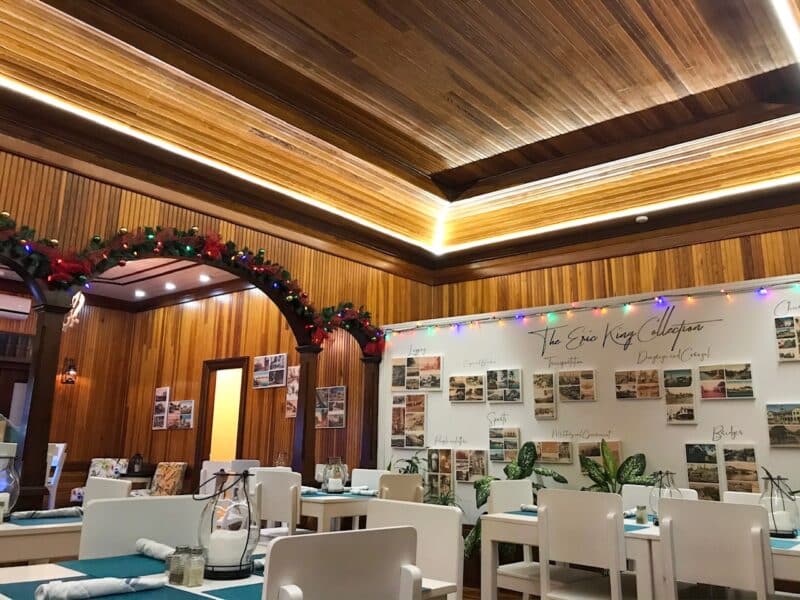 How beautiful is the wood?  And what I loved even more is that the owner Kelly has some of her grandfather's collection on display.  Named after him, the "Eric King Collection" is an extensive collection of historic Belize stamps and postcards that were donated to the Belize museum depicting colonial Belize.   Logging, donkey carts…a different time.  Just take a look at the old St John's College – that was completely destroyed by the '31 storm.
** Did you know that just a few blocks away by the Swing Bridge in Belize City is the Belize City Philatelic Bureau?
Did you know that "philatelic" or "philately" is the study of stamps and postal history and other postal items?  It is possible to be a philatelist WITHOUT collecting stamps.  You might just focus on one technical aspect like the gum.  THE GUM!  There is also aerophilately – interest in airmail stamps only – and astrophilately.  I'll stop there.
You probably did know of this.  I'm the only rube around here.
Let me reel this back in.
The restaurant is called Wild Thyme – and with a porch that looks over the part and the water – it's really pretty.
And I had a fantastic dinner (super cheesy vegetable lasagne) and breakfast there the next morning.  (Click here for more information.)
The colonial names of villages and of the room.  I was in Belize City.  The others are names of villages along the Belize River.
My suite – it's more than a room.  Big bay window over looking the park…
My sitting area and desk.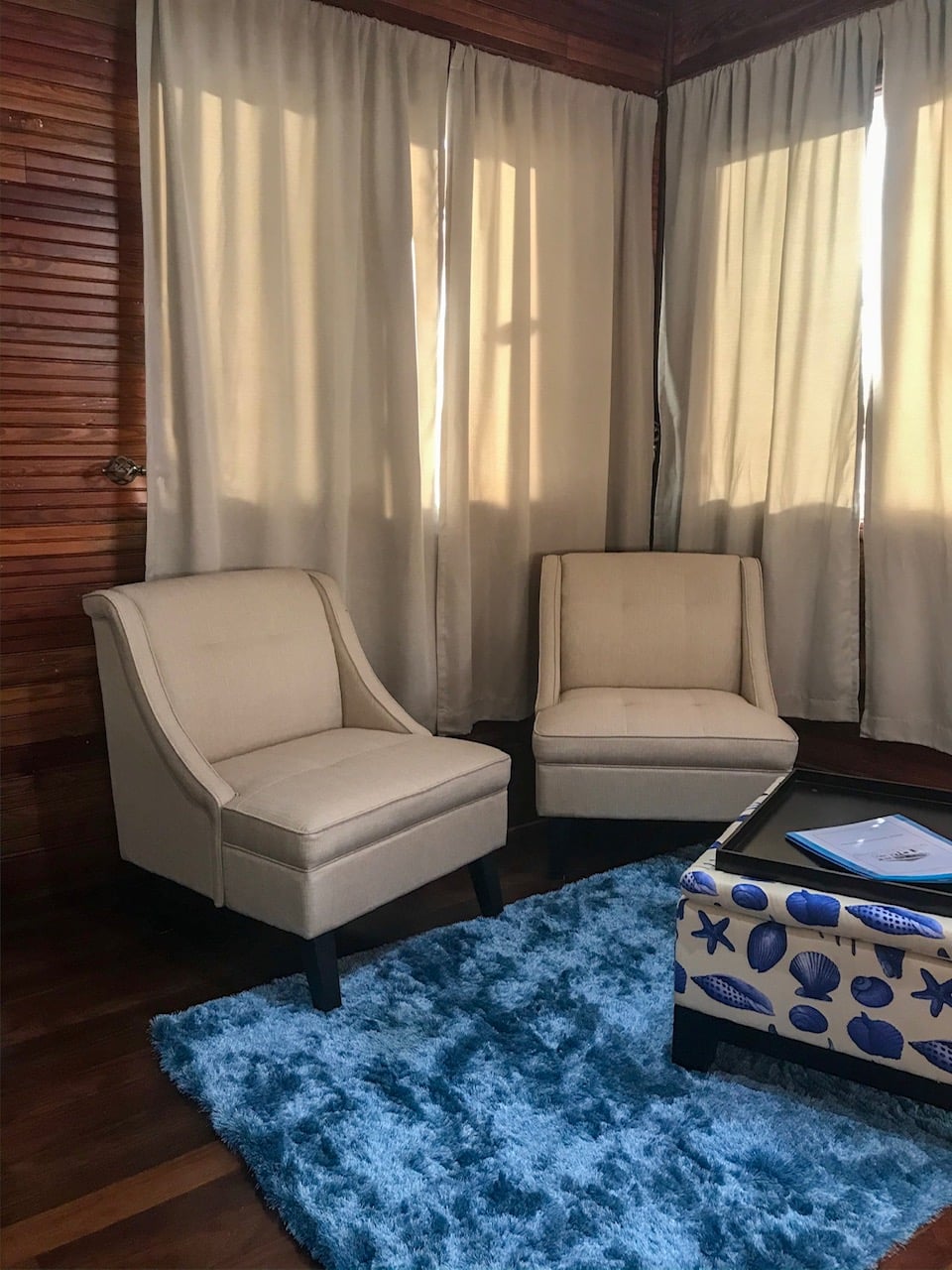 Crazy comfortable bed and lots of pillows.
Really the most comfortable spot – and with the fantastic restaurant and bar right there…there is no need to worry about getting a taxi and going out to find food.  You can come back from a long day of Christmas shopping, have a cocktail and relax.
And maybe get up early the next morning for a bit of a walk around.  It's an easy walk over the Museum of Belize…or hop in a taxi to go to Mirab (you've GOT to go before Christmas!)…you've got options.
Thanks so much for the invite North Park – I am VERY happy to have a spot to stay overnight in Belize City.
Hooray!