Rice and Beans or Beans with Rice? Salbutes or Garnaches? Decisions in Belize.
Belize food is delicious – and often surprises visitors who know little about Belizean cuisine.  Many Belizean dishes are also relatively simple.  Often a limited number of basic ingredients.  Simple but not easy – or at least not to me.
I was reminded of that the other day when I took a second to look at the menu at Briana's Deli on Back Street.  (My favorite rice and beans in the country of Belize AND #6 in my Guide To 50 Big Experiences on Ambergris Caye)
I always order the same thing.  Rice and Beans with Leg Meat (Stew Chicken).  But I took a closer look at the menu.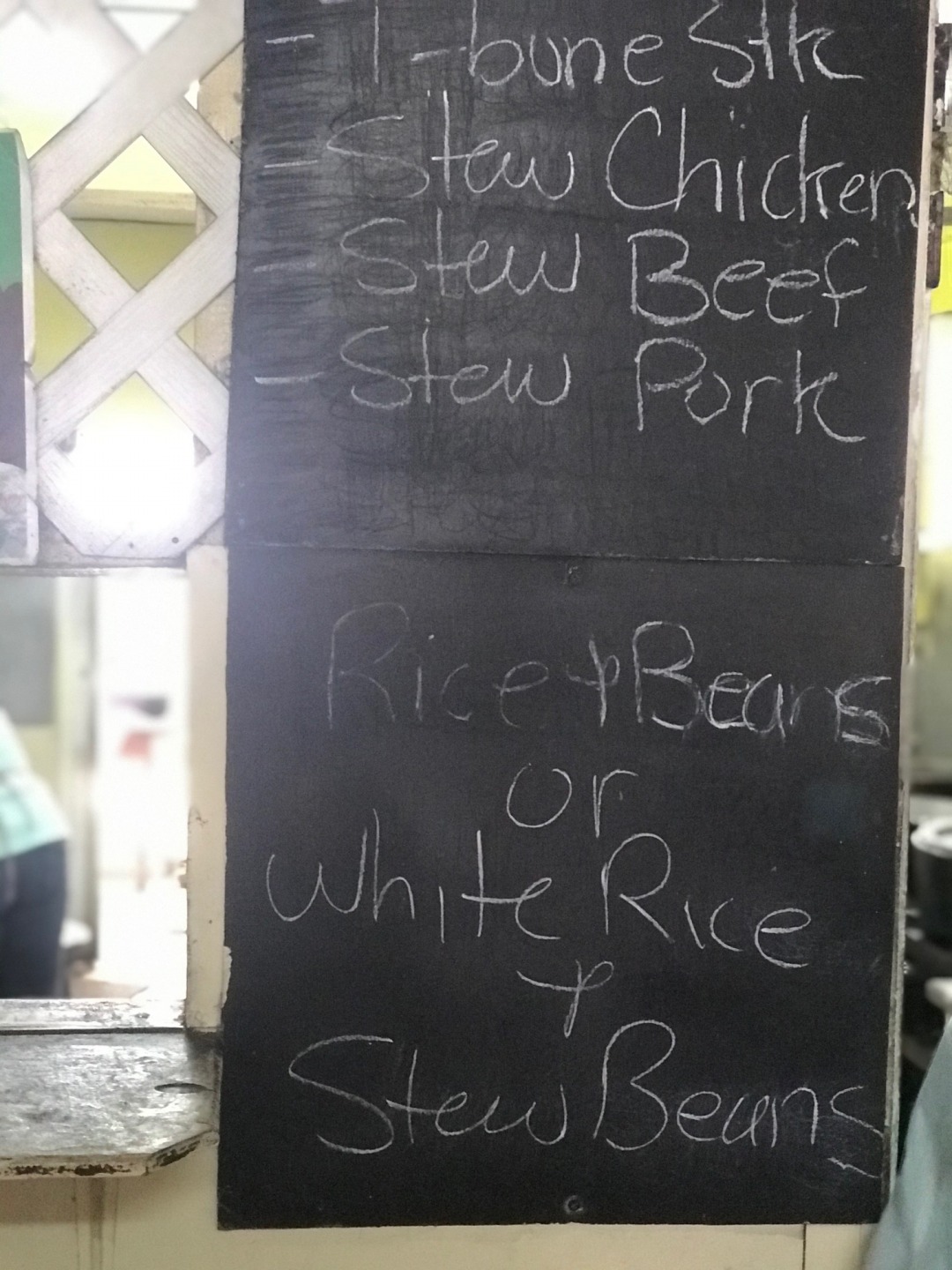 Many lunch spots in Belize offer BOTH "Rice & Beans" and "White Rice with Stew Beans".  I've had them both before but where they basically the same thing?  Same ingredients?  Did some people switch back and forth or stick to one only?"
So we ordered a plate of both – so I could first take a picture.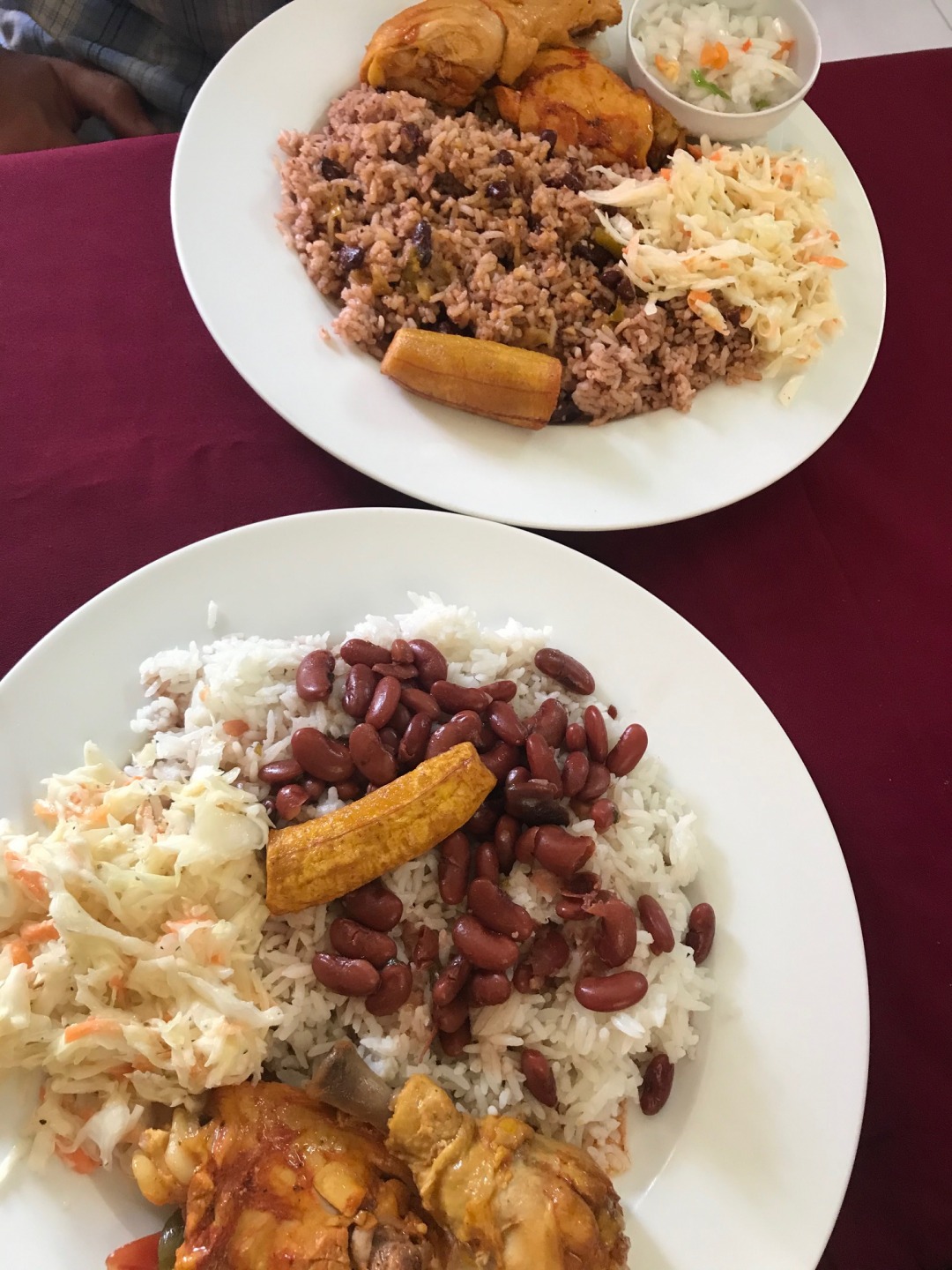 You can see with both, you get a fried plantain.  (YUM) And you always get "onion sauce" – sometimes on your plate, sometimes in a bowl for the table.  Onion sauce is chopped onion and chopped habanero and a bit of white vinegar.  It's pretty and HOT.
Habaneros – beautiful and incredibly hot.  These ones I saw earlier this week were also exceptionally BIG.  Eating one of these might actually kill me.
SO…rice and beans vs. beans with rice.
Rice and beans is THE most popular side-dish in Belize.  And it is the most ordered side – far more popular than stewed beans with rice.  But it is standard operations to have both.
I was told that San Pedro locals and tourists almost order Rice and Beans.  That Stewed Beans with Rice are very popular with those of Creole background.  Maybe they should put this in the 2020 Belize Census.
EVERYONE seems to agree that Rice and Beans is a dish you MUST eat for Sunday's dinner (the biggest, family meal of the week)
They are the same basic ingredients.   Both start with dried red beans and dried rice.  It's all in the preparation (I say like I've actually done this before!)
Rice and Beans:  The dried beans are cooked over the fire for 2-3 hours until soft (or in a Crock Pot).  They are mixed with dried rice and cooked.  It's seasoned with salt and pepper and coconut milk and/or oil is added.  Some people put a little bit of diced onion or sweet pepper.
Beans with Rice:  The dried beans are softened for a few hours and then seasoned with onion and pepper that's been softened in oil.  And then seasoned with salt and pepper.  They are then served with or on cooked rice.  (Add a nice glug of coconut oil to your white rice while cooking and you get delicious coconut rice.)
A photo I took the other day of some beans drying on the basketball court on BackABack Street San Pedro.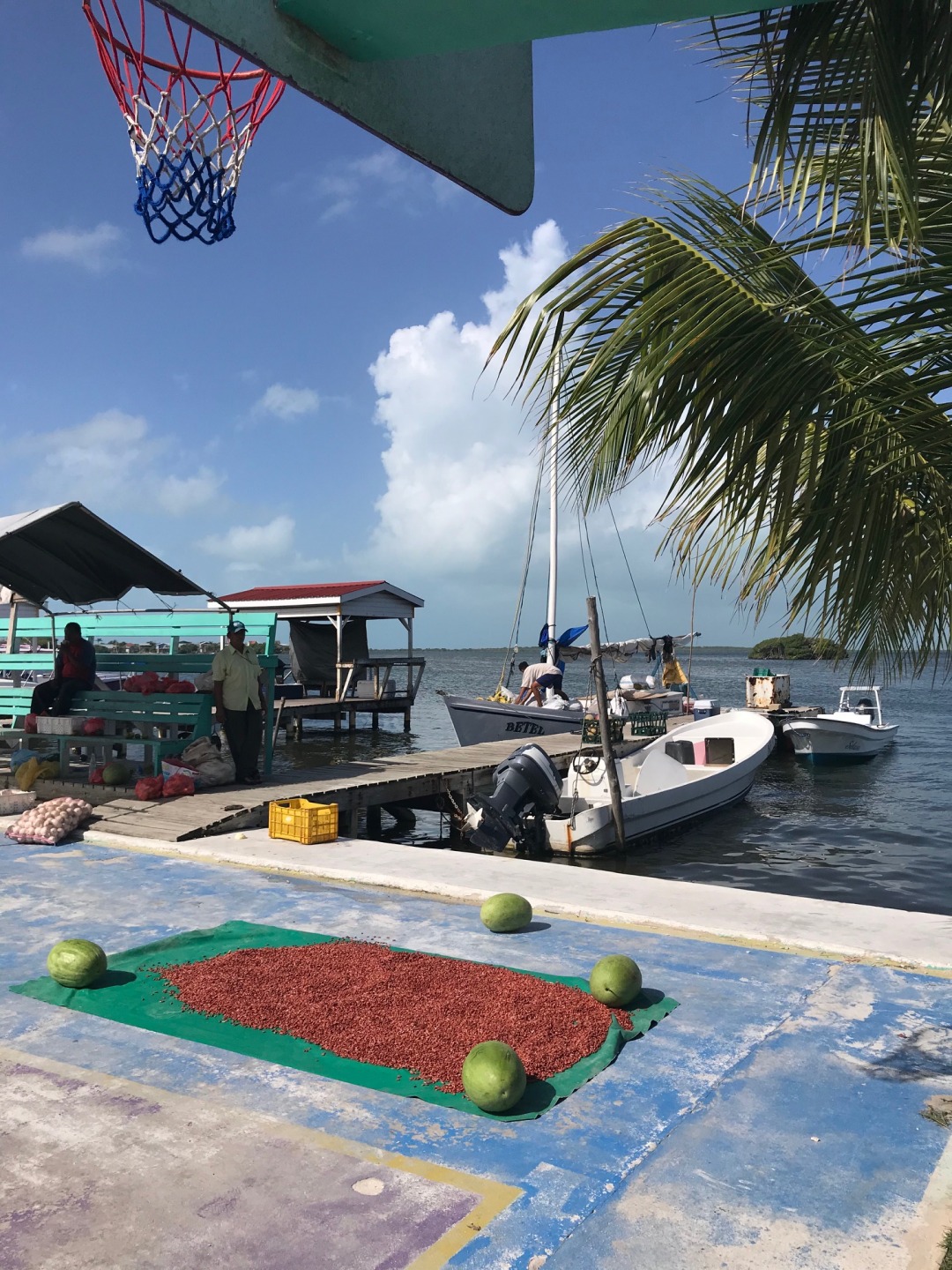 I also took a picture at a small taco stop – because, even though I've been here for 12 years, I am never exactly clear what all of these items are!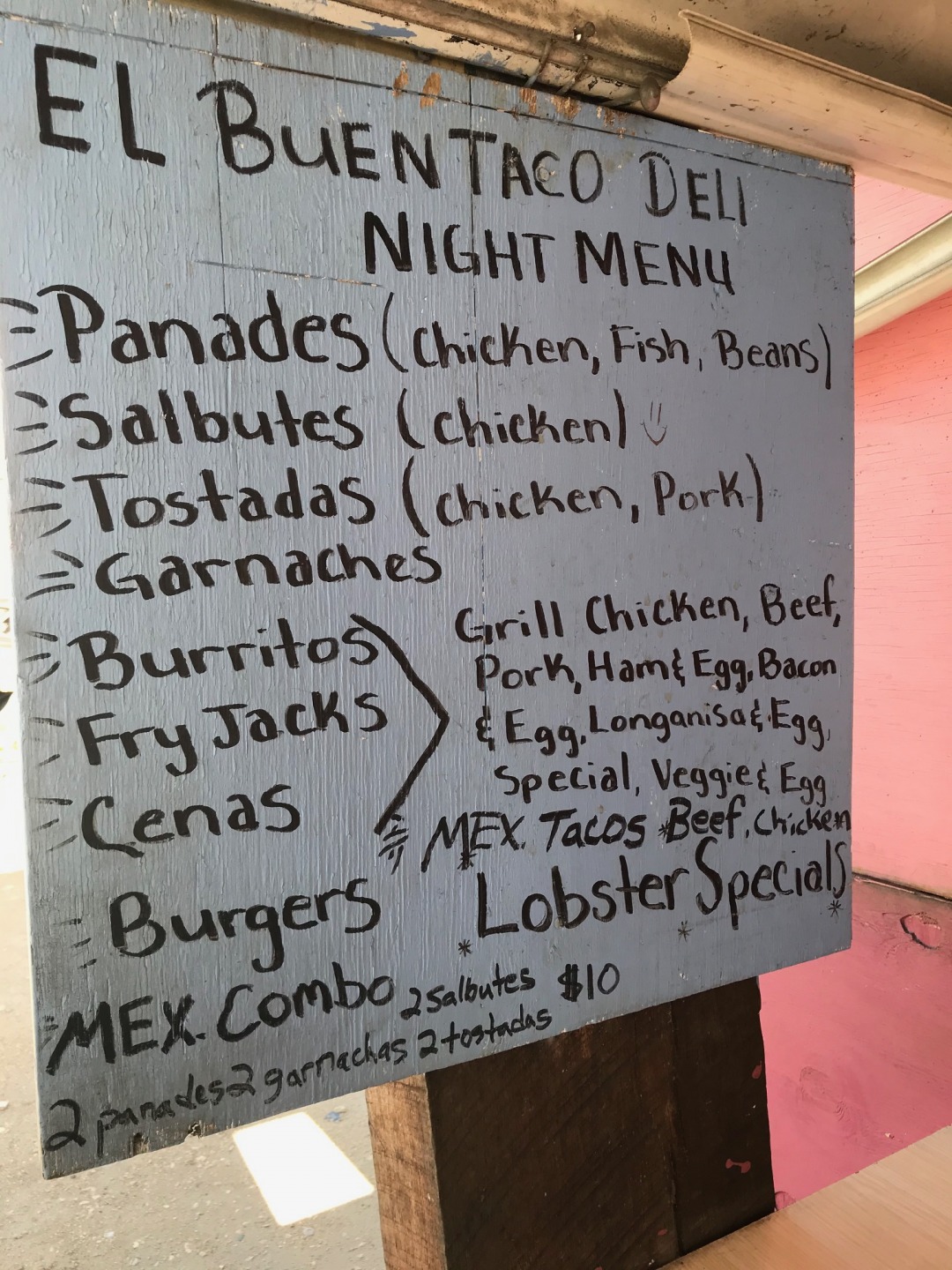 In case you were thinking about asking for credit.  Don't.  Especially Ms. Liz!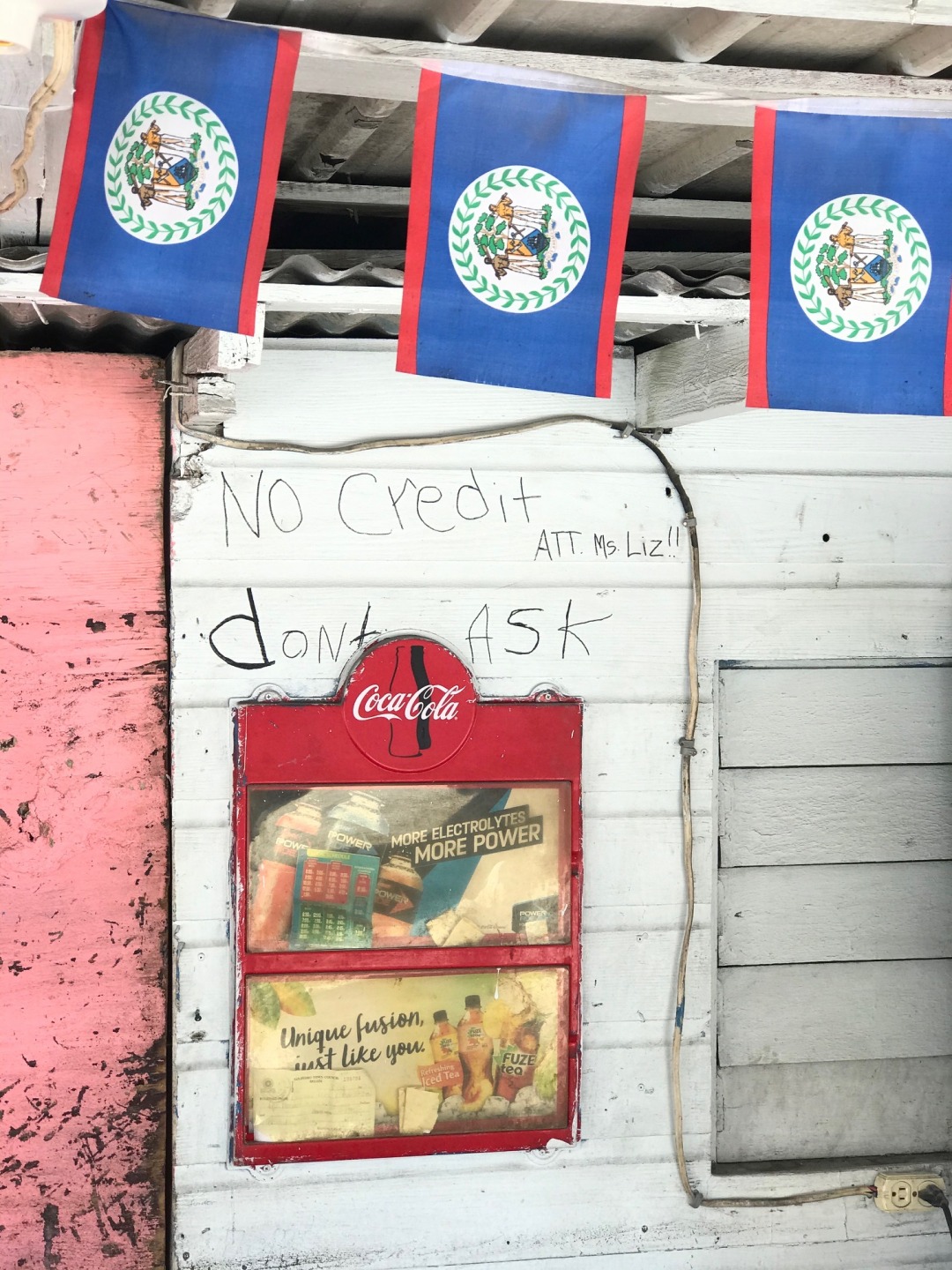 Panades:  Short for empanada – a hand pie.  This is a meat filling, almost always fish, folded in seasoned corn masa.
I learned how to make them at a cooking class a while back.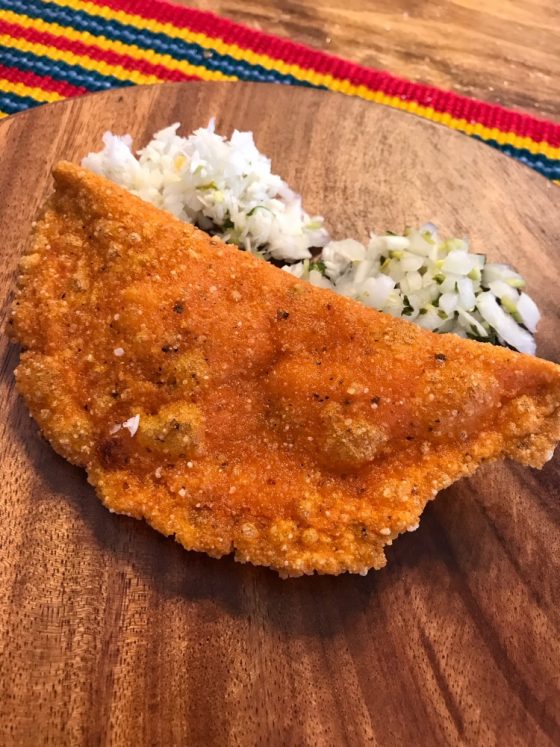 Salbutes:  Deep fried corn masa  with cabbage/slaw and onions and maybe meat and/or Dutch Cheese.  It's almost like a little corn pillow underneath.  These ones from El Fogon are heaven.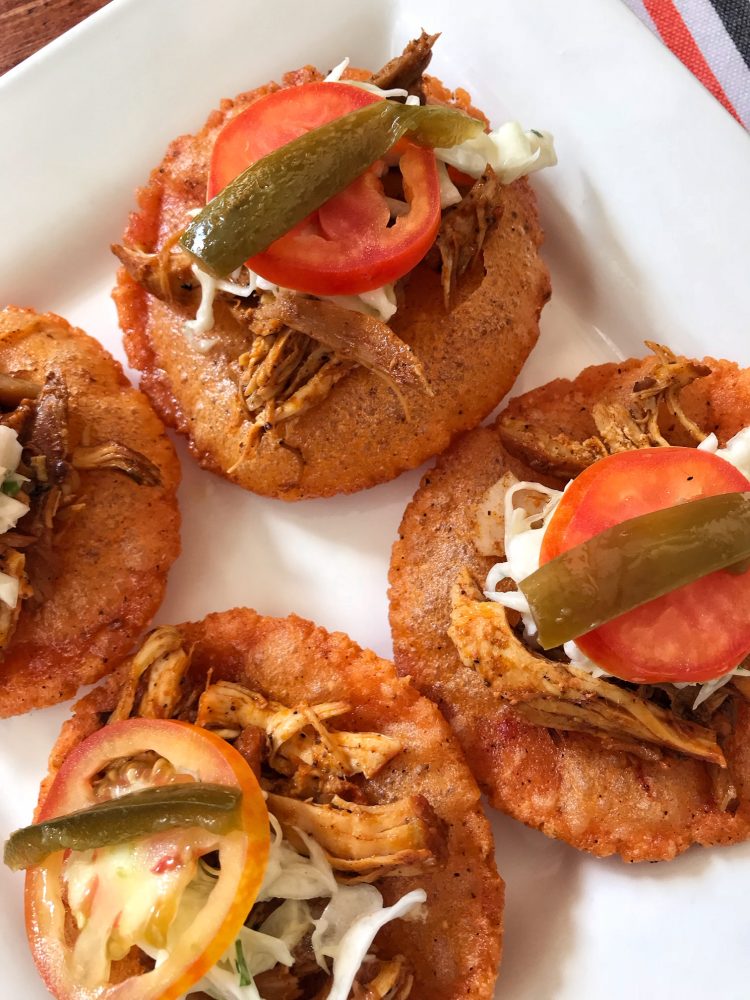 Garnache:  The same thing but with a fried corn tortilla underneath – more of a chip than a pillow.  I always consider these a quick snack.  (They don't have meat.)
Tostada:  Tostada is an amped up garnache.  Add meat, veggie and cheese.  More of a meal.
Burritos:  Belizean burritos are generally much smaller than the STUFFED American/California burritos were are used to.  They generally don't have rice – just a bit of meat rolled in a flour tortilla.
Fry Jacks:  One of the most delicious foods on the planet.  Deep fried flour tortilla dough that is eaten with breakfast (with beans and eggs) OR dinner (with stewed chicken or meat).
One of the foods that you MUST try in Belize.  Must.
These are at Estel's Dine by the Sea.
Cenas:  I had to ask about this one!  Cenas is a light dinner.  "Back in the day", dinner or supper was a small meal, similar to breakfast.  Eggs, tortillas, beans.  Lunch was the BIG meal of the day.
Mexican dinner:  2 garnaches, 2 tostadas, 2 salbutes and 2 panades for $10bzd.  Sounds like the PERFECT thing to split with a friend after some beers in town or just a great way to try all these traditional San Pedrano foods.
See what a mean?  Just a few ingredients are mixed and matched and…the end game is delicious.  But I STILL have trouble keeping them straight.
Additional Note:  Do not look any of these up in the Urban dictionary.  Seriously.
FOR TONS MORE about food in San Pedro – and suggestions where to get it.  Check out my book.