A Visit to Our Island's Green Iguana Sanctuary and A House That Is Art
An Easy Way To See Some BIG Green Iguanas right in San Pedro Town and…A House Straight out of Swiss Family Robinson!
This morning I drove to the street behind Back Street (aka Backa Back Street), San Pedro to drop Jeff off where he docks his boat.  It's a beautiful day…
A VERY pretty day.
A perfect day to check out the Green Iguana's and the sanctuary just a few blocks north – just north of the gas station at the Back of San Pedro town.
Let's back up a bit.  When you visit Ambergris Caye or the whole of Belize, you are bound to run into many MANY iguanas whether you are at the beach or in the jungle.  We have two main types.
The Black Iguana – locally called "Wish Willy" (please let me know if you know why!)
Fun and shocking facts that I just earned from Wikipedia:  They are the fastest lizard on record (Guinness Book – up to 25 mph!) – they eat mostly plants but they will also eat bugs, meat, eggs and they tend to hang out on rocks or sand or the road to sun.
The Green Iguana is much less common on the island.  One reason is that they are sometimes eaten in Belize.  There is a hunting season for them.  (Closed February to June for breeding.)  I tried Stewed Iguana once quite a few years ago…you know what I'm going to say.  It TOTALLY tastes like chicken.  (So much so that it is way easier and makes me feel way happier to eat a chicken.)
They are also arboreal – they hang out in trees.  And, on our sandy island, trees are on the decline.
These are the ones I was going to visit.  Fun facts about these guys.  The scientific name is Iguana Iguana.  Meh.  They are GREAT swimmers and will dive right into the water to get away from you or predators.  The males have a big dewlap (chin flap) that they flutter for the females and use to puff up if predators corner them.  Depending on maturity – they range from BRIGHT green to BRIGHT orange.  On the island, they are generally grow bigger than the willy willies – who seem to top out at about 2 feet (though they can grow to 4).  I've seen green iguanas in the trees along the mainland rivers that are HUUUUGE.  Like 3 or 4 feet long.
There is an AMAZING sanctuary in San Ignacio that is helping to educate people about this pretty reptile.  I need to get back there!  Though I don't need to eat termites again…
But you don't have to go to the mainland to see these pretty green iguanas.
Here on Ambergris Caye, people see the green iguanas sunning in the mangroves when they are on a boat stopping at the gas station at the back side of town.  It's a frequent tour stop in the San Pedro lagoon.
But now you can drive up in a golf cart or bike or even on foot.  Head north on Back Street – until you get to the stop sign. (Hol Chan Marine Reserve Office will be on your right.)  Go straight, thru the stop sign – the road is now a dirt road.  Just around the bend and…
Look for this gate…
It must have been fruit feeding time because the big guys were EATING.  And flirting…OH the flirting.
I'll get to that later.
There were piles of fruit and even habaneros.  Crazy to imagine…but iguanas LOVE hot peppers.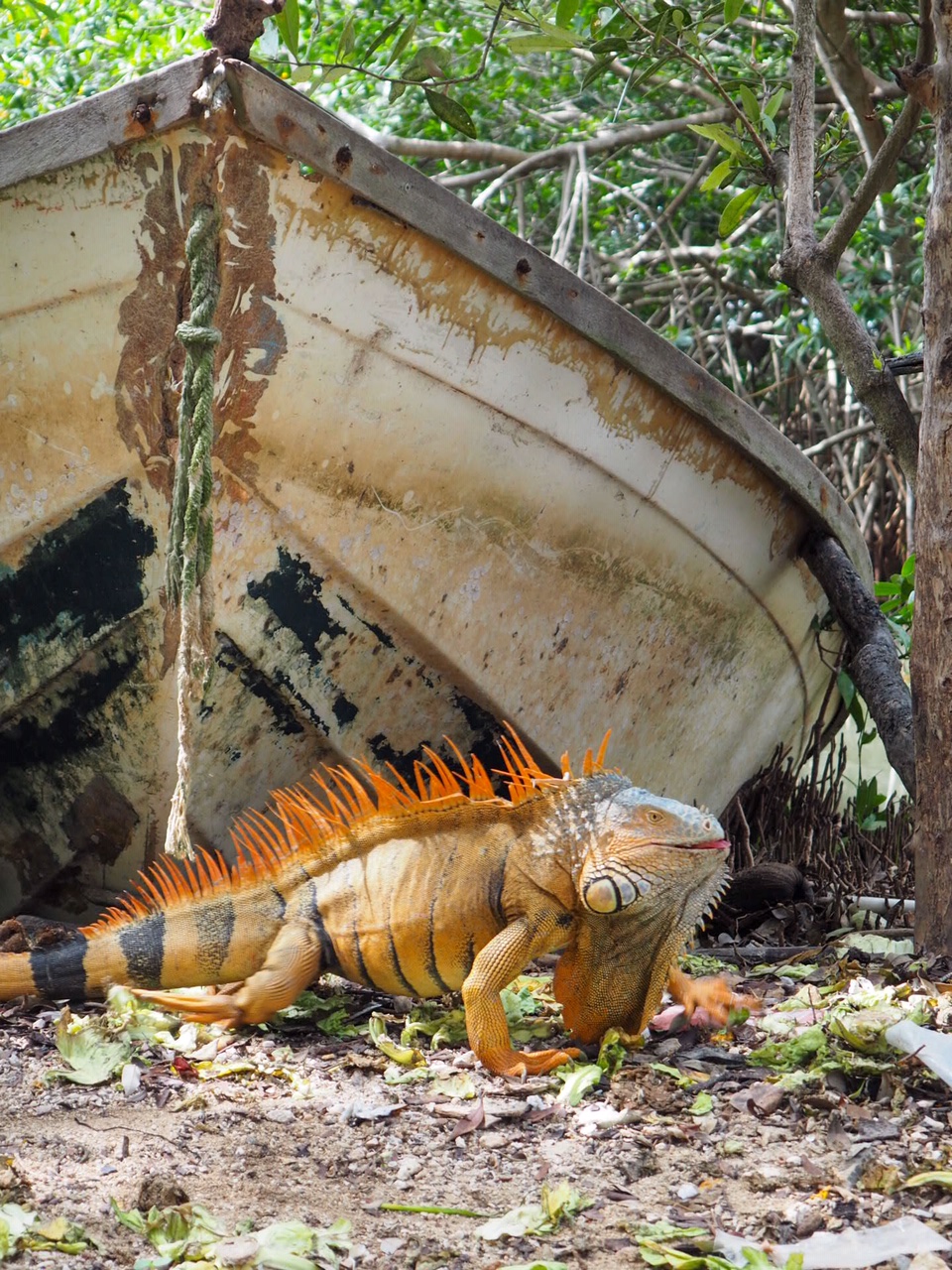 These handsome boys…with their regal spikes and long striped tails were flapping and wiggling those chins flaps.  A WOMAN WAS NEAR.
And that poor lady.  Smaller and not so showy she was trying to get to the fruit and…THE MEN WENT WILD.  Rushing her from all angles…up the tree, down the tree.  One bit HARD onto her neck and…
Oy.  I kept moving.
I walked back into the mangroves where someone had made a raised path and cleared the mangroves just a little bit.  And then I found that person…his name is Calvin, he lives on the island and he is building a house…but it's more than a house.
He is lovely and glad to talk about iguanas or his pretty house.  "I was sick of seeing all the big cement blocks on the island."
A work of art made of wood cut locally
and it's GORGEOUS!  VERY Swiss Family Robinson**.  Beautiful craftsmanship.
You need to view it from the back side – the side farther from the road.
Bamboo and potted plants.  I need to explore more.
Calvin and his sons live upstair while he works on the entire house.  SO different and beautiful.  I asked him how the roof was being made…and he showed me how it was sealed up with lime (like the Maya, he said).  Really really neat.
In all honesty, I was MORE interested in the cool house than the iguanas. But that is just me 🙂
So…make some time to stop in and visit with the iguanas.  I asked Calvin if he charged a fee…he most certainly spends a bunch of time buy and/or collecting tons of fruit to feed these guys.  It was everywhere!
(I actually slipped on a banana peel on the path – SO CLICHE!)
The iguanas are fearsome and beautiful.
I asked why there were no wish willies in the area and Calvin told me that his iguanas are very territorial.   They seemed nice enough to me (not wanting me to get too close) – and even friendlier with their buddy Calvin…they let him touch their tails.
You can read more about the pretty amazing traits and social personalities of the Green Iguana.  
Stop by for a very cool wildlife experience right here on the island.  An island that has a much wider range of animals than you might imagine.
You can read about my 8 Favorite Sea Creature around Ambergris Caye here.
Or read about my Wildlife and Other Out-of-The Ordinary Animal Experiences on Ambergris Caye.
** For those of you who don't know Swiss Family Robinson, I totally get it.  It was a book written in 1812 (nope…didn't read it) about a family that gets shipwrecked on a tropical island and the adventures they have.  And the amazing tree house they build!
It was then a 1960 movie (of the same name) that really made getting shipwrecked (ugh) with your family (double ugh) seem IMPOSSIBLY romantic.  It was so popular that it spawned a "Swiss Family Robinson" section at Disney World (triple ugh).