Ode to A Belizean Potlicker: Mocha's Dozen During the Quarantine
Our 30-day Island Quarantine IS the right time to foster 13 dogs in your home…right?
At 3am last night, when I heard the first high pitched mini-howl (of the night), I wasn't quite sure.  Just about one week ago, potlicker Mocha and her 12 puppies – 3 weeks old at the time – moved into our house.
This photo will either make you scream AWWWWWW! or really stress you out.  They JUST started on mush (food and puppy milk mash) yesterday and really dove in.
Mocha Grace (she got a middle name when she moved in) is the quintessential San Pedro potlicker.  (Made-up Official Breed:  Teacup Rhodesian Ridgeback)
Just about 1.5 weeks ago.
She was living on one of the docks at the back of San Pedro town (next to where Jeff docks his boat) and gave birth to 13 puppies in the hollowed-out shell of a golf cart.
About a day and a half later, we moved them to SAGA Humane Society and then to an AMAZING foster mother who got them during the first two critical weeks.  All of them.  LOTS of rotations with mom.
Here is what they looked like.   Eyes and ears open between one and two weeks!
This week.
Let me back up a bit…
Potlicker:  The mixed-breed "street dog" of Belize.  They, I believe, are named for how they are often fed by local owners – when the day's rice and beans or stewed chicken has been served to the family, the dogs get to "lick the pot" – or they get the left-overs. 
Potlickers are street smart and savvy, loyal, calm, and extremely resilient…unflappable. Unlike many dog breeds, potlickers are able to eat foods and non-foods that would make purebreds sick.  You'd be surprised all the goodies that can be found just in the seaweed along the beach! Good grief they are hardy – made for the Belize island life.
San Pedro potlickers have some particular characteristics that make them both quirky and the perfect pet.  The ones who do best know how to hustle in this tourist town.   They need to appear needy but not too needy.  Sweet and loveable but can't come on too strong.  They need to keep clean and presentable.  Easy-going.
Some in San Pedro have a bit of corgi in them.  Or some sort of short-legged weiner dog.  You'll see full-formed labs or German Shephards, even a pitbull…almost a pure breed except…his legs are about 1/3 the normal size.  But most are just orange-brown, medium-sized dogs (about 30-50lbs), smooth-coated with a cocked ear.  To me, that's the prototypical potlicker.
Mocha is sweet beyond belief (we called her a "lopedy dope") – very submissive, loves to just lean against you, walks slightly behind you on a leash (how'd she learn that!?) and is getting along just fine with our other two dogs.  (Here are Elsie and Mocha butt to butt.)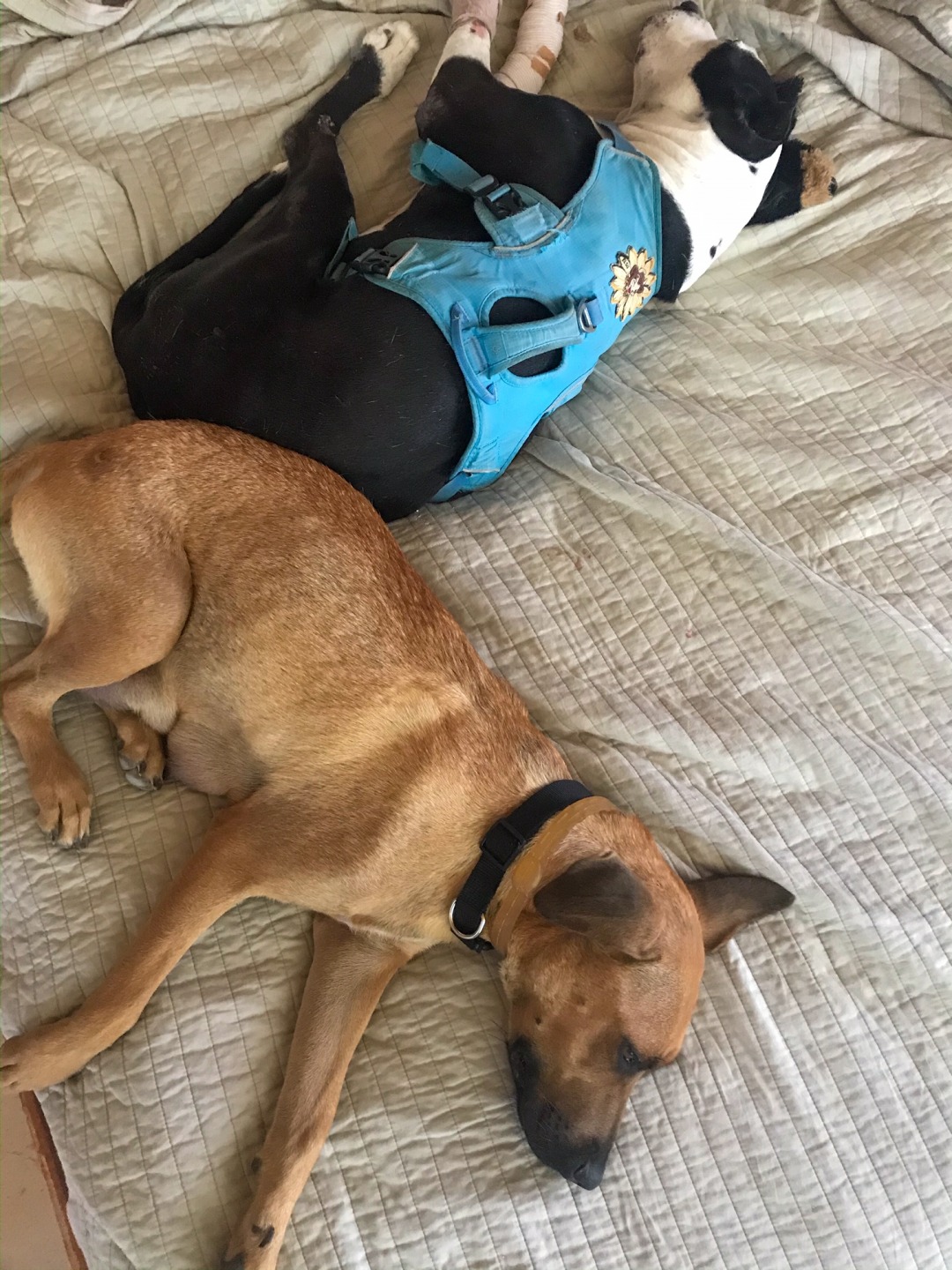 If you've been to San Pedro, I bet you've made a potlicker friend or 3.
What's my point?  I need to find GREAT homes for our pups!  Not now…they are going to turn one month old this weekend.  But in 3-4 weeks.  When they are old enough to get their first vaccines.
Great homes that are WILLING to get them fixed.  Here is what I've learned from this all.  NO ONE NEEDS 12 PUPPIES!  No mama dog, none of us…no one.  There are SO many great dogs out there – dogs are SAGA Humane Society that is looking for a home (or even a foster home during this quarantine period – CONTACT THEM!)
So here are some photos that we took of these little cuties this week.  There are three types (that I can see) – did you know that a litter of puppies can have more than one father!??!?!  Madness.  Another reason to fix your dogs.
There are the fuzzy greys.  Three of them.  They have a little kink to their hair…
Little White  was one of the two or three runts…she's growing QUICK and has the cutest white toes.
White is just the most photogenic little blue eyed runt.
There are the dogs that look like Mama Mocha.  Orange with black coloring on their faces.  They are my faves – they look like little boxers in color.
Learning to eat mush is messy.
Little Minty meeting Frannie.  Frannie is VERY interested in the puppies, our dog Elsie?  Meh.
And then there are a few little bruisers…that have thicker hair (think St. Bernard) and some more black on their bodies.  Little Blue (who's a girl) and Pink (a boy)…
When Blue wants to sleep…she just sleeps.
They also have three different length tails – a few stub, like Blue, some half tails and full length.  Mom Mocha has a ridiculously long tail.
Mom, more and more, likes to be away from the pups – heading into the pen four or five times a day for feedings.  She is enjoying her time on the beach which is a good thing because she's our dog now!
Three dogs in our house.  WHO would have thought!
If you are interested in a pup – please let me know – and if you want to test out having a dog – contact SAGA Humane Society (Facebook or their website) – they need fosters right now!