My Eight Craziest Adventure Tours In Belize
My Best Belize Adventure Tours
Belize is full of adventure.  Such a small country where you can be at the second-largest reef in the world on one day and then spelunking deep within a limestone cave the next.
There are so many different tours and trips that you can take on your trip to Belize – some more popular and some very customized and personal.  Here is a list of some of the craziest adventure tours I've been on.
For such a chicken, I'm getting better and better at this stuff!
1. Rappelling The "Black Hole" Drop
Flying from Ambergris Caye to Belmopan with Tropic Air for this tour, I was ACTIVELY trying not to think about the drop.  The 300 feet into a sink hole in the jungle floor…YIKES!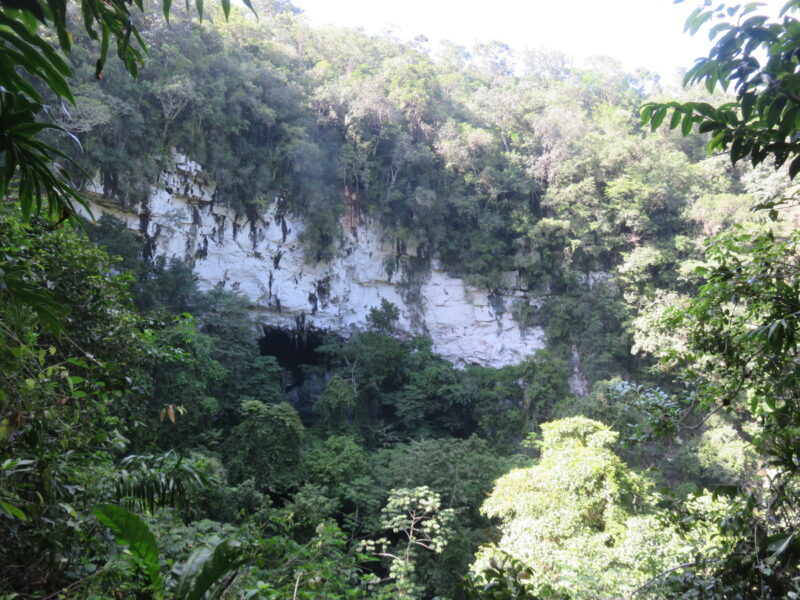 But this trip is a serious hike (about an hour) into the jungle and then the gorgeous (once you get over the fear) drop into a limestone cave filled with stalagmites and -tites for a picnic lunch.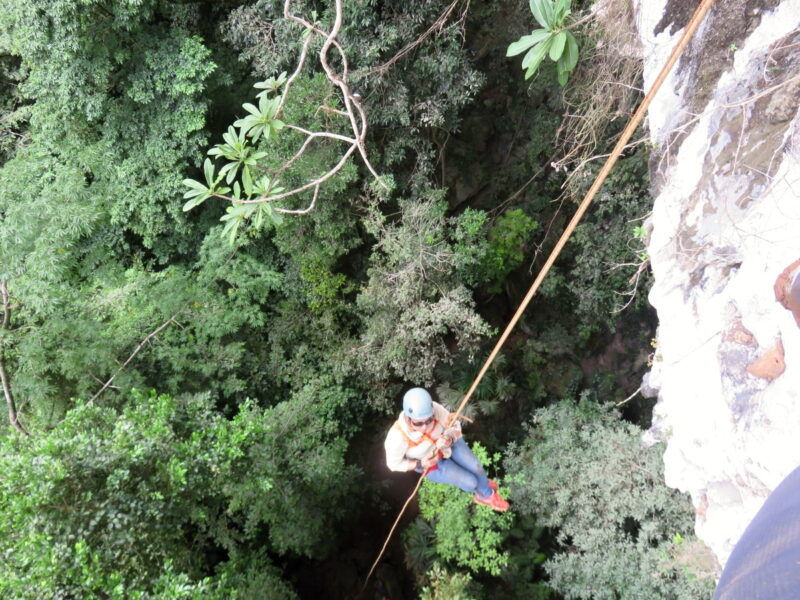 This one will get the heart pounding – both as you go over the edge and during the rigorous hike.  On the short plane ride home, I felt like a super hero.  And then I fell fast asleep.  (Here's the full description of my day.)
2.  Night Snorkeling
You arrive on Ambergris Caye or Caye Caulker and the very first trip you do – that you MUST do – is snorkeling at Hol Chan Marine Reserve's beautiful reef and then Shark/Ray Alley.
You want me to jump in where?  It's the first jump that's a bit challenging but then you are surrounded by rays and NURSE sharks and it's…pretty amazing.
So you feel comfortable…no big deal.  I LOVE SNORKELING!  Why not sign up for a night tour?  There are different creatures – like squids and octupi – out swimming.  The moray eel is on the hunt.
All that you see is the beam of your flashlight as you bob in the dark water.  If you see something scary?  Turn off your light.
Now THAT'S adventure.  It's a fantastic few hours…that make you feel very adventurous.
3.  Natural Waterslide At Cockscomb Jaguar Preserve
Hundreds of jaguars live in this park outside of Hopkins and Placencia, Belize but it's not the jaguars that got me nervous.  It was my guide Doyle's crazy and amazing natural water slide tour.
A short hike brought us to a GORGEOUS waterfall and cave but that was only the beginning…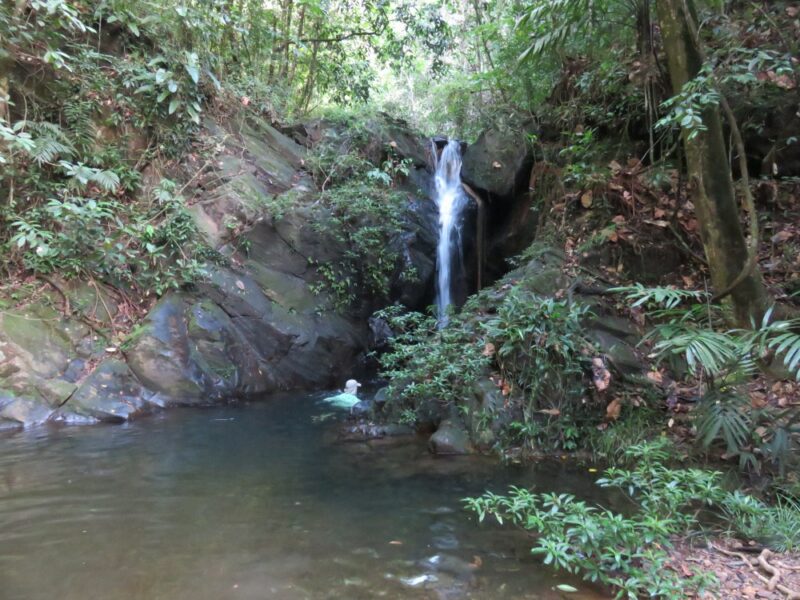 Beautiful.  But for the next hour or so, Doyle has you sliding (sometimes laying down, sometimes seated, sometimes right into him, sometimes praying that you don't get a concussion) down rock slides…all the way down the river.
It's absolutely crazy.  And fabulous.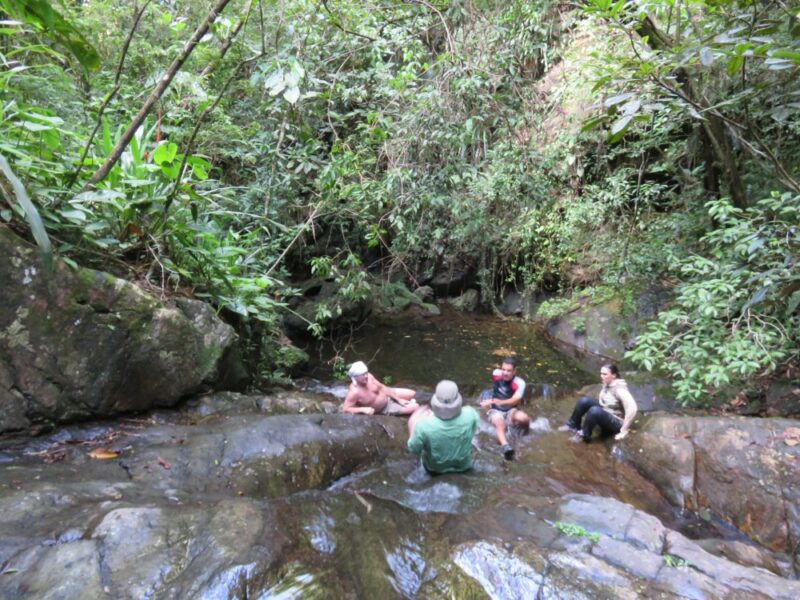 4.  Ziplining Belize's Longest Zip Line and Waterfall Rappelling at Bocawina Park
Outside Hopkins, is the gorgeous Bocawina Park with a lovely lodge, tons of hiking trails, the longest zip line in the country AND the waterfall rappelling.  The one adventure on this list that I WIMPED OUT OF.  (Here's the whole sordid story.)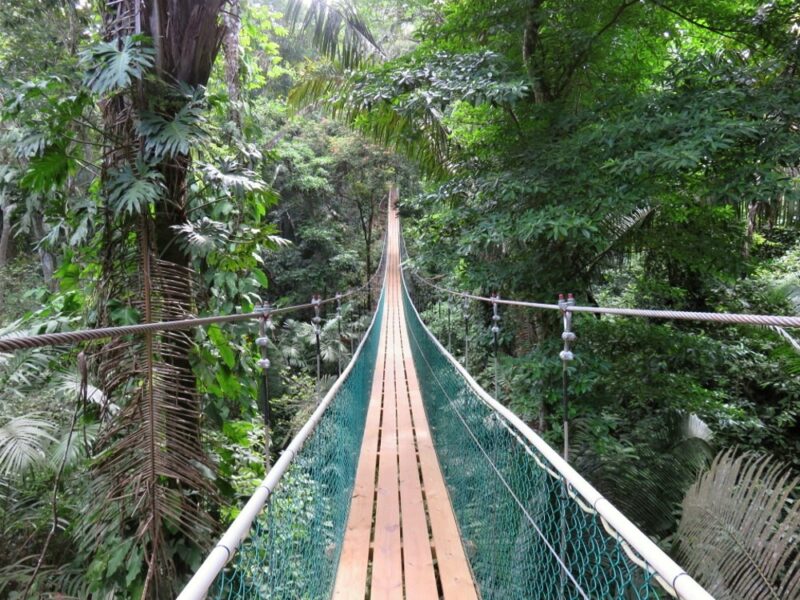 The zip lining is super fun…and you start by traversing this very Indiana Jones type bridge.  The view is beyond gorgeous out there.
After you zip and hike, you can go off to a few waterfalls for the rappelling.  We tried the smaller one…and I…now I'm kinda embarrassed about it.  I got strapped up, helmetted, I watched a few people go…and slip and slide…and I wimped out.  ADVENTURE!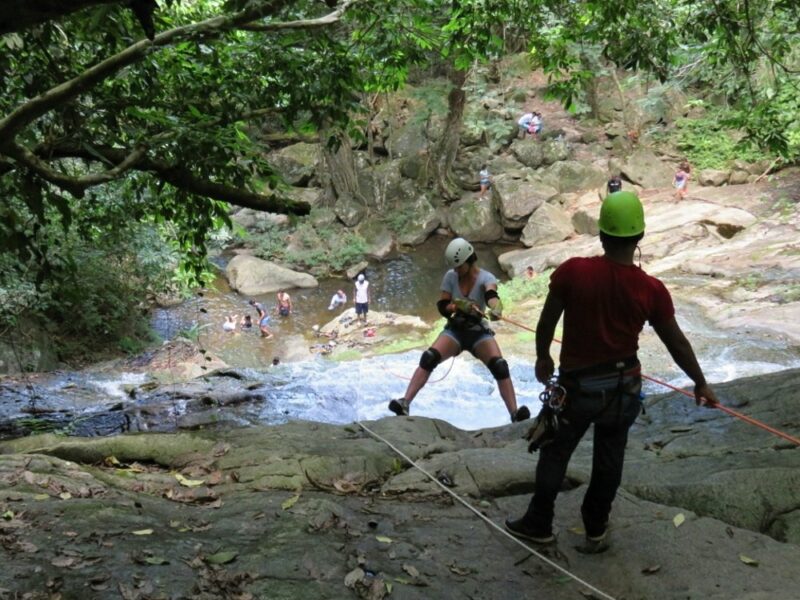 I need a do-over.
5.  Climbing to The Top of The Tallest Building at Lamanai and then Coming Down
Belize has some gorgeous Mayan sites…Caracol, Xunantunich, Lubaantun, Lamanai.   Lamanai, in the northern Orange Walk District of Belize, is stunning…magical…and a beautiful day on the river.  Monkeys, iguanas, crocs…it's super fun.  (Here's my whole experience on the trip.)
But the tallest temple is steep and fantastic to climb.  There is a rope to help you along if you need it.  And on the way up…pffffft.  What kind of wimp would need a rope?
And then on the way down?  I realized I was the wimp that needed a rope.  Sigh…
This temple is STEEP!  And getting down?  Don't be afraid to bump down on your butt.  No one is keeping score.
6.  The Belize Zoo
Hey!  I just heard you suck your teeth and saw you sneer!  What can be so adventurous about the zoo?  Well let me tell you.  First let me tell you how I love love love the zoo.  Up close and personal with some gorgeous animals.  Like Carlos the puma.
Or Panama the Harpy Eagle.  Or the tapirs.  It's awesome.
But an additional tour you can take, is the jaguar experience.  Get a little time to spend some up close and personal, high-fiving time with a JAGUAR!
These animals are SO gorgeous, it's mesmerizing.  But when Junior Buddy the jaguar looks you in the eyes and shows you his teeth?  EEEK!  Freaking exhilarating!
7. Diving or Snorkeling the Great Blue Hole
Some people come to Belize just to do this trip. A HUGE DIVING BUCKET LIST ITEM.  Some hem and haw…is it worth it?  Waking at 5am?  Spending almost 2 hours getting out there.  Answer?  YES.
The entire trip is stunning…especially the stop at Half Moon Caye and the very last dive at the aquarium.
And though I was just snorkeling and others were diving the 130 feet into the ocean sinkhole, just the site of reef sharks while you are in the water is pretty exciting.  They don't care about you one bit.
But if they did…
Blue Hole from the water level.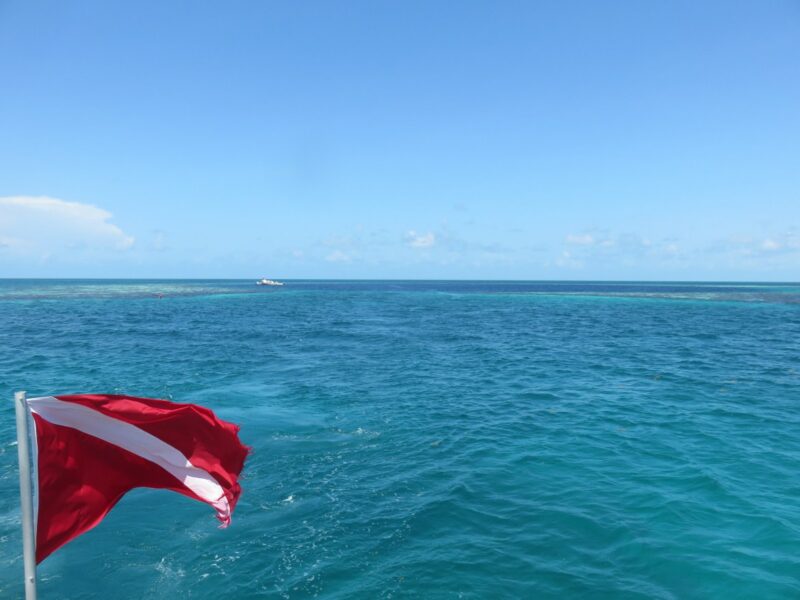 And the Blue Hole from a Tropic Air charter flight.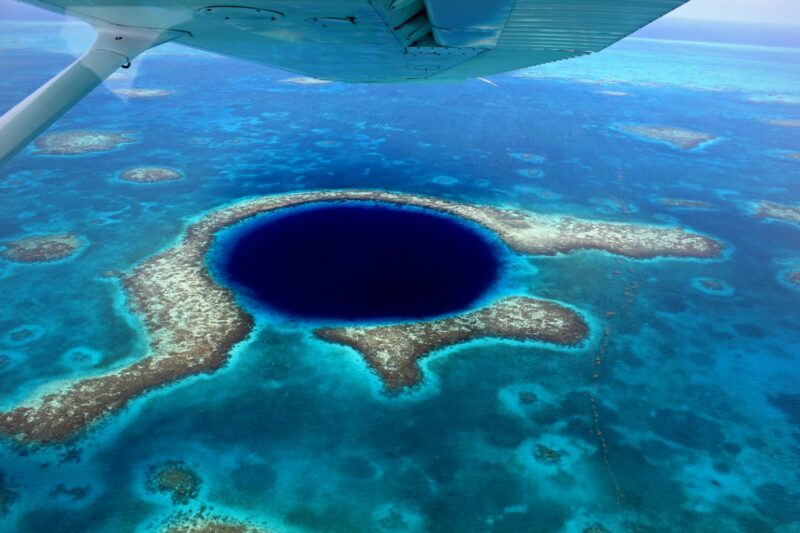 8.  THE ATM CAVE
This is my #1 thing to do in Belize.  If FOR SOME REASON, you were dropped off by a spaceship and allowed to experience only one thing.  (You never know…it could happen.  You must be prepared!)
If you want an experience that has you feeling like WONDER WOMAN at the end and ready to do it again IMMEDIATELY, the ATM Cave is it.  It's adventure, it's gorgeous, it's fascinating, it's exhausting (in a good way)…it's freakin' magic.  And it's something I am quite sure you can only do it Belize.
Hike and swim miles into a cave dripping with crystals with a running river to a sacrificial area used by the Maya over 1000 years ago…and a preserved skeleton of the Crystal Maiden.
If you don't say " Are you sure we should be doing this?" at least 100 times…I would be shocked.  It.  is.  amazing.  Read all about my experience here.  NO CAMERAS ALLOWED.  And for very good reason.
I'm going to leave it right there…as if THAT isn't enough!  I could add in amazing snorkeling with a manatee off Caye Caulker – but that is more a "fall in love" experience than crazy adventure.
I could also add in parasailing…but that is more beautiful than heart pounding.  See?
PLEASE let me know if there is anything I can add to the list.  With advancing age, apparently, come the guts to do this sorta stuff.
Who knew?  VIVA ADVENTURE!
If you are a Pinterester, Please feel free to re-pin this post above.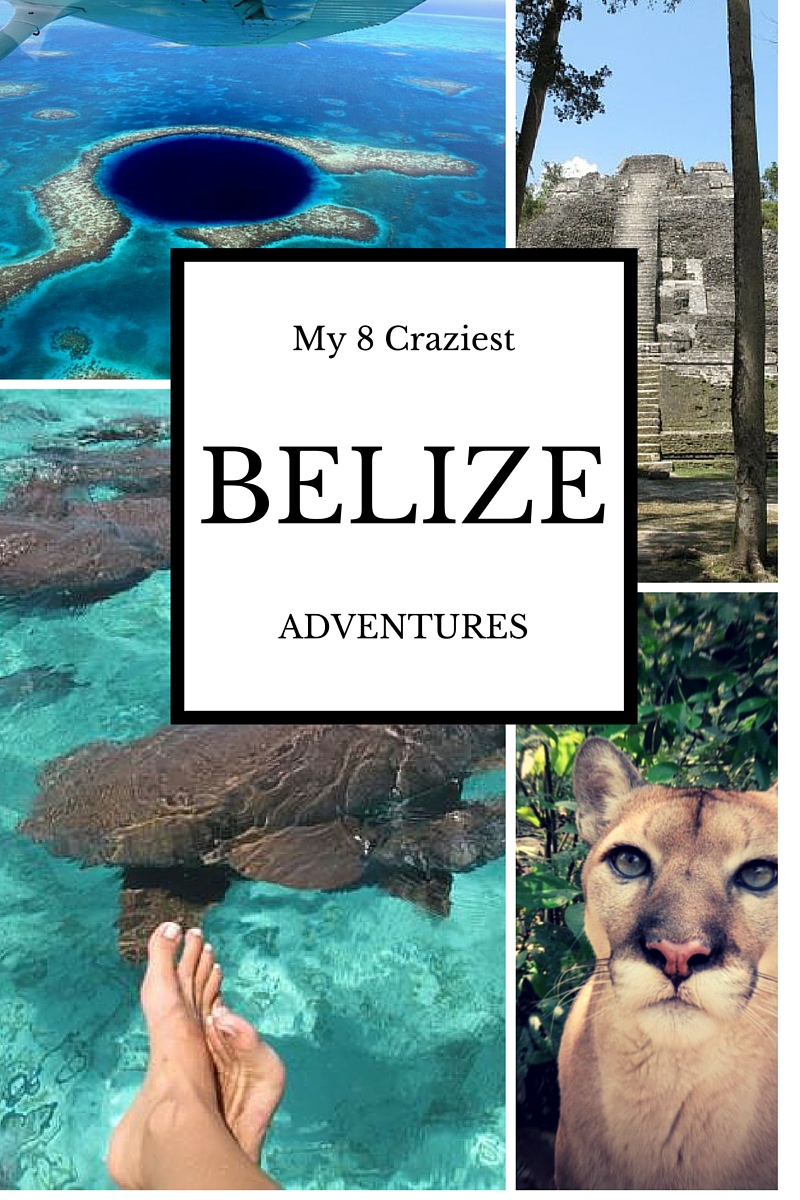 AND, for my full Belize Bucket List…check it out here.
I'm going to add a few more on to the list that I'm DYING TO DO!  One of the craziest things about Belize is that THERE IS SO MUCH TO DO!  I've lived here full time for 13 years and my list just keeps growing rather than getting shorter.
Adventures I'm Still DYING To Do!
See a Jaguar in the wild – The jaguar is the largest cat in our hemisphere, Belize is well known for these beautiful animals but…they are ELUSIVE and smart.  They want nothing to do with humans.  Spotting one at the Jaguar Preserve in southern Belize is infrequent at best but…odds are higher in Northern Belize.  Remote Chan Chich Lodge in the Orange Walk district seems to report quite a few sightings…of ocelots and pumas and…JAGUARS.  I need to get there!   Their Mammals Checklist contains 85 mammals!  
Climb the Tallest Maya Site in Belize – the largest discovered Maya site in Belize is Caracol.  At her height, the massive city covered over 200 square kilometers and had a population of up to 180,000.  That's twice the population of the largest city in Belize NOW, 1000 years later.  One of the coolest parts of this site is that it is deeep in the middle of…nowhere!  (You can see it on the map below, just to the right of the GUATEMALA on the map.)  Far from major roads, the airport…in the middle of the jungle.  Unlike her rival Maya city, Tikal (where you hope to arrive earlier than the huge tour buses unload) – you could very well be the only group at Caracol.
Caving Barton Creek
Caves are a theme in Belize.  Most of the mainland is limestone.  And limestone is porous…cenotes, caves, underground rivers.  It's pretty awesome.
There are countless unexplored caves, ones that are too treacherous for the amateur to enter, caves littered with Maya relics.  (Here's a great list of Belize's Top Ten Caves)
Top of my list is Barton Creek – head almost one mile into a "wet cave" in a canoe…you can watch a short video here.  Cool.
Blue Creek Cave in Southern Belize
Heading to Punta Gorda in Southern Belize is an adventure in itself.  It's one of the MOST unique parts of Belize (try a combo trip of Ambergris Caye or Caye Caulker and Punta Gorda to REALLY see two different sides of Belize) – and it's one of the least visited.  A walk down the main street on market day – listened to people speak Maya or Garifuna…passing a small chocolate factory and a large home from a civil war confederate…it's such a cool place.
But I WANT to visit Blue Creek Cave.  And now that I start looking at other adventures in the area…I want to do them all!
While your in the area – check out the Living Maya Experience (awesome) – and MayaBags FOR SURE.  Okay…admiring Maya craft work is not adventurous but my heart sure did race when I bought a GORGEOUS bag.