Eating Our Way Around The DFC Neighborhood of San Pedro and Barely Making a Dent
Doing My Very Best to Get A Taste of DFC
Ambergris Caye is a very big island – the surprising size and diversity is something you can EASILY miss on your first or even second visit to San Pedro.  It even surprises me every so often…and I've been here for 14 years.
Sure the island is the largest in Belize – and over 25 miles in length.  There are huge mysterious lagoons way up north, old Maya structures and deep forests where jaguars still roam.  (Seriously!)
Wildlife and Other Out of the Ordinary Experiences on Remote Ambergris Caye
But the island is growing in population all the time – and it's not just new resorts opening along the beachfront but apartment buildings, family homes, small vendors and shops…there are new things opening all the time!
Last week, I was invited to go on an "off the beaten path" tour – not an organized tour exactly…more of a tasting journey inspired by recommendations, tried and true favorites and…just wandering about…
Wandering about the largest (in my estimation) and GROWING neighborhood about one mile south of town between the mainland road…west to the lagoon. DFC.
Let's call the wander:  "A Taste of DFC".  I even have a little graphic.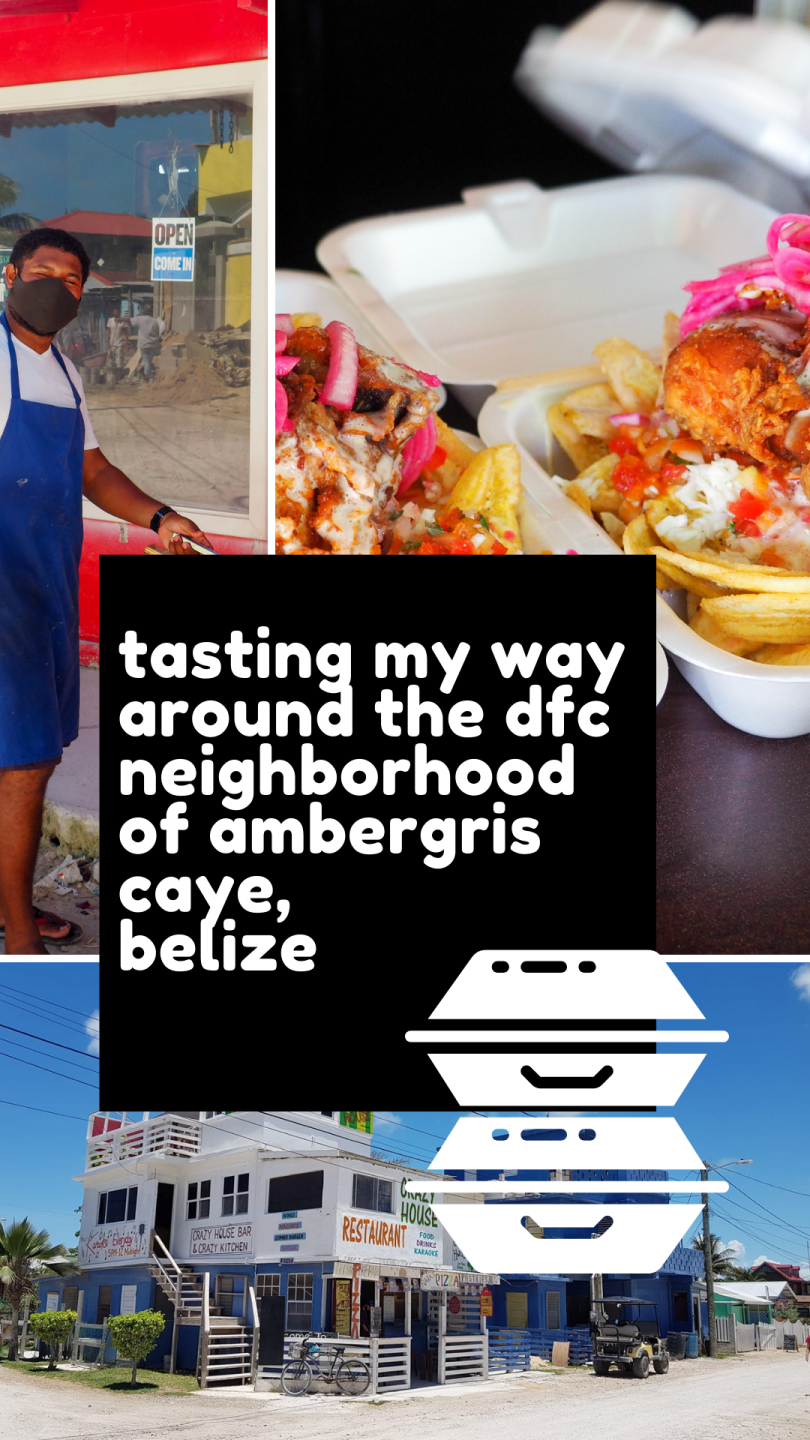 Here's the SUPER FUN thing.  I was invited by a chef who moved to the island last year AND he is a writer and blogger.  He is writing about this journey too – we are going to press publish at the same time.
His post;  The Best Bites of DFC
Brief history of the area:  DFC, named after and officially financed by the Development Financing Committee – the government development bank,  was created to provide affordable housing to the growing population on San Pedro.  Much of the land is reclaimed (filled) mangrove and lagoon and homes were erected for rent and then sale.
You can read the VERY interesting article on the history of the 10 original SP subdivisions here.  And this picture!
Still a mainly residential area, the DFC neighbor is ever growing.  Five years ago, I lived in a condo just outside the DFC at a place called Royal Palms.  I thought I knew the area pretty well…
But returning 5 years later, I was so surprised by all the larger buildings and homes and especially by all the businesses.
We did our best to try as much as we could…but I feel like we barely made a scratch!  Here are some of the coolest spots and the best eats around the DFC area.  Some recommended spots were closed, some not serving what we had planned to eat but that's okay.  It just means I'll be back!
Let me start our tour.
We met up at La Divinia Providenicia, the amazing supermarket, restaurant, meeting place at the entrance to the DFC neighborhood owned by the lovely Miss Susana and her family.  (I wrote one of my first blogs about them in 2011)
We headed straight to Neri's Tacos.  They also have a stand/restaurant in town – and it's an AMAZINGLY popular breakfast spot (it's DEFINITELY featured in my book – the ONLY spot on the book's map marked since it's a bit tricky to find) and we try to go there every time we are in town before 11am.
I always get the same thing.  3 dolla Pork tacos with onion and banana juice.  A $5bzd breakfast.
Neri's is run by Ruben and his brother.  Here is Ruben heading up the DFC stand.
The tacos.  Delicious flavorful unctious pork with a little bit of sour..lime?  recado? wrapped up to just pop in your mouth.  They do not make the banana juice at this location.  You'll have to head to the town center for that – Neri's Tacos I.
Mmmm…
Next up…Crazy House.
I'd seen the bumper stickers all over town for a few years now but…WHAT IS CRAZY HOUSE?
It's a multi-layered, multi-roomed, multi-function bar, restaurant, dessert spot, roof deck, private karaoke joint…it's a crazy house.  And…I had no idea….it's owned by my old friend Gene Lopez.
I should have know…(photo from the super fun 2012 September 21st parade in San Pedro)
Here's the building!
We were still early – the bar wasn't open yet upstairs but the snack spot on the ground level was…and had this delicious looking menu.
We ordered some lemon pie.  (Which is generally made from limes in Belize with meringue)
I mean…how could you say no.  And it comes in different sizes!
Tart curd…just the way I like it!
Mr Lopez pulled around the corner to give us a tour of Crazy House proper.
The VIP rooms are individually air-conditioned, you can play your own music from your phone on your own sound system AND there is a little call switch to summon the bartender.  Love it.
We went up to the open roof deck…killer view of the whole area.  And then back down to the bar to try…bitters.
Lopez clearly has the bathroom signs confused.
I saw Dennis carving them a few years ago…here he is in town holding the one that is now at the Men's Room at Crazy House. (how random!)
Oh lawd. Lopez brought out the bittas.  A jumble of medicial herbs and tree barks soaked in alcohol (generally STRONG rum) for a few days and purported to cure everything in Belize.  Cures colds and sinus problems.  Good for "your blood" or "it cleans your body" and especially good for your manhood.   (Here's a short video of a Australian? buying it in Belize City that is quite…informational)
It can taste like…rubbing alcohol and Vicks Vaporub.  Or just like rum.  Lopez had quite a few bottles brewing behind the bar.  I did not taste them…but everyone else tried this one that had a little marijuana in it and about a head of raw garlic.
EEEEEk.
I need to get back there – I heard that their Sere, the Garifuna dish of seafood and coconut milk is delicious.
You can find Crazy House on Facebook.
Across the street I was surprised to find my friend Tino barbecuing!  He does a VERY popular Saturday BBQ in town and now he's got his own place!  I need to return to try his food too!
Onward…we were looking for a spot called Sambo's…word amongst the taxi drivers is that their food is great.
The BEST way to find your way around DFC is to ask.  Ask, ask, ask.
We stopped briefly at this bakery for some sweets.
It turns out Sambo is Bernard Spain (I know him!) and he is a mechanic (you can also find him next to the graveyard of old police vehicles)
His wife Alma is the chef at this tiny little eatery – all screened in with tables and stools for dining in.
The special today is T-Bone steak…not something I would usually order but the price is SOOO reasonable!  $8bzd and ALL OF THIS!
Stewed beans, white rice, homemade onion sauce and lots of veggies.
This was my favorite dish of the tour – GREAT flavor.  The meat was chewy (as steak is in Belize) but just enough..not too much…and the sauce was so good.  I would have eaten this whole dish but I was filling up way too quick.
I'll be back Alma's Deli!
We got LOTS of suggestions to head to M&M Deli but…they are closed on Wednesday.  Again…another for the list on my return.
We headed to Kenia's Deli and it looks SO cute and colorful.  On the list for trying was Peanut Horchata.  Horchata is a very popular drink here.  If homemade, it's soaked rice, often a spinkle of cinnmon and a HEALTHY dose of sugar.  A very sweet rice milk.
But Kenia's is doing PEANUT horchata.  So interesting and…another I will need to wait for.  They weren't making a new batch until the weekend.
I'll be back.
We heard a bell ringing.  It was the Paleta man.
Look at this bell!  Made from the drain of a sink and a nut on a string.  Worked beautifully.
ONWARD!!!!!!!!!!!!!!!!!!!!!
To Rinconcito del Sabor or the "Little Corner of Flavor" – great name.  We ordered a plate of Chicken Tacos with PIneapple Salsa to try…
I stayed in the shade by this little market and smart shade-seeking dog.
Mmmm…nice chunks of chicken and yummy salsa.  Tacos need acid…lime is great but so is pineapple and salsa.  Tart and sweet.
On to the next spot and the last spot for now.  We were in search of tajadas.  A popular Honduran dish that I've never heard of.
Deli Los Cocos is the spot.  These folks were so friendly and so acccomodating and WOW.  Serving some SUPER SIZED meals!  We had to try one.  And again, I got a list of things I need to come back to try.  Like Saturday's special, Honduran cowfoot soup.  With coconut milk?  How cool!
Here's a pic of the cowfoot soup from the owner Estrella.  Pretty, huh?
Reminds me of the time we had the most divine seafood soup in Omoa, Honduras AND they were also offering sea turtle egg ceviche 🙁  NO I did not try that.
Tajadas.  Green bananas shaved thin and fried with tomato sauce, lime-pickled red onion and a homemade crema/ranch dressing.  And whatever you want on top.
LIKE FRIED CHICKEN!!!!
The flag of Honduras on the kitchen door.
The beautiful shaver for the green bananas – brought from Honduras.
A very cool spot…
ALOT.  I know.
I need to go back…taste 150 more things…and get organized.
SO much good, very reasonably priced dishes…so much fun meeting so many people.  I can NOT recommend this area enough.  EXPLORE San Pedro – there is SO much that makes this island unique and fun and interesting.  Food is a very big part of it.
And let me know your favorites.  As you can see, I'm up for tasting everything!