I started working on a blog post this morning but didn't even come CLOSE to finishing before we had to run to town.  Jeff needed to bring lumber/windows/pipes up to the camp and we wanted to see our friends off.  They are heading out on a 2-3 week catamaran sailing/filming/fishing adventure – an AMAZING project that will hit the big screen at some point (fingers crossed)
Away with Belize Sailing Vacations – out to Turneffe and then down south…10s…100s of the tiny cayes along the Belize reef.
The day could not be more beautiful.
Here are some pictures I took out and about in town.  SOOO pleased about the perfect day – I am headed over to Matachica Resort in a few hours to overnight.  And before you sarcastically think "MUST BE NICE…" – it's WORK!  🙂
One quick thing first:  THE CAMP JUST GOT GOLD STANDARD CERTIFICATION!  Hooray!  One step closer to opening.
Ok…here are the pics.  Amigos Del Mar dive shop…obviously a dive shop – look at these flags!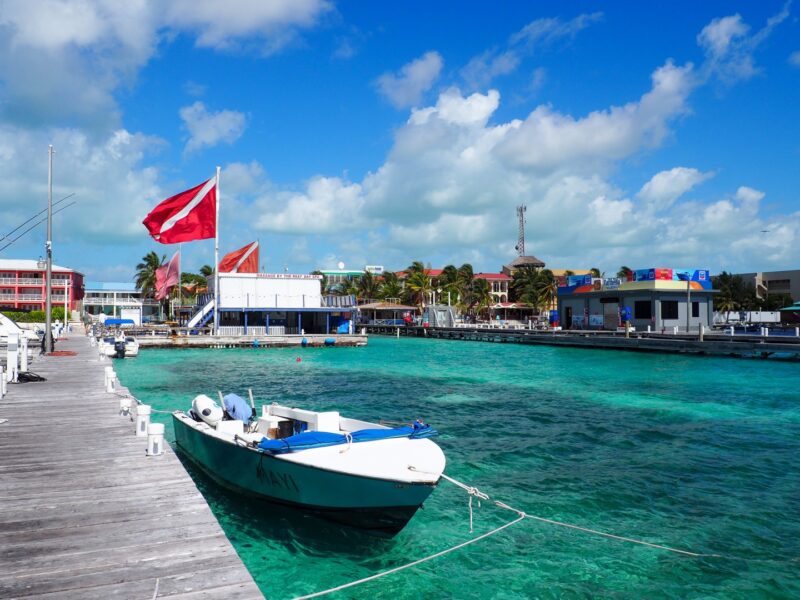 There were dive boats coming and going…
The clouds were even scattered just right.

Hence 101 pictures of the same thing.
And the boat being loaded with skiffs and BoteBoard paddleboards and all sorts of stuff.
Soon to be the new Wayo's Bar – just about a block north of the old location.  A totally new dock and building.
Pretty pretty Caye Casa hotel…
And then these three because…I'm obsessed with my new plant.  It's a Hibiscus Mutabilis – or "Confederate Rose" and it changes color as the day progress.  First thing in the morning, it is snow white…and by end of the day, dark pink.  Isn't nature amazing?
9am Friday Morning
330pm Friday Afternoon
8am Saturday morning.
I apologize in advance if you become bored of my obsession with this miracle plant…I'm sure I'll get over it (or more likely, kill it) at some point…right?
Plus…this time of year I really miss the daffodils and crocuses (croci?) and the pussy willows…
Hope spring is springing or sprung where you are!