Layed in San Pedro: Quail Eggs Are Surprisingly Versatile And PERFECT For Easter!
Over the last month…maybe a bit more, I've been seeing these INTRIGUING packages around town.  Quail eggs.  Layed in San Pedro.   From Jen's Gems.
Superbuy and The Greenhouse Market both carry them.  And clearly, with this cute label, there is merch coming…right?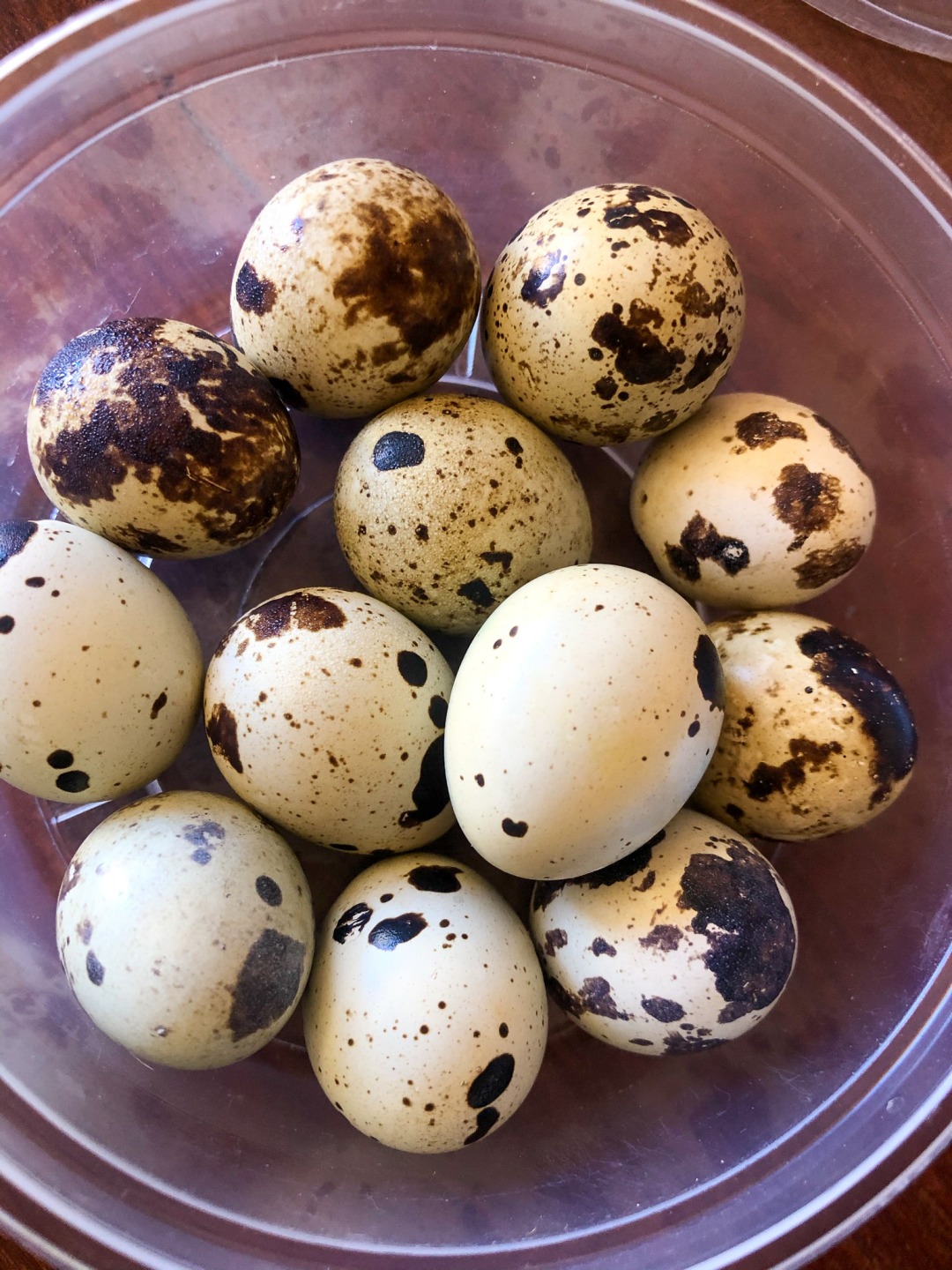 AND the quail flock…the bevy of 225 birds and growing is right down the road from me.  My neighbors are the farmers! The bird husbanders?  I'm not sure what you call fowl people.
But they really ARE on the island.
SO cute…not expensive…beautifully colored and speckled like you found a delicate nest on your windowsill but…WHAT THE HELL DO YOU DO WITH THESE TINY QUAIL EGGS?
Well…just a few days ago it came to me.  I mean…I'm not sure how I didn't think of this before.  EASTER EGGS!  I love love love dying Easter eggs.  Here is my post about dying Belize's brown eggs.
All chicken eggs we get in Belize are brown — white indicates illegal contraband Mexican eggs!  (The only place I ever saw them is in Blue Creek in NW Belize – where you can literally walk across the river to Mexico)
Here's the second-best part (after their cuteness) – they taste delicious.  Very much like chicken eggs but the yolk to white ratio is different.  These little gems have more yolk – and you can pop the whole thing in your mouth easily.  Richer…delicious.  3-4 quail eggs = a chicken egg.  Obv it depends on the size of each one.
Do the Keto diet folk know about these cute eggs?
Fried eggs, pretty eggs in ramen bowls, halved hard-boiled eggs in salads, on homemade pizza, little bite size eggs in your black dinner – your chilmole soup!
If you don't know black dinner:  All About Belizean Food:  My Take
If I was insane, I would make deviled eggs.  I love deviled eggs…love but the name is fitting.  Making deviled eggs – peeling and halving and carefully scooping out the yolk is the devil's work..but imagine how IMPRESSIVE with these tiny eggs?
Enough of my blabber…
Here is how you dye quail eggs.  You will need:
The quail eggs
White Vinegar
Food dye
First, you want to hard boil your eggs.  Make SURE you get your quail eggs out of the refrigerator and allow them to come to room temperature.  I took them out of the fridge about 1.5 hours before hard-boiling.
Bring a pot of water to a boil and…lower the little cuties in.  Boil for 3.5 – 4 minutes depending on how hard-boiled you like them.  Less for a yellower softer yolk.  I went 4 minutes.
I tried to be gentle and none of mine cracked.  Success!
Plunge them in ice water.
Boil some water…put it in ramekins/bowls, mugs with a small glug of vinegar (a tsp or less) about 5 drops of dye.  More if you want them bright bright…less if you don't.
Lower in your dried egg.  You can play around with the amount of dye and time allowed to sit in the dye.
I was going for pastel but these eggs really take the dye quick!
I mean….HOW CUTE ARE THESE?  To arrange on top of beautiful white sand in a bowl…in coconut shells with…coconut fabric?  (The bark…fiber that peels off of the coconut tree)  WIth grass in baskets…with palm frond.
Dyed quail eggs should be on every Easter table!  What a cute cute cute decoration.  Very reminiscent of Robin's Eggs.  Those malted speckled candy eggs that used to be in my basket when I was little.  (You almost choke eating them…when they dry out your mouth with that massive amount of malted…stuff.  But all in the very best way)
(If anyone is coming down to Belize…I mean YUM…anyone would love a gift of them or Cadbury Eggs.  Easter candy is imported and EXPENSIVE – 3-5x the price in the US!)
Here's my attempt to arrange in coconut fiber.
Kids would love them.  Jeff and I loved dying them…and eating them.  And we have another dozen left unboiled to play around with too.
I'm going to fry this morning and place on an English muffin.
And before I go…a few questions answered about quail.
There are 130 types of quail in the world – both Old World and New World.  And Belize DOES have quail indigenous to the country.  But…they are on the mainland and not the domesticated type.
Of the 130 types of quail, there are 5 recommended for "homesteading" – these eggs are from the Coturnix quail.
This is from Plate 12 of My Birds of Belize book (I look at it at least once a week) – Tinamous and Gallinaceous Birds.  #1 is Singing Quail.  #2 Black-throated Bobwhite and #3 Spotted Wood Quail.
NO…I will not be dying gecko eggs next…I don't have the heart to do that.  Though what a tiny cute little doll house easter basket they would make.
Lastly, a group of quail is a flock…a covey or a bevy.
I'd love to hear from you about quail eggs…I have one more dozen left for eating!  Let me know what you do with them and…if you dye them – PLEASE send photos.
I've already served Elsie her morning meds – and she thinks it's her birthday!