Ray Caye Island Resort: Barefoot Beauty And The Perfect Way To Dive Back into Travel
Raye Caye Private Island Resort Off The Coast of Placencia: Why I'm Already Dreaming of Going Back
Was it just me or, over the last year, was your social media filled with posts and articles about escaping to a private island?
(Note: All photos on taken last weekend on Raye Caye)
It made me want to scream:  Yes, Facebook,  I GET IT.  I am stuck in my house!  OF COURSE, I want to visit…live on…getaway to a private island!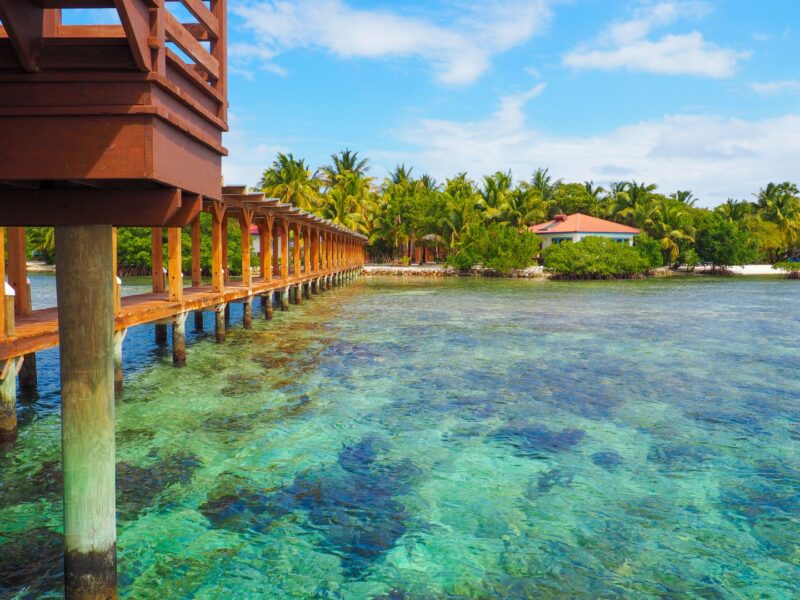 So when I was invited to visit Ray Caye Resort – a private island off the coast of Placencia Belize a few months ago, I was super excited.  PERFECT, I thought.  The ideal step back into the world of travel…
There are hundreds of cayes sprinkled along the coast of Belize.  Many of them are barely sandbars or tufts of mangroves but with a little googling, I found that Ray Caye directly west of Placencia village seemed like a good size.
7.4 acres to be exact – perhaps differing slightly with high and low tides.  A caye with four different docks (one doubles as a helipad!), a dive, snorkel, and fishing shop, a welcome center, a yoga and fitness center, a restaurant and bar, lots of different beaches, and even a pool.   Hooray!
And when I arrived I found very quickly that it wasn't just a "good size", it was the perfect size!  Not too big…and not too small.  You'll be surprised how much can fit easily onto 7 acres.
I also found out that I need to return soon.  If you are at all worried about getting a bit antsy on a private island…forget that idea right now.  There is a ton to do on and around Raye Caye – or, better yet, a ton of different ways to do nothing at all.  I spent two nights on Ray Caye and it wasn't close to enough…I'll most definitely return.
But let me get to my trip and my pictures so you can see what I'm talking about.
How I Got To Ray Caye
The easy way!  The Ray Caye van picked me up at the Placencia airstrip – and we drove less than a mile away to catch the boat.  Ray Caye (also called Hatchet Caye) is about 45 minutes away by boat.  Our boat looped around the Placencia peninsula and we were on our way right to the main dock at Ray Caye.
And then…
Something special I loved about Ray Caye:  There was no check-in process, paperwork, everything had been taken care of beforehand.  I stepped off the boat, was served a beautiful drink, and walked to my oceanfront honeymoon suite!  Along with a little tour on our way over.
The pool and the bar and the Lionfish Grill restaurant.
There are beaches all around the island.  Some better for swimming…and some just relaxing…
Windward side – there was an unusually strong north wind while I was there.
So it was very easy to just walk a minute or so over to the leeward side…where the water was nice and calm.
It's one of the coolest parts of staying on Ray Caye.  Too windy in this spot?  Not quite enough sun or not at the right angle?  You can pick up your beach towel…and move to the next dock or the next sandy beach.  Watch the sunset at the beach bar and see the sunrise from your cabana.  All just a short walk away.
Here's a beautiful drone shot from the resort's website – I snagged it so I could show you how BIG this tiny island is.  (The main boat dock – yellow dot – and my honeymoon accommodations- ORANGE dot – right on the reef.)
My Suite on Ray Caye
First, I slipped my shoes off because…I won't need them again during your vacation – not once.  There are smooth paths circling the whole island.
My suite was way more than a regular room…
First!  The large sliding glass doors open to this…mine private deck!
Air-conditioning (though I had my doors open when it wasn't too windy), good internet on the entire island…this is WAY more than I expected.
And a jetted bathtub looking over the reef?  THIS is pretty much my dream.
My view waking up…watching my pelican dive-bomb for fish.  There was also an osprey perch with a baby just a few hundred feet from my front door!  (I would have taken an awesome photo but you only need to get the stink-eye once from an osprey to realize it's time to keep moving!)
But I did not just linger in my cabana.  Well…not ALL the time.
There is a SURPRISING Amount to Do
I visited the dive and snorkel shop.  Ray Caye is surrounded by reef and islands (it is on the very edge of the Silk Marine Reserve) – I was told about an island nearby where you can swim with loggerhead turtles, about Fisherman's Caye that is made almost completely of conch shells discarded by the fishing boats…
Take a look at this map and you can see that Ray Caye (Hatchet Caye) is SURROUNDED by reserves and national parks.  It's JUST across the way from the Gladden Spit Reserve – the area where WHALE SHARKS come to feed in the spring months.
CLEARLY I need to get back!
If you are not up for the bigger trips, you can just grab a snorkel and mask and get right in the water.  Coral, eagle rays, sharks, bonefish…this caye is surrounded by on coral – in some spots right up to the shoreline!
(Coral and the reef and the cayes are really just miraculous – it can take from 100,000 to 30,000,000 YEARS for a barrier reef to form…)
I found my favorite dock – the one above.  It's so long…over waving coral beds.  It leads out to an amazing swimming area – a double-decker dock with a slide and diving platform, a lounge area with lots of hammocks.
Plus, you can see where the resort gets its energy!
NO!  I did not jump!
Each night after dinner, I walked out in the pitch-black darkness to the end of the dock.  The deep end around the pool was lit with a bright blue light and I watched 10-15 eagle rays fly through the water.  It was magic.
Just behind the dock is a very impressive fitness center.  An icy cool fully kitted-out gym and a huge yoga studio. I didn't use either.  Another reason I need to go back!
I had a good feeling that I would enjoy my time on Ray Caye but my biggest surprise?  THE FOOD.  Fresh salads, perfectly prepared coffee-rubbed rib-eye steak, homemade breads…the food and the selection was fantastic.
I sent Jeff a photo of the dinner menu each night to see if he could correctly predict my order.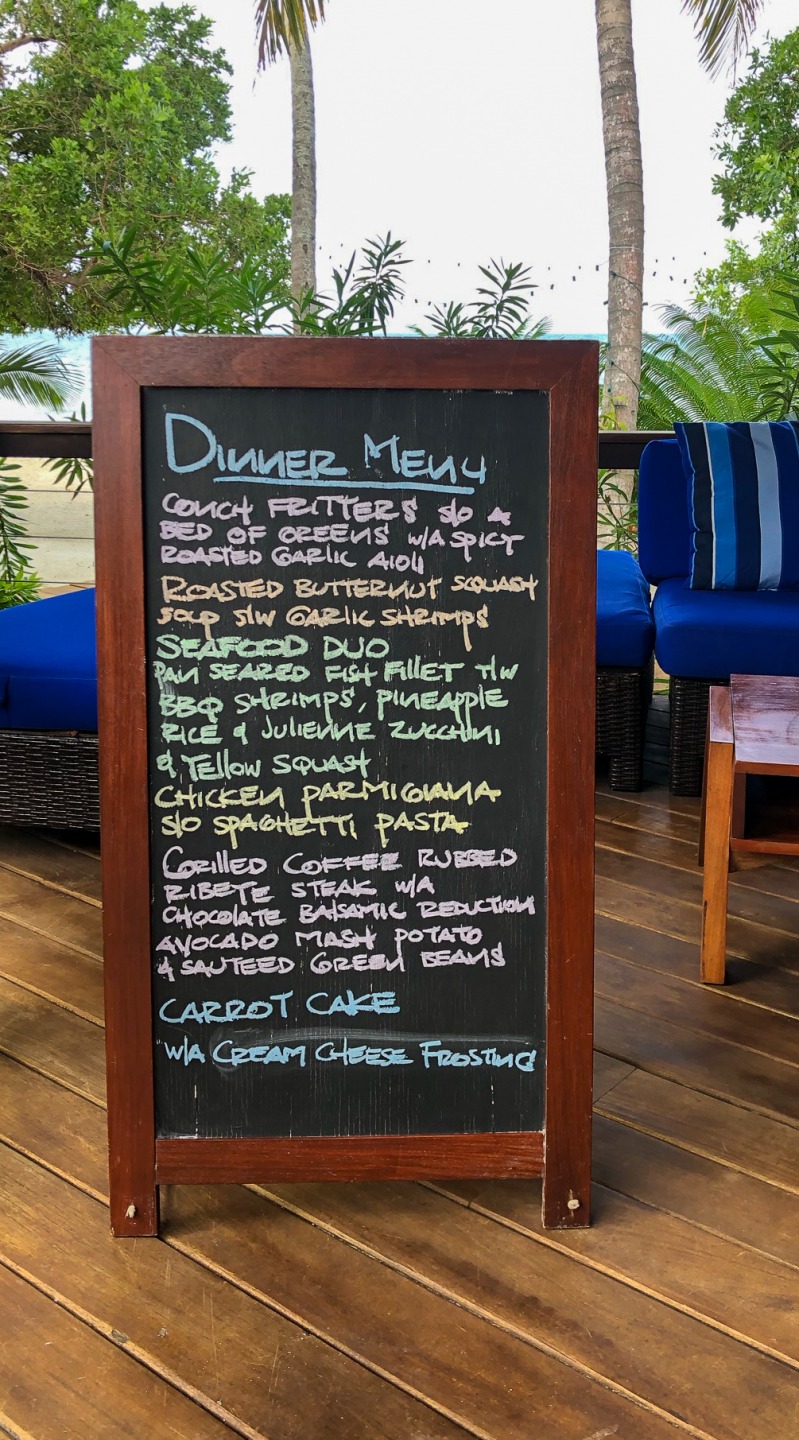 What would you choose?
My lovely waiter Antonio suggested my last breakfast:  cream cheese-filled french toast – the tiny amount of lime zest in the filling made it so good.
Amazing fresh salad greens on sandy island miles from the mainland?  YES.  They have a huge greenhouse filled with all sorts of herbs and veggies.  Arugula heaven in the middle of the Caribbean Sea is very unexpected.  (And I took careful notes on shade cloth and bed layout for the much smaller greenhouse I am planning for our camp)
A quick look at the beautiful vaulted restaurant.
And the attached pool…
Two days was not enough.  I keep on saying it but I clearly need to return.   But in case I wasn't clear about the reasons, I'll do a quick list before I sign off on this one…
Reasons I Need to Return to Ray Caye Resort
As we were pulling into the Placencia marina so that I could catch my flight back to San Pedro, I realized I hadn't returned my key!  It's a sign…for sure. I gave it to the boat captain – to return it to the island but I knew I'd be back because…
I want to snorkel but maybe even dive.  Snorkel off the docks and then go out even farther.  There are SO many cayes and marine parks around Ray Caye…a few snorkel trips in the mornings, swim with loggerhead turtles…rest, and relax in the afternoons…
I want to take a day trip to their sister property Moho Caye.
I need to go for a Hobie cat ride around the island – island staff will captain the boat for you.
And…of course, I need to go down that slide!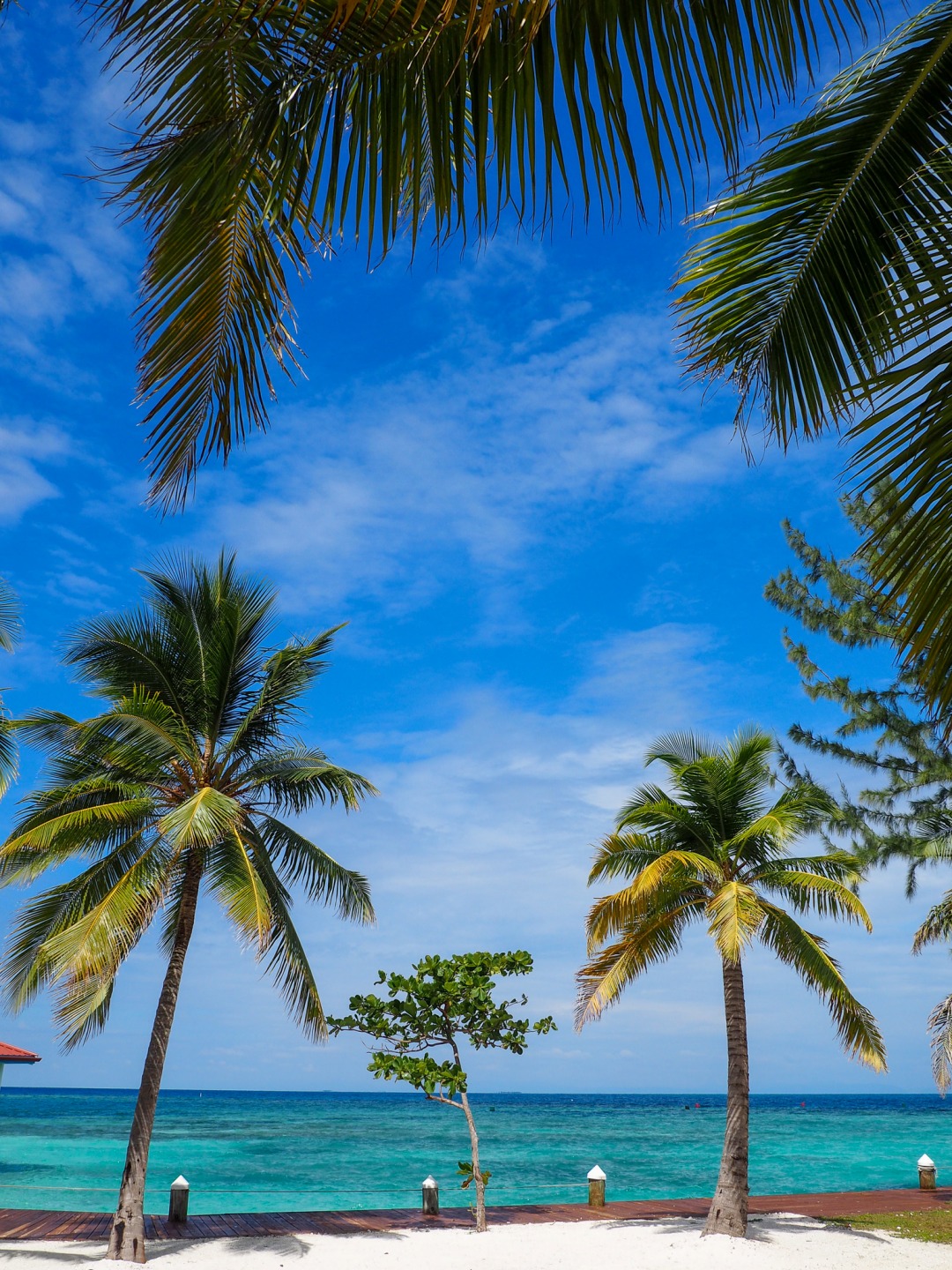 For more information on Ray Caye Resort or to just gawk at the gorgeous photos, check out their website or feel free to message me with any questions about my fabulous stay.
Fingers crossed, I'll be back!