After Much Experimentation, I Present This Recipe: THE BEST BANANA BREAD
Yes, yes I know.  Banana bread was all the rage on Social Media at the very beginning of the pandemic.  For so many reasons.  Bananas are cheap, it's easy to make and it is delicious.  It hard to mess up…and everyone loves it.
BUT…there is good banana bread and there is great banana bread.
A simple favorite for a great reason but look for a good recipe and you'll find 101 different variations, in both ingredients and methods.
Buttermilk, sour cream, Greek yogurt, whole milk, butter softened or butter melted.  Brown sugar, half white sugar and maybe a touch of molasses.
But I don't think you need to get crazy.  And in Belize….you don't WANT to get too crazy.  Imported dairy products from sour cream to butter are 2-3x the price they are in the states.  Nuts?  I love them but they are even MORE expensive.  Crazy expensive.
If you keep it simple, keep it local, you can't really get a more economical or more tasty treat than banana bread.
Bananas are 5 for $1bzd in San Pedro – and up to 20 for $1bzd in other parts of Belize.  Always buy bananas when they look good…
Did You Know that Belize Ships the Majority of Our Bananas to Ireland?  Here's an AWESOME Tour I went on in the Banana Belt of Belize
And then throw the ones that are getting a bit too dark in the freezer.  I am POSITIVE that the freezer process makes the end product moister and more…banana-y.
It reminds me of this funny faux-obituary that went viral:  "Maureen Gibson, passed away at the age of 87 this Monday surrounded by loved ones and a freezer full of bananas she had been meaning to make into banana bread."
"It saves you money!" Gibson would often repeat when anyone questioned her about her refusal to simply throw away her bananas, "Why do that when I can and eventually will just make it into banana bread? The sturdiest of the loaves!""
Tee hee.
Don't be Maureen Gibson – make banana bread now!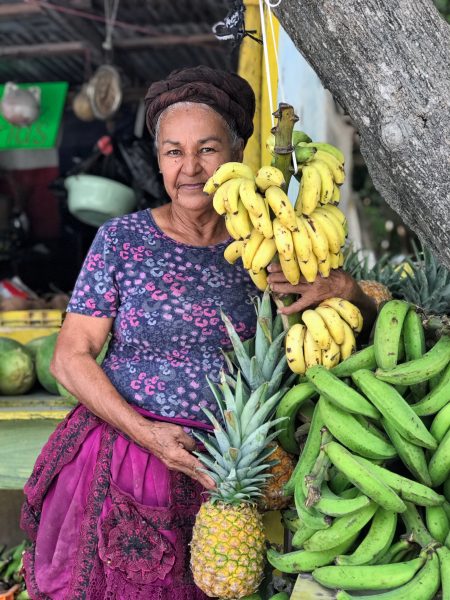 You can also make it all in one bowl.  Using a stand mixer, a hand mixer or just some elbow grease.
Tender, moist, soft…this recipe freezes beautifully.
Here's my recipe.
THE BEST CHEAPEST TASTIEST BANANA BREAD
Pre-heat oven to 325 degrees F.  Grease 3 mini-loaf pans with a bit of veggie oil or a regular-sized bread pan.  I like to add a parchment liner to ease removal from the pan.  (If you don't…you might have to use a fork to loosen a bit…no big deal)
I LOVE these mini-pans I ordered a few years ago – worth spending a bit of money on good pans.  They last forever.
Ingredients:
3 medium-large bananas from the freezer
7/8 cup (or "a little less than a cup") of sugar – I use the brown granulated local Belize sugar
1/2 cup vegetable oil (you could use coconut oil but I find it way too coconutty for my liking)
2 eggs
1 tsp vanilla (if you have it, I usually don't…you can also throw in 1 tsp of dark rum)
1 1/2 cup flour
1 tsp baking soda
1 tsp cinnamon
a heaping 1/2 tsp of salt
Here's how I do it:
Let bananas defrost or blitz them in the microwave.  Add to bowl with sugar and oil.  Whisk/mix until smooth.  Add two eggs and vanilla, again, mix well.
Add flour, soda, cinnanom and salt in a heap on top of wet mixture.  Stir until mixed completely but don't overmix.
Split between the three pans or pour in the one larger pan and bake until firm on top…or a toothpick comes out clean.
Stuff you can add:
I like to add chococlate chips – cinnamon and chocolate is a delicious combination.  One-third of a standard 12oz bag of mini-chip stirred in at the end is just about perfect.
As is a crumble topping
Fork together 2 1/2 Tbl Butter, 1/3 cup of sugar, 1/4 cup of flour and 1/4 cup of oats and a pinch of salt until crumbly. divide between loaves before baking.
That's all.
It's Easter Sunday AND the re-opening of Cayo Frances Farm and Fly – closed for a year and opened bigger and better.
Enjoy everyone!