Cool New Shop in San Pedro: Indira's Spices & Herbs for Cooking and Healing
Earlier this week, I was about to round the corner and I spotted a new shop!  That is not a new thing in San Pedro – new businesses seem to open and close weekly but this one really caught my eye.   A small storefront called Indira's Spices and Herbs.
Intriguing!  When I think of spices stores – I think of vast open-air markets in India or the crowded souks and bazaars of Turkey or Morocco but Belize?  YES!  It makes perfect sense.  Belize may not be as prolific as India when it comes to types and mixes (a curry can have up to 20 ingredients) but we have a very unique blend of flavors…that come from a very unique blend of cultures.
Cilantro, habanero, all-spice, lime, and recado are used for cooking  in almost every household every day.
Recado is a red spice paste made from anatto seeds and some other ingredients.  It's kinda earthy but has a subtle citrusy twang too.  It is not a strong flavor but it is CRITICAL in Belizean cooking.
Here's My Take on Belizean Food: An Overview
But many people across Belize use spices and herbs and other ingredients (especially lime and honey) as supplements and medicines.  Have a cold?  Try lime or fever grass tea (lemon grass)…a proper practitioner of "bush medicine" can prescribe a bark or a tea, an external or internal application for SO MANY ailments.  A toothache?  Tuck an allspice leaf along your gums.  It's FASCINATING to learn about.  Oh yes, and 1001 ways to fix "your manhood" or "strengthen your backbone" or "get your sexy back" – if only the effort focused across the globe on assisting men sexually was used towards the greater good?  I'm sure we'd have a cure for cancer and maybe world peace.
But FIRST, I wanted to share these definitions because I was not 100% sure of the difference myself.  The words are often used interchangeably….and the more I read, I realize that there is a ton of crossover.
Herb:  Herbs are leaves, and although most come from herbaceous plants (plants that lack woody stems), a few do come from woody plants, such as bay leaf.
Spice:  Spices like cinnamon are made from the aromatic seeds, bark, flowers, and roots of plants that have been dried and crushed.  Spices tend to be stronger in flavor.
So…I pulled the cart over.  And walked in…
It is located on the southernmost corner of Back Street, San Pedro.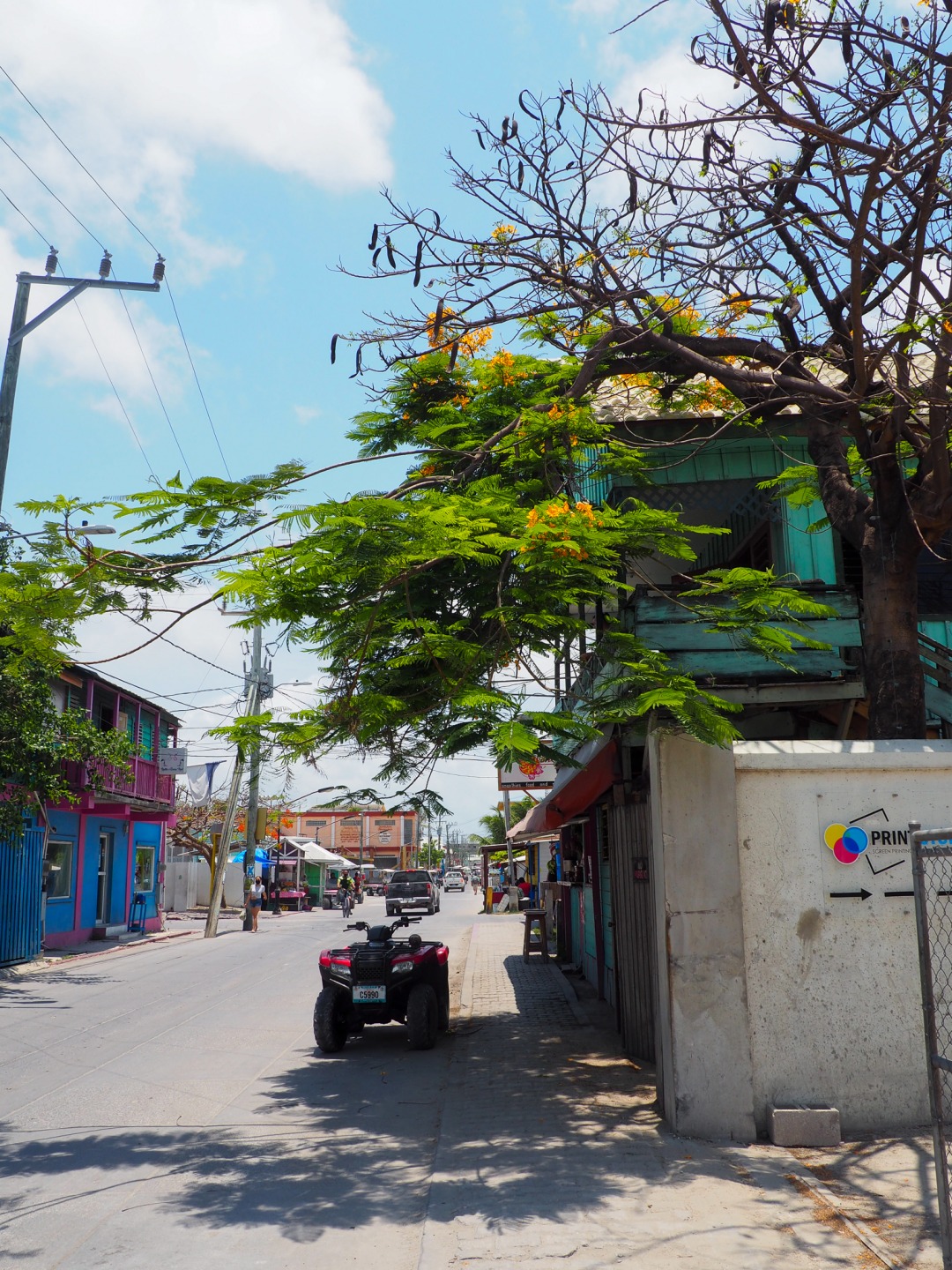 Just after this very cute fruit stand…they sell some great plants too.  Almost grabbed a flowering cactus but I restrained myself.  I've been spending all my money on plants these days!
And then the shopping area.  There is a flyfishing shop (Reel Belize – here's a short video on the opening) – a small art gallery and at the end, Indira's Spices and Herbs.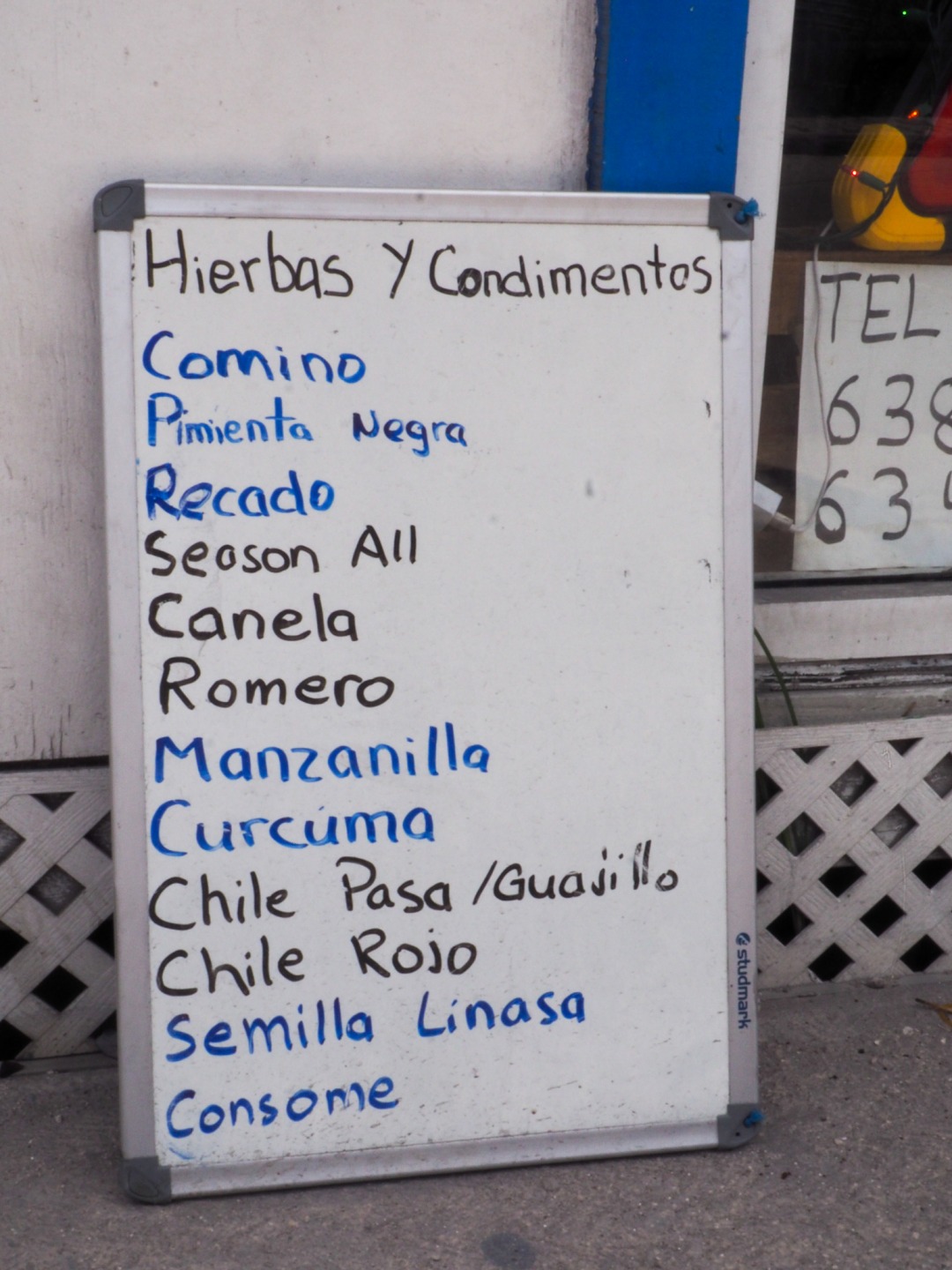 Joshua is inside – and his faithful spice-hound Inky.
He is SO knowledgeable about the plants, herbs, and medicinal uses.  It's FASCINATING.  Indira is his older sister and his whole family is involved in collecting, preparing and grinding the spices – mostly from around Belize.  He can recommend cooking applications AND remedies for what ails you.   All family knowledge passed down from relatives in Chunox and Patchakan, Corozal.
This shop opened just a month or so ago but they have a longer-standing store in Belize City too.
I'll stop blabbing and show you the photos.  And you can stop in yourself.  As soon as you walk in…you'll just…smell.
A fruit…from a palm tree.  He gave me one to taste.  I believe the spelling is Pocono Bwai.
I sawed one open at home.  There is a hard nut surrounded by almost…something like a date.  But not sweet…I'm not exactly sure why you might eat this!  It wasn't bad…it just wasn't…good.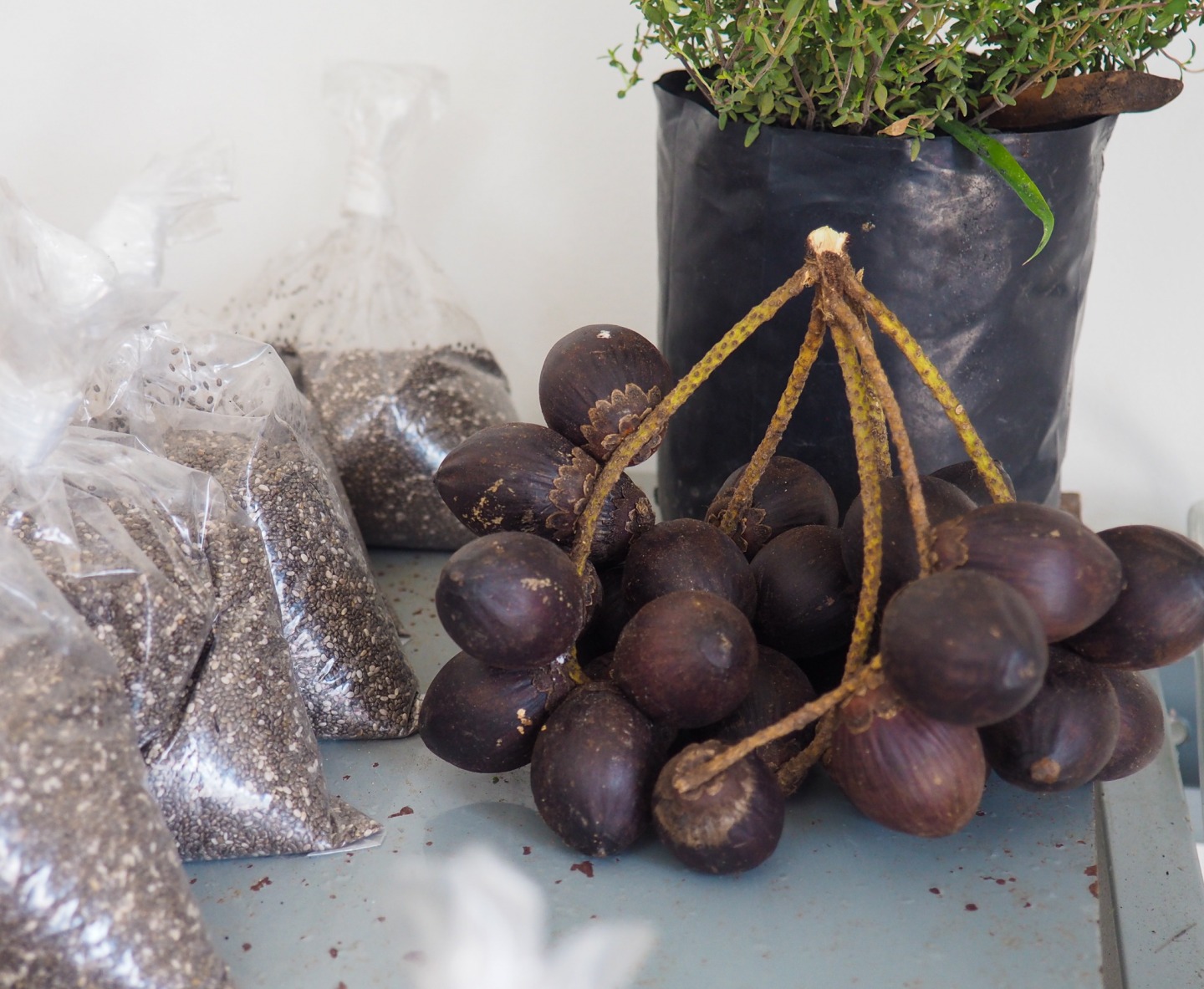 It can be used to make local wine – but as you can see from this pic I took on the mainland, almost ANYTHING can be made into wine.  Potato!
Pre-prepared spice packets for trying Belizean recipes at home.  This packet with flavor the very popular Escabeche soup – an acidic (either vinegar or sour orange) onion soup with a very distinct taste.  As soon as you try it, you will know why it is "prescribed" when you are sick.  It's the Belizean version of Mom's Chicken Soup.
Or a larger package of the spices needed to make stew chicken.
I was most intrigued by the resins/the products used for incense.
Copal is probably the most famous in Belize – used ceremonially by the Mayas, it is a dark tree resin.  (read more about it here)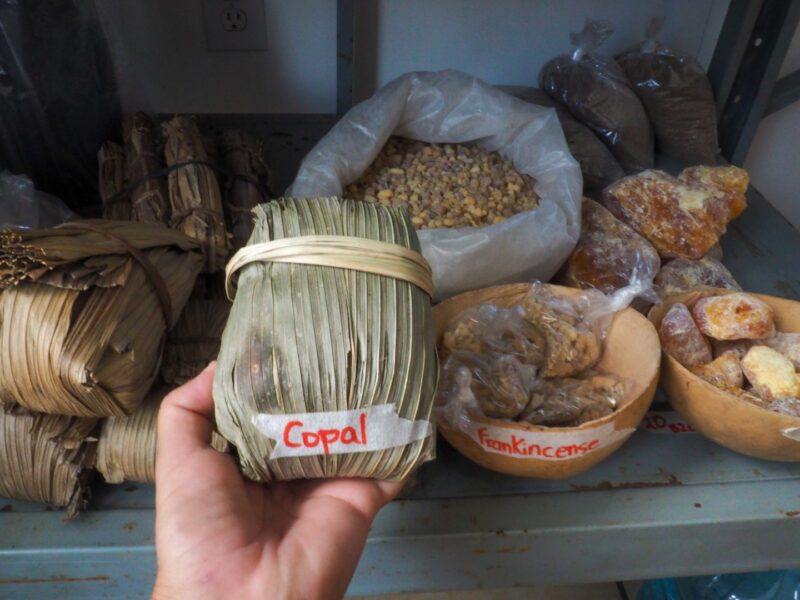 Beautiful pine sap – the trees are cut during a certain moon phase to achieve these gorgeous nuggets.  Like amber.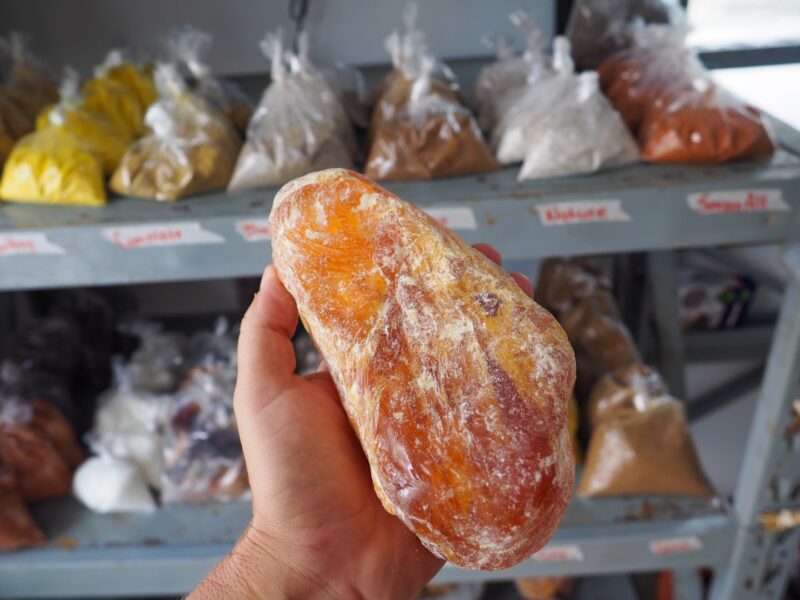 Joshua sells these hemp products – I am a HUUUGE fan of the oil.  It is THE BEST CURE for anything that itches – bug bites, rashes, anything.  Joshua tells me that he takes a few tsps a day for his lungs.  I believe it -hemp oil, in my book, is magic.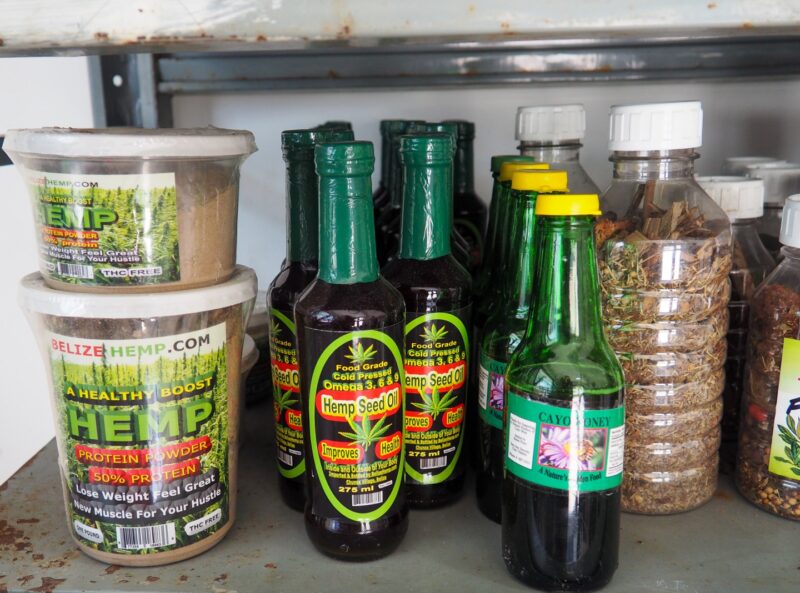 The manhood herbs.
But also herbal blends for women's needs.
So wildly interested to me.  I will be back.  I might dip my toe into the world of incense.  Or maybe try something a bit more adventurous.  Or just ask Joshua 100 questions again…what's this…what's it used for…what's the most expensive spice you have…I love this kind of stuff.  
Indira's Spice shop is a great place to visit.  Let me know what you think!