Newly Opened, Beautiful Sunset Caribe Condos and Hotel Lives Up To The Name
Overnight and Yes, Sunset! At the Beautiful New Sunset Caribe
Over the weekend, I stayed at a brand new spot – Sunset Caribe Condos and Hotel – located 1.5 miles north, Ambergris Caye.
Located on the "Caribeville Campus" – Sunset Caribe is just steps away from the established and very popular Grand Caribe Resort as well as Rain Rooftop Restaurant, Beach Basket Grocery, a medical center, and a spa.  You are also close by popular restaurants like the Truck Stop and Rum Dog.  And it's an easy golf cart scoot to town (about 2 miles) and, a bit farther, Secret Beach.
What I am trying to say is that it is all very very convenient – an ideal location for enjoying Ambergris Caye.
Plus, my accommodations?  My condo was gorgeous – with large windows and a HUGE balcony set up for the main event.
Take a look…
Thru the towering front gate – the guard at the entrance walked me over to the lobby and grabbed my bags.
Easy check-in and I was up to this sleek cool clean 2nd-floor condo.
The view looking out onto the inner lagoon and all the way over to the west side of the island.
A large bathroom with lighting so good that I found my first grey hair.  I'll try not to hold it against them.  😉
And again…the view!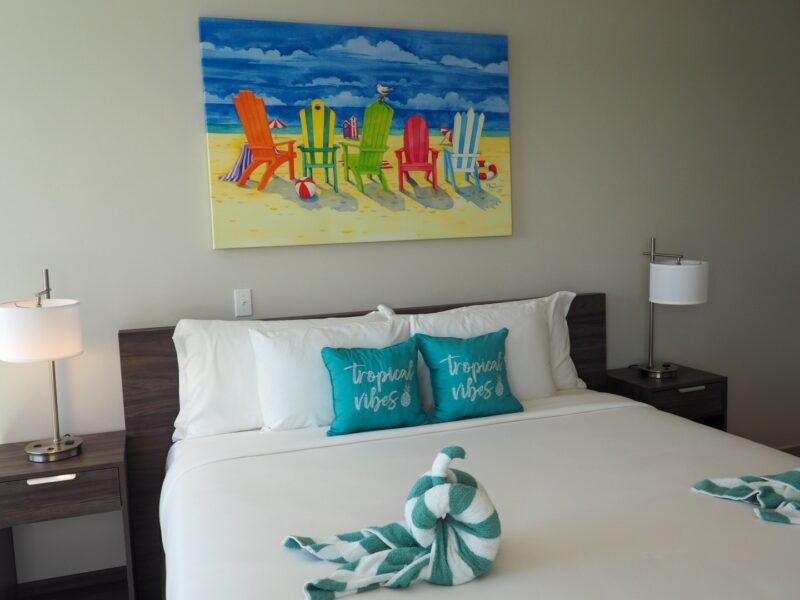 Sliding doors out to the balcony from both the bedroom and the living area.  You could have a party on this balcony.  HUGE.
Room for lots more – a grill, a bar, perhaps some plants, a lounge chair, this would be SUCH a great outdoor living space.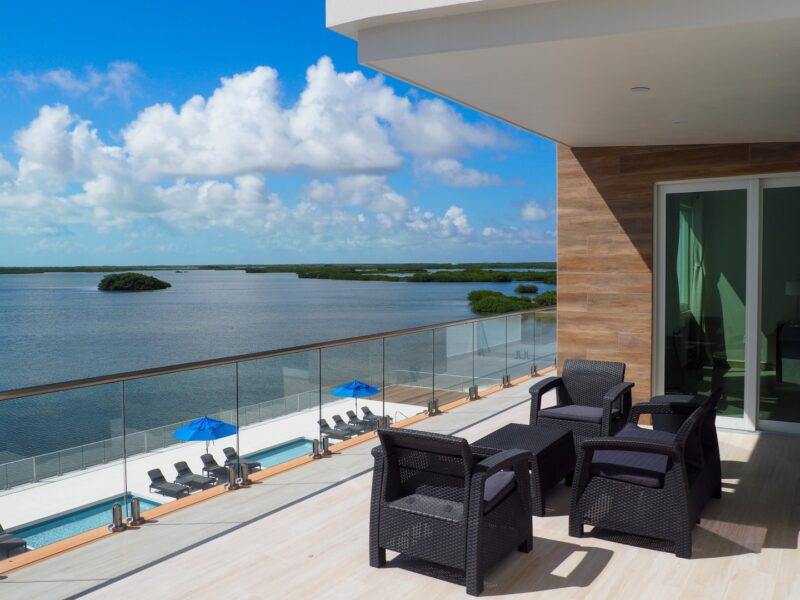 And the view isn't bad either.  I hopped down to the pool…
And met a few owners of this new property.  A woman who is planning to retire young in a few years (she purchased a one-bedroom in building #2) and wants to slow down from city life in the US…a couple who owned first at Grand Caribe and now here…another couple who plans to spend summers in Montana and winters in Belize.
All VERY pleased with how the building, the pool and their condos – and VERY excited about Belize.
More pics!
This is the first building – and the pilings have already been laid (piled?) for Building #2.  Very very similar to this one with a pool as well…
I grabbed a drink at the pool bar, chatting and waiting for sunset.
I headed up to my 2nd-floor unit – to check it out from the balcony and from my living room.
Yup…I could SO do this every night!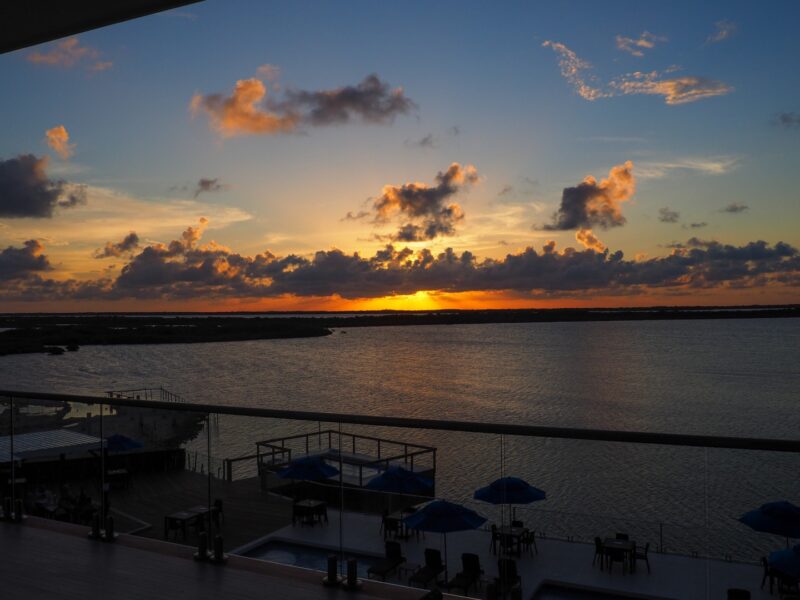 Until the sun was well below the horizon and the water just glowed.  And then so did the hot tub – which is where I will be viewing this sunset next time.
I was thinking about going to Rain Restaurant for dinner but picked up a pizza at Beach Basket Grocery instead.  With an outlet in the side of this island and great wi-fi, it was pretty much the perfect place to get a little work done.
Our dinner at Rain Restaurant (with its new look) in June of 2020.
A SUPER comfortable night's stay – central air!
I stopped by the pool one last time – where they were just starting a Mother's Day Brunch buffet and took a few more photos.  A beautiful day.
Kayaks to head out onto the lagoon – perhaps to spot some bonefish.
A really beautiful spot.  The unit I stayed in is 2-bedrooms but take a look at the first-floor lofts…they are really cool.
For more information on the project – whether condo specs, infrastructure, amentities and/or purchasing information or about staying in the hotel, check out their websites.
Or if you have any questions for me – [email protected].  Lemme know…I'll do my best.
Until next time Caribeville!