A Gorgeous Green Green Day For a Road Trip To Cayo and the Belize Botanical Gardens
Greetings from San Ignacio, Belize.  Located in the west of the country, San Ignacio in the green green Cayo district is the second-largest municipality in Belize after Belize City.
If you are wondering why I am repeating the word green…it's only for emphasis!  Belizeans often double a word to make it superlative.  For example, "this mango tastes nice nice."  Or "what a gorgeous day, the sea is blue blue".
Now, at the beginning of the rainier season in Belize – when we generally can get a bit of rain at night or a short burst during the day – the countryside is green green.  The trees and the flowers are blooming and I am on a bit of a whirlwind tour with some of the team at Vacasa Management.  
They manage condos and homes for owners around the country – so they are treating me like a guest and showing me some of their favorite spots.  I LOVE the inside scoop.
And I'm still traveling!  This morning, I head down to Hopkins, Belize.  But I wanted to pause for a sec to show you some of my trip from Belize City to San Igancio.  With a stop at the Belize Botanic Gardens.  This one was MY idea – I've been dying to see the gardens.
So let's start in Belize City because when I stepped off the water taxi – WOW.  The fishing boats in the river…it looked like a painting.  The colors and the swirls of the clouds and…
This all the view from the water taxi parking lot!  I jumped into the truck…and we headed off to Cayo.
Only about 70 miles from the east coast of Belize to the west side – but the landscape goes from sand and sea level to savannahs to hills and gets greener and greener.  We took a small detour just outside of San Ignacio – by Central Farms.  So green and beautiful…I wanted to take a closer look.
Oh but first – a selfie.  So NOT my idea. Trust me!  Me and Sheldon, the manager of Vacasa Belize.
You know who else isn't interested in getting their photo taken?  These guys.  Gals?
I didn't know…you had to bring the whole animal…
And then the ferry to the large village of Spanish Lookout.  We turned back to the main road.
And onward…passing San Ignacio…a few more miles down the road to the turn off to the Belize Botanic Gardens.
Careful…a sleeping policeman aka a speedbump.
Onward to the Botanic Gardens.  45 acres of trails displaying many of the plants of Belize along with some beautiful foreign species.  You can walk as much or as little as you like…I wandered around for about an hour.  Viewing the ginger and heliconias, an area devoted to many many species of palms, fruit trees, hardwoods, native orchids…you can read more about it here.
AND…I found out just after I entered that they have a HUGE gorgeous greenhouse – hundreds for sale…for such great prices.  I'll get to that…because I contained and restrained myself.  Somewhat.
Orchids, for the most part, are not in bloom.  And they are not for sale!  But this one made me very happy.  She's magic.
Lots of flowering bromeliads – clinging to every surface they can.  Like the huge Guanacaste trees.
Plenty of blooming ginger and heliconia plants.  I've never seen one like this!  Huge, as long as my arm.
You can schedule a tour guide to enter the gardens.  It is $15bzd dollars to enter.  I was given (well…loaned) a laminated map and a laminated booklet to take with me…
They have directions to the gardens and information about getting there on the website along with one of the loveliest offers I've seen in a while…
Free Shuttle – If you arrive on your own, you are welcome to ride back to San Ignacio with our staff at 4 pm (any day) at no cost.
Love it.  Let's keep walking!  And before you ask…I didn't wear bug repellant (although I had a can in my bag) and…zero bites of any kind.
Seeds of the Guanacaste tree – no wonder it is also called the monkey-ear tree.
Beautiful jack fruit tree.
The buttress-type roots of a relatively young Ceiba tree.  They can grow up over 200 feet tall – straight as an arrow.
Nonnative but beautiful – the desert roses.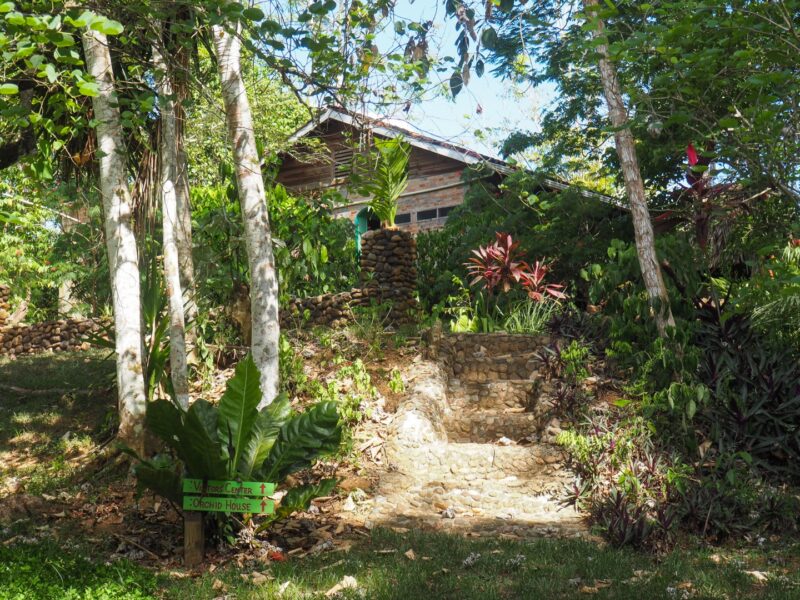 It's amazing the plants that cling to other plants…the bromeliads, the epiphytes, the orchids and vines…this tree even had a dragonfruit cactus bearing fruit 50 feet above me.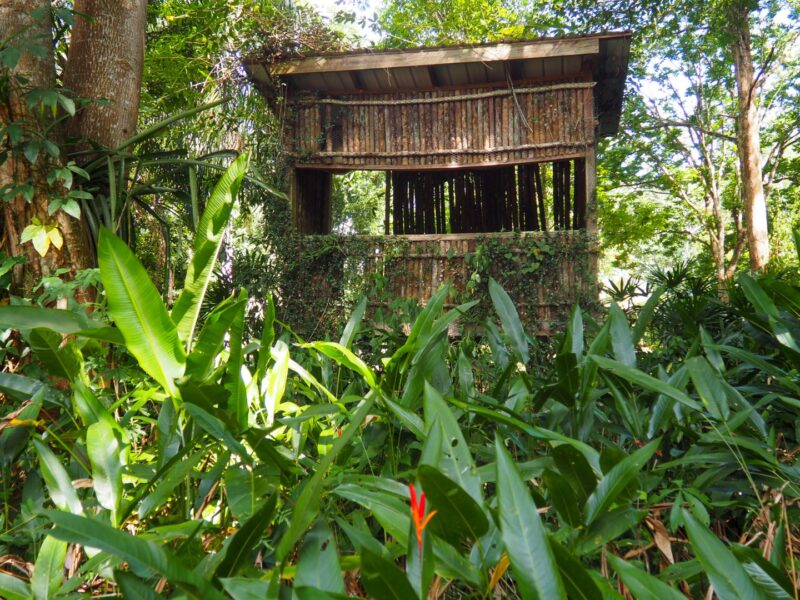 As I reached a small creek, I ran into this horse munching away on banana leaves…pulling up random plants, tasting, and then spitting them out.  Surely he can't be allowed here?
Back to the greenhouse!  This is so perfect because as I type…a small (much smaller greenhouse) is being completed at the camp.  Ready to fill with herbs and flowers and…I want to load up a truck and bring them back to San Pedro!
Back to the beautiful BBG nursery…
All of these plants can not go back with me – so, with the help of the lovely lady at BBG, I picked 4 that would survive SUN and maybe a bit of salt air and the tougher soil of Ambergris Caye.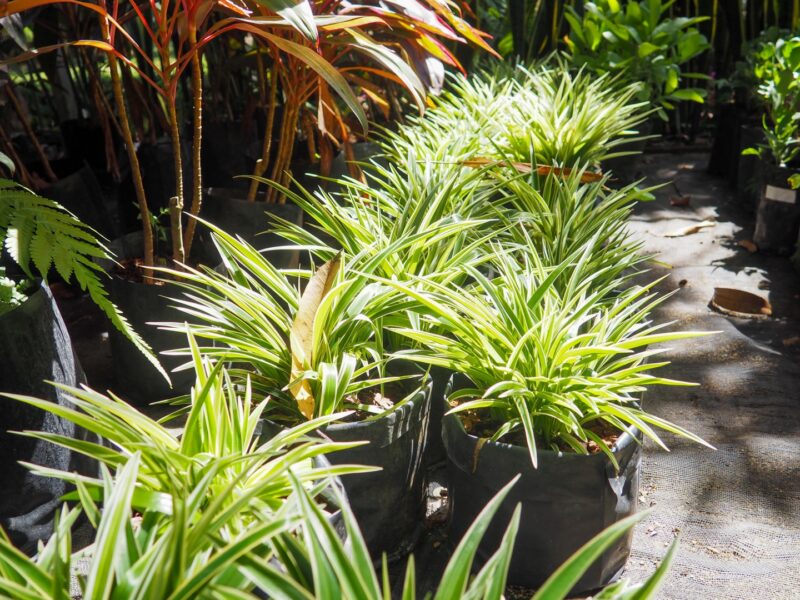 My box.  I still have to take it to San Ignacio and then to Hopkins.  I couldn't go TOO big.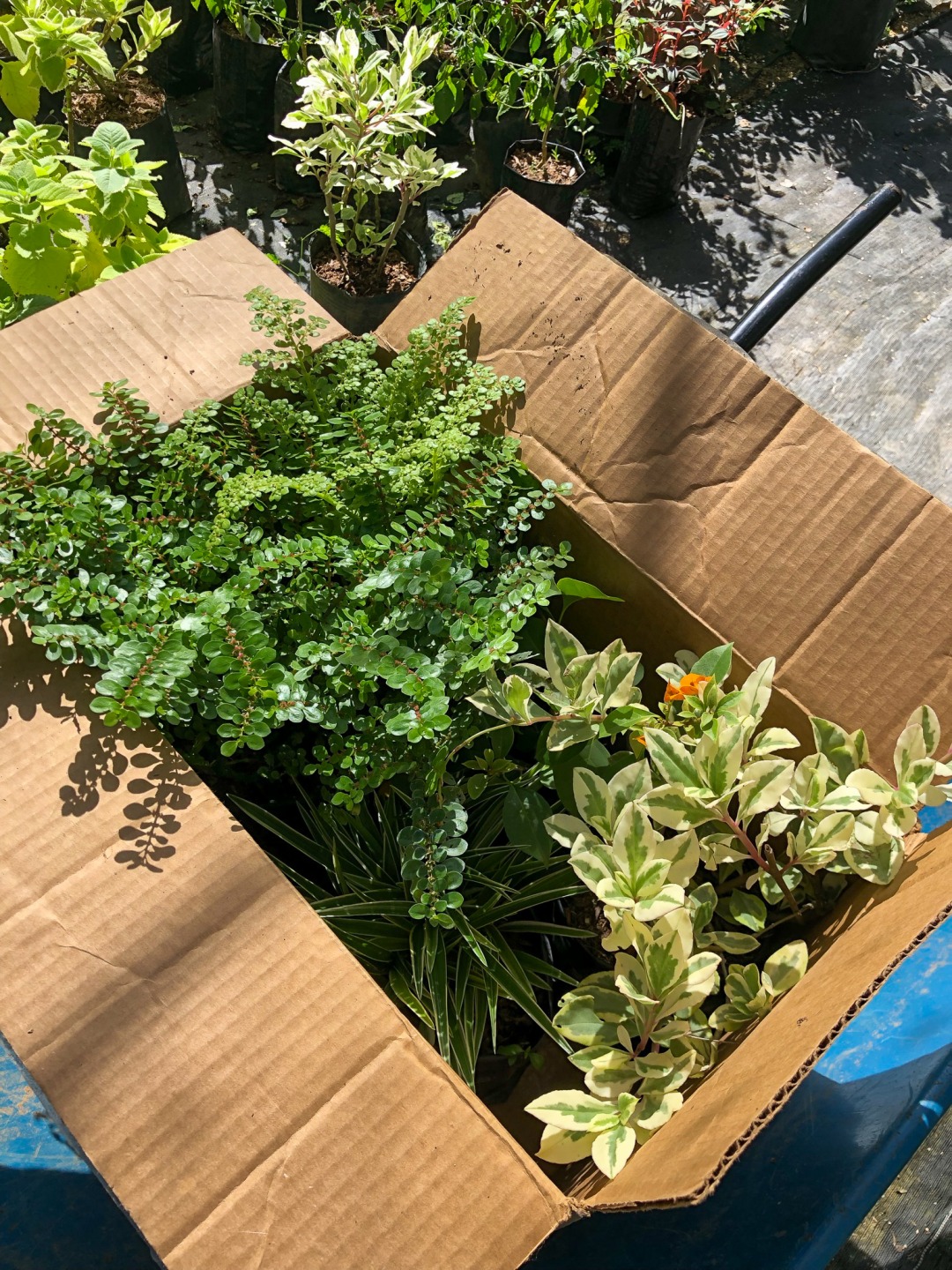 The prices are so great…once our greenhouse is up and going, we will absolutely need to rent a truck and an overnight in San Ignacio and…bring back a bunch on the water taxi. 
Perhaps even a few small fruit trees.
It's a plan.
Sheldon and I were off!  I still had to get to San Ignacio, eat lunch/dinner and check into my place with VACASA.
I'll report back on more!  I'm off to Hopkins with an 8am pick-up!