Gorgeous High End All-Inclusive Belize Vacation in Placencia: Sirenian Bay Resorts and Villas
I spent two glorious carefree days and nights at the impeccable Sirenian Bay Resort in Placencia, Belize and it was a first for me.  My first all-inclusive vacation experience in Belize.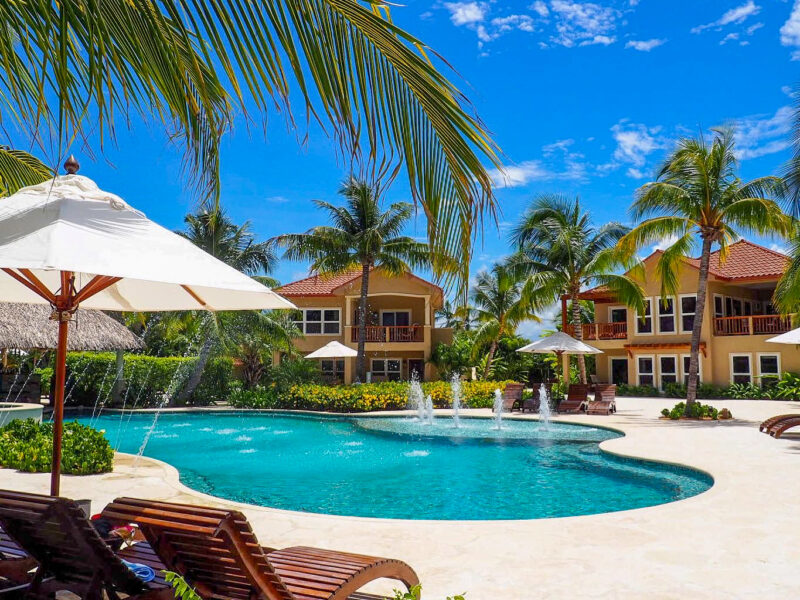 But here's the thing.  Sirenian Bay is NOT just your usual all-inclusive experience.  The resort is…gorgeous.  BEAUTIFUL.  And there is privacy, tons of space, an amazing chef, very personalized service, lots to do on your own timetable, fantastic attention to details.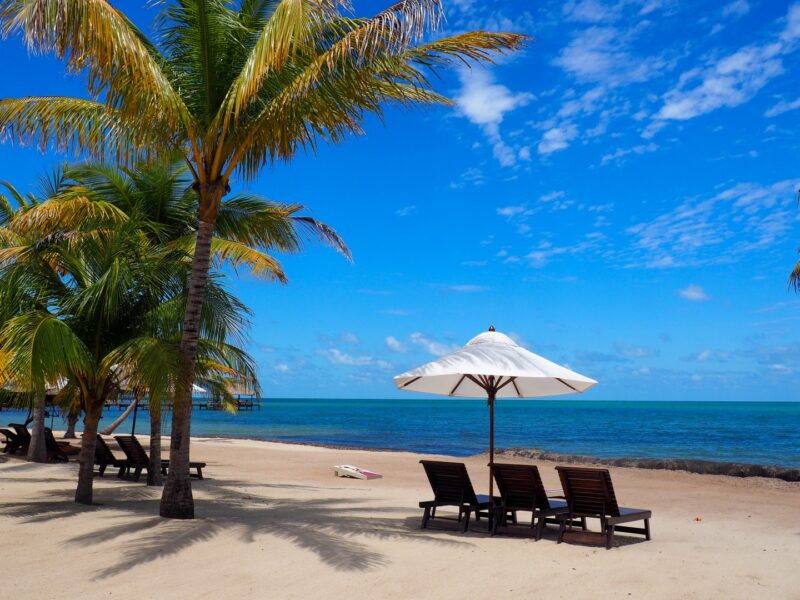 Not cheap drinks or loud music, no buffets, crowded pools or low-end accommodations – Sirenian Bay is easy AND luxurious.  I had the largest one bedroom suite I've ever stayed in – anywhere.  A PALATIAL bathroom with a deep tub, indoor shower, and then an outdoor shower. At Sirenian Bay I was free to do as little or as much as I wanted.  Even my all-inclusive bracelet was nice – a few weeks later, I don't have the heart to throw it out!  If only my initials were SB….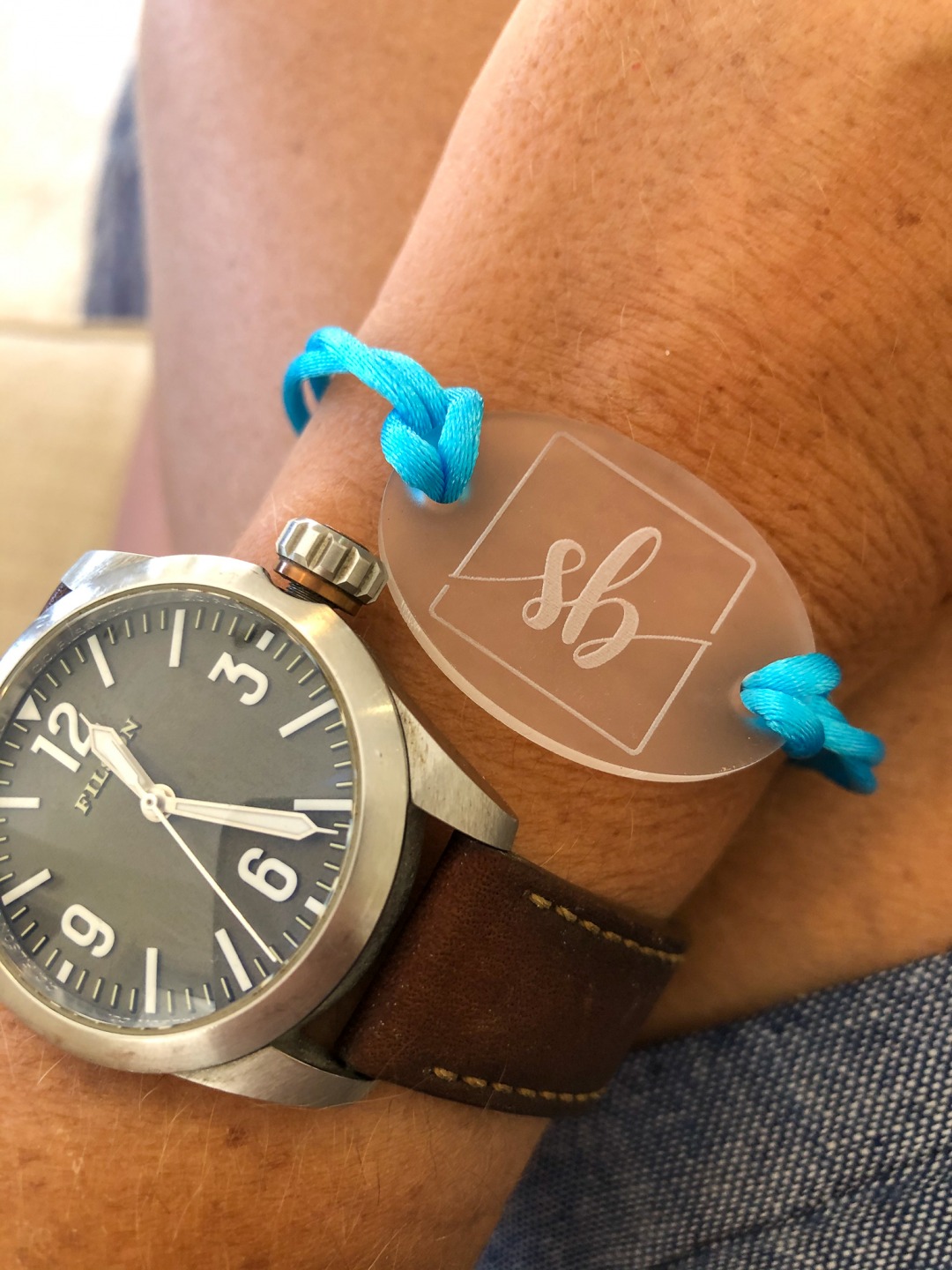 Here are some of the highlights of my stay and one of the coolest things about the resort?  There is much more to come.  Like a high-end restaurant, a sunset martini bar, pickleball courts, a wine bar, a beach front restaurant that is almost finished…
Let me show you.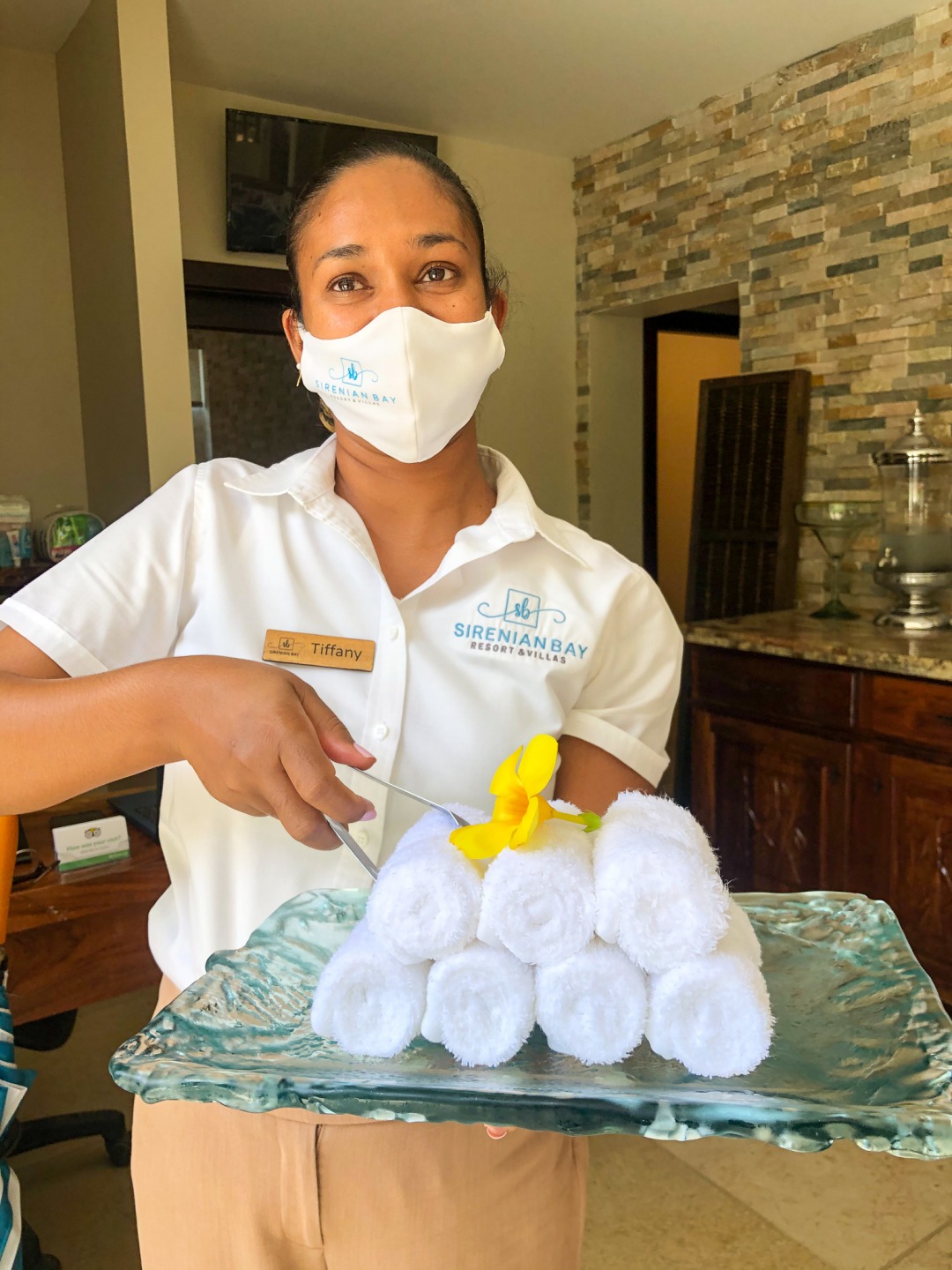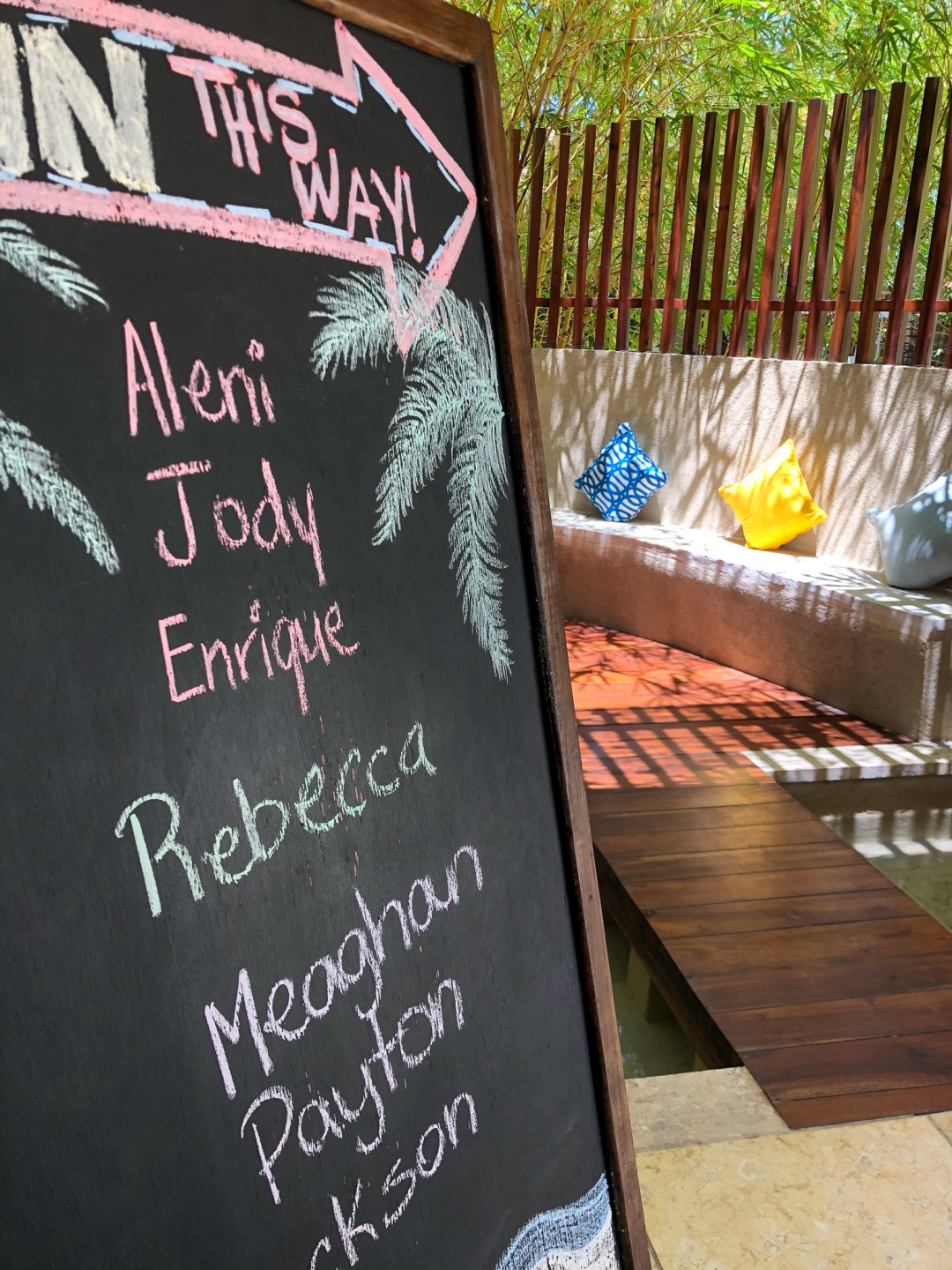 Sirenian Bay is not your regular all-inclusive – you have so much space!  While it is on a large property, there are a relatively small number of accommodations – 3 HUGE villas, one apartment and 9 bungalows.
There is not a bad room in the place. Not at all.
I stayed in a one-bedroom cabana called Whale Shark.
The entire second floor of this building in the center – shaded porch, beautiful balcony, tons of space.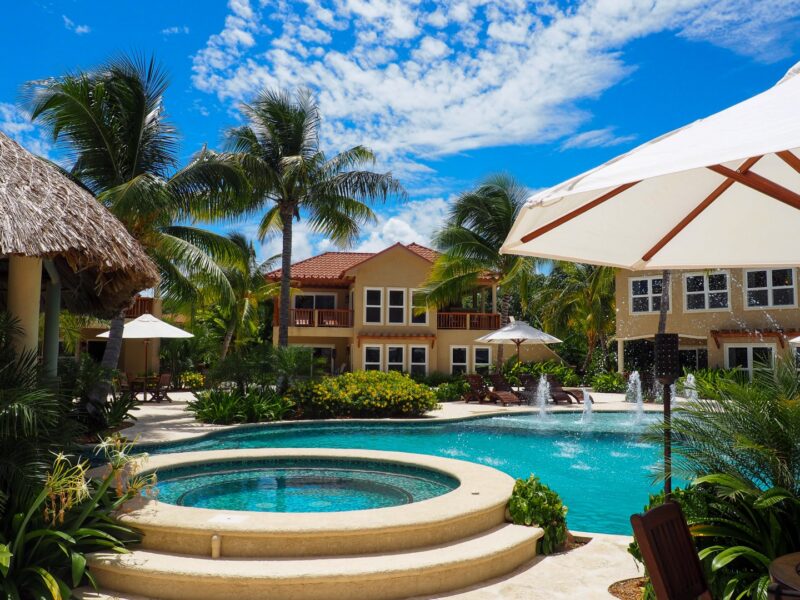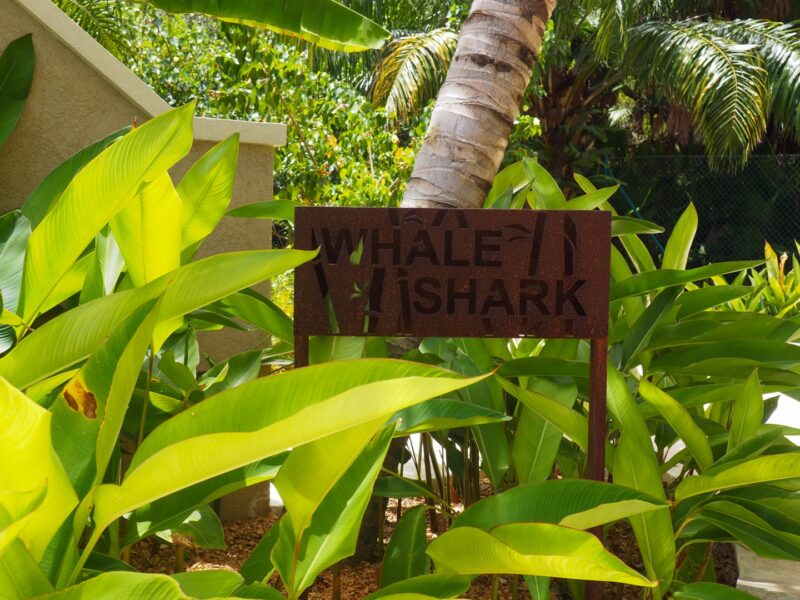 The hand carved front door and keyless entry (I'd never thought much about this before but it felt great to NOT have to worry about a key or a card on vacation).
A huge sitting room and tv area – a table and an amazing view.
My happy spot.
The beautiful flower outside my bungalow and even a soursoup tree…
Read this if you don't know soursop.  It is Belize's #1 ice cream flavor!
A quick look at some of the amenities and details at one of the villas.
Behind a private gate…
The private pool.
For a multi-generational family vacation?  Or a bunch of your couple friends?  Sirenian Bay would be IDEAL.
A vast space inside with a full kitchen and dining room.  The villas even come with concierge service!  This one had a full outdoor BBQ and kitchen, outside lounge complete with this very cool hanging chairs…
Yes!  It is the Seahorse Villa.  Sirenian Bay is filled with details like this.
Back to the main pool.
There's a hot tub and a swim up bar…
Snooty the manatee.  Did you know that Sirenia is the name for the scientific order that includes both manatees and dugongs?  I didn't.  That's what the resort is named for.
Another look at the beautiful beach…
A small beachfront restaurant was under construction just outside of this picture.
This view!
Just across the way, across the long narrow street that runs down the center of the Placencia peninsula, there is much much more to see and more coming.
It's where I ate all my meals and they were sooo delicious.  I asked if the chef was around the next morning…just to tell him or her how much I loved his food – and how impressed I was.
I'd eaten a local spinach and cheese stuffed chicken breast the night before.
I had a slice of AMAZING mango cheesecake.  And then the next morning, a crustless quiche packed with veggie and cheese…
…and a beautifully dressed salad.  I could eat this every day!
I was blown away by his story.
The chef's name is Aron.  He is born and raised Belizean, in a Maya family in the Cayo district and…he worked at Turtle Inn Resort as the first Belizean chef – directly for Francis Ford Coppola.  During his tenor, a VIP guest of the resort, an official with the government of Italy, came to the resort, tasted his food and invited him to Italy!  Like "be ready the next day!"
Aron spent 7 years learning Italian cuisine…working as a private chef and with a local restaurant near the Italian/Swiss border and…he has returned to Belize.  His food – both the simple stuff and the more fancy – is DELICIOUS.
And then this…I'm already dreaming of going back for revenge!  Belize's only official miniature golf course just next to the restaurant called Inky's 19th Hole
Inky is the mascot – an octopus of course and he is EVERYWHERE.
I challenged Tomas, who was working at the desk during my time at the resort, to a game of mini-golf.  Sure I hadn't played in…30+ years but…how hard can it be?
HARD!  Miniature golf brings out the competitor in me.   Something so seemingly easy but so infuriating!!!
ARRRGGGGHHH!  Tomas beat me…but just barely!
I'd forgotten how much fun this is…and I was a bit mad that I had waited until my last evening to try.  I'LL BE BACK!
Just a short walk from the green is a huge new building.  The first floor is a spacious well equipped gym…
The 2nd floor is for conferences and meetings and the third?  A large sunset martini bar that should be finished in the next few months.  I was absolutely smitten with the large column used for the bar space – a thick Strangler Fig "trunk".  The parasitic Strangler Fig grows (from the canopy down – it's an ephiphtye) and wraps around another tree and…well…the tree inside dies after years and years.
Look how beautiful…the view up here is stunning.
There are 3 large pickleball courts underway AND a standalone high-end restaurant.
There is also a wine bar opening soon.  A place to sip wine, eat a bit of cheese and fruit, or eat dinner.
So…there is a TON to do on the property – but Sirenian also makes it very easy to explore the area – the peninsula and the village.
You can borrow a bike…
Or rent a golf cart.  (My vehicle of choice!)
It's a short ride to the Maya Beach area or 15 minutes to Placencia Village (where I had SUCH a great time exploring for a few hours.)
Impressive, right?  And before I wrap this up (and go to work on my putting…or as those of us in the know say "my short game") here are two things that I strongly suggest you do while you stay at Sirenian Bay Resort.
Take a sunset kayak paddle with George on the densely mangroved lagoon side just behind the resort.  It's a killer view of the mountains and some of the small island back there and while we didn't see any…it's fun to look for manatees and crocodiles.
Get a massage!  I had a 60 minute Swedish massage with the lovely Vivette – and I melted.  Such an AMAZING way to end my week in Placencia.
I had such a great time at Sirenian Bay – the food was amazing, the pool and the view, the staff are incredibly friendly and I know I'll be back.  Such a great place to come with your significant other or a big group…there's lots here to keep everyone more than happy.
Pin it 🙂