New Favorite Business: Farmhouse Fresh Market & Cafe Belize and That SANDWICH!
New Favorite Business Right on My Way Home:  Farmhouse Fresh Belize
I think we can all agree – it has been a VERY tough year and a half for businesses big and small.  But during that time, a relatively new business on Ambergris Caye, has been growing slowly – adding refrigerators and freezers, new services and new products – and keeping their food fresh.
This picture is from a few months ago…you can see below that they've added shaded seating!
And just recently (I am VERY slow to try new things – it's my fault!) it's become a place I stop at almost every day.  Just to grab a fresh juice or a meatpie on the way home…Farmhouse Fresh Belize.
If you follow me on Instagram…you've probably seen my almost daily pictures that look like this.
Beet-orange-ginger juice!
A $2bzd delicious meatpie!
A frozen limeade with ginger and mint.  (AMAZING on a crazy hot day)
Passionfruit juice (this one is killer!)
Elsie likes to wait in the shade…
I first started stopping in earlier this year – just because it looked so cute.  AND they have easy, pull off the road sec parking.
And then I would grab a fresh juice.  16oz of spinach-orange-ginger or just a fresh OJ…all very reasonably priced and cold!
But then I noticed that they were adding products.  Homemade things from San Pedro and around the country – ones they had tried and loved.  And they were posting it on Facebook and Instagram – so I knew what they had…and when they had it.  Love information!
But let me back up a bit.  Maria (originally from Chile) and Daniel  (a German-Panamanian – Pana-German…you get what I'm trying to say) took over the much smaller business – really just a tiny fruit stand – in 2020l
It was important to them to have clearly labeled, fresh products and a good selection.  So that you could pick up your basics in one spot.  They also wanted to have enough good staff so that you weren't waiting too long – if you want to grab a smoothie, you could get it quick!
And…voila!  The Farmhouse Market and Cafe, Belize.
Let me just show you all my pictures.
A great display of more exotic fruits in the front like star fruit, soursop, rambutan (I bought a BIG handful of these – YUM), and mangosteen.
I had never tasted mangosteen…
The edible part almost looks like cloves of garlic but they are soft and sweet and taste like…soursop.  I know that isn't helpful to many of you outside of Belize but that is what it tastes like!  I've heard it described as a taste like a Starburst.  Tart and sweet and a bit like strawberry.
They have the world's best hot weather treat – fresh fruit paletas by Regina.  (Check out her business!)
They have Paradice Ice Cream by the scoop or the container.
And a fridge of items from Belize Chocolate Company from bars to brownie mixes!  
New…these very cute bags.
I HAD to get this one.
I love that they have the Farmhouse logo on one side – makes a very cute and use-able souvenir.
Kombucha that's not too sweet.  And such PRETTY packaging!
The ultimate grab-and-go food in Belize – meat pies.  Jen's Gems are my favorite.  SOOO much good crust.
In the fridge, you can find pesto and hot sauces, and quail eggs.  Yes quail eggs!
Fruit cups and salads…and the juices I love.
And the beautiful new cafe area – for smoothies, coffee – cold and hot, ice teas – flavored and unflavored.  I got a great iced Earl Grey…
Bread from the mainland AND the French Bakery here in town.
And then my new favorite – this pressed sandwich.  Pastrami, swiss cheese, pickles on a baguette…grilled.
A Cuban sandwich that is SOOO good.  YUM.
People RAVE to me about the smoothies…both the fact that many are without dairy and sugar…but also the selection.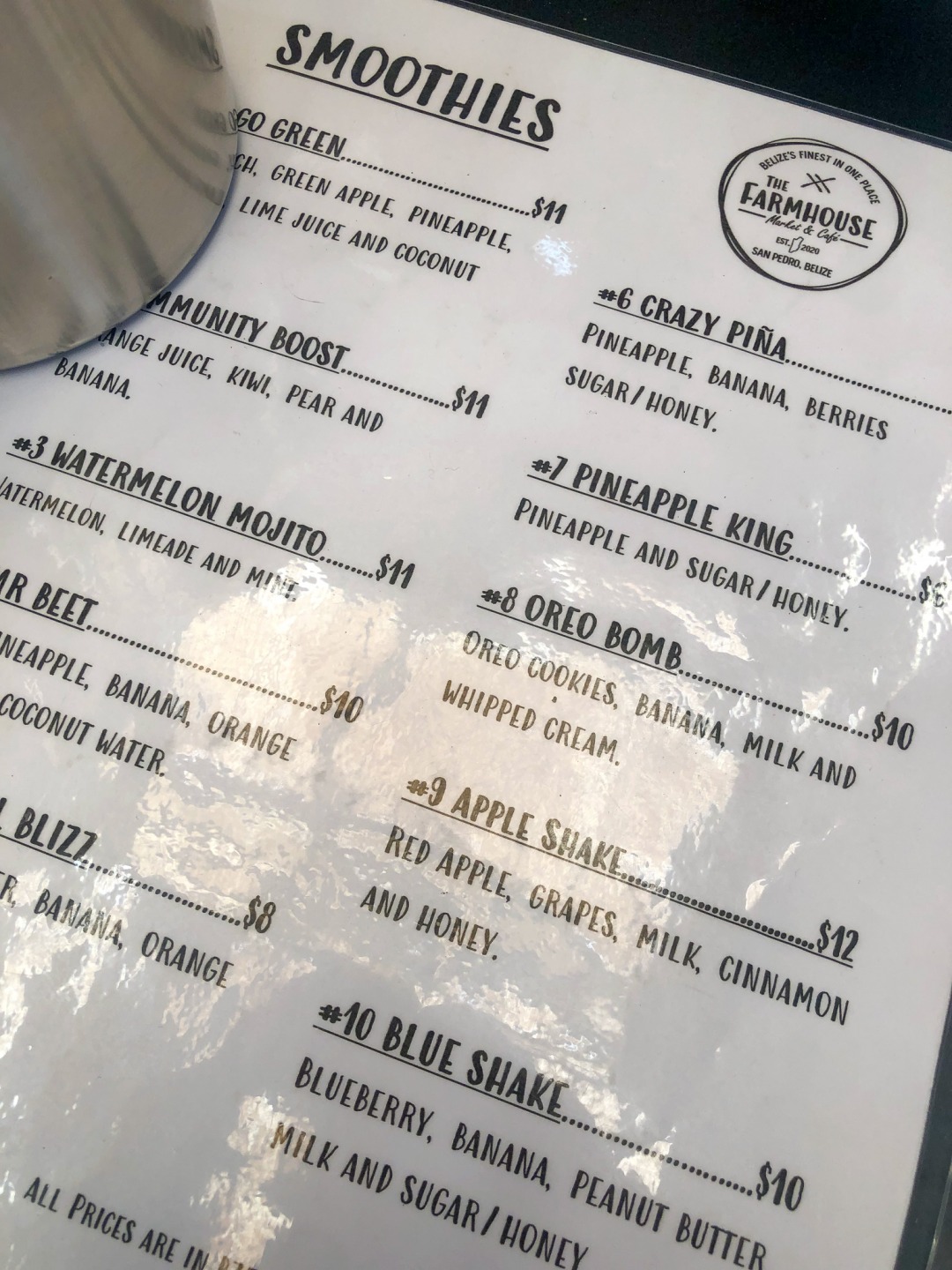 You can buy frozen chicken or eggs or lunch meats from Ambergris Sausage Factory, you can buy your regular veggies like onions and tomatoes but also more specialty items like asparagus and mushrooms…but let me make a suggestion.  Just go in and look around.  I'm still finding new things each time I go…
You can find Farmhouse Fresh Belize JUST north of the bridge – about 1/4 of a mile.  Directly across the street from the old Reef Village – now Mara Laguna.
They are basically ALWAYS open.  7am to 7pm Monday thru Saturday and 8am to 7pm on Sunday.
For updates and new products and all the information, follow them on Facebook.
And let me know if you find some new favorites…I am always (scratch that…usually) up to try new things.