Must-Visit Shop in San Pedro Belize: Sauls' Coffee and Cigar House
Sauls' Coffee and Cigar House Celebrates 2 Years in Its New Location and 32 Years in Total!
Just over 30 years ago, San Pedro was still a very small village.  Wooden homes, most one story. maybe two stories, lining the sandy streets.  Most of the residents of the island lived in the village proper – and instead of streets lined with shops and businesses, banks, and real estate offices – there were family homes
There were a few gift shops on Front Street like Salty Dog Souvenirs, there was a food store called Rock's on Middle Street.  And a handful of other stores but still mostly homes.
32 years ago, Saul Nunez, born and raised on the island, opened a small shop on Middle Street – a wholesale distributor for Traveler's Rum.  For the growing restaurant, bar and hotel industry.
The tourism industry had been started in and been growing since the late 60s – the Holiday Hotel opened in 1965 (the first on the island), the Paradise Hotel (now the Phoenix Resort) opened in 1969, and others following:  Coral Beach Hotel and San Pedrano, Conch Shell and others.  But it was nothing like it is today.
Saul, then in his early 20s, sold rum from his small shop but then, as visitors started asking about cigars, he researched and added on to the business.  And then as visitors starting asking about coffee…he added on again.  Over the next decade, the store – once a rum wholesaler -became The Rum, Cigar and Coffee House.
In 2000, the small enterprise has been operating as a small batch coffee roaster and cigar manufacturer and as a family business.
Most famous for a hot coffee with rum cream with a side of friendly conversation.
I wrote a blog post about his old location – in 2012. The place was so great – I especially loved the painted artwork.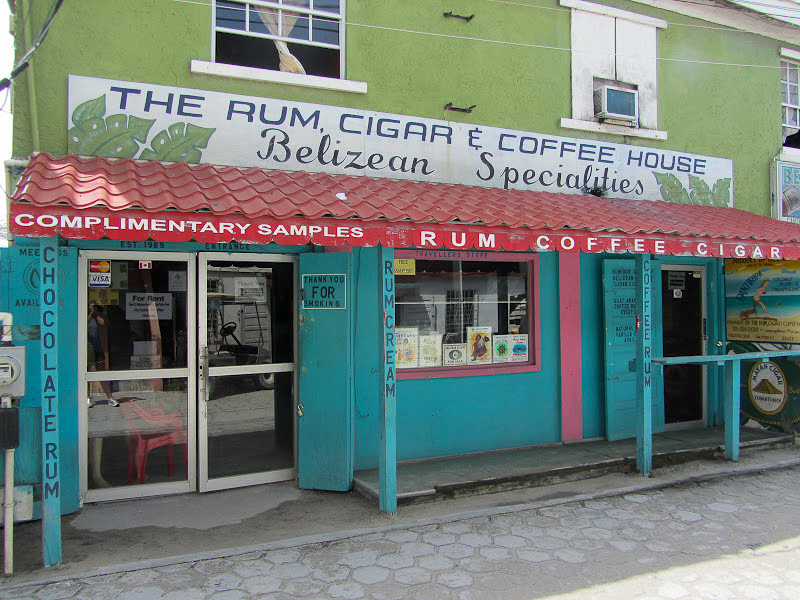 They had this INCREDIBLE sign out front of the shop.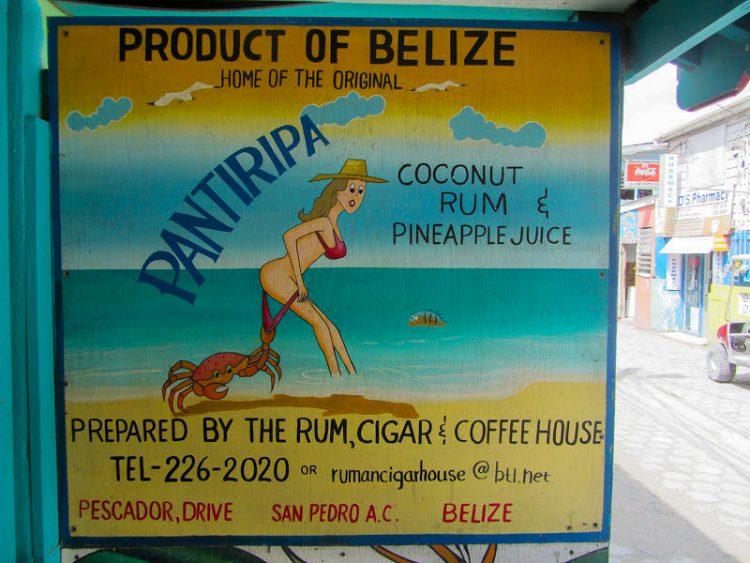 Then, just two years ago, the Rum Cigar and Coffee house moved just a few blocks north on Middle Street.
Saul and his son, Saul have been working to really customize this space.  To work with a wood carver, to make a beautiful humidor for the cigars, many made in Belize under the careful specifications of Saul – and to make a gorgeous spot to sit….sip a coffee, taste some rum if you like and to enjoy a cigar on the front porch…as you watch the people and the golf carts of San Pedro go by.
The space looks sooo good.  It's almost impossible to believe this was an empty storefront just 2 years ago.
The Sauls – Sr. and Jr. – are very welcoming hosts.  (In Belize, it's two syllables – "Sah-ool" rather than rhyming the name with "tall".)
And can tell you all about the cigars and the coffee.  And about San Pedro town.
It's an AMAZING spot to duck into after running a few errands around town.
Take a look…
Located just across the street from DandE's Frozen Custard and Carumba! Restaurant.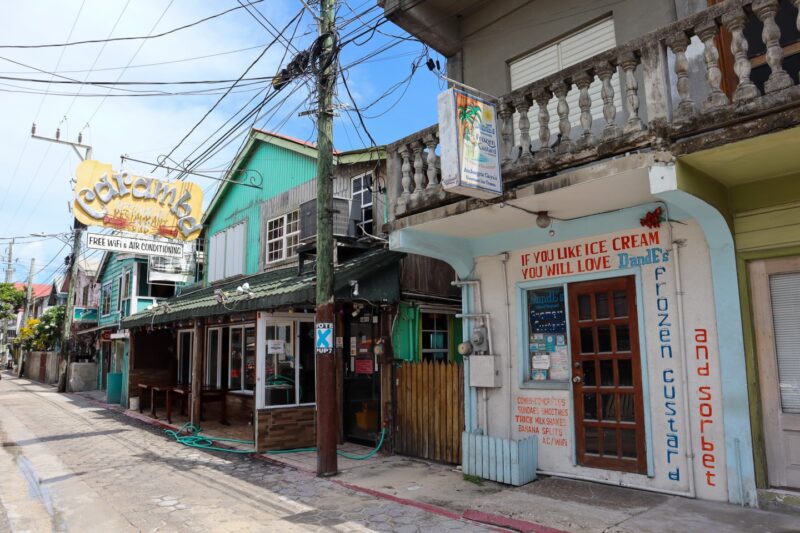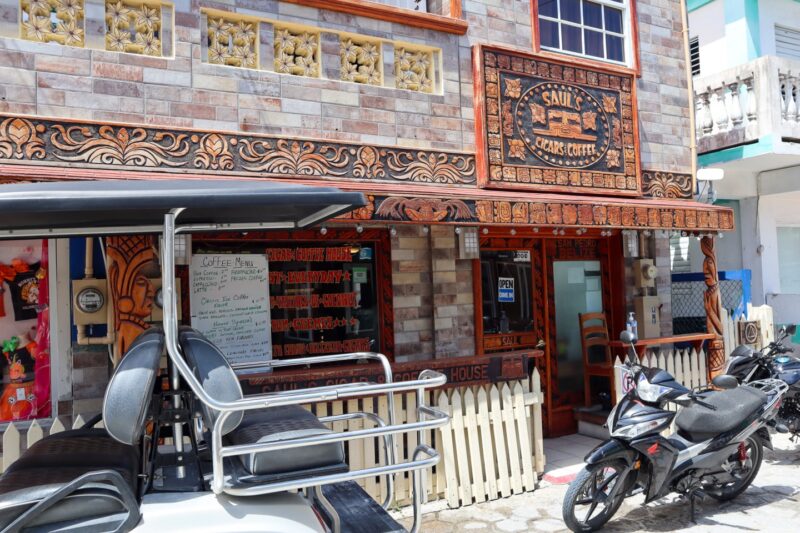 Stools outside along the fence and you can already see some of the many wood carvings…
Love this nightime shot!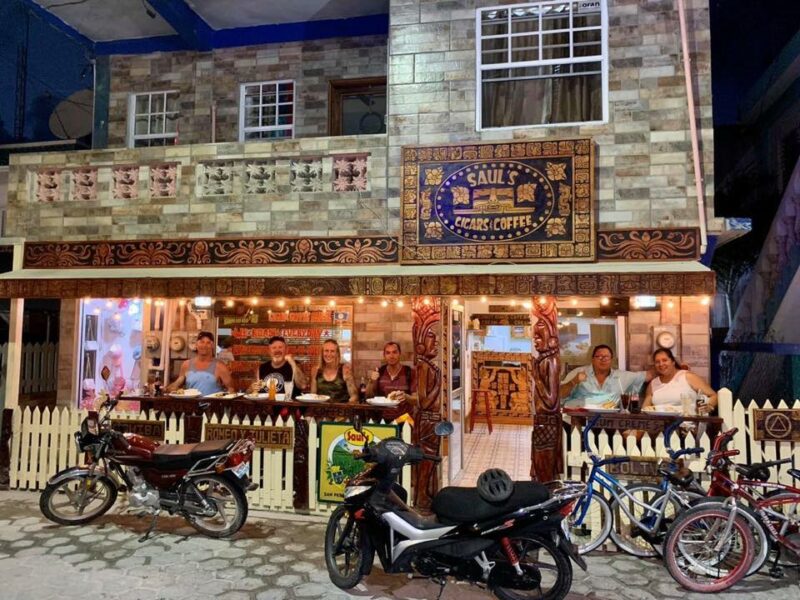 Welcome to this mahogany cigar palace.  Oh wait..not palace.  A cigar temple!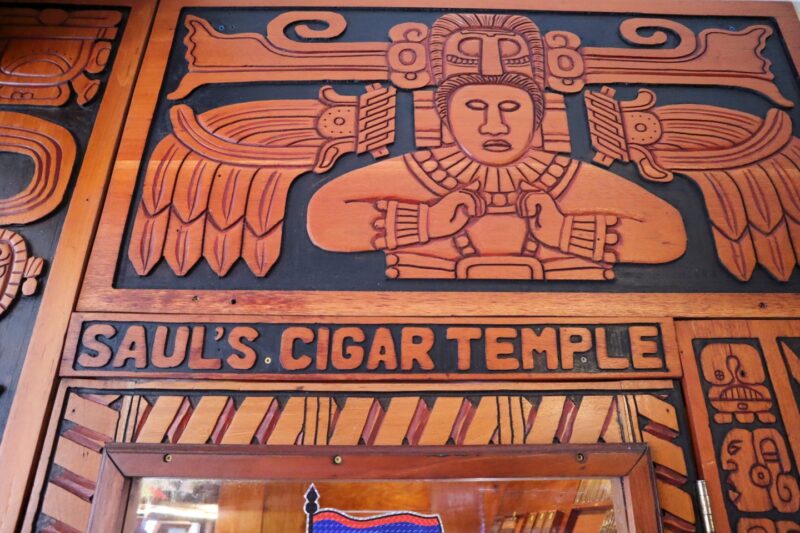 My friend Saul Sr.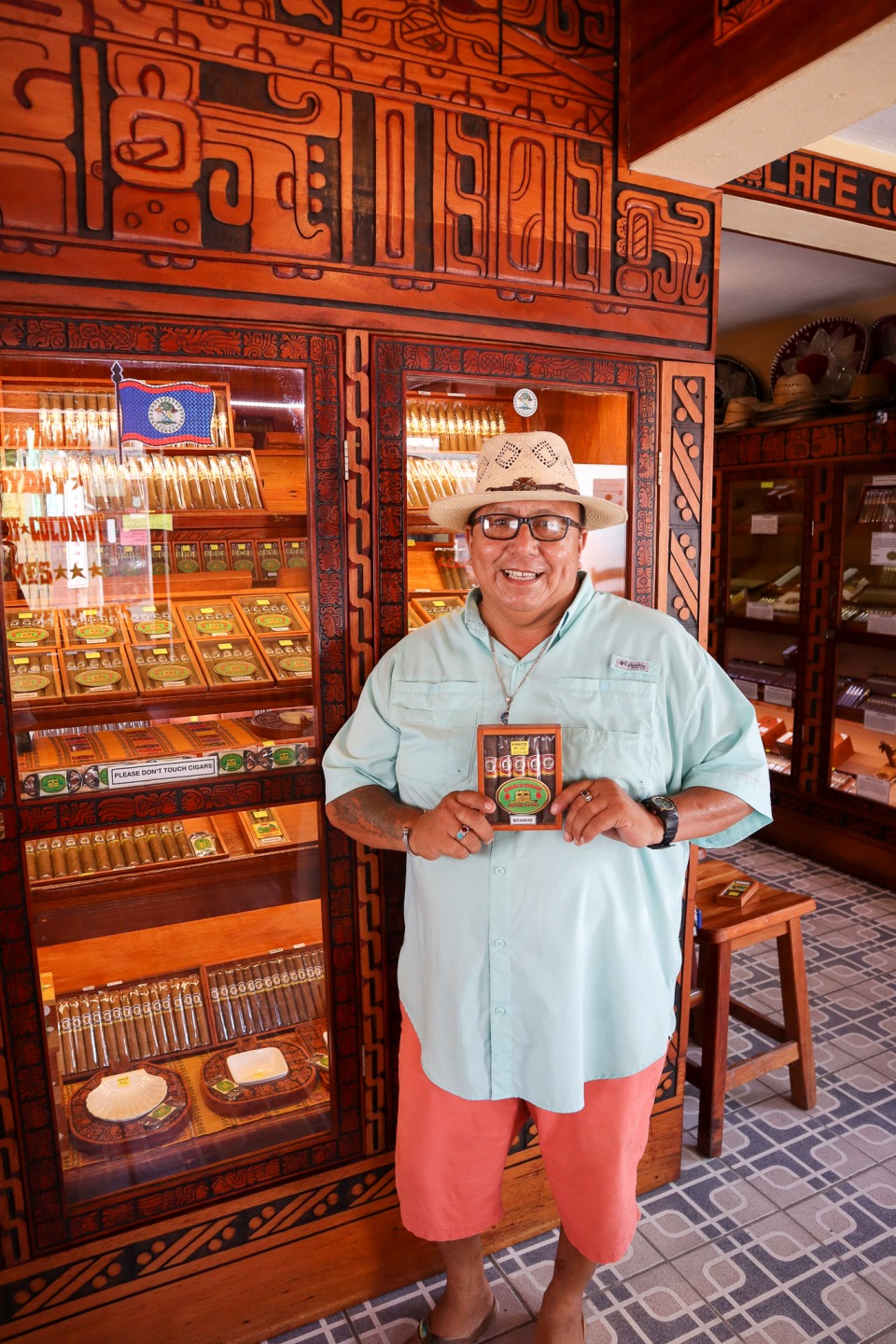 And his son Saul Jr.  One or both…they are always there.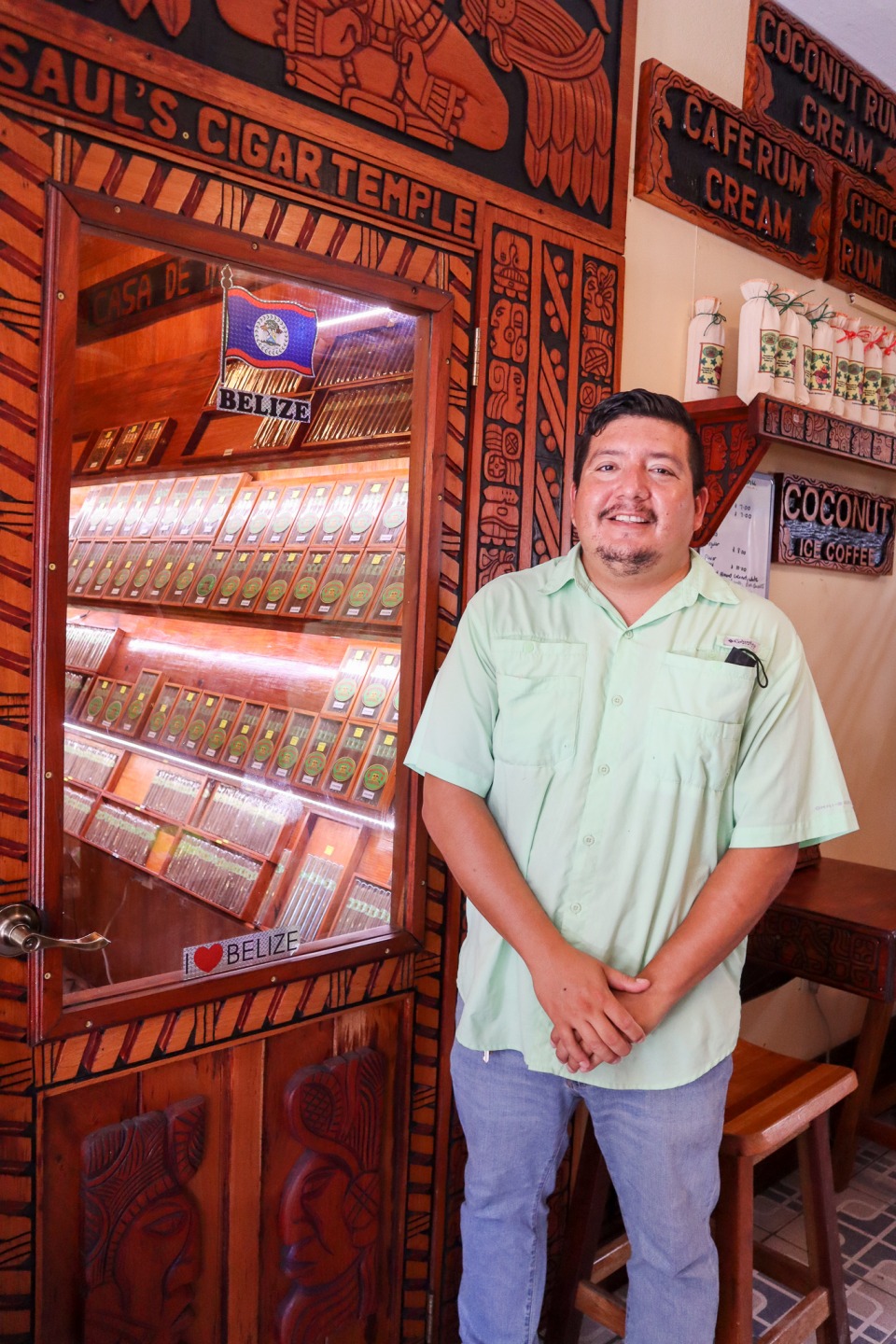 The outside of the humidor – cigars and then at the bottom, beautiful carvings and souvenirs.
This Maya themed ashtray/holder for your cigar.
Note:  It is probably apparent from this post so far that I know just about nothing about cigars.  But I do know that they come in beautiful boxes, usually have beautiful labels and that many famous men (and a few women) enjoyed a cigar now and again.  Winston Churchill, Fidel Castro, David Letterman.
They are also very pretty to look at and smell very nice (before they are lit!)
Like all the beautiful signs?  I LOVE them and so…I ordered my own.
Or at least my first one.  Saul works with his carver so that you can order one – one for your man cave or home bar, one for a souvenir of your trip to Belize – maybe just a small BELIZE surrounded by these gorgeous Maya carvings, one of your favorite sports team or cigar brand, as a gift or for yourself – and it can be ready in a few days so that you an take it home.
Check out my new sign for MoMo Beach!  Our small beach area at the camp where our dog Mocha likes to go swimming 3, 4…10 times a day.  It will be posted soon!
I LOVE IT.  And I know Mocha does too.
I love the new old school hats with Saul's logos on them.
The coffee area – with the roasted – and the pretty rum and coconut creams.
It was late morning and I'd had my a.m. coffee and it was a HOT day outside.  Luis – who works as the barista – suggested one of his specialty iced teas.  Fruit and tea and lots of ice.  PERFECT.
I tried a dragonfruit blend.
And called Jeff (who was running errands around town) to come on by…and try a passionfruit lime iced tea.
Not too sweet and fruit…delicious.  This one I will most certainly be returning for.
Follow the shop on Facebook and/or Instagram and be sure to stop in when you visit San Pedro.  Even if you are not a cigar person…I am most definitely NOT!…I think you are going to be intrigued.
Plus I added a new sticker to my computer.