Celebrating Thanksgiving in Belize
The choice to celebrate Thanksgiving in Belize can be summed up pretty nicely like this:
Imagine you can pick: Family squabbling, over-eating, sleeping in your childhood bed, that gloppy green bean mush, football droning in your ear from morning to night, Black Friday-mania, and deep-fried turkey fires or…warm sun and iced Belikins, snorkeling or fishing in the afternoon and someone else cooking a delicious dinner?
Ok…maybe that's oversimplifying but getting away to Belize is a great way to spend your holidays.
8 Great Reasons To Vacation in Belize
But we all like some things about Thanksgiving – like I LOOOVE the cranberry sauce that is shaped like the can, I LOVE gravy and I LOVE pumpkin pie with Cool Whip.  It would feel strange to not celebrate the holiday at all…
Is Thanksgiving Celebrated in Belize?
When you think of the Thanksgiving holiday, you probably think of the USA…chilly weather, football, pilgrims, and lots and LOTS of food.  For most, Thanksgiving is about as American as it gets.*  Based on a legend of the Native Americans and very early settlers in Plymouth, Massachusetts sharing an autumn feast.
*Canadian Thanksgiving is celebrated on the 2nd Monday of October and has very similar roots and foods.  Don't tell anyone but…I'd never heard of Canadian Thanksgiving until I moved to Belize!  Do you think they call it "Canadian Thanksgiving" in Canada?  Or just Thanksgiving. 🙂
Thanksgiving means turkey and corn, pumpkin and squash and sweet potatoes – all foods that the Europeans had never seen before. All native to the Americas.  And all foods that are loved in Belize.
According to this historical account, swan and seal and lobster were on the original menu.  So eating lobster with your Thanksgiving meal makes a ton of sense.
Thanksgiving, in Belize, is a normal work and school day – but the holiday is widely embraced – especially in areas welcoming tourists.  In San Pedro, you'll find that almost all the restaurants and resorts are doing Thanksgiving dinners.
Here are three menu examples from previous years to give you some examples – I'll update as restaurants announce for 2021.  This is all making me very hungry.
At Portofino Resort.
At Elvi's Kitchen.
And at El Fogon.
Mmmm…
We usually grab a lunch plate ALSO at Annie's Pastries.  For $15bzd, you literally get a bite of EVERYTHING.
Can you spot the sweet potato/marshmallow casserole hiding in there?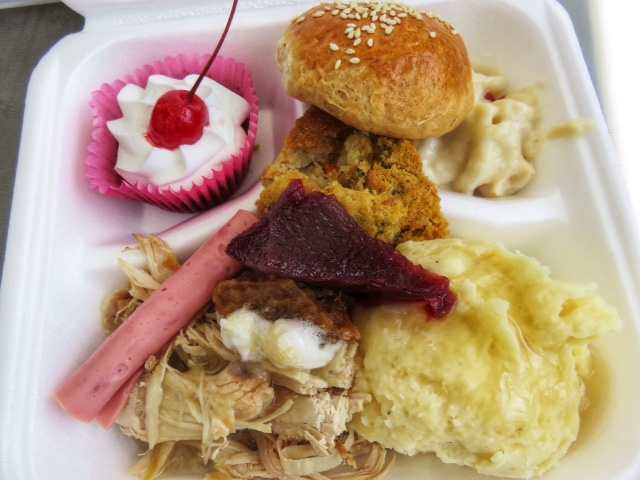 So…if the idea of lounging by the pool or snorkeling in the afternoon and then eating your Thanksgiving dinner out appeals to you…Belize just might be a great idea.
Make some new holiday traditions.  Ones that include maybe lobster for lunch…icy rum punches on the beach…and NOT doing the dishes.
And fear not football fanatics, you can always find a beach bar to watch the games.
Oh and PS…Cayo Frances Farm and Fly has a few openings for the Thanksgiving holiday – they have some special rates.  AND, I don't mean to brag, but we make a pretty kick-ass Thanksgiving feast (we plan it for at least a month).  Maybe I'll see you there.