Brunch at Matachica Resort: Is There a Better Meal?
Brunch is the best meal.  Period.  There is no need to rush and wake up…sleep in and arrive at 10am…even noon. You drink coffee.  You can eat dessert or fried chicken and delicious breakfast meats like bacon.   The meal can be long and lingering with many cocktails for those who enjoy a bit of day drinking.
Brunch always feels a bit like vacation…not thinking about work or what you have to do the rest of the day…
So what do you think about eating a delicious brunch at a GORGEOUS spot on the beach in Belize?
Right?!  I felt pretty good about it too.
Matachica Resort – located at about 5 miles north Ambergris Caye – just announced a Sunday brunch from 10am to 2pm.  Perfect (I mean PERFECT) for special occasions like a Wedding breakfast or a Birthday Celebration or Anniversaries or just An "I Love You" meal with mimosas or even just celebrating a gorgeous week of cool weather in Belize.
I was celebrating the last one on the list.
The pool at Matachica.
Note: If you are unfamiliar with Matachica Resort – it's gorgeous.  Here is my overnight stay earlier this year:  Dream Resort Experience: Romantic Matachica on Ambergris Caye
Here are my pictures from brunch on Sunday.
The view of the beach and their fabulous dock.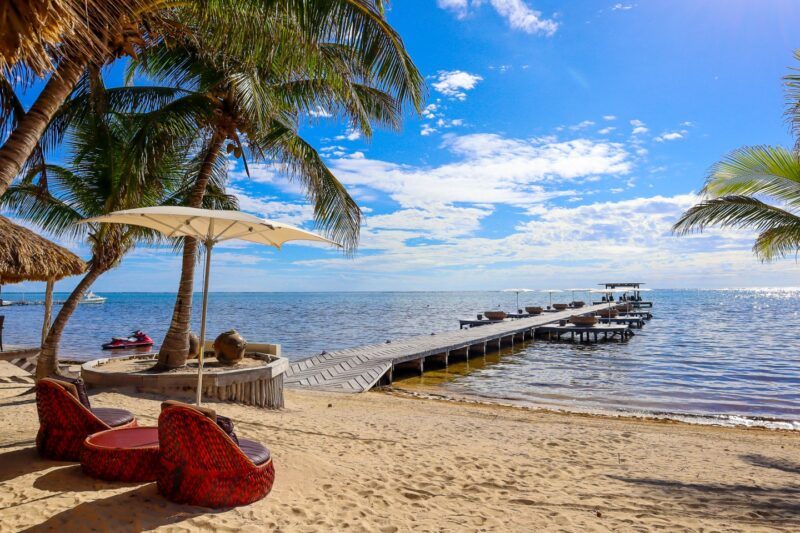 The bar by the pool…under the prettiest almond tree.
And the bar inside the restaurant.
And then I put down my camera and my things and we focused on the food.
For a fixed price (currently $35US per person):  a mimosa (including flavors like a Coconut Mimosa and Grapefruit/Strawberry)…Coffee…DESSERT and a Main Course that ranges from a Lobster Roll to Chilaquiles to Crepes to Fried Chicken with Waffles.
No agonizing between savory and sweet, no negotiating with your partner to try to share – you can have both!
Here's what we ate:
Belizean Fried Chicken with Savory Cornbread Waffle. Served with charred Habanero Honey (YUM) and Grilled Pineapple Salsa.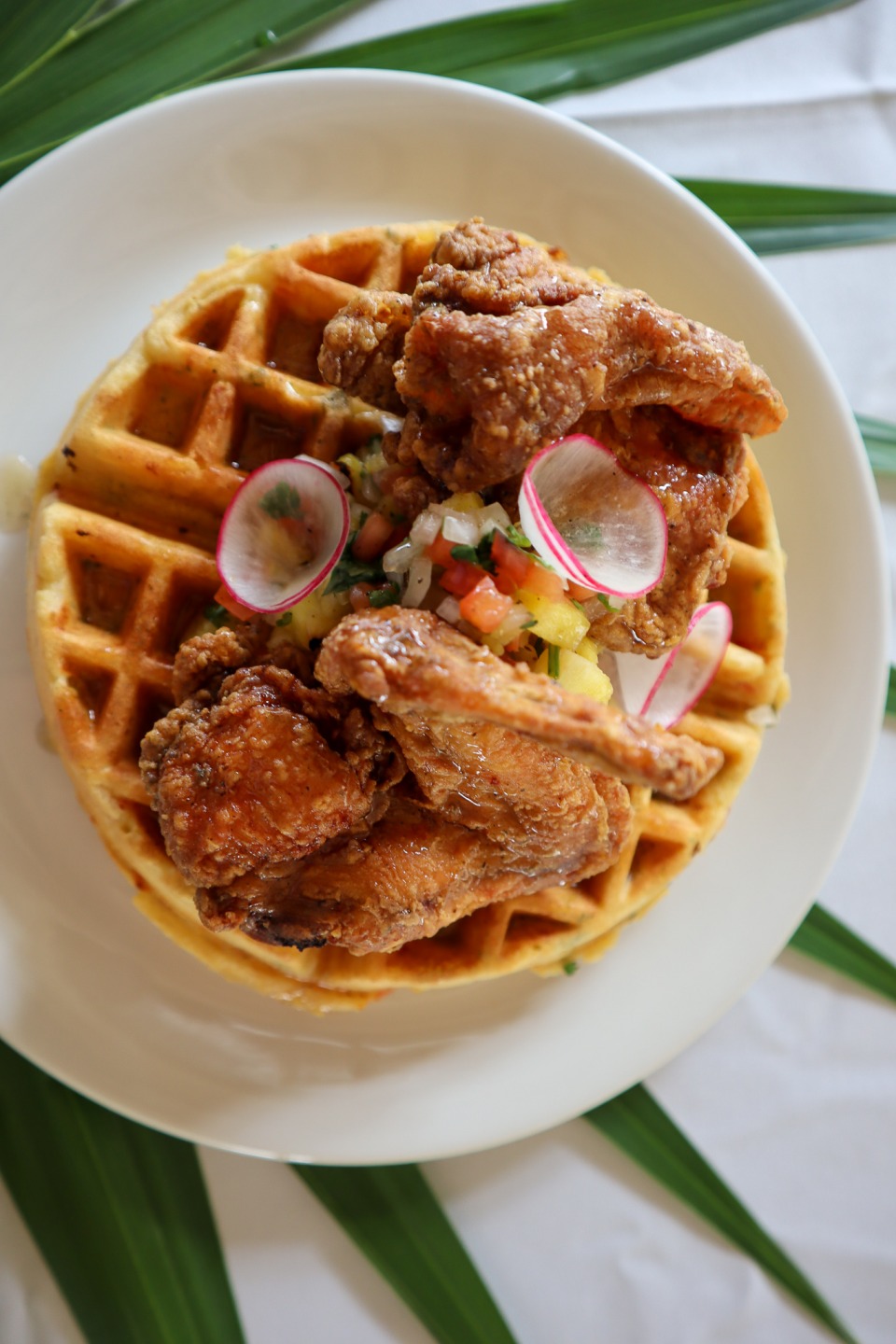 And…Belizean Benedict.  Poached egg served on a Belizean Johnny Cake with refried beans, bacon or ham, and spicy hollandaise.   Topped with salsa verde.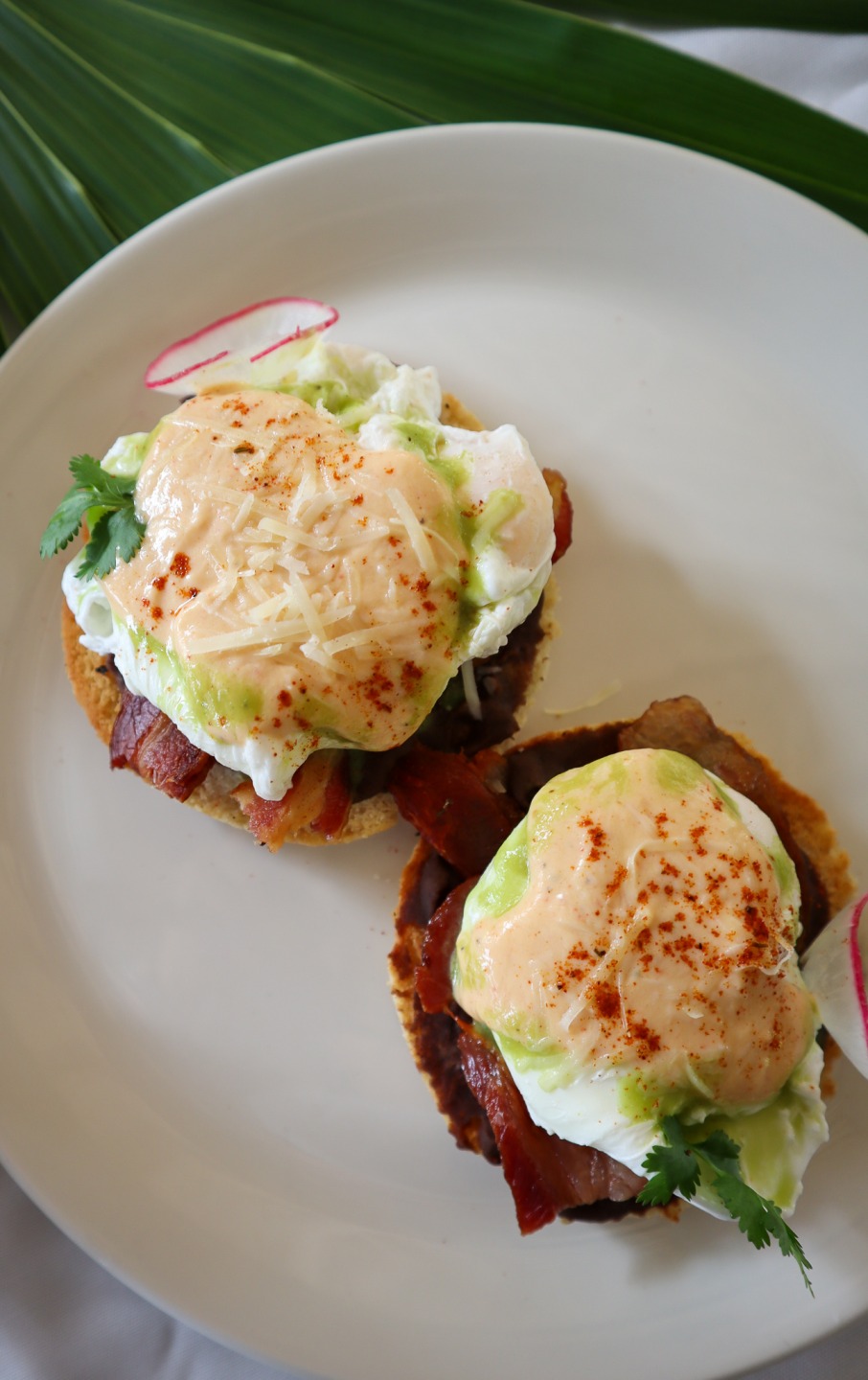 This was soooo good.  I could have eaten 2.  The poached egg was just right.
And then DESSERT!
Jeff and I had one of each.  Affogato.  Homemade ice cream with espresso that you can drizzle or pour right on top.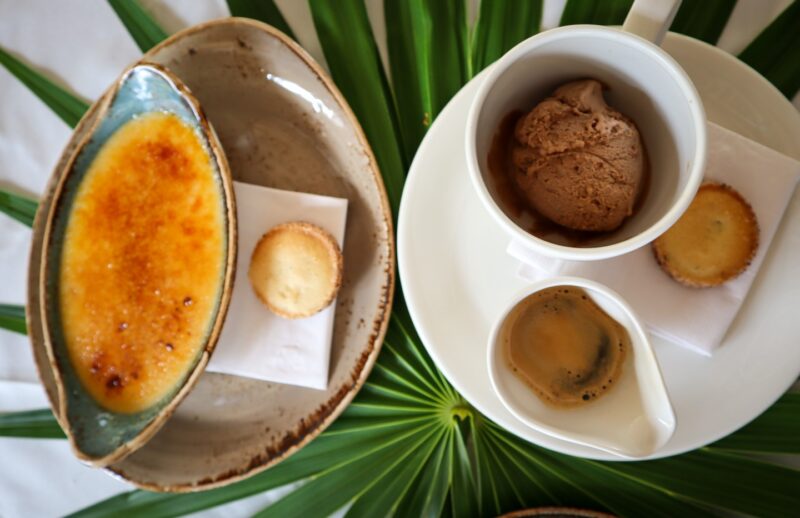 And a dellllicious creme brulee.  I LOVED that it was served in a very shallow dish which allowed for the perfect ratio of browned crackly sugar shell to luxurious vanilla flecked cream.  I LOVE creme brulee with just vanilla…no fancy fruit flavors…just heaven.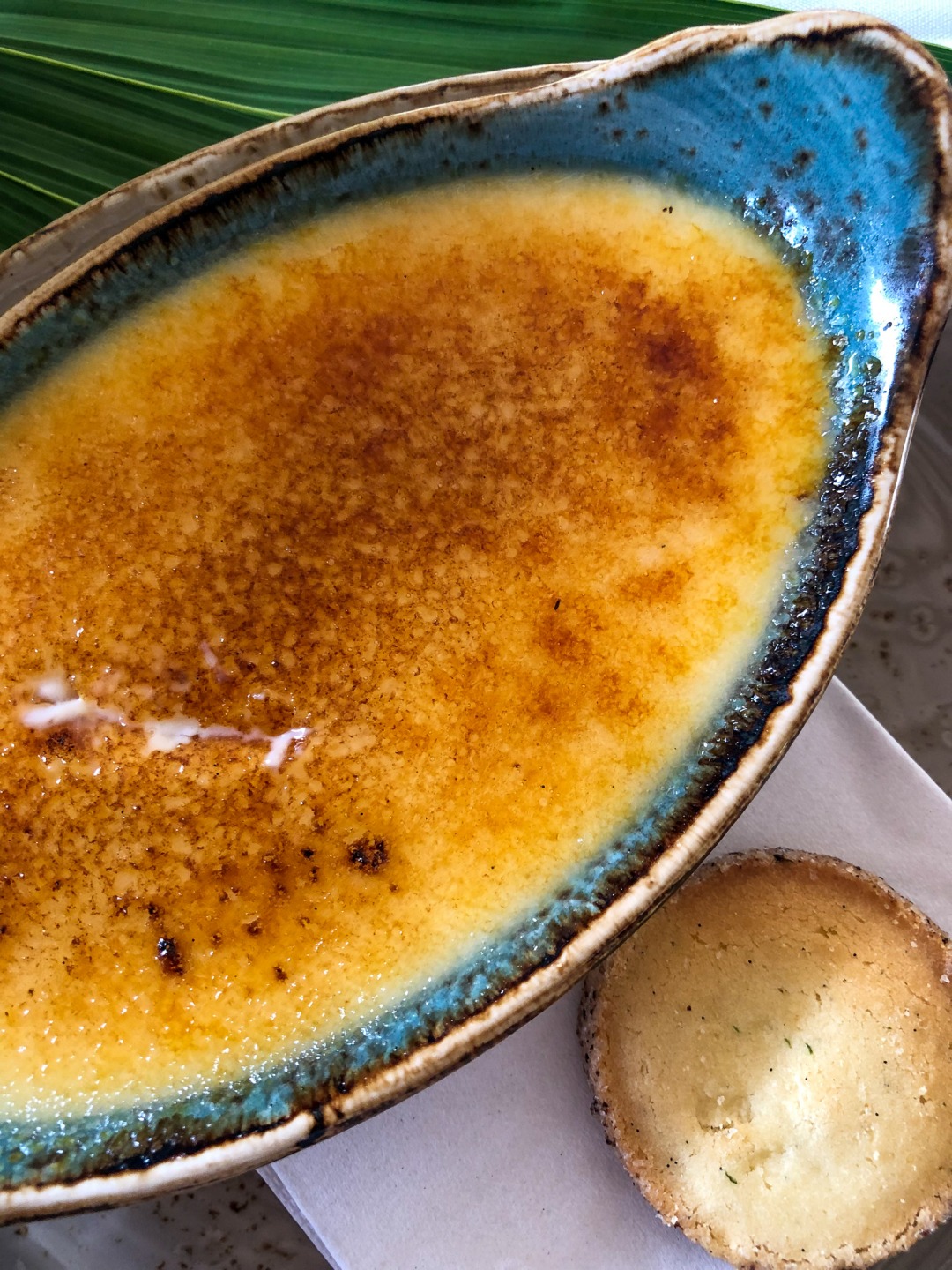 Can you tell I'm a dessert person?
I love love love breakfast at Matachica.  I can rave (again) to you about the breads and pastries – homemade on-site and just beyond…
Or the avocado toast…avocado is somehow always in season at Matachica!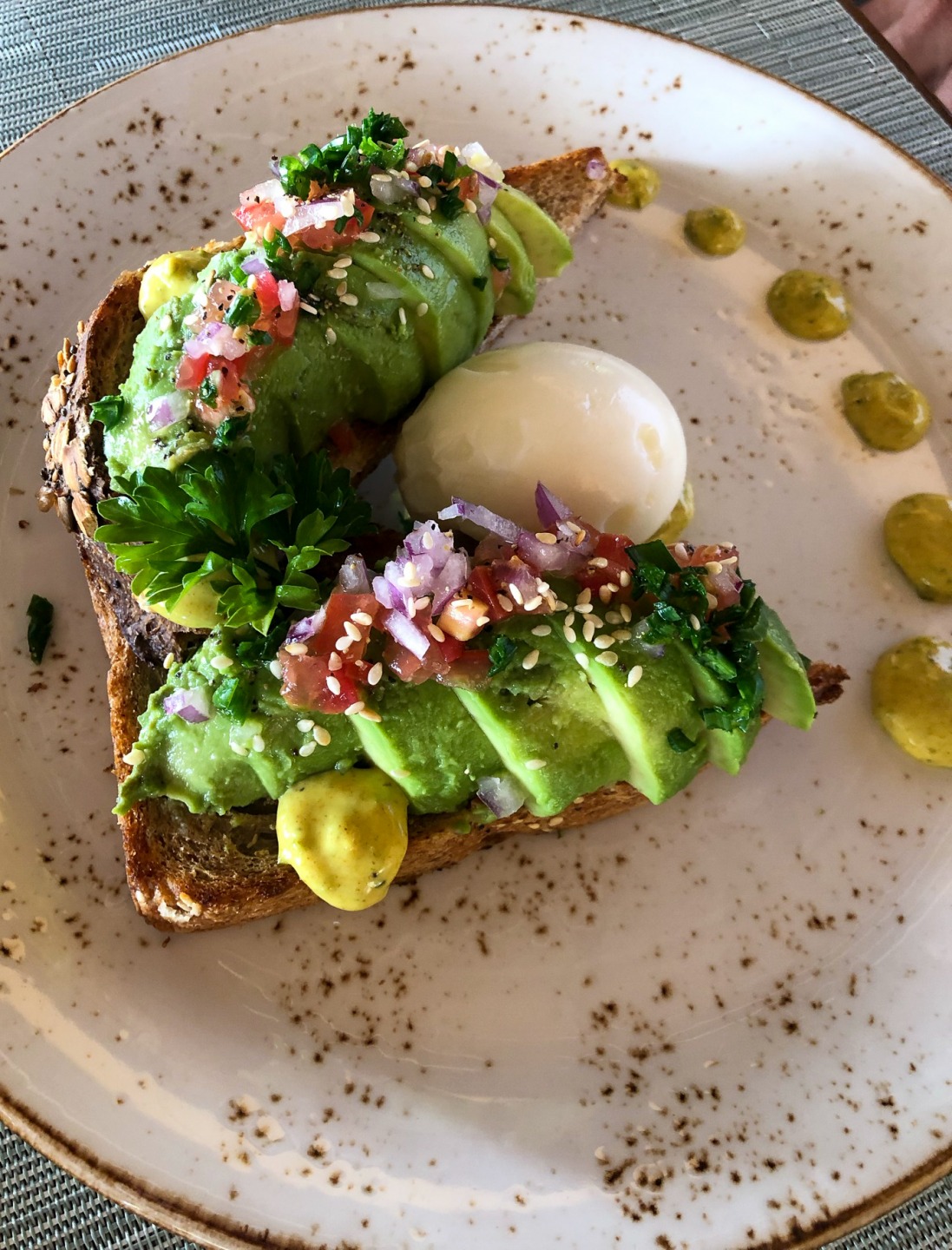 But brunch is even more luxurious.
I love brunch.
So…if you are looking for something special…a place to enjoy the view…and perhaps a few cocktails and a delicious breakfast treat.
This is the spot.
Imagine…the morning after your destination beach wedding…drinks and dancing into the night under the stars…and then meeting with your guests the next day at Matachica.  Over passionfruit mimosas and creme brulee.
And…if you haven't seen Matachica's sister resort on the mainland, it too is gorgeous.
A Dreamy Long Weekend At Gaia River Lodge in Western Belize