A Incredible Oasis in San Pedro: The Phoenix Resort Belize
Almost hidden at the north end of San Pedro's main street, the unassuming side entrance of The Phoenix Resort Belize does not at all prepare you for what's behind the walls.  I've lived here on Ambergris Caye for over 15 years (see About Me) – and I was so impressed by the grounds, the view, the huge beautifully appointed rooms and the easy access to some of the best things to do on the island.
I pulled my golf cart onto the property, walked around the bend, and caught this view of one of the Phoenix's two pools – both salt water and both heated (when needed).
I'M SO HAPPY TO BE SPENDING THE NIGHT AT THE PHOENIX!  You see…since moving to Ambergris Caye I've DREAMED of living in San Pedro town.  Sure, the quiet of living way way up north is nice…but there is always something happening in town.
This gorgeous, modern resort is in the most enviable location – in town but a hidden oasis.   The best of both worlds  – privacy and seclusion and huge "rooms" (I'll get to that in a bit) with the ease of walking out the front gate right onto the beach.  To dive shops and restaurants, all the shops and sights of San Pedro Town.  Maybe some live music or a parade.
I took a few more pictures just before I checked in…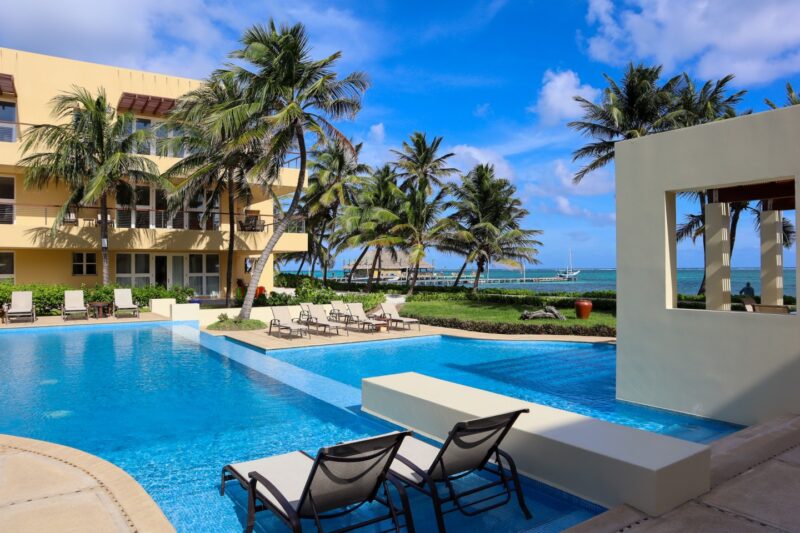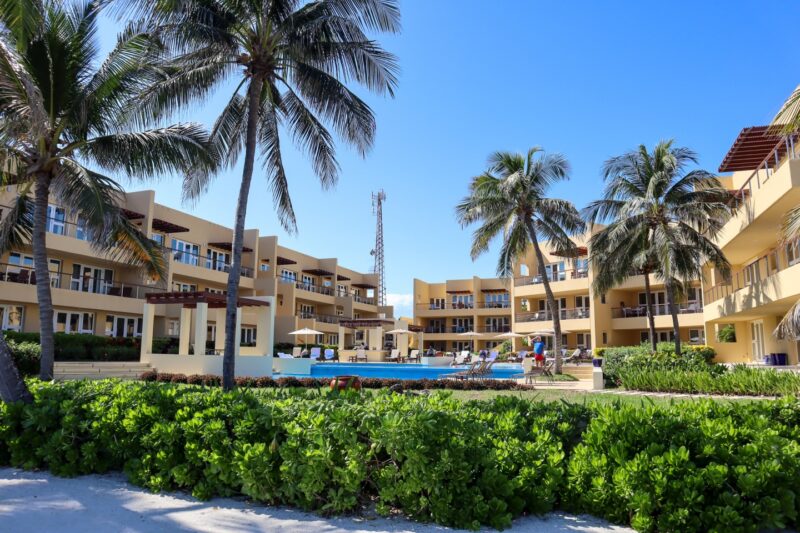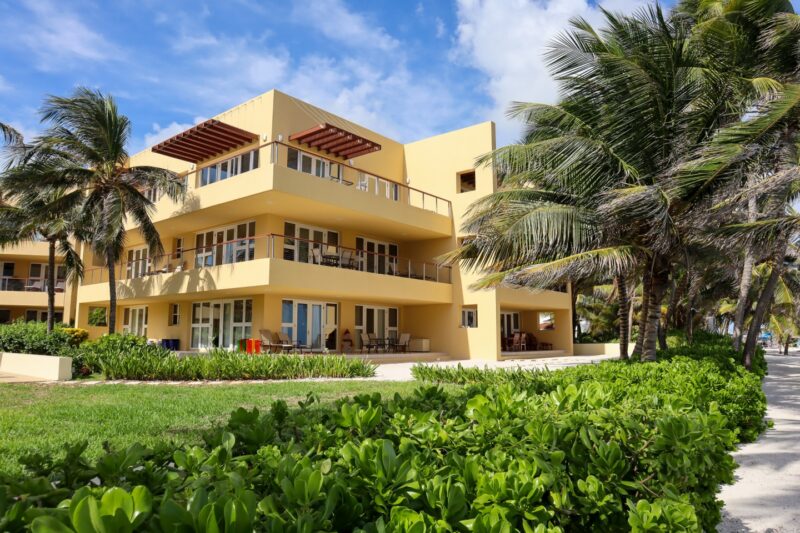 And then the view of the water…
I checked in and we walked by the pool talking about all the amenities and then some of the extras…and before I start telling you about the Phoenix…I was so wow-ed by my stay that I have to go about this post methodically (which is soo not my style).  Try to break down what I loved so much into some easy-to-manage categories.  Otherwise, I know I will forget something that I want to tell you about (there is so much!) and my gushing might become blathering…and no one wants that.
Seriously.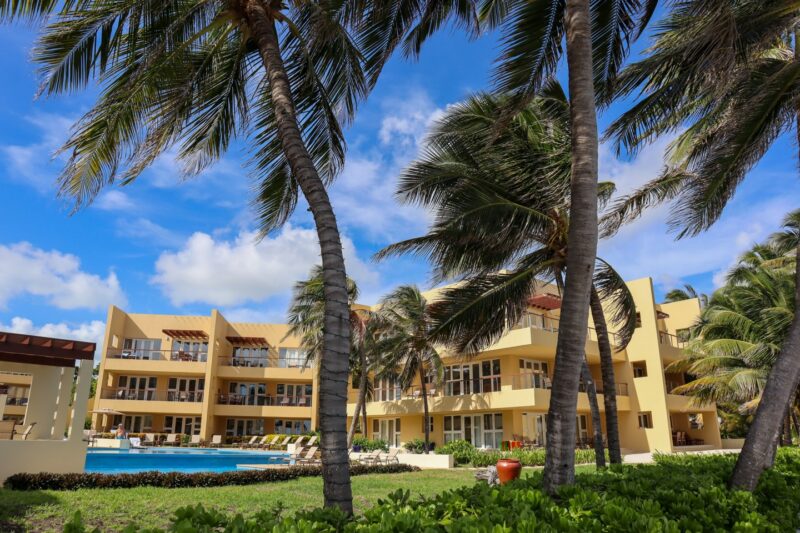 Note:  I am not the only one gushing. I usually take the website Tripadvisor.com with a grain – or more – of salt.  It can bring out the best and worst of people. (There is always that character who gives a one-star review because a staff member looked at him funny or there is too much sand around his beach resort.)  But the Phoenix Resort is rated 5-full-stars.  With over 1200 extremely positive and very detailed reviews.  And not ONE bad write-up – not one 1-star or 2-star rating.  It's unheard of!
But I can see why.  I loved so much about my stay at the Phoenix that I need to break it down into sections.
The HUGE Suite
I was booked in a two-bedroom suite which was fit for a queen…and a king…and a few of  their friends.  The suite is HUGE and the wrap-around balcony is…equally spacious.  (The Phoenix website says 1500-1700 square feet – not including the balcony!)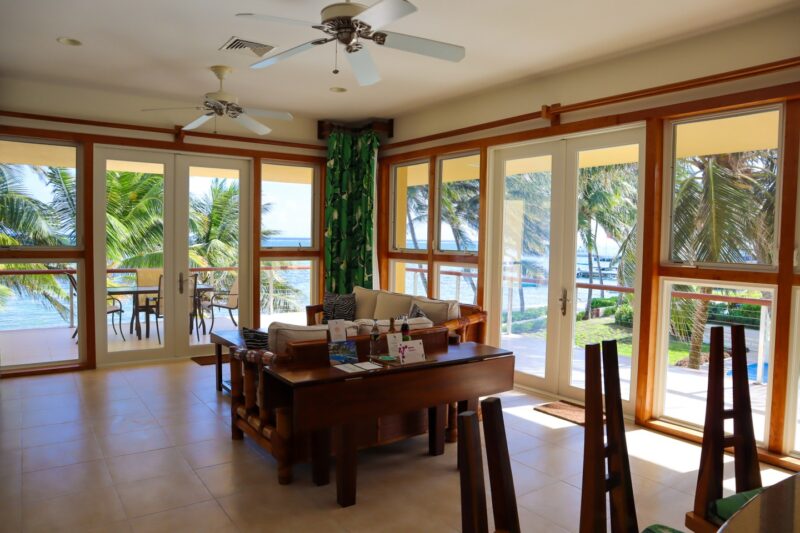 2 bedrooms, 2 bathrooms, one huge bathtub.  3 TVs, a Bose speaker for my devices, a gorgeous kitchen with a Keurig coffee machine (does everyone know about these things!?)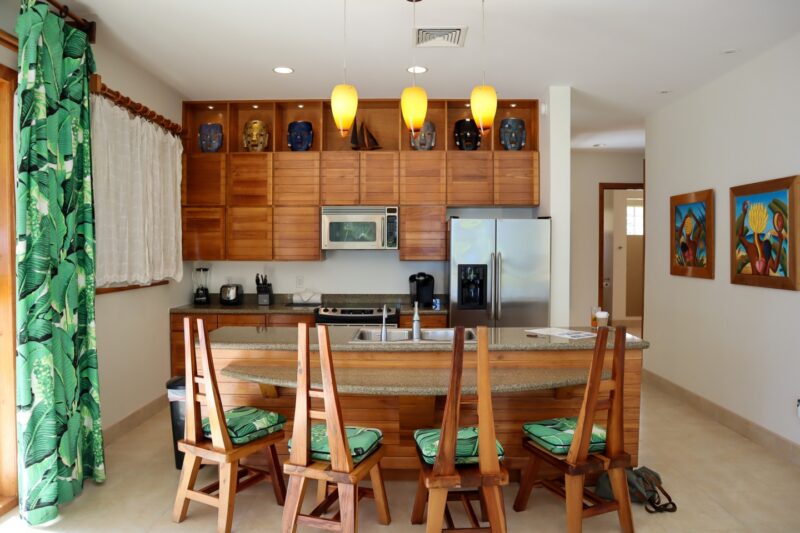 Beautiful artwork.  And the views.  The ocean on one side and the pool on the other.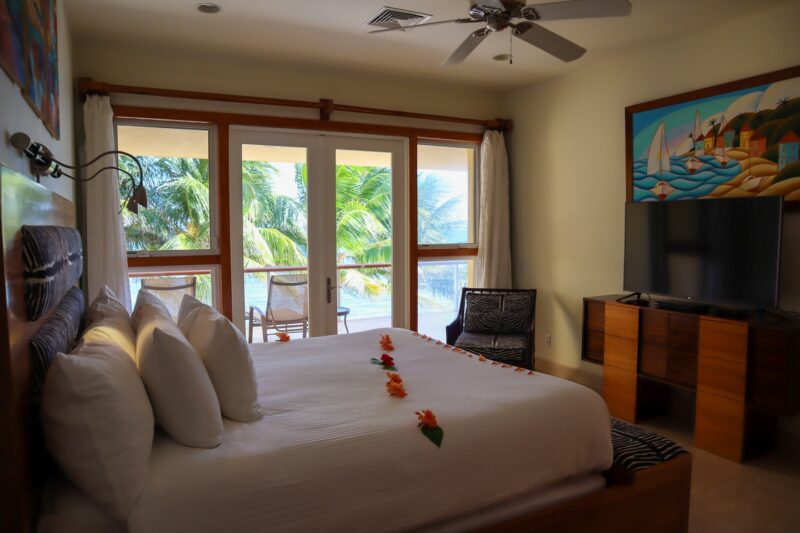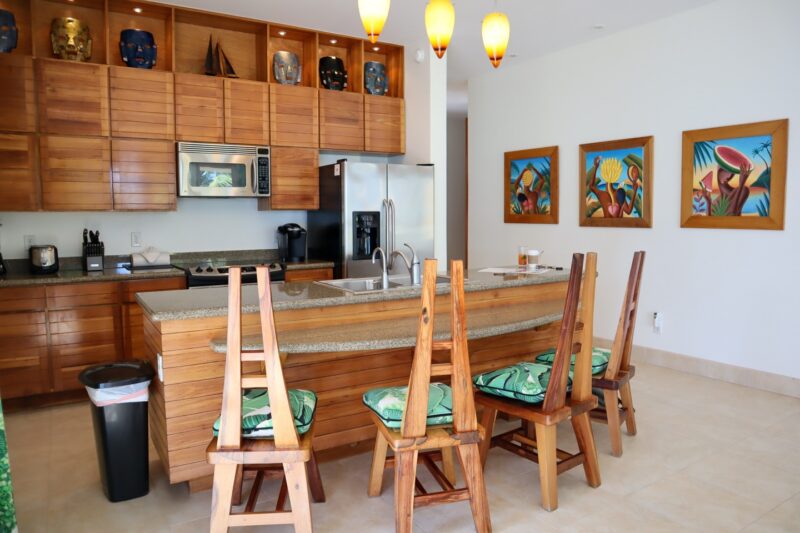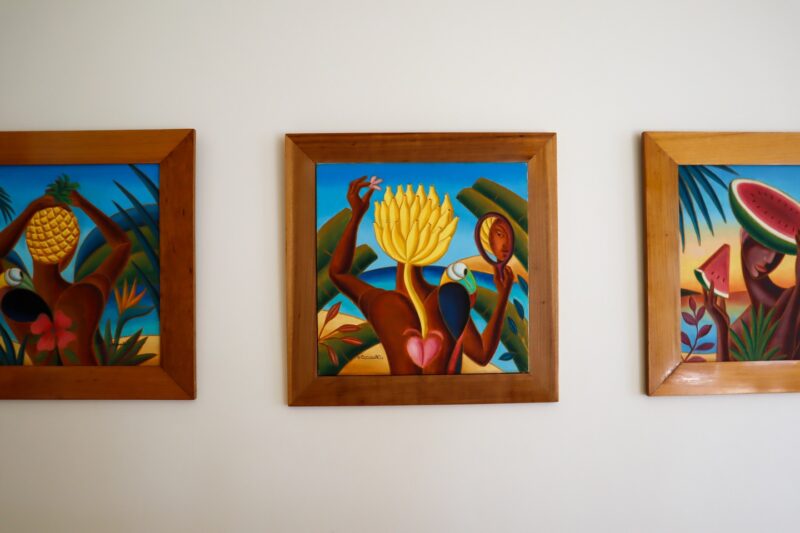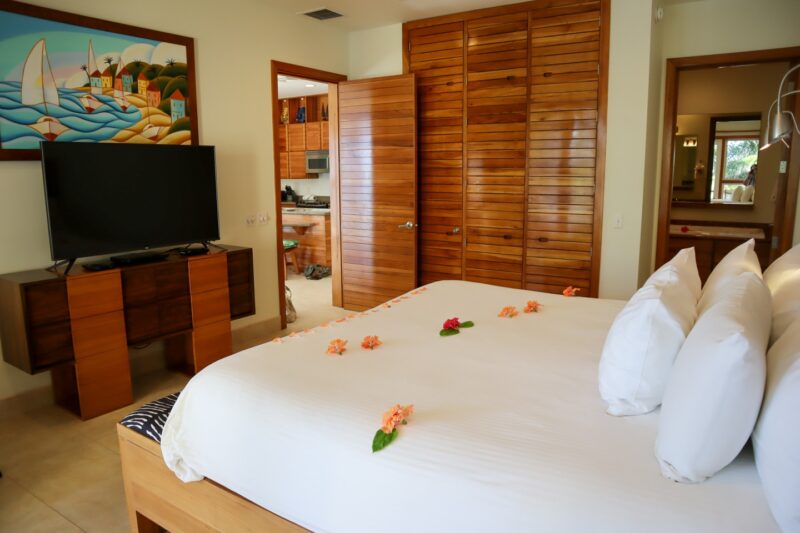 There will not be any "Honey…I'm going for a walk" to get away…a bit of space from your significant other.  With the outdoor space – the huge wrap-around balcony – there is plenty of room for two couples – four people – to find lots of private space.
The huge wrap-around balcony has room for 2 to 3 people to sit in totally different areas.
The sea view with a table for 4 and lounge chairs.
Or the pool view.  This is all MY BALCONY!
I found my serenity in the deep jetted bathtub.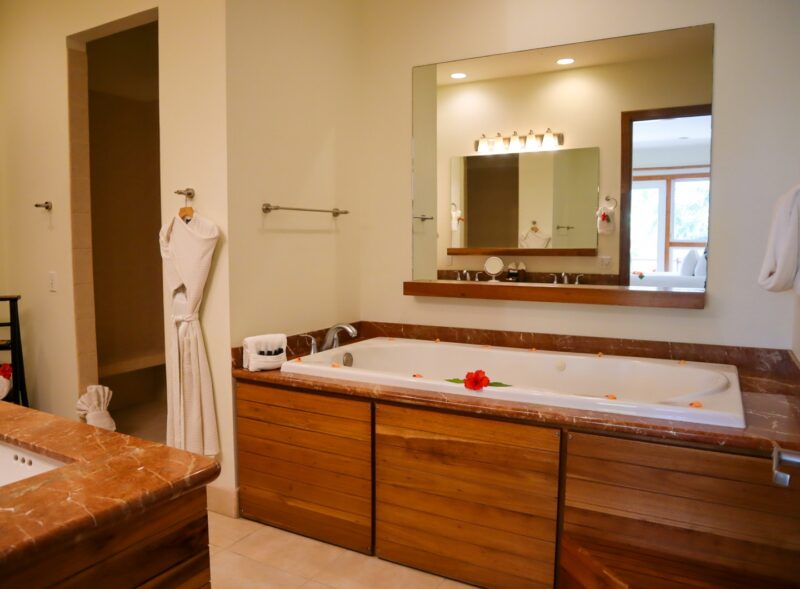 And in these beautiful products from Molton Brown…I'm not exactly sure what Clary Sage is…but I want to smell like it always.  Additonal note:  be sparing with this body wash when making a bath at the Phoenix – it produces an obscene amount of bubbles when the jets get going.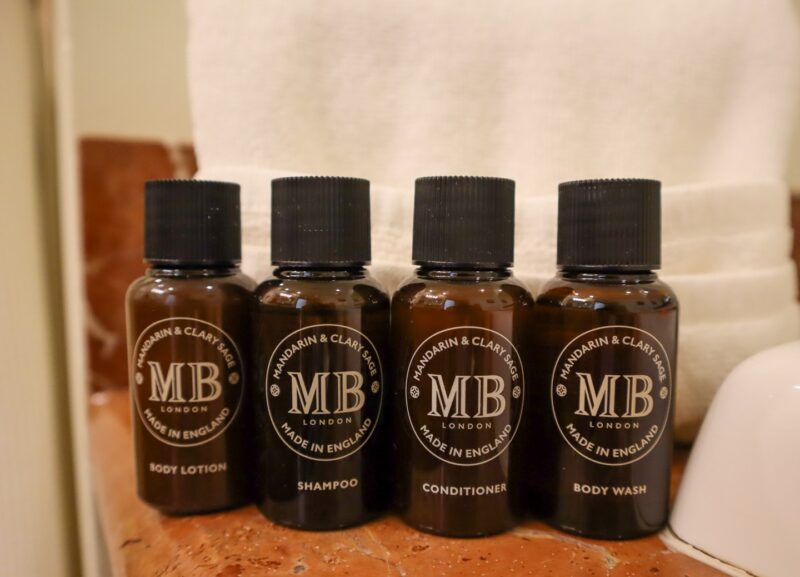 And before I leave the room, there is also this drink kit to welcome you.
With recipes for a Cuba Libre and a local favorite – the Campechana.   What a great touch.  This leads me to the second WOW…
Amenities and Then the Special Little Details
The Phoenix has an incredible list of amenties.  The gym, Sol Spa (which I LOVED when I visited last week), welcome drinks, an on-site restaurant called Red Ginger (I'll get to that later), 2 beautiful pools, a large and really lovely staff, complimentary bikes, kayaks, paddleboards, and a Kid's Club.
Kids between ages 4 and 12 – I don't have children but if you do, this sounds like the amenity to beat all amenities.  What a great option!   I stopped in to check out the Kid's Nest – a separate building and porch filled with toys and mats and bean bags and arts and crafts and…
I'm not saying that you should send your kids here all day every day…but if you are getting a massage, or heading out diving or just having cocktails by the pool?  What an option!
The lower level of the kids club.
There is also a Happy Hour by the pool each day – currently from 4 pm to 5 pm where all local rum drinks and beers are complimentary for guests.  A great way to chat with other folks…and find out what activities, restaurants, and experiences people are loving.
And then…maybe the coolest part.  There is a list of complimentary activities each day for guests of the Phoenix.  Here is the schedule.
Monday- S'mores Night
Tuesday- Chocolate Tasting by the Belize Chocolate Company
Wednesday- Painting Classes with Melody (her painting classes are so fun)
Thursday- Wine Tasting
Friday- Rum Tasting
Saturday- Face Painting
I was there on a Thursday and I attended the 3:30-4pm wine tasting with owner and sommelier, Mukul.  Two glasses of wine – we inhaled, we swirled (we laughed at ourselves inhaling and swirling) and I learned a bunch – about aging, about what we were smelling, alcohol levels, super interesting and informal class with a fun group.
Today's wines:  A Reisling and a very pretty rose.  Perfect wines for Belize.  And also perfect because the owners of the Phoenix also run the town's popular wine shop, Wine De Vine. 
Some guests went out to the pool bar for happy hour…I took a walk around town to enjoy the Christmas lights.  No golf cart is needed – this location is the best!
I wasn't gone long…the Peanut Butter Mousse dessert at the Phoenix's Red Ginger was calling my name.  As was the bathtub…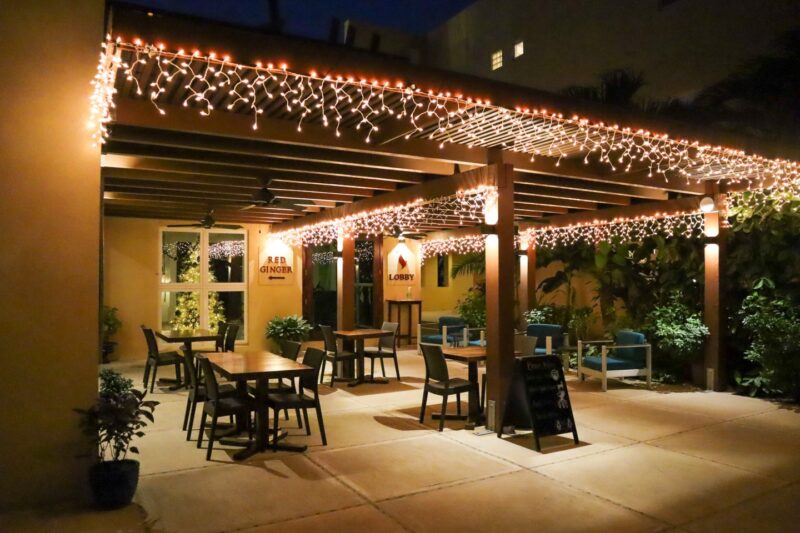 The Phoenix tree in the front lobby…
I fell asleep early in a very comfortable bed.  I think there were 3 layers of pillows…from super soft to more firm…and I found the ones that were just right.  But if you don't, there is this.
I didn't have to ring for one thing…but it's nice to know that a pat on the back is just a phone call away.
I had plans to get up for sunrise and set my alarm for 6:10am.  I fell asleep fast…and slept through the whole night without waking up once!  (It left me to wonder if sleeping in bed with 3 dogs and a boyfriend is not very conducive to a restful night's sleep).  And…well…I heard the alarm. And I meant to get up…but it was just so cool and comfortable right there in bed.  And the sunrise was right outside my patio door…
I'm a blogger not a machine!  And this counts for sure.
Time for me to wrap this up with a quick look at the on-site restaurant.
Red Ginger Restaurant at the Phoenix Resort
Recently updated, the very chic but still Belize-casual restaurant is open all day – for breakfast, lunch, dinner, brunch on the weekends (with a mimosa bar) or for just coffee.
The coffee is now provided by Lavish Habit (my favorite coffee joint in San Pedro) – so you can order a fresh Americano or something as beautiful as my Gingerbread latte below.  (I've been back 2x since for this one.)
A great spot to eat if you are staying at the resort or if you are not.  There is parking at the end of Front Street…which makes things even better when town gets busy and you too are looking for a little oasis.  Check out their menus here.
Tip: They make an AMAZING breakfast burrito – I had no idea that a "schmear of cream cheese" would make it SOOO delicious.
There is also the incredible history of the resort and the lovely lovely owners but I'm running out of time!
I loved my stay at the Phoenix Resort.  If you want to explore San Pedro town AND enjoy the sea…and relax by the pool…this is the ideal spot.
The problem you will have – was the problem I had – I wanted to have my mail forwarded to the Phoenix (ok…I only get one or two things a year)…to send for my things…my dogs…I never wanted to leave.